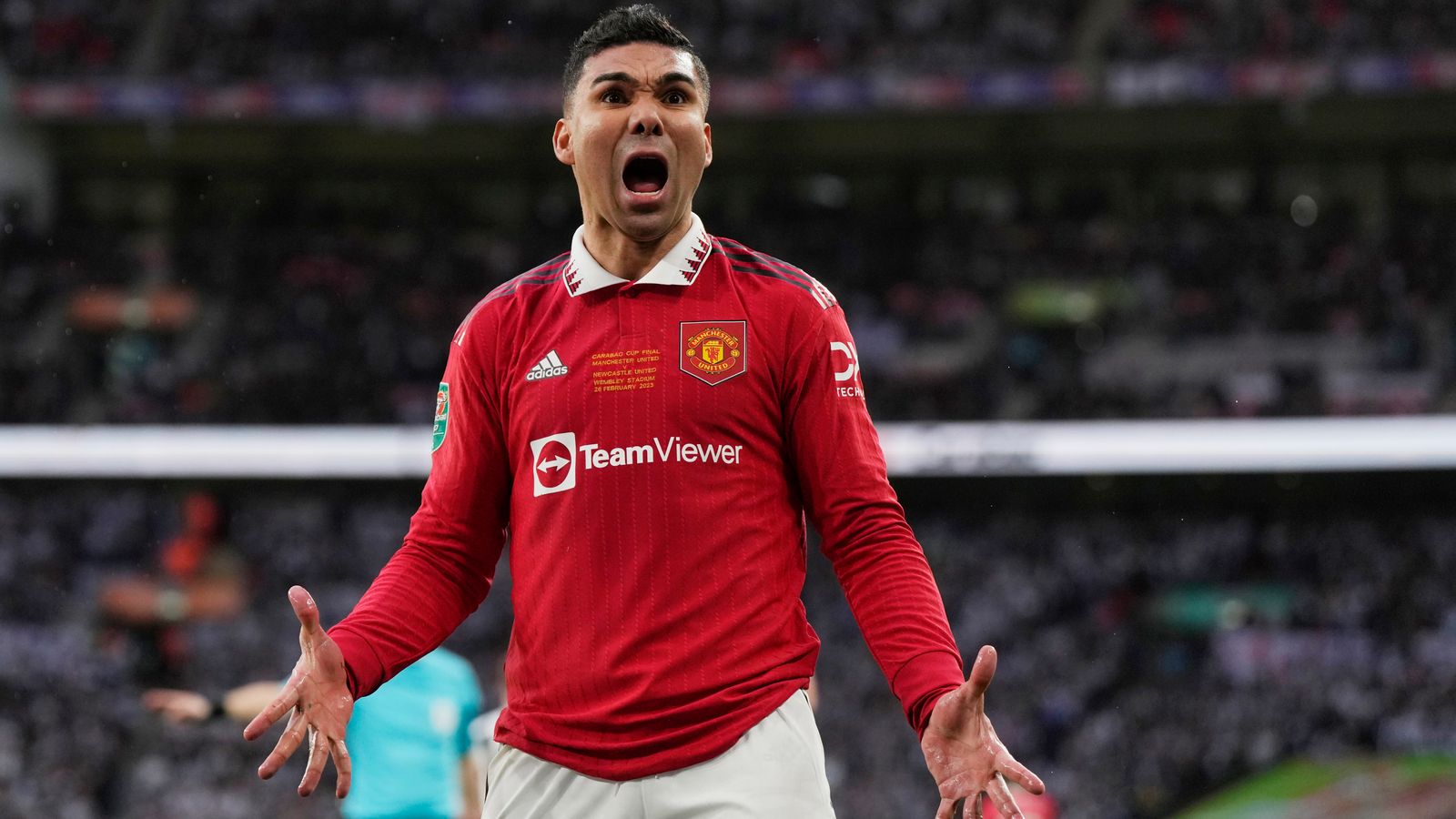 Manchester United played Newcastle United at Wembley in the EFL Carabao Cup final
The Reds came into the match in a hope of ending a trophyless six years and they sure did
Brazilian Casemiro was on target and also produced a man-of-the-match performance, just how crucial was he
As Manchester United defeated Newcastle United 2-0 on Sunday to win the sixth EFL Carabao Cup, Casemiro emerged victorious in the fight between the Brazilian midfielders.
The amount of Newcastle supporters seemed to outnumber United supporters on the way to Wembley, with nearly four out of every five people sporting black and white striped shirts.
With about 45 minutes left before kickoff, almost all Newcastle supporters were in their seats, waiting for the game to begin, their black and white flags flying in anticipation of a historic moment, while there were large gaps in the United end just 10 minutes before the game began, though it was full by kickoff.
With Newcastle having two Brazilians in the centre of the park and United having one, both teams' supporters hoped to be warmed by some samba magic on this chilly afternoon in London.
While Magpies manager Eddie Howe chose Joelinton and Bruno Guimaraes, the latter of whom was reinstated from a ban in time for the championship game, United manager Erik ten Hag went with Fred and Casemiro.
Prior to the match on Sunday, Newcastle had lost all six of the games that Guimaraes had been absent from this season. However, with their star player returning, the Geordie faithful had newfound hope.
Although their ruthless opponents scored first, Newcastle actually had a stronger start to the game and was only prevented from taking the lead by some shoddy play in the final third.
After Fernandinho and Philippe Coutinho scored in the 2016 EPL Cup final between Liverpool and Manchester City, Casemiro became just the third Brazilian to do so.
Additionally, Casemiro had tallied four goals in his previous twelve games, one more than in his previous 89 games combined.
Again, Wout Weghorst was permitted to dribble to the edge of the penalty area before releasing Marcus Rashford, whose shot deflected off Sven Botman and over the defenceless Loris Karius to make it 2-0.
The third-choice goalkeeper for Newcastle had not played since February 28, 2021, when his loan to Bundesliga team Union Berlin came to an end. This was his first competitive game in 728 days.
The German, who was chosen after Nick Pope was dismissed against Karius' old club Liverpool, was helpless to stop either goal but was able to demonstrate some of his skills just before halftime by deflecting Weghorst's 20-yard attempt over the crossbar.
Sean Longstaff was replaced by Alexander Isak in the second half as Newcastle attempted to come back, leaving Joelinton and Guimaraes as the only two midfielders.
With just over 20 minutes left, Marcel Sabitzer took the position of Fred, who had largely served as Casemiro's supporting actor.
Guimaraes entered the game with 12 minutes remaining, clearly hobbling from earlier blows. The former Lyon player, who completed 45 of his 49 passes (91.8%) and recovered control 10 times, did not do himself any disservice.
Despite having more than twice as many shots as any other Newcastle player (five), Joelinton eventually failed in his attempt to return to his former form as a striker.
With Casemiro, 31, having won so many finals with Real Madrid, including five Champions League titles, it was his experience that shone on the major occasion.
In reality, it was far from giving a classic United display; Newcastle United had 61% of the ball, 14 shots inside the opposition box, compared to 5 for the Red Devils, and 37 touches inside the opposition box overall.
But in the end, winning is all that matters, and Ten Hag's players played well enough to do that.
Newcastle was in their first major final since they fell to United by the same score at the old Wembley in the 1999 FA Cup final, and it was both so close and so far for them.
For United, the man of the match, Casemiro, was primarily responsible for ending their six-year trophy drought.
Who knows what might have occurred if they had been able to sign Frenkie de Jong or Adrien Rabiot before choosing the Brazilian last year?
Now that the Red Devils have once again won the cup, they won't give that a second of thought.