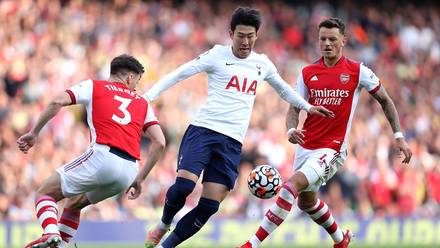 The weekend is finally here, and that means one thing for football fans, another matchweek
It is a crazy weekend for football across Europe seeing great match actions scheduled for this weekend
We look at some of the massive games galore set to take place between Saturday and Sunday
SATURDAY
ENGLISH PREMIER LEAGUE
It's back to the usual Premier League schedule for England's top-flight clubs after last weekend's FA Cup drama. On Friday night, Aston Villa takes on Leeds United before a stretch of six games continues through Saturday.
Among the games, a win for in-form Brighton against unpredictable Liverpool would lift them into seventh place and allow them to pass the Reds. Back in October, the two teams fought to a thrilling 3-3 draw at Anfield, with Leandro Trossard netting a hat-trick for the Seagulls.
At Goodison Park, Southampton and Everton will face off in a match for third place. Nathan Jones' unexpected Carabao Cup victory over Manchester City in the previous week helped remove some of the burdens on his new role, and he'll be trying to carry that momentum into the league, where the Saints haven't won since mid-October.
But without a doubt, the Manchester Derby is the day's main attraction. In order to maintain pressure on Arsenal at the top of the table and return to winning ways, Pep Guardiola will undoubtedly start this match with more of his key players. United, on the other hand, is trying to win their first derby in four after giving up 12 goals in the previous three encounters between these two city rivals.
SPAIN LA LIGA
It's up to third-placed Real Sociedad to hold down the fort in LaLiga while the top two teams (plus Betis and Valencia) are away competing in the Spanish Supercopa in Saudi Arabia. Their biggest game of the year is a home derby against Basque rivals Athletic Club, which is only fitting. The Bilbao team may be ranked ninth, but they haven't lost in five games of real competition, and they have the third-best goalscoring record in the division, averaging 1.5 goals per game compared to Real Sociedad's 1.4.
ITALY SERIE A
The defending Serie A champions Milan travel to Lecce, where a victory might move them up to second place in the standings depending on the outcome of the major Friday night game. However, they'll have to get over the disappointment of losing to Torino in the Coppa Italia earlier this week. Inter, who are now in fourth place, will take on relegation-threatened Hellas Verona after needing extra time to upset Serie B team Parma in their Coppa R16 match. The Nerazzurri had gone five games without suffering a loss.
The Supercoppa, which will also be contested in Saudi Arabia next Wednesday, will next take Milan and Inter's focus.
SUNDAY
SPAIN – SUPERCOPA
The Spanish Supercopa's concept, which combines the league and cup champions from the previous season with the runners-up in each category, is intended to provide us with a spectacle. And for the first time since adopting this model, the league has received what it sought: an additional Clásico to complement the two regular league matches between Real Madrid and Barcelona, the two greatest rivals in history!
Both sides required penalty shoot-outs to get through the midweek semi-finals, with Thibaut Courtois Madrid's hero against Valencia and Marc-André ter Stegen pulling off two crucial saves for Barça against Real Betis. That sets us up nicely for Sunday's showdown and gives Xavi's Barcelona a chance to avenge October's defeat at the Bernabéu.
ENGLISH PREMIER LEAGUE
The North London Derby is scheduled for Sunday afternoon since the Premier League couldn't stop at just one derby this weekend! To extend their current 11-game league unbeaten streak, league leaders Arsenal travel nearby to Tottenham Hotspur. But they'll have to do it against a team that, despite seeming revitalized in their recent victory over Crystal Palace, was only able to defeat League One Portsmouth by a score of 1-0 at home in the FA Cup. In their previous seven encounters, these two rivals haven't produced a draw.
Elsewhere, Palace goes to Stamford Bridge looking to heap more misery on Chelsea and their under-pressure coach Graham Potter. That game comes just 72 hours after the Blues lost to West London rivals Fulham for the first time since 2006.
A result that might also be bad news for Newcastle United, who now have to face a Fulham side still riding that high from Thursday night.