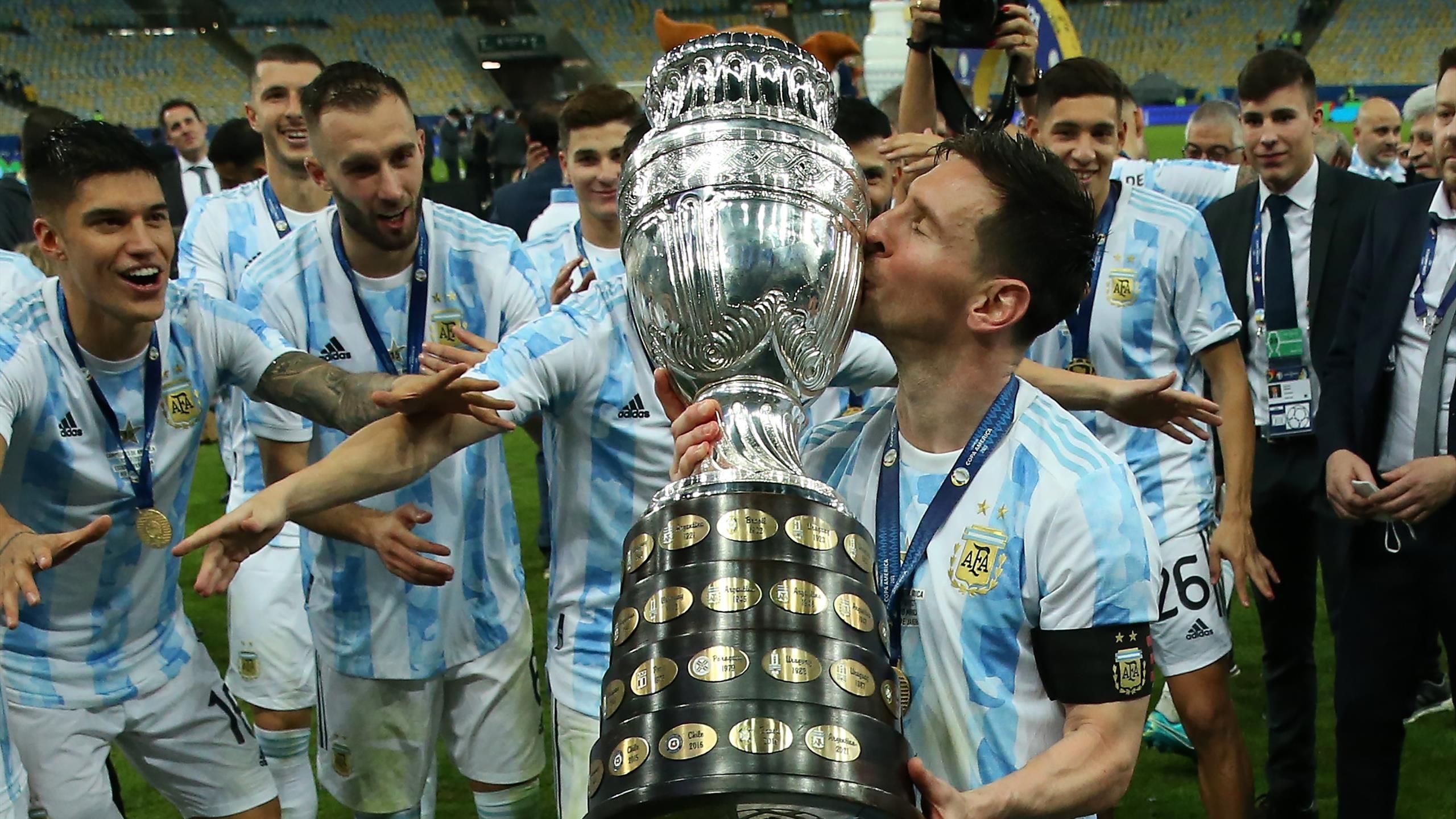 The South American football continental organisation has announced the venue for the 2024 tournament
CONMEBOL has also confirmed its new partnership with North America's CONCACAF
The 2024 CONMEBOL will be played in the United States as a result of the partnership
CONMEBOL has confirmed that the 2024 Copa America will be held in the United States.
Due to infrastructure and security issues, Ecuador withdrew from hosting the event the next year in November.
The tournament has only once before been held outside of South America, in the United States in 2016 for a special centenary edition.
Additionally, it has been revealed that the 2024 edition would include six teams from North, Central, and the Caribbean in addition to the normal 10 South American sides.
The USA, who will also jointly host the 2026 World Cup along with Mexico and Canada, are not guaranteed a place at the Copa America.
Argentina won the delayed 2021 tournament thanks to a 1-0 win over hosts Brazil at the Maracana, though coronavirus restrictions meant stadia capacities were restricted.
CONCACAF and CONMEBOL announced their new partnership on Friday, with the news headlined by the confirmation that the U.S. will host the 2024 Copa America.
Ten CONMEBOL teams and six CONCACAF/guest teams will compete in the tournament. This gives the United States, Mexico, and Canada access to a top-tier, competitive event as they prepare to host the 2026 World Cup across the three nations.
The Copa America isn't the only result of this partnership, as the federations also confirmed that the 2024 CONCACAF W Gold Cup will feature four CONMEBOL teams.
Additionally, CONMBEOL and CONCACAF will co-organize a new club competition to begin play in 2024, featuring the two best clubs from each federation facing off in a "final four" style tournament.
This is a partnership to support the ongoing growth of men's and women's football in Concacaf and CONMEBOL, and will truly be of mutual benefit to both Confederations," said CONCACAF president Victor Montagliani. "Working hand in hand with CONMEBOL, we will deliver elite competitions that will provide more opportunities for our federations, and that we know passionate fans want to see. We look forward to working together to ensure that football in both regions continues to thrive."
There is still much to be done in CONCACAF for both the men's and women's teams before the Copa America in 2024. While the World Cup will take center stage on the women's side this year, the Gold Cup is scheduled for this summer and will also be hosted by the United States.