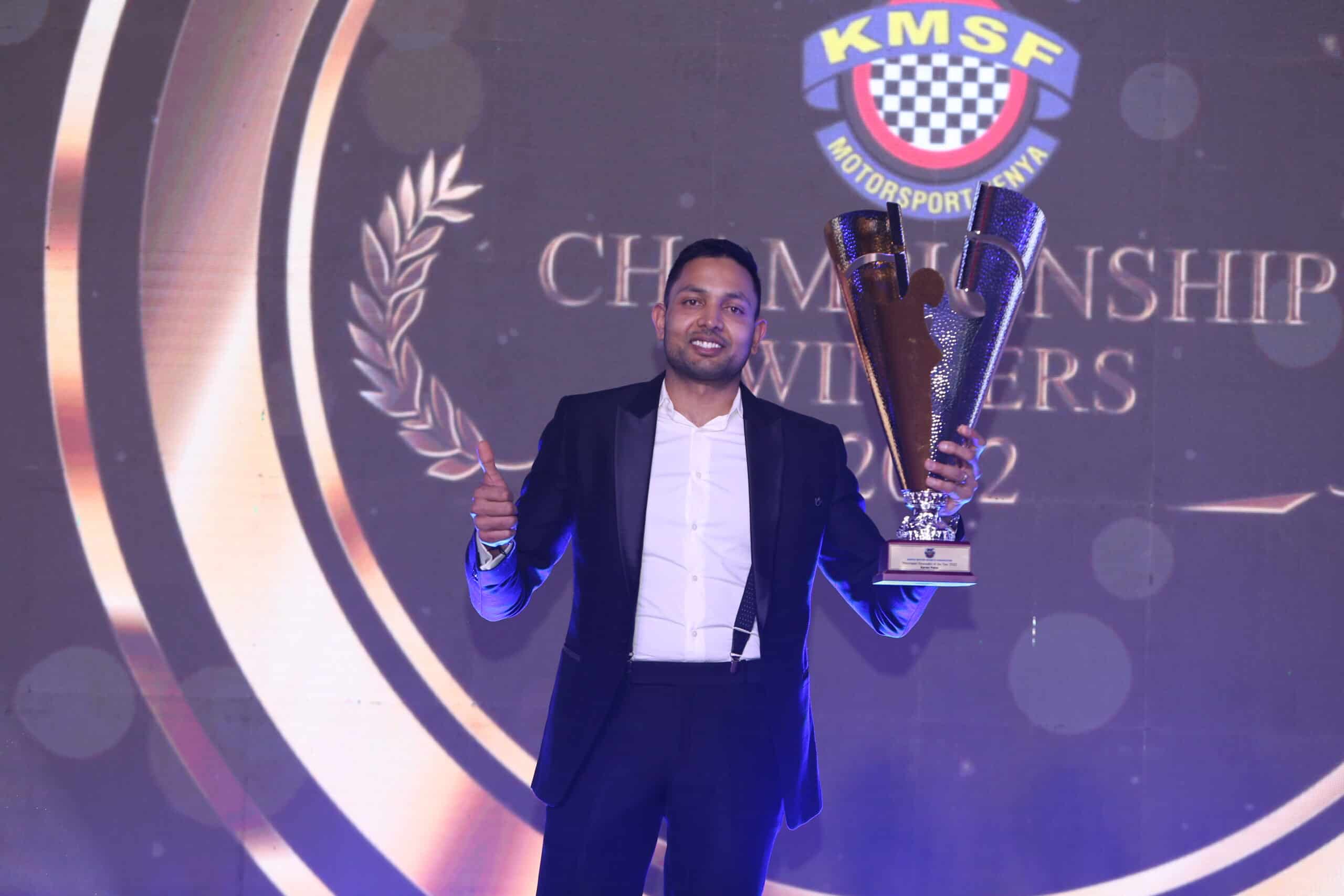 Patel won the Kenya national Rally Championship
He won a total of 10 rallies
He finished second in the Africa Rally Championship
Karan Patel was feted for a stellar season of racing in an emotional occasion where he was named the 2022 Kenya Motorsport Personality of the year.
In his pulsating 2022 season, Karan produced the drive of drives winning a total of 10 rallies in Kenya and across Africa, 8years after the motocross convert joined rallying.
In Africa Karan won four out of six rallies in Rwanda, Tanzania, Zambia and Kenya (Equator Rally) to finish second overall behind Leroy Gomes of Zambia.
And the country's first Red Bull athlete finally sealed a maiden Kenya National Rally Championship title following a homestretch battled with Jasmeet Chana in Mwatate's Teita Sisal estates. In total, Karan won seven events on the KNRC front.
An emotional Karan remarked: "It's such a great feeling winning the personality award after a great season of motorsport. It hasn't sunk in yet. We will continue aiming higher and hopefully win the elusive African title."
The night celebrated not just the National champions in their respective categories but also the extraordinary people who make the sport what it is.
President's Award will now be permanent 
Kenya Motor Sports Federation (KMSF) Chairman Phineas Kimathi remarked that the new ASN President Award will now become a permanent feature of the annual awards.
Those recognized in this inaugural ASN President category were multiple Rally Raid bike and car champion Ross Field, legendary Safari photographer Anwar Sidi, five times Safari Rally winners Carl Tundo and Tim Jessop.
An audience of about 500 guests celebrated the outstanding performers and performances of 2022 while the rising stars were lauded and those who passed on (Harry Thuku, Jim Heather-Hayes and Asad Khan Kalulu) in 2022 remembered.
Jasmeet Chana and his brother Ravi Chana were feted for winning the Group N Championship in their career best season in which the wrapped up the KNRC overall class in a credible second overall position.
KMSF President Phineas Kimathi who is also the WRC Safari CEO, said: "It is an honour that this 2022 edition was a truly successful season in which the Safari was voted the most followed WRC event on the FIA global series."
Nairobi based Young siblings Zane and Chantal were honored for winning the Kenya National Rally Raid Buggy Class.
More champions feted
Karting champions Shane Chandaria (Cadet), Walt Alobo (Rotax Junior Max) and Bixente Rio-Wyles (Bambino) were also honored at the colorful awards night and so were their Tarmac Championship counterparts Umang Soni (4WD), Mustafa Jaffer (2WD) and top drifter Lu Jin.
Umang said: "It's not every year you have the opportunity to win titles, so I'm overly excited and happy I have managed to win the main tarmac 4WD championship for the second year running.
The FIA Awards category saw Hamza Anwar being feted for his maiden ARC Junior Championship title as well as Rio Smith/Riyaz Ismail (ARC4) and McRae Kimathi/Mwangi Kioni (ARC3). Hamza is currently in Sweden preparing for the all-snow WRC Rally Sweden. Hamza is participating in a full season of Junior WRC this season.
2022 KMSF CHAMPIONS & AWARD WINNERS
Kenya National 4×4 Championship
Beginners: Driver: Gitau Munene; Beginners Navigator: Wilson Munene; Intermediates: Driver: Prabjot Saimbi; Intermediates Navigator: Antarjot Saimbi; Expert: Driver: Gurashish Singh; Navigator: Kunal Patel; Super Expert:Driver: Oliver Lauvaux; Super Expert Navigator: John Herbert
Kenya National Karting Championship
Bambino Comer – Bixente Rio Wyles, Cadet-Shane Chandaria; Rotax Junior Max-Walt Alobo
Kenya National Tarmac Championship
Best Drifting Showcase 2022 -Special Award: Lu Jin; Four Wheel Drive (4wd): Umang Soni
Two Wheel Drive (2wd): Musatafa Jaffer
Kenya National Autocross Championship
Bambino: Karamveer Singh Rooprai; Pee Wee: Eann Bengi ; 2WD Non-Turbo Junior: Neel Gohil; 2WD Non-Turbo- Buggy: Gurraj Singh; 2WD Non-Turbo Car: Samir Nanji; 4WD Turbo: Eric Bengi, Open: Rajveer Thethy; 2WD Turbo: Qahir Rahim; Open-Rajveer Thethy
Kenya National Rally Raid Championship
Buggy Class Driver-   Zane Young; Buggy Class Navigator  – Chantal Young; Modified Class 2022 Driver: Geoff Mayes; Modified Class Navigator:  Riyaz Ismail;  Prototype -Navigator:  Quentin Savage; Overall-Navigator:  Quentin Savage; Prototype -Driver:  Ross Field; Overall-Driver: Ross Field
Division 3 Driver: Leo Varese; Division 3 Co-Driver: Kigo Kareithi; Two Wheel Drive Driver: Leo Varese; Two Wheel Drive Co-Driver: Kigo Kareithi ; Division 2 Driver: Kush Patel; Group S -Driver: Kush Patel; Division 2-Co-Driver: Mudasar Chaudry; Group S -Co-Driver: Mudasar Chaudry; Group Nr4 -Driver: Jasmeet Chana; Group Nr4-Co-Driver: Ravi Chana; KNRC Overall Driver: Karan Patel; KNRC Overall-Co-Driver: Tauseef Khan;; Division 1- Driver: Karan Patel; Division 1 -Co-Driver: Tauseef Khan.