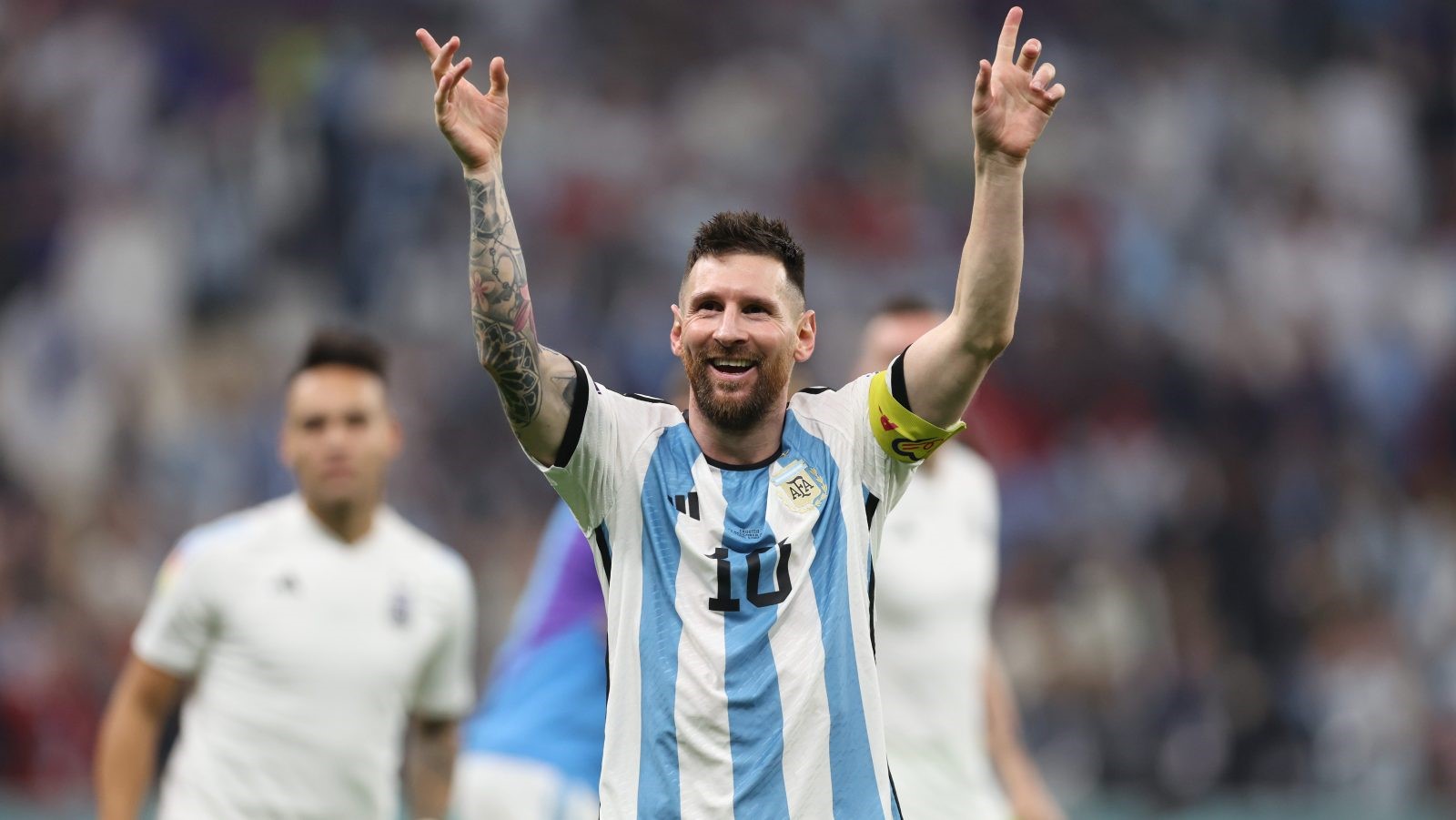 Lionel Messi is in special focus ahead of the finals
He has a stunning 7 records to add to his career
He will be breaking most of them
As Argentina plays current world champions France in the 2022 FIFA World Cup final, Sunday, December 18, Lionel Messi is a man under the scope to win the trophy.
Messi is so far at his peak as far as the World Cup is concerned. He is guiding La Albiceleste to the championship game. They will face France, the defending champions, in the championship game at Lusail Stadium.
After Italy (1990) and Brazil (1962), Les Bleus aim to become just the third nation to win consecutive FIFA World Cups (1938).
Messi is the tournament leader in both points scored and assists, and he has played a crucial role in guiding Argentina to their sixth World Cup final. Besides, he also has a tournament-best three assists and is tied for the Golden Boot lead with Kylian Mbappe of France, who has five goals.
Argentina faced Australia in the Round of 16, and the 35-year-old joined an elite group of athletes who have played 1000 career games. In the 2022 FIFA World Cup final matchup versus France, the seven-time Ballon d'Or winner is looking at making these new records.
FIFA WORLD CUP PLAYER WITH THE MOST VICTORIES
In World Cup events, Messi has won 16 games. If Argentina defeats France, he will tie German icon Miroslav Klose for the record for most World Cup victories.
Knowing him well and what he is capable of, this is a milestone he could easily achieve.
MOST FIFA WORLD CUP APPEARANCE
In terms of the number of FIFA World Cup appearances, Messi is tied with Lothar Matthaus (25). When he takes the field on Sunday against France, he will take the record in its entirety.
However, Messi, the captain of Argentina, skipped training on Thursday due to a hamstring injury, casting doubt on his readiness for Sunday's World Cup final matchup against France.
Three days before the 2022 World Cup final against France, Messi isn't fully recovered from a knock he sustained in the semi-final victory over Croatia. Unsurprisingly, Argentina's 35-year-old talisman has been the driving force behind their journey to the World Cup final. In his six World Cup appearances, he has won four Man of the Match accolades.
He stole the show once more as Lionel Scaloni's team easily defeated Croatia 3-0 to secure a meeting with destiny at the Lusail Iconic Stadium in Qatar.
FIFA WORLD CUP RECORD OF MOST MINUTES PLAYED
Only 23 minutes separate Lionel Messi from Italian icon Paolo Maldini as the player with the most FIFA World Cup minutes played. The Italian played centre back and left back for Italy and AC Milan, respectively.
He is one of history's best defenders. Maldini comes in second place behind Lothar Matthäus, who played in 25 World Cup games, with 23 appearances. With 2,216 minutes played in World Cup games, Maldini holds the record for the most minutes played.
Messi has 2,193 FIFA World cup minutes and with his expected appearance at the finals, will make break Maldini's record.
FOURTH-MOST ASSISTS EVER AT A FIFA WORLD CUP
Nine of Messi's assists came at the World Cup. If he contributes two assists at the final match between Argentina and France, he will have the chance to catch Brazilian legend Pele (10) and pass him.
Only Pele, a retired Brazilian footballer has contributed three assists in a World Cup finals match. Along with being the only player to win the World Cup three times, Pele made his mark by earning a number of distinctions throughout his illustrious career.
The storied striker also leads this tournament in assists.
RECEIVE SEVERAL GOLDEN BALL AWARDS
For his second Golden Ball at the FIFA World Cup, the Argentine player remains a favourite. Messi, who previously won it in 2014, will make history by winning it twice.
WIN THE WORLD CUP'S GOLDEN BOOT AND GOLDEN BALL
Only eight players have ever won both the Golden Ball and Golden Boot, and Messi has a chance to join that exclusive group. Going by his incredible skill, he will achieve all of this.
MOST WORLD CUP GOAL CONTRIBUTIONS
Messi has 20 incredible goals during the World Cup. Yet again, he will equal Pele's record for the World Cup's most goal contributions – 22.