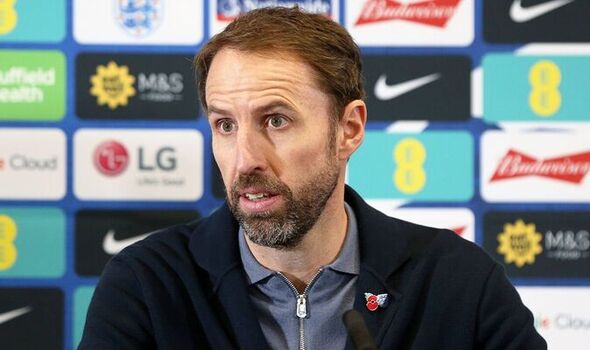 England will play Iran in the second fixture of the 2022 FIFA World Cup on Monday
England manager Gareth Southgate has confirmed the team will take a knee before kickoff of their matches
The captain Harry Kane also stated he will wear a one love armband as the team's captain
England manager Gareth Southgate has confirmed England will take a knee before their FIFA World Cup opener against Iran on Monday in a show of solidarity against discrimination.
Premier League teams had adopted the gesture on a regular basis following the death of George Floyd in the United States back in 2020.
The knee was scrapped as a regular feature ahead of this season, with the Premier League instead announcing the gesture would be reserved for special occasions.
All Premier League matches between October 8 and 16 saw players take the knee as part of the 'No Room for Racism' campaign, and it was also confirmed games on Boxing Day, the last weekend of the season and the finals of the FA Cup and EFL Cup will also see its return.
It had been reported that England players were discussing whether to kneel during the World Cup and Southgate confirmed the squad came to an agreement.
"We have discussed taking the knee, we feel we should," Southgate told reporters on Sunday.
"It's what we stand for as a team and have done for a long period of time.
"We understand in the Premier League, teams decided to only do it for the big games, the big occasions.
"We feel this is the biggest.
"We think it's a strong statement that will go around the world to young people in particular to show inclusivity is important."
On a similar note, Southgate and England captain Harry Kane also reiterated their commitment to the latter wearing the OneLove armband throughout the tournament.
England were one of eight teams to pledge their support to the initiative designed to promote inclusion ahead of the tournament in Qatar, where same-sex relationships are illegal.
FIFA launched its own "social campaign" and is urging captains to wear armbands provided by the governing body that promote its own slogans.
Additionally, regulations suggest the wearing of equipment not endorsed by FIFA are outlawed, giving rise to reports Kane could receive an immediate yellow card for donning the armband.
But England plan to stand by their decision.
"I think we made clear as a team, as a staff and organisation that we want to wear the armband," Kane said.
The striker stated that he knows the FA [Football Association] is talking to FIFA at the moment and he was sure by game time they'll have their decision, but the team has made it clear they want to wear the armband.
Southgate continued: "There's nothing more I can add to what Harry's said. I know there are conversations going on.
"A number or European countries have spoken and we made our position clear, and hopefully everything will be resolved before the game."
However, there are no plans to make a gesture in support of women in Iran.
The death of 22-year-old woman Mahsa Amini – who was arrested for not wearing a hijab properly – in police custody in September sparked mass protests across the country, and it is a backdrop that has dominated Iran's build-up to the World Cup.
Iran showed solidarity with the protestors – 15,000 of whom have reportedly been arrested by the regime – in September when covering up their national symbols before a friendly against Senegal, but Southgate said England are not planning to make any gestures of their own.