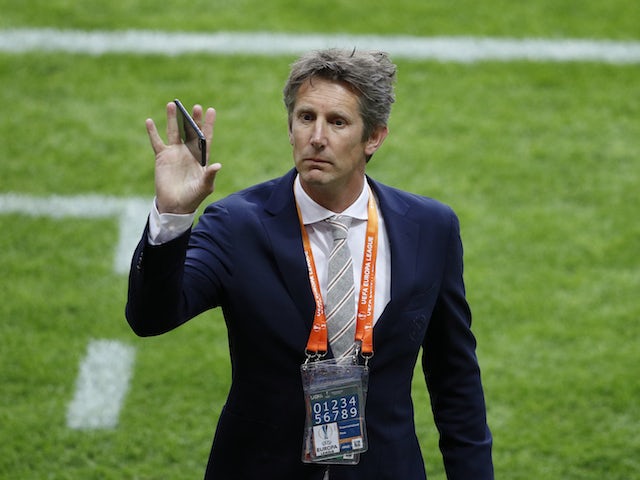 Manchester United is on the lookout for a new director of football heading to the January transfer window
Former director Ed Woodward left the position in February this year and the club is yet to fit a permanent director
United has approached former goalkeeper and Ajax CEO Edwin van der Sar for the role
Ajax CEO and former Manchester United player Edwin van der Sar has once again distanced himself from a return to Old Trafford.
Reports from the Netherlands recently suggested that United had reached out to Van der Sar over becoming their new director of football – reigniting a rumour which has been a regular feature in the gossip column over the past few years.
Van der Sar's current contract at Ajax runs until 2023 but both Ajax and the former goalkeeper have publicly confirmed an extension until 2025 which will be triggered following November's shareholder meeting.
Speaking to The Times, Van der Sar wasted little time in batting away the rumours of a possible move to United.
"It's never been that close," Van der Sar said about previous talks with United.
The former Netherlands captain said he has a good relationship with the board and he had a fantastic six years in Manchester, but he is not finished in Ajax yet.
Most of Van der Sar's contact with United this summer revolved around on-field issues, beginning with the move of manager Erik ten Hag to Old Trafford.
"Of course we tried to persuade him to stay, but Erik is someone who knows what he wants and the direction he wants to go," Van der Sar admitted. "The moment United made their approach, it was obvious it was a big challenge for him and that he wanted to take it."
Ten Hag ended up bring both Lisandro Martinez and Antony with him, the latter of whom was involved in a public falling out with Ajax before eventually sealing an £86m move to Manchester late in the window.
"It was [an] economic [decision] but it was a hard one to take," Van der Sar said of Antony's exit. "We knew there was interest but not at that level and it was too late to find a good replacement.
"I don't think the way [Antony] handled it was the correct one, but it's important all the players who leave Ajax have success because it reflects well on us."
While speaking to The Times Edwin van der Sar also confirmed that Ajax wasted little time in rejecting Arsenal's summer bid for centre-back Lisandro Martinez who eventually moved to Manchester United.
The Argentine endured a tricky start to life in England but has enjoyed some excellent performances in recent weeks, living up to the expectations that came with his £56.7m ($64.12m) move from Amsterdam during the summer.
Ajax had planned on keeping Martinez following the departure of manager Erik ten Hag to United, and Van der Sar has now confessed that a bid from Arsenal was rejected earlier in the summer transfer window.
"It was our opinion they should stay for another year," he said in the interview of both Martinez and winger Antony, who eventually moved to United as well.
"We gave a firm 'no' to Arsenal when they came first for Lisandro; we fought hard to keep him."