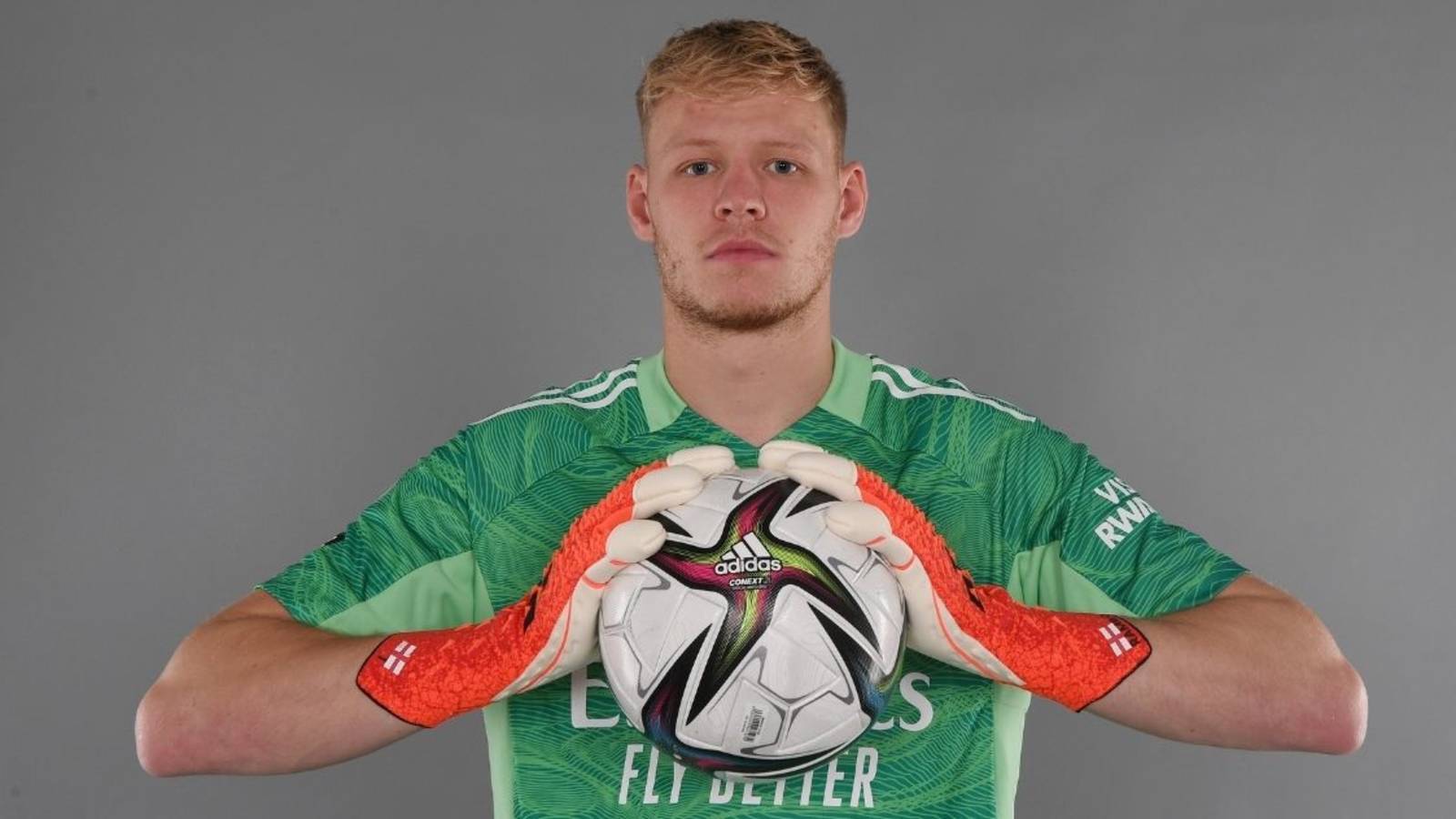 Aaron Ramsdale plays for the Premier League club Arsenal and the England national team. 

The 24-year-old is one of the best goalkeepers in the Premier League. 

As of 2022, Ramsdale has a net worth of 11 million euros.
Aaron Ramsdale biography tells facts about his childhood, family, football career, personal life and net worth. 
Ramsdale is a professional footballer who plays in the English Premier League for Arsenal. The 24-year-old also represents the England national team. 
Ramsdale is undoubtedly one of the best goalkeepers in the world right now. The rejection he faced during his boyhood days significantly motivated him to be the star he is now.
Many Arsenal fans disliked the idea of their club signing Ramsdale for 30 million euros last summer. And this is because they saw Ramsdale as a 'normal' goalkeeper due to his inconsistency at Sheffield United. 
However, the England international is now the number one shot-stopper at Arsenal. His amazing goalkeeping skills are why we present you with Aaron Ramsdale biography. 
Aaron Ramsdale biography 
Full Name                          Aaron Christopher Ramsdale 
Date of Birth                      May 14, 1998 
Age                                       24
Place of Birth                     Stoke-on-Trent, England 
Height                                 6 ft 2 in 
Occupation                          Footballer 
Nationality                          British 
Marital Status                     Unmarried 
Early Life 
Aaron Ramsdale was born to his mother, Caroline Ramsdale and father, Nick Ramsdale, on May 14, 1998, in Stoke-on-Trent, England. 
He spent his childhood days alongside his elder brothers, Edward and Oliver, in the village of Chesterton. 
Aaron Ramsdale loved football while he was still a small child. He had a strong admiration for West Bromwich Albion and idolized legendary goalkeeper Ben Foster. 
Career 
The heart of Aaron Ramsdale biography is his football career. The talented goalkeeper started playing football at Newcastle-under-Lyme-based club Marsh Town. 
Ramsdale joined Bolton Wanderers after goalkeeping coach Fred Barber recommended him, and he passed the trials. 
The Sentinel identified him as a future prospect after he helped his school reach the English Schools' FA Cup semi-final in 2014. 
Sheffield United 
After spending some time with Bolton Wanderers academy, Aaron Ramsdale joined Sheffield United in 2013.
The talented goalkeeper was an unused substitute twice for Sheffield United senior team during the 2015-16 season. He signed his first professional football contract with Sheffield United in May 2016. 
Ramsdale made his first professional debut during a 6-0 win over Leyton Orient during a FA Cup match. He made his second appearance during a 3-2 loss to Bolton Wanderers. 
AFC Bournemouth 
AFC Bournemouth signed Aaron Ramsdale in January 2017 for a fee believed to be around 800,000 euros. He made it to the bench during the final game of the 2016-17 season against Leicester City. 
He spent some time on loan at Chesterfield and AFC Wimbledon before returning to Bournemouth. 
Ramsdale became Bournemouth's first-choice goalkeeper during the 2019-20 season. 
Sheffield 
United
Aaron Ramsdale rejoined Sheffield United on a four-year deal in August 2020 for 18 million euros. The England international impressed at Sheffield United, winning the club's Player of the Year and Young Player of the Year in May 2021.
Arsenal 
Aaron Ramsdale joined Arsenal on August 20, 2021, and made his debut five days later against West Bromwich Albion. 
The England international made his Premier League debut the following month as Arsenal defeated Norwich City 1-0. 
Ramsdale performed well for Arsenal consistently and was one of the eight players nominated for the Premier League Player of the Month for October. 
The talented goalkeeper was Arsenal's player of the month for October and November due to his amazing performances. 
Personal Life 
Aaron Ramsdale is a big fan of West Bromwich Albion. The goalkeeper, who stands at 6'2″, comes from an athletic family. His father was a 400m hurdler who represented Great Britain twice. 
Ramsdale is in a relationship with Georgina Irwin. The two began dating in 2019 when Ramsdale was on loan at AFC Wimbledon. Georgina is two years older than Aaron Ramsdale. 
FAQs 
What is Aaron Ramsdale's net worth? 
Aaron Ramsdale has a net worth of $11 million. 
What car does Ramsdale drive? 
The talented goalkeeper has been spotted severally driving a Mercedes G63 MG. 
What religion is Aaron Ramsdale? 
Christian. 
How much does Aaron Ramsdale earn? 
Aaron Ramsdale earns an annual base salary of 3,200,000 euros. His weekly salary at Arsenal is 61,923 euros. 
Is Aaron Ramsdale dating? 
Ramsdale is in a relationship with Georgina Irwin.