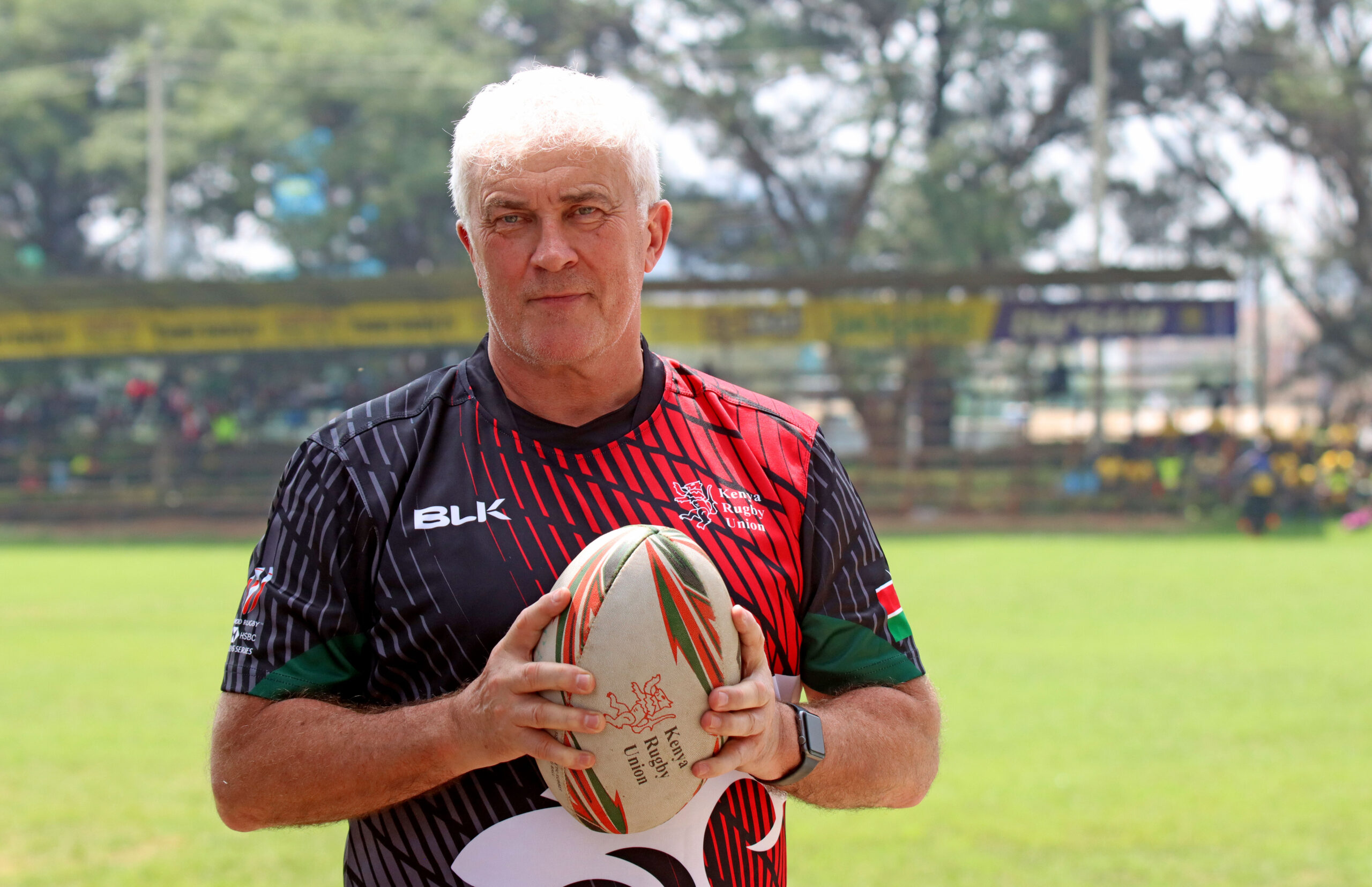 McGrath has been appointed on a two-year deal
He will have his maiden outing at the Toulouse 7s
The tactician hopes to improve the national team
Damian McGrath, the new Kenya Sevens head coach hopes he can improve the team after a period of poor performances as he prepares for his maiden job with the Toulouse and London legs of the World Sevens Series.
The former Germany head coach believes that the Kenyan team has huge potential, and believes thy can improve with his big targets including the World Rugby Sevens World Cup and the Commonwealth Games in Birmingham.
"Kenya has great potential. When I was coach it was always difficult to play against Kenya. I knew that they were always a threat. I was surprised with the results in the last few months and though I was still with Germany I watched the matches. I think I can help with some improvements," McGrath says.
The tactician says he did not think twice when asked whether he could come in to take the vacant job after Innocent Simiyu was fored following a spate of poor results.
"I was approached almost a week ago and honestly it was an easy decision to make. There are not so many exciting jobs in World Rugby and Kenya has always been one of those exciting teams. I told my family that I was going to come to Kenya and they were excited as well," the tactician further added.
He believes Kenya can improve and says consistency will be one of the key areas he will look to have.
"Momentum is a huge thing and once we get some movement forward, it will take a good course and I am sure we will see some improvement," said the coach.
His first assignment is with the Toulouse Sevens, with Kenya having departed for the tournament on Sunday. He however says he will not make many changes to the team, saying he will take the first two weeks to observe and take keen details on what to do better.
"I am very much in the hands of the technical bench who have been looking out for the team in interim. I watched training today and I wanted to see players from up close," said the coach.
He further said; "The thing about trying to enforce your thoughts so close to a game is that it can confuse your players. So we may have to take a hit on these next two weeks. I will go there, I will watch them play and definitely try help and talk about things,"
"But I don't think you will see a huge change but when we come back we will hit the ground running and we will make a big effort to improve on player style taking us into commonwealth and the World Cup," the coach further noted.
Assistant coach Kevin Wambua was hugely involved in the selection of the team that travels to France as the new coach only watched one training session.
Wambua has named Archadius Khwesa and Ben Salem for their maiden tour call ups in some of the five changes that have been made to the squad from the last team that played in Singapore and Vancouver.
Alvin 'Buffa' Otieno, Timothy Mmasi and Johnstone Olindi have also been called up to the team which leaves the country for Toulouse, France on Sunday.
The team will be skippered by Nelson Oyoo who has vowed the team will do their best to improve on the performance from the last few matches.
Shujaa Squad:
Nelson Oyoo (Nakuru, Captain), Herman Humwa (Kenya Harlequin), Alvin Otieno (KCB), Collins Shikoli (Homeboyz), Bush Mwale (Homeboyz), Timothy Mmasi (Masinde Muliro), Tony Omondi (Mwamba), Johnstone Olindi (KCB), Billy Odhiambo (Mwamba), Edmond Anya (Impala Saracens), Augustine Lugonzo (Homeboyz), Archadius Khwesa (Blak Blad, debut), Ben Salem (Nondescripts, debut)