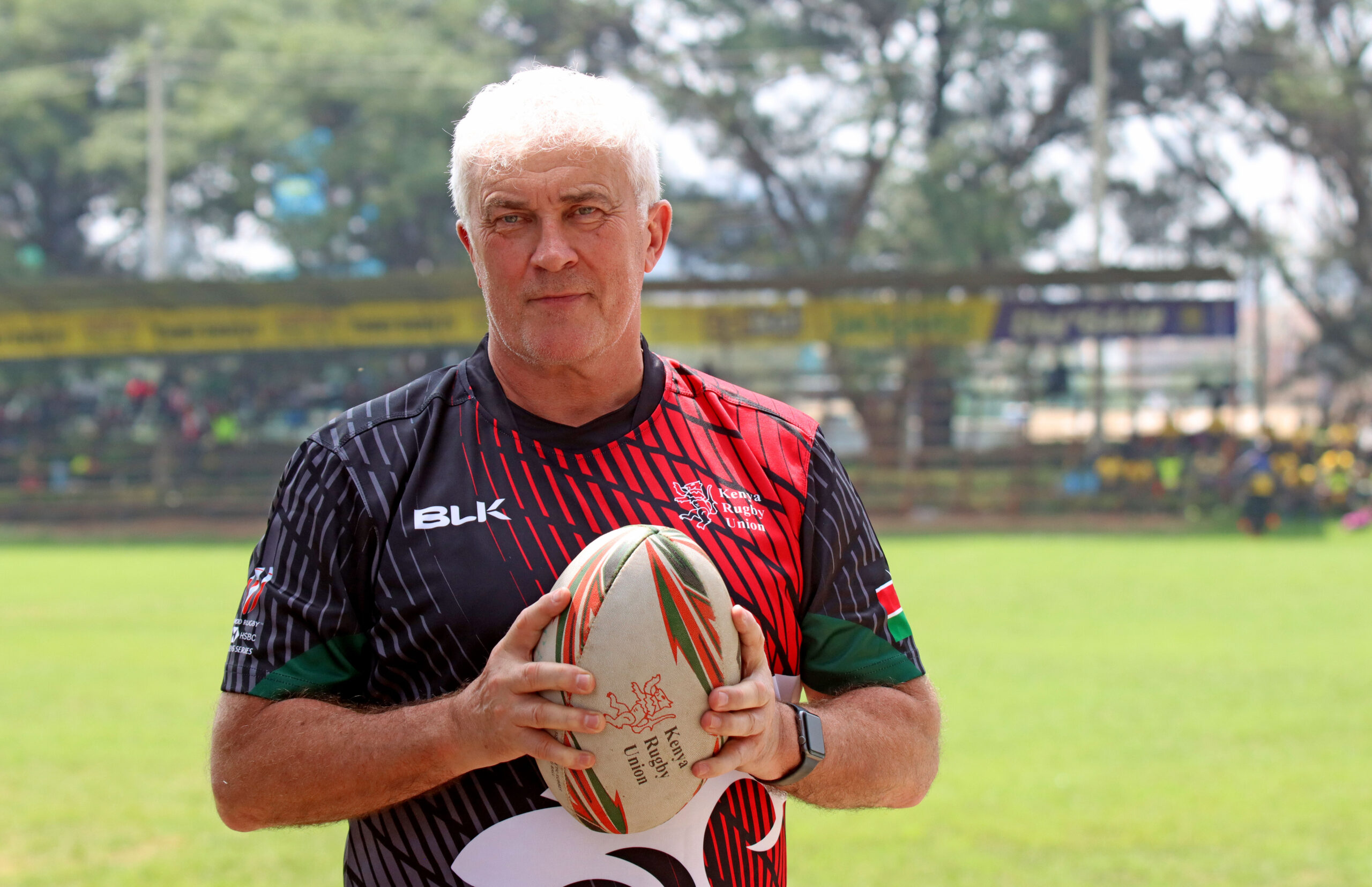 Damian McGrath was appointed Kenya Sevens head coach last week
He will take charge for the first time in Toulouse
Shujaa has had an underwhelming season
Damian McGrath will take charge of Shujaa for the first time in a competitive fixture this weekend at the France Sevens in Toulouse, the seventh leg of the World Sevens Series.
The Englishman was appointed last week to take the place of Innocent 'Namcos' Simiyu who was fired after a spate of poor results and he will be keen to be off on a positive start with the tournament in Toulous.
Shujaa have been drawn in a tough Group B and will face off with hoists France, Wales and Fiji.
The tactician has had the last week in France with the team, the boys having travelled to Toulouse on Sunday night and has been observing them and trying to bring in new ideas.
However, the former Germany 7s and Samoa head coach said he will not be totally hands on for the first two tournament of his reign; Toulouse and London, and will instead leave most of the work to his assistant Kevin Wambua as he tries to understand his team better.
"I am very much in the hands of the technical bench who have been looking out for the team in interim. I watched training today and I wanted to see players from up close," said the coach.
He further said; "The thing about trying to enforce your thoughts so close to a game is that it can confuse your players. So we may have to take a hit on these next two weeks. I will go there, I will watch them play and definitely try help and talk about things,"
"But I don't think you will see a huge change but when we come back we will hit the ground running and we will make a big effort to improve on player style taking us into commonwealth and the World Cup," the coach further noted.
Shujaa have had an underwhelming season and currently sit 10th in the standings with 37 points and collected a meagre six over the last tour in Singapore and Vancouver. They have reached the Cup quarters only twice in the first six rounds.
They did so in the opening two rounds in Dubai last year.
McGrath says his minimum target in every tournament will be a Cup Quarters berth and believes that with time, the team will continue to deliver.
"Definitely for every tournament the minimum base will be to get to the Cup quarters. In the knockouts anything can happen and we want to be there and try give our best in all tournaments,"  said the tactician.
Shujaa open their campaign in Toulouse against Fiji on Friday at 3:34pm before facing off with hosts France at 11:05pm. They conclude their Pool B action on Saturday 3:12pm against Wales.
Victory in the first two matches will guarantee the team a place in the Cup quarters and this will be minimum in the new coach's demands for the team.
"He is a good coach with a very good background and we will work our best to give him support. We are ready to deliver for the country. We have trained well for France and London and we want to do better than we did in the last two rounds,"  he said.