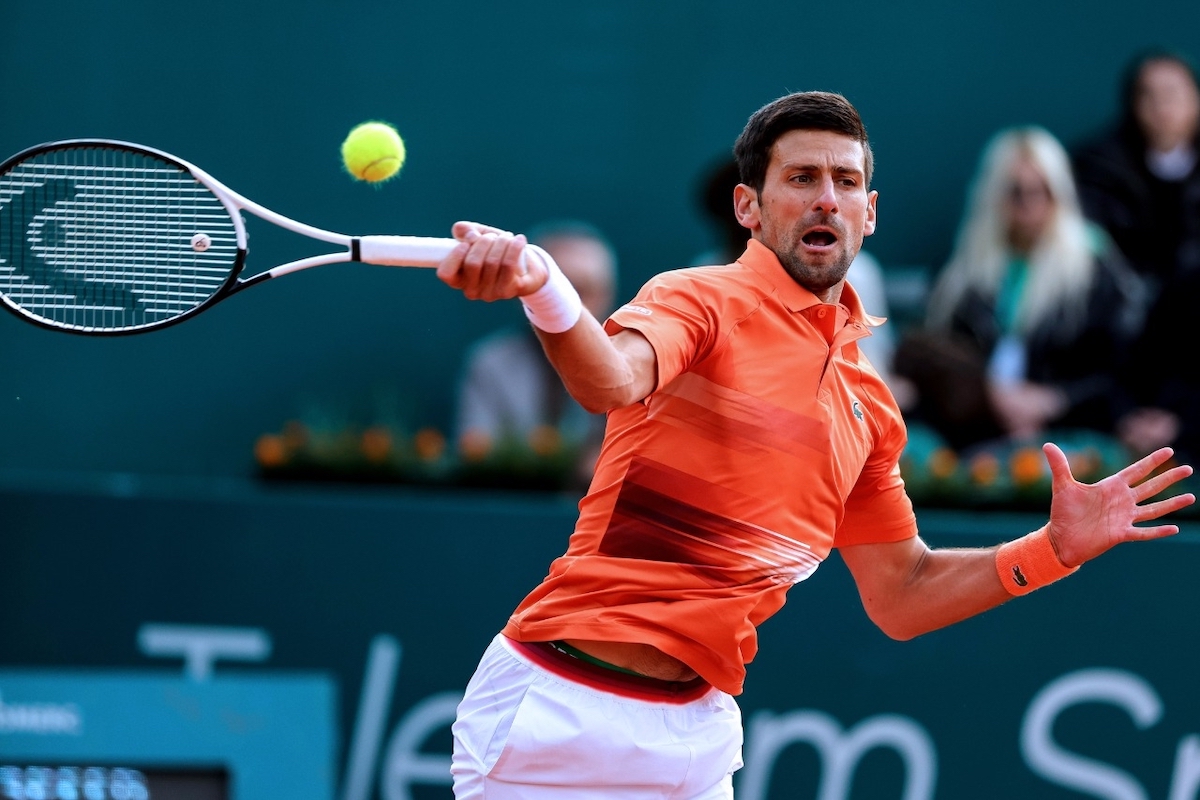 Novak Djokovic came from a set behind against Karen Khachanov to progress to the Serbia Open final on Saturday

In front of his fans, the Serbian prevailed 4-6, 6-1, 6-2 and recorded his sixth win in seven meetings over Khachanov

The world number one is set to face Andrey Rublev in Sunday's title match at the Serbia Open
After another three-set battle, Novak Djokovic won his Serbia Open semi-final against Karen Khachanov in Belgrade.
 The world number one played only his third tournament of the year and reached the final in front of his home crowd.
In the front of his adoring supporters, the Serbian won 4-6, 6-1, 6-2, claiming his seventh victory over Karen Khachanov in seven matches.
The world number 26 started the match with a bang, and he was able to put Djokovic at bay for the first few games.
With his powerful forehand and considerable depth, he frequently opened up the court and pinned his opponent back.
After two backhand errors from Djokovic, the 25-year-old fended off break points and grabbed the set, ending a nine-set string of losses to the 20-time grand slam champion.
After both players held serve to start the second set, Djokovic, who had been relatively quiet in the first, erupted and began to put his opponent on the back foot.
He won 86 per cent of his first-serve points and started returning with the precision and aggressiveness he is known for.
Djokovic ripped off five straight games to tie the match and break the shackles, throwing the audience into a frenzy.
The Serbian had the upper hand, as his forehand and backhand winners gained a break of serve immediately at the start of the fourth set.
He maintained his 2-0 lead by pushing his big-serving opponent from pillar to post and securing his break of serve.
To make it 2-1, Kachanov broke through to break Djokovic's eight-game losing streak, but Djokovic broke through again to take a 5-1 lead.
The Russian held service to make it 5-2, but it was only a matter of time before Djokovic served out the match in under two hours to advance to his first final.
Djokovic has had a tough week, with all three of his matches going to three sets. In his Monte Carlo loss to Alejandro Davidovich Fokina, he complained of a lack of energy.
Still, he showed no signs of physical limits this week and played possibly his best performance.
Djokovic is thrilled with how he bounced back after being broken in the first round. According to Infosys ATP Stats, the 34-year-old won 75% (33/44) of points on his first-served overall and did not face a breakpoint in his second service game.
Khachanov may not have been able to continue his early momentum against Djokovic. Still, he'll be happy with his run to the semi-finals on his tournament debut after breaking a four-match losing streak with a win over Roman Safiullin in the second round.
The 25-year-old has yet to win a championship since his lone victory over Djokovic at the Rolex Paris Masters in 2018 gave him his first ATP Masters 1000 trophy.
Djokovic's form has progressively improved with each match, and he will compete in his first final of the season tomorrow against Andrey Rublev.