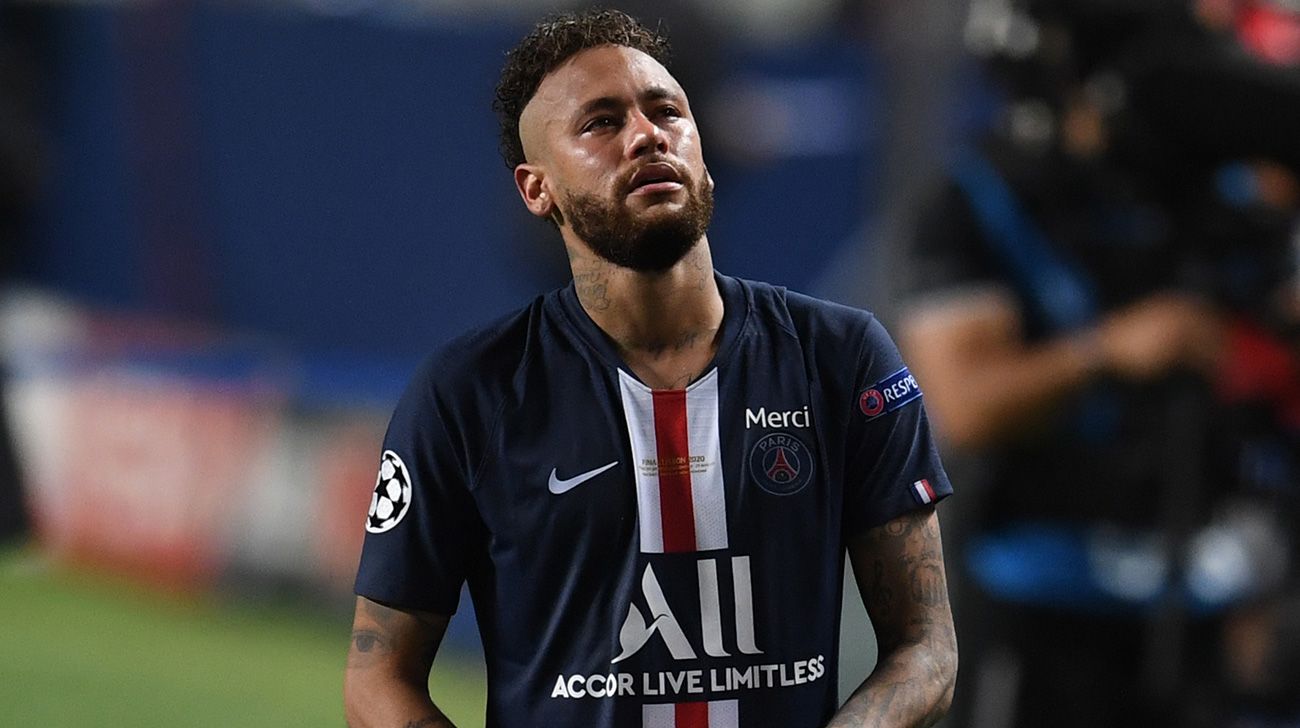 Neymar is going through the most difficult period in his career as his value appears to be sinking each minute
Each season, he missed more than half of PSG's games as fans are becoming increasingly upset with his inconsistency

With the arrival of Messi and the growth of Mbappe, Neymar is no longer the major option on the ball
Unhappy, unproductive, Disappointing, Average. You can certainly come up with a few more ways to describe Neymar's season.
 These are complementary remarks about the Brazilian international's performances for PSG, as other fans are a lot more severe in their criticism.
The attacker has one of the worst seasons in his professional career, and Brazil is eagerly awaiting his return to form.
While there is still time for things to change, it is reasonable to conclude that Neymar's dream of playing Better in 2022 is not coming true.
Neymar used to be a machine, particularly in Ligue 1, averaging almost a goal per game (56 in 70 games in his first four seasons in France) and assisting on more than one goal per game (87 goals and assists over that same period).
 However, after a quarter of the 2021-22 season, his statistics tell a very different narrative.
Neymar only scored six goals and added three assists in 21 games for PSG in all competitions this season, and he was scoreless during the club's Champions League (mis)adventure.
He missed more than half of PSG's games each season (20 in 2017-2018, then 17, 15, and 18 in 2018) but made up for it with some incredible performances.
PSG fans are becoming increasingly upset with Neymar's antics, and inconsistency as his stock appears to be sinking by the minute.
The hostile reception he received at the Parc des Princes after the club's humiliation at the hands of Real Madrid feels like the end of the road for the forward, who has been a shell of his former self this season.
The World Cup qualifying doubleheader in March against Chile and Bolivia must be a welcome break from the boos and scrutiny of Paris.
During that unsuccessful run, he was forced to miss Brazil's final two World Cup qualifiers in January owing to another lengthy injury absence caused by an ankle problem.
And according to reports from France, the forward rarely exercises at PSG and even reports on duty in a physically unfit state to play.
True or not, airing such concerns in Paris will only damage his reputation while also raising issues on the other side of the Atlantic, as even coach Tite admitted in the build-up to Thursday's encounter against Chile.
"I've learnt a sociological lesson through the years: equity, not equality."
"Because we are all different as human beings, one athlete may require something that another does not," he told reporters. "We have a broad apprehension.
"There are a lot of personal items, including a personal stamp from inside the dressing room."
"I'll be honest with you: if one of my coaches made my troubles public while I was a player, I'd be furious with him: why not come and talk to me before exposing me in public?"
"Because of our profession, we are constantly in the firing line."
WHAT HAPPENED TO NEYMAR?
So, what's going on? What happened to Neymar, and why is this year's version a weak copy of his brilliance at PSG over the past four seasons?
First and foremost, during the course of his first four seasons at the Parc des Princes, his numbers have consistently declined, which is never a positive sign.
 From 19 goals in his debut season to 15, 13, and finally nine goals last season, he has come a long way. 
The same can be said for his assists (13, 7, 6, 5) and every other significant statistic. During the 2017-18 season, he averaged 4.5 shots per game, with 60% of them being on target.
 This season, he's down to 1.8 with 27% on target, and he's gone from over 12 dribbles per game with a 60% success rate to 6.8 with only a 49% success rate.
It's possible that what we've seen so far this season was foreseen.
 It appears that Neymar is fading into the background or that something is missing. He lacks the same energy and efficiency in everything he performs on the pitch.
 He takes much too many touches for far too little end product. And, with Lionel Messi's arrival and the growing importance of Kylian Mbappe in the team, Neymar is no longer the major option on the ball.
 Regardless matter where he was on the field, the rest of the squad would nearly always pass the ball to him. That isn't the case now.
He's struggled physically, and we're not just talking about returning for pre-season in July with a few extra pounds to lose. 
He can't maintain the same level of focus he used to, with or without the ball.
He is no longer as explosive as he was when he first took his first steps, particularly in one-on-one circumstances, where he was once one of the greatest in the world. 
It's also not about his age; he is 30 be and should be in his prime. Messi, Cristiano Ronaldo, Robert Lewandowski, and PSG's executioner Karim Benzema have all shown that there is life after 30.
The issue, therefore, goes beyond age, fitness, or teammates.