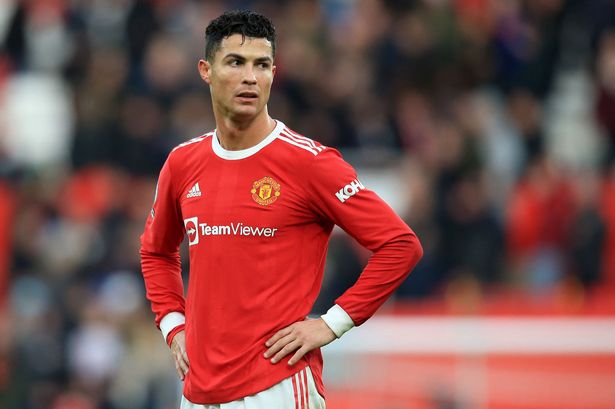 Manchester United forward Cristiano Ronaldo is reported to have left for Portugal prior to Sunday's Manchester Derby
Ronaldo was on Friday confirmed to be unavailable for Manchester United in the clash with rivals Manchester City due to an injury
Manchester United were thrashed 4-1 by Manchester City in the clash at Etihad
Manchester United forward Cristiano Ronaldo left for Portugal after it was confirmed he would not be involved against Manchester City in Sunday's derby.
The veteran striker was left out of Ralf Rangnick's squad for the humbling 4-1 thrashing on Sunday having complained of a recurrence of the hip injury which saw him miss two games in January.
Two goals each from Kevin De Bruyne and Riyad Mahrez gave City a comfortable victory over their rivals, although Man Utd had drawn level in the first half through a fine strike from Jadon Sancho before the game got away from them.
Ronaldo's potential absence had been rumoured in the build-up to the clash, and Rangnick confirmed the injury before kick-off.
According to The Athletic, Ronaldo was not even in the country by the time the match got underway, having flown back to his native Portugal once he knew he would not be playing against City.
The report claims some members of the Man Utd squad were surprised by the last-minute trip on the eve of such a significant fixture when his mere presence in support of the team might have made some form of difference.
Speaking after the match, Rangnick said: "I have to believe our medical department. Our doctor came to me on Friday morning to say Cristiano couldn't train because of some problems with his hip flexor and the same on Saturday."
In the absence of Ronaldo and fellow veteran attacker Edinson Cavani, Rangnick opted to deploy an unorthodox 4-2-4 formation with midfielder Paul Pogba and Bruno Fernandes leading the attack.
The German coach revealed that Man Utd had prepared to play with that shape, suggesting Ronaldo might not have played even if he had been fit.
"We decided with that formation to be as compact as possible and in transitional moments to create chances," he said. "That's why we've started this way."
It has not yet been confirmed when Cristiano Ronaldo will be back for the Red Devils ahead of their crucial second leg tie against Atletico Madrid in the Champions League. Before that, they will take on Tottenham Hotspur in the Premier League on Saturday.