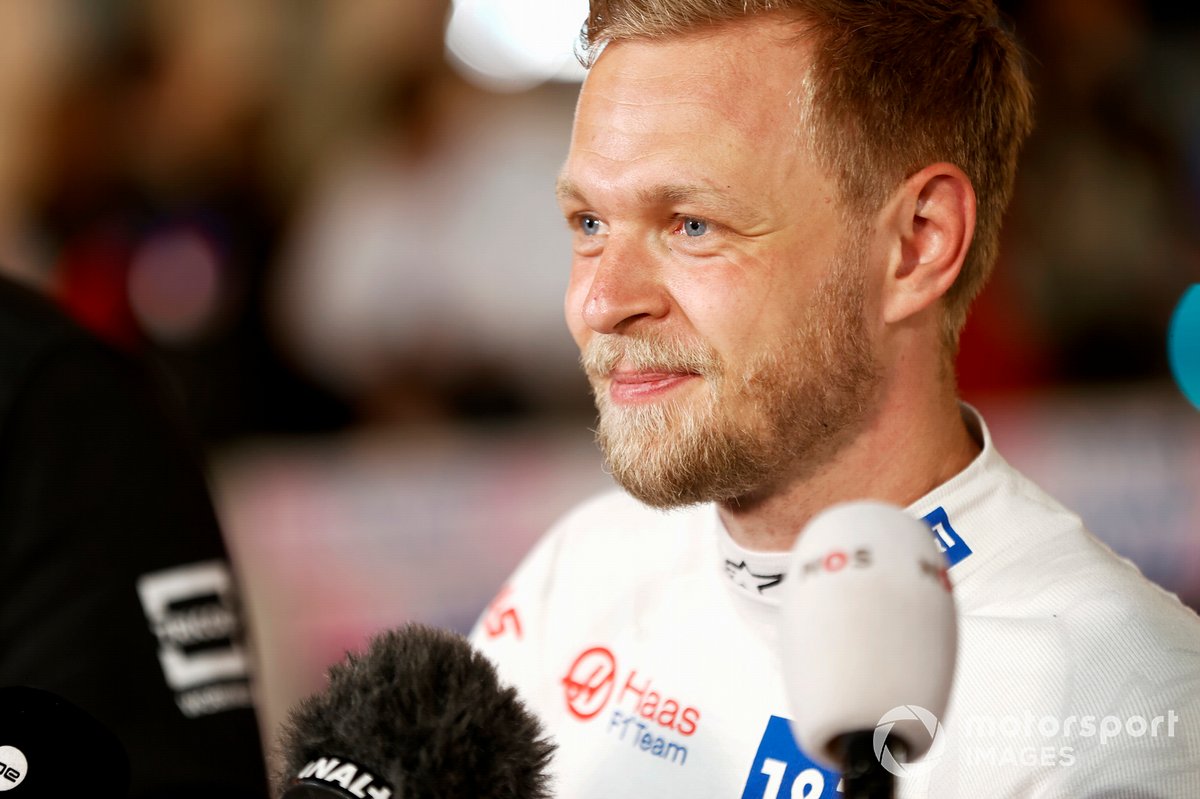 Magnussen's dream comeback to Formula One continued with a sensational fifth place in the season-opening Bahrain GP
The Haas driver believes Haas had the strongest Formula 1 car in the midfield in the season-opening Bahrain GP
Magnussen, claimed that the team will not be distracted by its performance in Bahrain and will instead focus on the midfield battle in upcoming races
Kevin Magnussen was overjoyed after completing a fantastic Bahrain GP race with Haas claiming P5 in the F1 standing.
Magnussen stunned the F1 world at the Bahrain Grand Pix while also rubbing salt into the wounds of dumped Haas driver Nikita Mazepin.
Magnussen was dropped by Haas at the end of the 2020 season and spent the previous season in sportscar racing with Chip Ganassi Racing.
Competing in the complete IMSA WeatherTech SportsCar Championship before accepting a contract with Peugeot's nascent Le Mans Hypercar project.
The Dane, who last raced in Formula One in 2020, was called up as a full-time replacement for Nikita Mazepin just a week ago.
He got right to work, qualifying seventh and then converting it to fifth, thanks in part to the late retirement of both Red Bulls.
"This craziness just continues," he said. "We had an excellent race, the car was good all the way through – we had a little more degradation than we had hoped for on the first set [of tyres].
"I also got passed a few faster people, so I didn't really know whether to try and keep them behind or to kind of let them go, and I also locked up a little bit.
Mick Schumacher finished behind Zhou Guanyu, narrowly missing out on a double-point finish for Haas.
"That first stint maybe wasn't perfect but then from there, even though we pitted earlier than planned.
"We kind of extended that second stint on the same tyre, extended it to get back on plan, then had a Safety Car at the end that put us and everyone on the same tyre and just a sprint race to the end, which was intense.
"Obviously, a bit of luck there at the end with the two Red Bulls, but we will take that."
"I mean, we were the strongest car in the midfield; I could see the Mercedes almost the whole race.
"I know we got a safety car at the end, so that helped a little, but it was just a different story to in the past.
"I keep saying this all weekend that I can't believe this opportunity that I've got here. P5 today, crazy."
He added: "I can't wait for the rest of the year; I just want to keep going."
Haas sits third in the construction championship with 10 points, which is more than they have shot together in the last two seasons.
It is also only the fifth time Haas has finished in the top five in history.
Magnussen admitted that his neck was "very stiff" but that he was "better than I anticipated I would be" in terms of fitness.
"I was worried I would be way more tired," he said.
"But sometimes, when you're in a good position, you get some extra energy, and I certainly was fine."
However, Magnussen stated that the team will not get carried away by its performance in Bahrain and that it will remain focused on the midfield struggle in future races.
"The midfield is our focus, and we know we got lucky today with the Red Bulls," he said.
"If we can finish P7 in Jeddah, it's the same as today. Today, we were just lucky getting four more points than we would have with a P7."
Magnussen noted that he "over-used the tyres" in his first stint, forcing him to pit two laps earlier than intended.
But he was able to prolong his second stint on soft tyres by the same amount to get back on the team's original strategy.
"So [we] managed that well with the engineers, getting the right amount of pushing in the critical corners and all that," he said.
"I'm certainly getting more into it, but I think everyone is now with these cars, just learning more, getting more on top of it.
"It's always like if you put a shoe on that fits you, then when you start walking, it still gets better, so it's a bit like that."