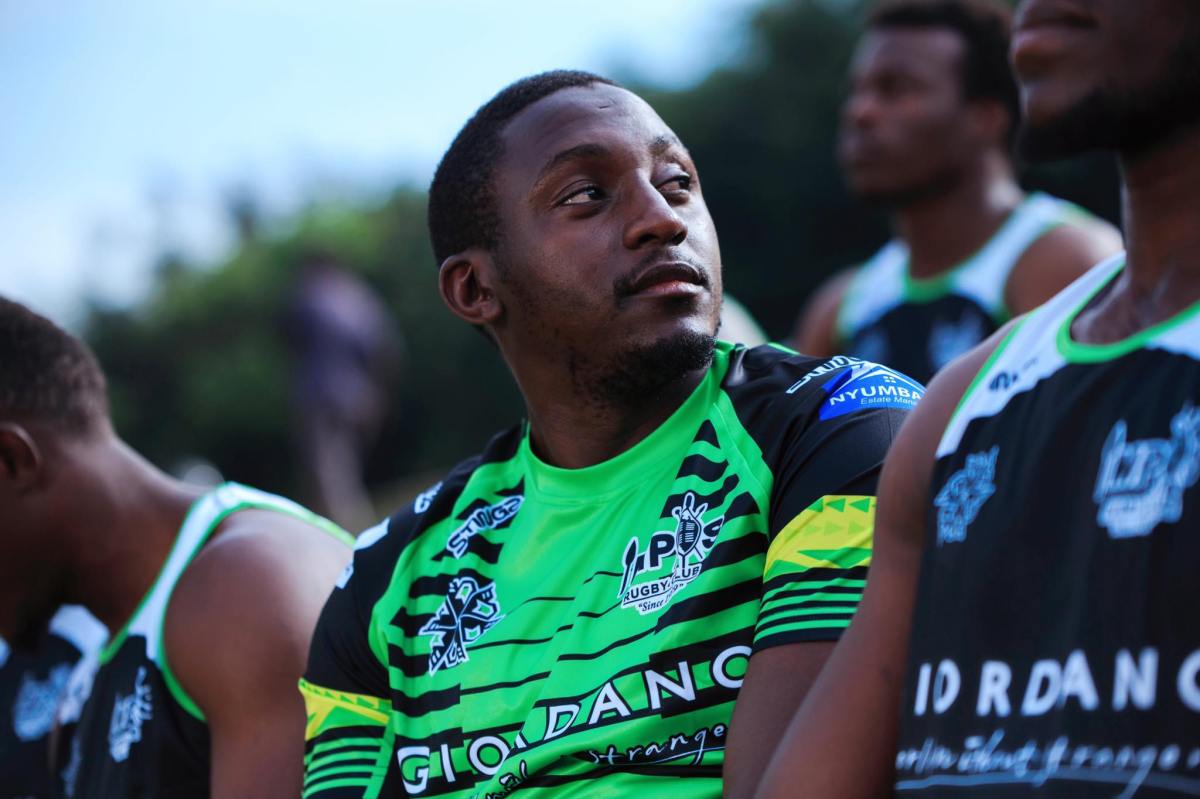 Impiss Rugby head coach, Emmanuel Katuntu. Photo credit/ Kawowo sports
"If you asked why the results are not coming, I don't know what to tell you," Impis Rugby Club head coach Emmanuel Katuntu says when quizzed.
It is a slow Tuesday evening characterised by slow Kampala traffic, grumbling grey skies and an impending downpour that didn't fall until later that night. We are sitting on the second level of the red-painted steps behind the uprights at The Graveyard (Makerere University's Rugby Ground) watching, on the near side, his team goes through a gruelling session with S&C coach Arnold Mataze, and on the far end, his next opponent in six days, Rams RUFC, running through their structure.
The men's premier league is making the final bend towards the climax of the 2022 season and Impis currently lie at the bottom of the table, winless with 6 points – two from the draw against Buffaloes plus four losing bonus points against Rhinos, Black Pirates, Warriors, and Rams – from 12 matches played.
Katuntu cannot pinpoint exactly why wins have eluded him and his charges this season, especially in matches against opponents he feels they surely deserved to win.
"A bit of luck here and there like [against] Buffaloes, decision making… [pauses to think deeply] which are things we say we are going to fix but in the end, the decision-makers are on the pitch. When you send them with instructions and they don't execute them, then you also can't evaluate yourself. When they execute, it works."
DURING THE BUFFALOES MATCH, There were multiple opportunities where Impis turned away possession easily due to the wrong decision on the interpretation of the laws of the game. And on a day when the ball was unplayable due to the wet Kyadondo surface and the kickers had woken up on the wrong side of the bed, luck was not on their side either despite playing with a man-advantage at some point. Three of their tries were cancelled – one for a forward pass leading up to the touchdown and two for "held up" calls by centre referee Gonzaga Mayanja – and the game ended 14-all.
But Katuntu has an idea of what has placed them in this undesirable situation, one that has stuck from three years ago when the team returned to top-flight rugby after a season down under in the championship.
I think it is just a team that is in a difficult period of transition. When I look at it, myself, I feel like the team is still struggling to break that duck of being the underdog and I think they enjoy it. Because, when you are in a phase for long, you get too used to it that something besides that seems wrong, or you're not prepared for it.
"You've watched very many of our games and you see that this team is in control but at a certain point, they feel like 'but no this is not where we are supposed to be. We are supposed to be chasing the game.' So when you have control in a game and you give it away, you will lose the game."
He cites examples of matches he describes as the ones that got away. Buffaloes, Mongers, Warriors, Rams, and even the first-round cracker away against Black Pirates.
"The game against Mongers here (at The Graveyard). These are games I feel we should be winning. You're leading at halftime, it's 05-03. Then you go into the second half and you're like 'I think this is not what we are supposed to be doing,' so you give that one away. Rams, same story. First 20 minutes everything is working. You've put the team to the sword, all you're left with is cutting off the head and it refuses. The other person wrestles the sword away from you and instead cuts your neck off. Same story with Warriors. All those are games that you feel we could win."
"And, when you watch the game, these guys put their people away in every department – set piece, defence… everything! In terms of discipline, everything is working. But it just doesn't show at the end of it so yeah and that's where we are."
HOWEVER, THAT IS NOT THE CASE every time Impis run onto the pitch. "Rhinos! At least that one I can say they came out of the blocks very quickly and never even gave us a sniff of that control. So that one was very well done by them, and we were struggling to get that control but it failed," Katuntu says.
It is actually against the top teams that Impis play their best rugby, despite the scores telling a rather different story. In the first round, Kobs posted 46-05 points against them on the opening weekend at Legends, then there was that 15-06 arm wrestle with Black Pirates midweek three weeks later, and also a 29-13 exchange against leaders Heathens two days before Valentine's Day.
"You see when we play against Heathens for example, or Pirates or Kobs, the boys go all out. They fight. [But] then in the game where you feel they should be winning it…" he is lost for words.
KATUNTU BELIEVES it is a sign of progress and improvement at the Makerere-based club from the days when they flirted regularly with regulation, eventually succumbing to it and finally rising from the ashes like a phoenix.