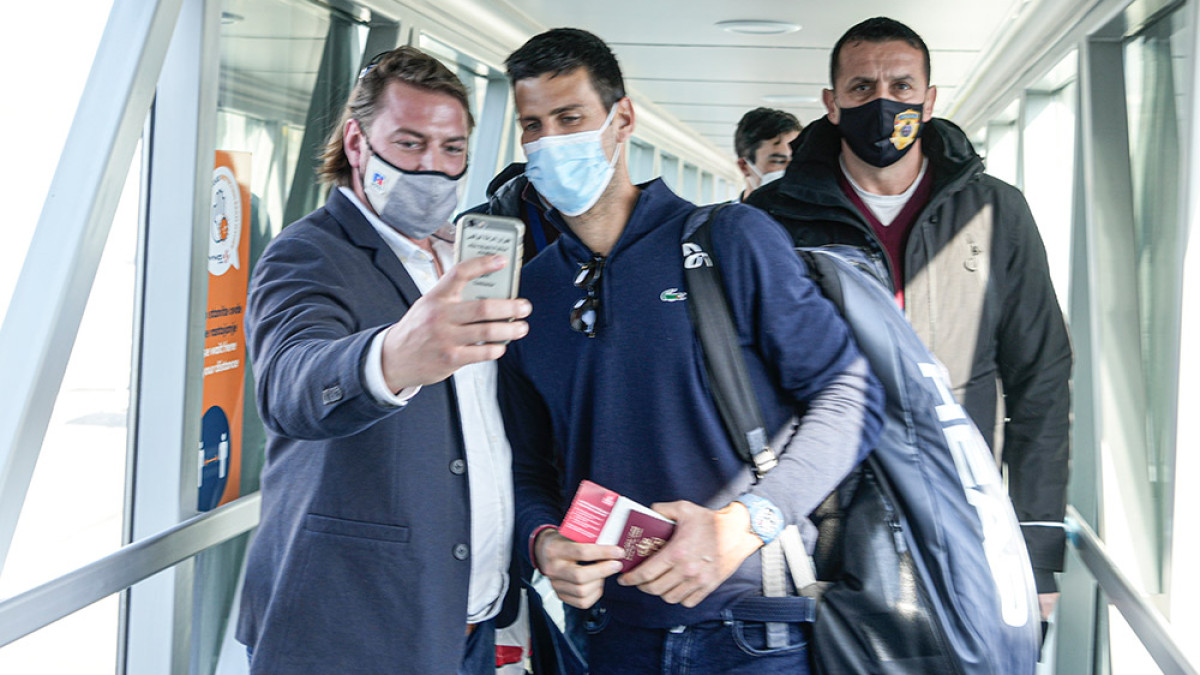 Novak Djokovic Belgrade Serbia
Novak Djokovic has returned to Serbia capital, Belgrade, following his deportation from Australia, on Sunday thereby locking him out of the Australian Open.
Djokovic arrived in Belgrade on Monday after losing a court battle against the Australian government's decision to cancel his visa on public health and order grounds.
He travelled to Melbourne the first week of January via Dubai but was immediately detained due to a visa mix-up.
Hundreds of people gathered at the airport to welcome the 34-year-old Serbian back home.
They chanted his name while waving banners and flags inscribed "Nole (Djokovic's nickname) you are the glory of Serbia".
Earlier, the Serbian Olympic Committee expressed its "deep disappointment" in Australia's "scandalous decision" to deport Djokovic, saying that a "major injustice" had been done.
Serbian Prime Minister Ana Brnabic also expressed her displeasure with the visa cancellation, calling it "scandalous."
"I am disappointed and I think it has shown how the rule of law functions in some other countries, i.e. how it doesn't function," Brnabic told Beta News Agency in Belgrade.
"I look forward to seeing Djokovic in his own country, in Serbia, and to go through this together with him and give him our support in this difficult time for him," she stated.
Djokovic faces a three-year ban from the Australian Open after being barred from entering the country due to disciplinary action.
Djokovic violated the country's stringent Migration Act which warranted the Australian government to revoke his visa for the next three years 'except in specific circumstances.'
His bid to play hit a snag especially due to his unvaccinated status against coronavirus. Speaking of his exit from the tournament, Djokovic said that he was extremely disappointed with the court's decision to dismiss his application for judicial review of Australia's decision to cancel my visa.
Australian Immigration Minister Alex Hawke cancelled his visa last week days after the court reinstated it and ordered him to be freed from detention.
The world No.1 said that he was unhappy with the attention of the past few weeks being focused on him.
The visa cancellation was upheld unanimously by a three-judge panel more than 12 days after his arrival in Melbourne, Australia.
Scott Morrison, the Prime Minister of Australia, expressed his delight with the decision, saying it will help "keep our borders strong and Australians safe."
Morrison said that officials from the Australian Open will step up security in order to prevent any potential anti-vax protests at Melbourne Park.
In a statement on Tuesday, Tennis Australia concurred with Hawke's decision.
"We would like to make clear from the outset that we respect the decision of the Immigration Minister and the finding of the Federal Court of Australia over the weekend.
"Tennis Australia has been working closely with both the Federal and Victorian government for the past year to deliver a COVID safe Australian Open for the players, staff, and fans," the statement read.
Tennis Australia added that holding a major tournament such as the Australian Open is profoundly demanding.
Therefore, "As the Australian tennis family, we recognise that recent events have been a significant distraction for everyone, and we deeply regret the impact this had on all players."