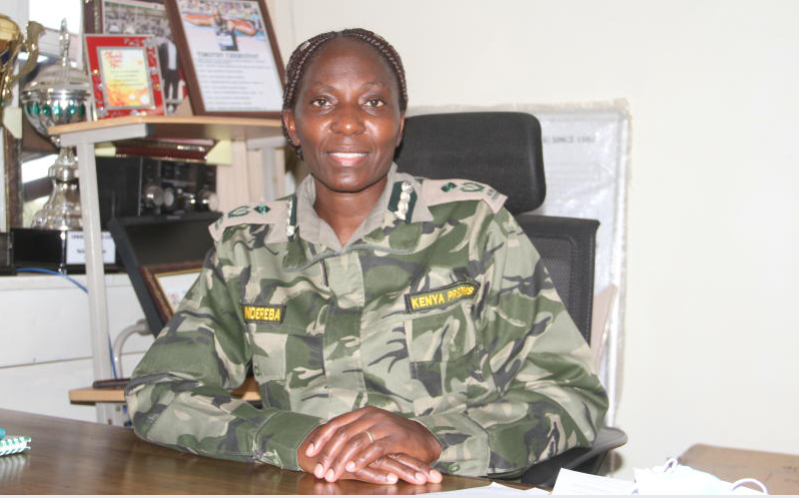 Every morning, legendary marathoner Catherine Ndereba dons her prison warder uniform and heads out for work. This job gives her a lot of satisfaction since retiring from athletics in 2015.
For years though, Ndereba ruled regional international marathon tracks. When she looks back, she is happy that she heeded to her passion and established an illustrious career.
But who is this towering figure in athletics?
Who is Catherine Ndereba?
Ndereba, a mother of one hails from Gatunganga village in Mathira, Nyeri County where she was born in 1972.  Her athletics career started way back at Ngorano Secondary School.
She was later recruited into the Kenya Prisons Service athletics programme where her running career shaped up. She made history by becoming the first woman to run a marathon in 2:19.
Why Did Catherine Ndereba Retire?
After years of giving her best on the track, Ndereba suffered a debilitating ligament injury that forced her out of the track.
Now 49, she says that the injury never healed completely. Nonetheless, her Prisons job gives her a lot of satisfaction.
"Since retiring from competition in 2015 due to a torn ligament that has not healed to date, I decided to concentrate on my work because I was identified by someone and drafted into prisons," she told the Standard in January 2021.
"I have to also identify the talent that can propel and give glory to prisons and the country," added Ndereba.
Due to her selflessness, she received State honour, Moran Order of the Burning Spear, from President Uhuru Kenyatta in December 2020.
How Does Catherine Ndereba Describe Her Athletics Career?
Ndereba recalls during her active running days, she shaped Kenya Prisons sports moreso, women athletics. She is the force behind 'golden girls' tag that the team was given by the media.
Ndereba won the Boston Marathon and Chicago Marathon severally – including in 2000. She also won the IAFF World Half Marathon Championship, Osaka International Ladies Marathon, and Bogota Half Marathon.
Ndereba received the Kenyan Sportswoman of the Year title in 2004 and 2005, respectively. Her achievement in marathon was recognized by former President Mwai Kibaki in 2005.
Kibaki bestowed the Order of the Golden Warrior upon her. Years later, Ndereba finished ninth at the 2009 London Marathon.
Although she did not make it to the top, she tied to Katrin Dorre's record of 21 sub-2:30 hour marathons set in 2008.
Later in 2009, Ndereba finished third in the Yokohama Women's Marathon later that clocking 2:29:13 to complete the race.
She did not compete in another marathon until October 2011 when she finished third at the Beijing Marathon in 2:30:14 hours, a personal best.
Catherine Ndereba Career Achievements
1995
Ndereba for the first time represented Kenya internationally in Seoul, Korea women's relay race.
1996
She came second in USA Track and Field's World Road Running Rankings. It was also the same year she was named Road Runner of the Year by Runner's World magazine and Road Racer of the Year by Running Times
1998
Running Times named Ndereba Road Runner of the Year by Road Racer of the Year by Running Times.
Won individual bronze and team gold at the IAAF World Half Marathon Championships in Palermo, Italy
She debuted her marathon presence in Boston and came in sixth. However, she finished second at the New York City Marathon
2000
Ndereba won Boston Marathon and Chicago Marathon. She was also named AIMS World Athlete of the Year by the Association of International Marathons and Distance Races.
2001
She won the City-Pier-City Loop half marathon and won both the Boston and Chicago Marathons.
2002
Ndereba finished second at the Boston Marathon as well as the second at the Chicago Marathon
2003
Ndereba became the World Championships gold medalist after winning Sapporo half-marathon winner.
She finished second at both the New York City Marathon and the London Marathon
2004
Ndereba brought back home a silver medal from the 2004 Summer Olympics in Athens. She won the Boston Marathon the same year.
2005
She made history by becoming a four-time Boston Marathon winner (woman's category).
2006
She won the Osaka International Ladies Marathon and Bogota Half Marathon as well. Ndereba would then Finished third at the New York City Marathon.
2007
Ndereba became the World Championships gold medalist and finished fifth at the New York City Marathon.
2008
Ndereba returned home with a silver medal from the 2008 Summer Olympics in Beijing. She also finished fifth at the New York City Marathon
2009
She finished sixth at the London Marathon
2011
Ndereba finished third at the Beijing International Marathon