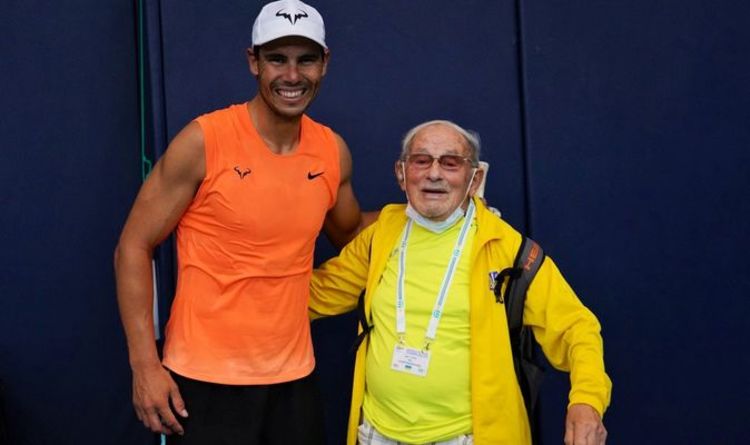 Rafael Nadal is not only a humble tennis player but a kind one too if his visit to 97-year-old man Leonid Stanislavskyi is anything to go by. And Paul Annacone, former coach to Roger Federer lauded him for such a humble act.
Stanislavskyi is a veteran American player on the circuit and has always wanted to meet Nadal. And Nadal honored his request by meeting him and named his academy Rafa Nadal Academy.
The 20-time Grand Slam champion had a round match with the nonagenarian. Stanislavskyi had some magical forehand shots along with one-handed backhand shots.
After news of Nadal's visit, Annacone said he was amazed by the old man's skill.
Annacone Amazed
"This is so amazing. Talk about his sport for a lifetime, this gentleman getting to hit with Rafa is such a thrill. But look how well he plays still," said former Federer's coach.
He added that seeing Nadal go out of his way to meet the tennis legend and name an academy after him is humbling.
"It's amazing to watch this, and this is very typical of Rafa Nadal of doing something like this, shows his humility and class. But what a great day for that 97-years old."
The Spaniard is a darling to many across the world not just for his great tennis exploits but for his kind heart too.
About Paul Annacone
Annacone, formerly an American tennis player and now a coach has spent time with Nadal and knows him well. The coach won three titles in his career, 14 more titles in doubles event.
Winning the Australian Open in 1985 was his biggest achievement on the court. It is against this backdrop that he became Federer's coach between 2010 and 2013. He also coached Pete Sampras from 1995 to 2002.
Other tennis legends who have passed through Stanislavskyi's coaching include Tim Henman, Stan Wawrinka, and Sloane Stephens.
Nadal Injury
The world No.5 has been battling a debilitating foot injury that kept him off Wimbledon, Tokyo 2020 Olympics and the U.S Open. He shared photo of his bandaged legs and crutches in September and said it will be a painful and difficult recovery.
The foot injury forced him to end his season in August and embarked on a treatment procedure. Then, he was optimistic that all would be well despite losing his last match of the season to South African Lloys Harris.
"…looking forward to improving and facing a process that will be difficult in some ways and painful in others but that I have to go through to fight for what I want again."
In a documentary released in September, Nadal said that he was excited even as things got complicated for him.
Nadal has won 20 Grand Slam men's singles titles, an all-time record shared with Roger Federer. He has also bagged 36 Masters 1000 men's singles titles, an all-time record shared with Novak Djokovic.
He is the second-highest-paid tennis player, after Roger Federer. Nadal is hopeful of returning to ATP tour next year as he begins his training. His recovery is coming along well.