Christian Erisken not allowed to play in 2021/22 Serie A season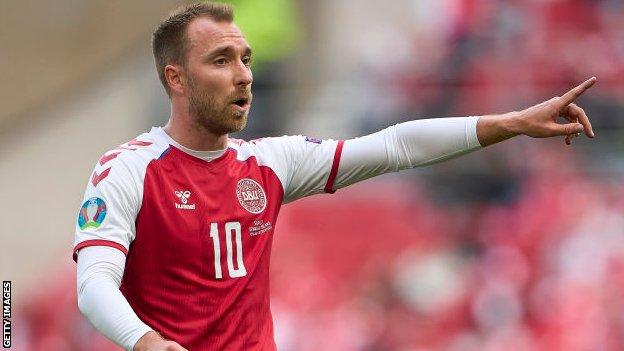 Serie A reigning champions Inter Milan have confirmed that midfielder Christian Eriksen will not be able to play in Serie A for the remainder of the season, with league rules blocking his return following a cardiac arrest at the EURO 2020 in the summer.
The Denmark international was fitted with an implantable cardioverter-defibrillator (ICD) after collapsing on the pitch early in Euro 2020 when Denmark hosted Finland at Copenhagen, with the device designed to monitor and potentially restart Eriksen's heart should he suffer further problems.
Eriksen is believed to be in impressive physical and mental shape, but Italian authorities have ruled that he cannot play in Italy until he has the ICD removed, despite the fact that other athletes, including Ajax's Daley Blind, have been playing safely with a similar device for years.
"With reference to the registration rights of the player Eriksen, it should be noted that following a serious injury which occurred during the European Championship in June 2021, the player has been temporarily inhibited by the Italian medical authority from sporting activity in the current season," an Inter statement read (via Sky Sports News).
However, the reigning Serie A champions did admit that Eriksen could be sent out on loan for the remainder of the season to a country in which he would be permitted to play so as to regain his fitness ahead of next season.
"Although the current conditions of the player don't meet the requirements of achieving sporting fitness in Italy, the same could instead be achieved in other countries where the player could resume competitive activity," they added.
The Dane's former club, Tottenham Hotspur have previously been linked with a loan move for Eriksen, while Leicester City held talks over a transfer back in January but baulked at Dane's wages.
More recently, Dutch giants, Ajax were tipped to bring the attacking midfielder in during the summer, while we've even seen some thoroughly unconvincing rumours of a possible short-term switch to Real Madrid in January as well.
Eriksen remains under contract with Inter until 2024, but unless he gets this ICD removed, he appears to have played his last game for the club.
The 29-year-old hasn't always had it easy in Italy. A high-profile arrival from Tottenham in the middle of the 2019/20 season, Eriksen struggled for form for the remainder of the campaign, bagging just one goal in 17 outings.
He played a reserve role for Antonio Conte's title winners last season, starting just 17 games, and was tipped to leave the club even before this summer's disheartening events.