2 major wins Marcus Rashford bagged in October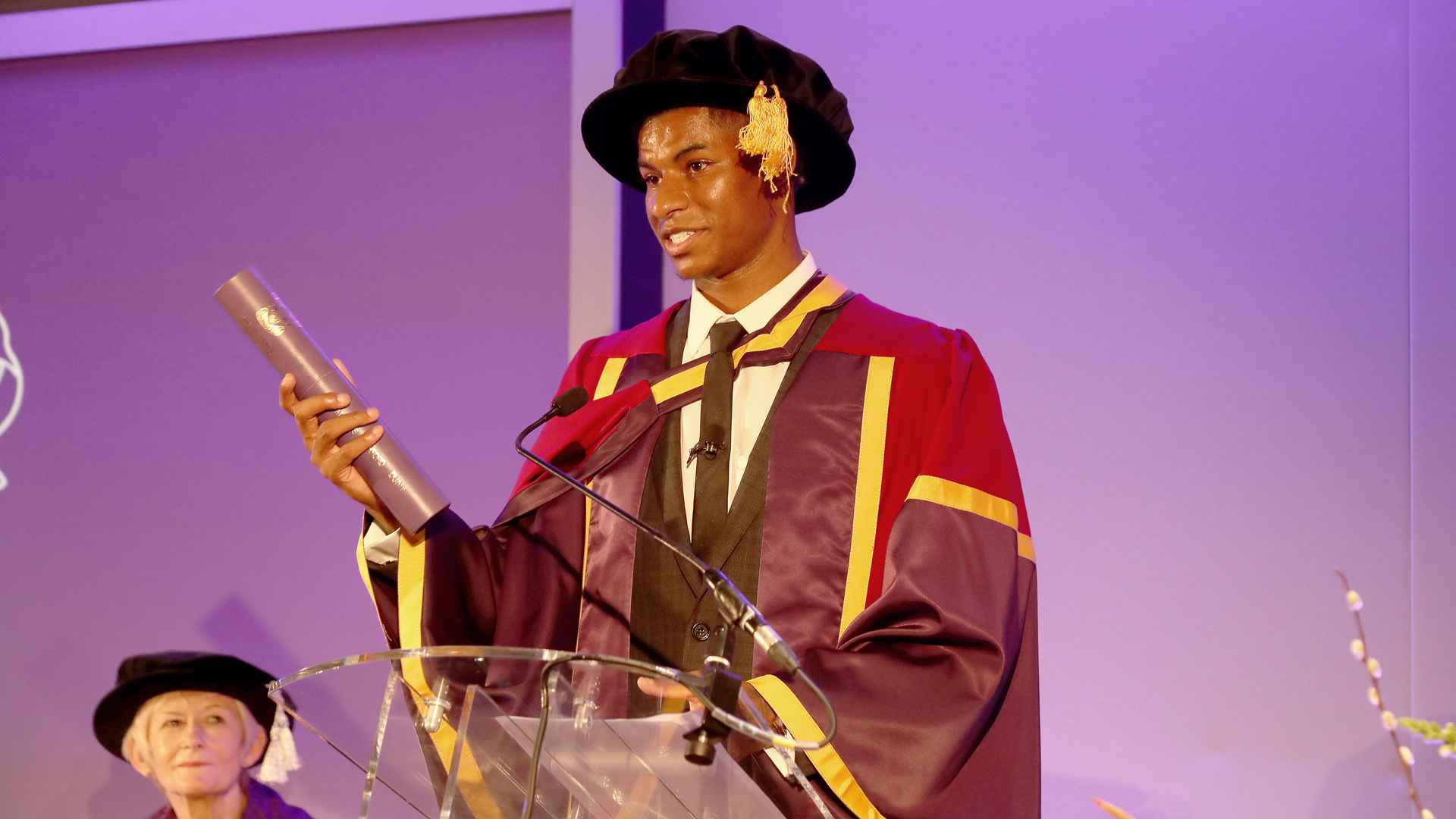 Marcus Rashford made it to the 2021 Football Black Lists. The Manchester United forward joins two other Reds named for the annual initiative.
Football Black Lists was started in 2008 by Leon Man and Rodney Hinds – both of who are sports journalists.
The intent was to spotlight pioneering and inspirational work being done across the industry by black professionals.
Football Black Lists Panel
A panel of experts vote independently on nominations made by the public for the eight categories in the initiative.
The panel consists of representatives from the Premier League, The Football Association, Professional Footballers' Association and League Managers Association. English Football League, PGMOL, Sport England, BCOMS and Kick It Out are also part of the panel.
Who Else Was Named To 2021 Football Black Lists
Besides Marcus, the Academy's head of player development and coaching, Justin Cochrane, and the Foundation's Andrew Lawlor were also recognised.
Cochrane, who joined the club earlier this year from the Football Association, is named in the 'Coaching and Management' section. Lawlor is one of five names in the 'Community and Grassroots' category, honouring his work at the Foundation's partner school, MEA Central.
Marcus Rashford Rising Star
This is the second time Rashford finds himself nominated by the Football Black List. He was named in the 'Players' category.
The second nomination comes hot on the heels of an honorary doctorate he was awarded a few weeks back.
On October 7, the University of Manchester awarded the English footballer an honorary doctorate for his work in fighting against child food poverty. The event took place at Old Trafford.
The award was to also celebrate his outstanding sporting achievements with the Red Devils.
This honorary is the highest honour the University can bestow. At just 23 years old, Rashford became the youngest recipient of an honorary degree in the history of The University of Manchester.
The varsity honored Old Trafford legends Sir Alex Ferguson and Sir Bobby Charlton in the past with honorary accolades. Ferguson graced the award ceremony to witness this major milestone in Rashford's life.
What Marcus Rashford Said After Honorary Doctorate Award
Speaking about it all, Rashford said that it was a humbling experience seeing Ferguson's presence.
"To be here in the presence of a great such as Sir Alex, and those who have played a huge role in my journey to be where I am today is special."
He added: "I'm here to receive my Honorary Doctorate for my work around child poverty. Yesterday, millions of families across the UK lost a lifeline and a means of staying afloat. A move that could see child poverty rise to 1 in 3 children. For that reason, today is bittersweet.
"It's time that representatives got out into communities like mine. It's time they saw first-hand the true measure of struggle. COVID-19 can no longer be used as an excuse."
All About Marcus Rashford Campaign Against Child Food Poverty
At the height of the COVID-19 pandemic, the Manchester United forward started the hunger campaign. It was informed by steadily growing numbers of children sleeping hungry due to poverty – fueled by jobs closure during the pandemic.
According to a survey by Food Foundation conducted halfway through 2021, the situation is getting worse. Out of 6,490 households, 15 per cent of these have at one time experienced food insecurity for about six months.
This figure was 27 per cent higher than when the pandemic struck in 2020.
Rashford asked constituents to write to their MPs as a way to end the pandemic that is child hunger. His campaign has yielded positive action and feedback from the government on the issue.
What The University Of Manchester Thinks About Marcus Rashford's Hunger Campaign
And this effort did not go unnoticed by the University of Manchester. Professor Rothwell while presenting the doctorate award was all praises for Rashford.
"Marcus is an exceptional young man who continues to demonstrate a sense of community and generosity that goes well beyond his years.
"Our University also has social responsibility at its core, and we are extremely proud to share these values with Marcus. It really is an honour to finally present him with this well-deserved award on behalf of our institution.
"His ongoing charity work and high-profile campaigns not only help millions of people across the country but inspire many more to try and make a difference themselves. Long may it continue."