The Rugby League World Cup will still go on this is after the organisers confirmed the event is in a position to be held despite logistical concerns from the NLR.
There have been lots of doubts about the event due to the rise of Covid-19 cases and resistance from Australia's NRL clubs with the concerns over travel and quarantine restrictions caused by the pandemic.
According to the organizers the Tournament will go down in 100 days despite the challenges they've been facing.
"We recognise there are still many challenges ahead, but we will work relentlessly and will take the most extraordinary measures with the support of all involved to stage the tournament in 100 days time.
The Chief executive officer Jon Dutton in a statement confirmed that they are happy that they're clear and sure that the event is going to be held.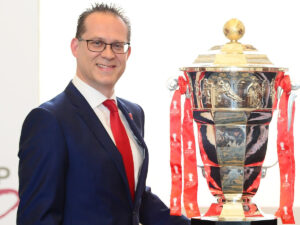 "We are delighted to be able to provide clarity and certainty to fans, players, partners, media and those that have supported our journey over the past few years." Said Dutton.
He said they are looking forward to deliver the biggest event ever.
"We have an overwhelming desire to deliver the biggest and best ever Rugby League World Cup and through our determination and decisiveness we will be able to achieve this vision.
Dutton was involved in the successful staging of the 2013 World Cup in the UK and began preparations for the 2021 tournament more than five years ago,The final decision was delayed over the last three months and he admitted he had passed the point of no return.
"Today marks 100 days to go and we believe this is the right moment to take away any remaining uncertainty," said Dutton, who confirmed he had considered both a postponement and a cancellation.
"We have got great momentum and there is a resounding desire from UK Government as part of the reopening and rebuilding of confidence here in the UK for the tournament to go ahead.
The Rugby world Cup will kick off on October 23 with England facing Samoa at Newcastle's St James' Park and the women's tournament will begin on November 9, with the finals of the men's and women's event taking place in a double-header at Old Trafford on November 27.
The men's, women's and wheelchair competitions are taking place for the first time and Wheelchair event will be held between November 11 and 26 held at 21 venues across the three tournaments.
International Rugby League Chair Troy Grant said he's happy that all organizers and stakeholders have worked together to see this event's objective achieved
"I am delighted that all the stakeholders in International Rugby League have worked together to achieve this important outcome for the global game.
"RLWC2021 has great ambitions which will help grow the interest and participation in our sport across the world.
"We can now all look forward with certainty and excitement to the kick-off of the tournament in Newcastle on 23 October and again I wish to thank all those involved, the organisers, the nations federations and the key stakeholders, for the leadership which has delivered this positive result in the most challenging of situations."