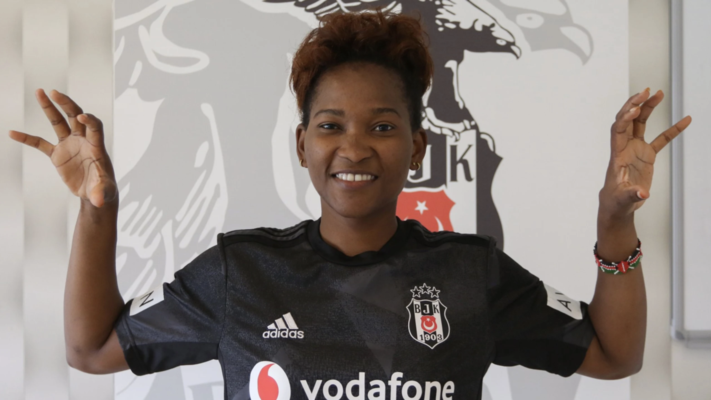 Kenyan women's footballer, Esse Akida, looked at the future with excitement after sealing a move to reigning Turkish champions Besiktas in February, but that enthusiasm has been curbed after playing just two games due to the suspension of the worldwide sport due to the novel coronavirus pandemic.
The striker who scored Kenya's first-ever Women's Africa Cup of Nations goal in Cameroon 2016 (a 3-1 loss to Ghana) before the move to Besiktas.
"I was really excited coming here and had already worked hard to gel into the team. It was sad that after just two games, the league was stopped because of the coronavirus. I had already started gathering momentum and bonding with my teammates," Akida told CAFOnline.com from her base in Turkey.
Luckily for her, as a new player, she was still living within the club's facilities and training under lockdown has been a bit easier, as she doesn't need to move outside.
"Of course it is difficult without your teammates but at least I am lucky I can access all the facilities. I now realise that I made the best decision not to go live outside the city because it would have been very difficult.
"We have our sessions as a team via Zoom (video telephoning application for groups) every day where we are taken through various physical activities to keep our fitness. Apart from that, I also do a bit of my own workout at the club facilities to ensure I don't lose momentum.
Despite the less than ideal start at the club, she still retains her ambitions from the onset, which include keeping a constant starting place in the team as well as helping the team retain the championship.
If they retain the league crown, then Akida will stand on the verge of history, going on to become the first-ever Kenyan female player to play in the European Women's Champions League. Overall, she would join a prestigious all-around group of Kenyans to feature in the European Champions League.
It includes the Wanyama brothers of Victor and MacDonald Mariga as well as Kenya's top striker Dennis Oliech.
"That is a dream I want to achieve but before then, I just want to take a day at a time. So far I have started both games and it is my ambition to keep growing once we get back."
She has gone on to urge fans not only in Kenya but all over the world to continue observing the guidelines set by various governments and the World Health Organisation.
"To defeat this virus, we need to play as a team. Observe social distancing, wash your hands often or use alcohol-based hand sanitisers. I believe if we all play our parts, we will be in a better place soon. It is a difficult time for us sportsmen because we can't do what we do best but it is a tough time that will pass," she adds.
Apart from individual club achievement, the forward also hopes to play a part in Kenya's journey to seek a place at this year's Women's Africa Cup of Nations when the qualifiers kick off later in the year.
In partnership with ANA and Sports Leo