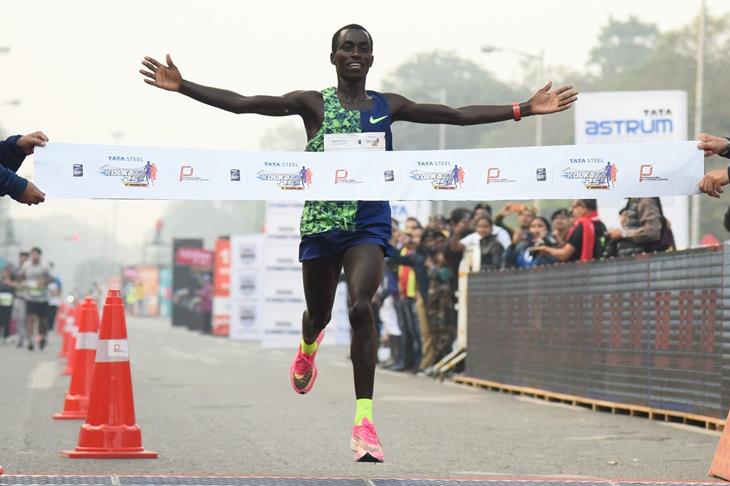 Kenya's Leonard Barsoton ripped up the record book at the Kolkata 25K men's race as he set a new event record for the World Athletics Silver Label Road Race – the only 25km race in the world with such a distinction – on Sunday.
Barsoton, the 2017 World Cross Country Championships silver medallist, crossed the line in 1:13.:05 to take 43 seconds off the event record set by Ethiopia's Kenenisa Bekele in 2017.
A large group of 11 runners in the men's race went through the halfway point at 12.5km together in 37:11 (the 10km split being 29:41). However, over the next 2.5 kilometres several runners dropped off the back of the pack and just six were left at the front as 15km was passed in 44:21.
Despite the Ethiopian pair of Betesfa Getahun and Bayelign Yegsaw surging and pushing hard over the next five kilometres the same six – Barsoton, Getahun, Yegsaw, Uganda's Felix Chemonges, Ethiopia's Dagnachew Adere and Tanzania's Faraja Damasi – were still more-or-less together as 20km was passed in 59:05; but with four kilometres to go Barsoton pushed hard for home and the move proved to be decisive.
Barsoton threw in a final 5km split of 14:00, the fastest 5km of the race, to win in 1:13:05 with Getahun, still with plenty of running in his legs despite his 2:05:28 marathon debut in Amsterdam less than two months ago, second in 1:33:33 and Yegsaw third in 1:33:36.
"It was a tough race and a tough course, and it was a close competition until the 20K mark, after which I broke free from the pack. I have been training hard this year, leading a disciplined life: sleeping early, rising early and training hard," reflected Barsoton, whose previous credentials also include a half marathon personal best of 59:09 in Valencia in October.
"I had planned to push hard from 20km but looking at the other runners I decided to wait a little bit and then went at 21-k. But to beat a record of Bekele's is so special. I'm very excited.
"Next year, for sure I will make my marathon debut, but I don't know where yet. However, I think I can run 2:03, a crazy time. If I can beat Bekele's record here, I can run that sort of crazy time," added Barsoton.
Bekele's brother Tariku Bekele drifted off the back of the leading pack just after 13 kilometres and eventually finished 10th in 1:15:53 while Kenya's 2009 and 2011 world marathon champion Abel Kirui, a late addition to the race, was a distant 11th in 1:18.08.
Men's results
1. Leonard Barsoton (KEN) 1:13:05
2. Betesfa Getahun (ETH) 1:13:33
3. Bayelign Yegsaw (ETH) 1:13:36
4. Felix Chemonges (UGA) 1:13:43
5. Dagnachew Adere (ETH) 1:13:52
6. Faraja Damasi (TAN) 1:14:57
7. Tsegay Tuemay (ERI) 1:15:06
8. Desmond Mokgobu (RSA) 1:15:08
9. Ben Somikwo (UGA) 1:15:43
10. Tariku Bekele (ETH) 1:15:53
In partnership with ANA and Sports Leo