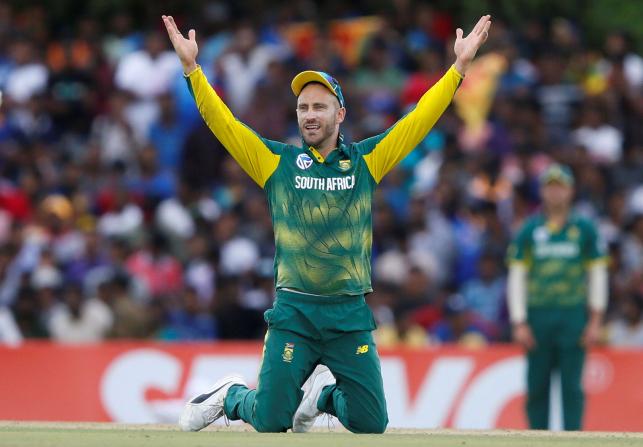 South Africa captain Faf Du Plessis hopes for improved performances from his spinners in upcoming games after his side went down by 203 runs in the first Test of the series against India on Sunday.
The Proteas' spinners collectively managed just seven wickets as opposed to India's 14 in the two innings combined in the Test. What's more, their leading spinner Keshav Maharaj conceded 318 runs in the game – the third-highest tally conceded by a bowler in a Test match.
Du Plessis reflected on the overall performance as he looked forward to the next Test in Pune.
"We've got to improve on our spinners taking 4-5 wickets in the second innings," he said. "There were a few half-chances that didn't go our way and that's where the game slipped away.
"Moving into the next Test match, we will get our best opportunity to take 20 wickets because that is what required to win a game. We've got to move on from this and get ready for the next Test."
South Africa rode on some fine performances from their senior batsmen Dean Elgar, du Plessis and Quinton De Kock to put up a strong fight in their first innings on day three, after losing three quick wickets on the previous evening.
The skipper believes that his team has grown as a batting unit from their previous tour in 2015.
"I'm really proud of the first innings, the way that we batted," said the 35-year old. "That was a real line in the sand for us as a team. We've got a lot of confidence in our dressing room because of what happened in the first innings. Dean scored a great 160 and Quinny as well – a great combination of attack and defence.
"Certainly from the last time we were here, it was tough but we grew as a batting unit and the experience that we got from that tour. I am hoping that the lessons we learnt there will show us we can score runs and compete."
The visitors managed to narrow the first innings deficit to 71 runs but saw the game drift away courtesy of a clinical batting display from Rohit Sharma and Cheteshwar Pujara in India's second innings.
Du Plessis identified the 169-run stand as the defining moment in the game. "India's second innings was tough for us, Rohit and Pujara took the game away from us."
The skipper also heaped praise on debutant Senuran Muthusamy, who finished unbeaten in both innings registering scores of 33 and 49 respectively.
"You can see technically he is very sound against spin which is something he has worked hard on," Du Plessis said of the youngster. "He bowls a bit as well so that helps.
"Batting in that No 7 or No 8 position is always something we are looking for as a team. He batted with real maturity in both innings and is making it hard for us to leave him out of the second Test. He is putting the numbers on the scoreboard which is what we want."
In partnership with ANA and Sports Leo