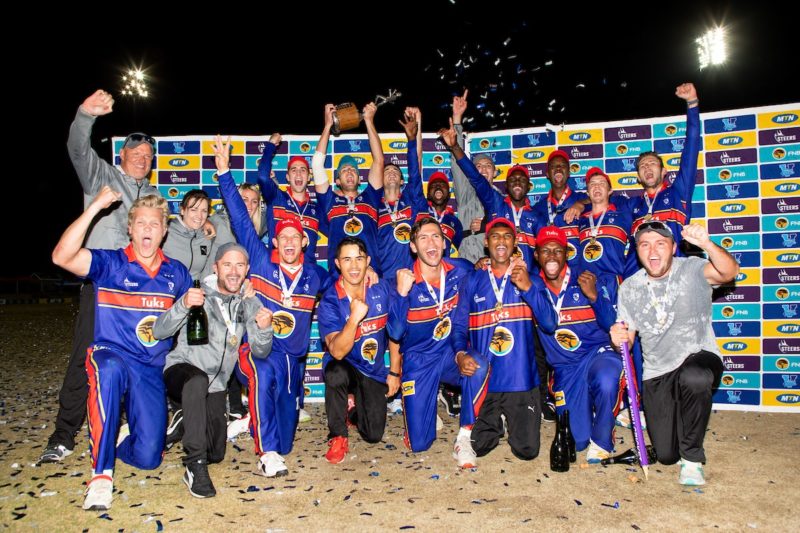 The University of Pretoria (Tuks) were crowned the 2019 cricket Varsity Cup Week winners in Potchefstroom recently, to add another feather in the cap for the Northerns Cricket Union.
The Tuks programme is a fundamental part of the Titans pipeline for future franchise players, and the success of Tuks in the inaugural tertiary tournament bodes well for the future.
The Tshwane based team overwhelmed University of Stellenbosch (Maties) by seven wickets in the semi-final, before an eight-wicket Duckworth/Lewis victory over University of Johannesburg (UJ) in the final.
The finale was reduced to eight overs a side after a power failure affected one of the floodlight pylons.
Tuks, who ended the week with just one defeat, took on Maties in the first semi-final of the day where they were asked to bowl first after losing the toss.
Sean Murray Gilson ended the week as the leading wicket-taker, and his regular strikes allowed Tuks to exert a lot of pressure.
With the bat, evergreen Neil Brand was the mainstay, with his 52 off 35 balls in the semi securing passage to the final.
In that championship clash of Jukskei rivals, UJ could only manage 60 for seven, as Messrs Matigimu (two for 2) and Trumpelmann (three for 12) clamped the flow of runs.
Brand's 19 not out and Aaron Visser (17 not out) were the glue, but UJ were highly generous in providing 20 extras. Tuks reached their target with 14 balls to spare, as yet more silverware made its way to Tshwane.
"It is a fantastic effort by our up and coming players at Tuks," Titans CEO Dr Jacques Faul commented.
"We always have an eye on Tuks, because they represent the future of Northerns and, ultimately, Titans cricket. To know that there are several Northerns players in that team bodes well for the future," Faul added.
In partnership with ANA and Sports Leo