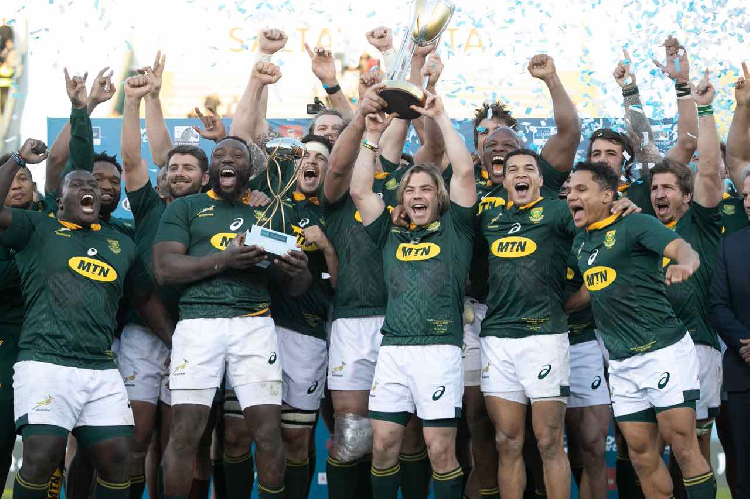 The all-conquering Springboks have conquered the Southern Hemisphere and the next objective will be to conquer the world.
After lifting the Rugby Championship title with a crushing 46-13 win over Argentina on Saturday, the Boks became first-time winners of the Sanzaar (South Africa, New Zealand, Australia and Argentina Rugby) competition that started in 2012.
The Boks completed the Southern Hemisphere championship season undefeated and can now rightly claim to be 'Kings of the South'.
With the 2019 Rugby World Cup (RWC) just over a month out, the objective will be to become 'Kings of the World'. The records show that The Rugby Championship winners – and the Tri-Nations winners for that matter, have never won the World Cup in the same year.
But it's not something that will bother the Boks, as their World Cup preparations start in earnest when they arrive back home in South Africa on Monday.
The World Cup starts on September 20 in Japan.
The Boks' first RWC warm-up match will be against Argentina in Pretoria on Saturday.
Their final one will be against Japan, in Japan, in September.
After The Rugby Championship conquest, there will be a heightened sense of occasion among local rugby fans and that will peak in the next few days when the Boks name their 31-man RWC squad.
By this time several players, by virtue of their performances in recent weeks, select themselves. Springbok coach Rassie Erasmus may have also have kept one or two players – potentially his World Cup aces, in the background.
There is still a question mark behind the fitness of captain Siya Kolisi who returned to action over the weekend after a long injury-enforced lay-off. He played for 47 minutes for Western Province in the Currie Cup, and this weekend he's likely to play a full game.
However, there is every chance that Kolisi may return to the Bok squad and play off the bench in Saturday's World Cup warm-up match against Argentina in Pretoria.
In partnership with ANA and Mediapix