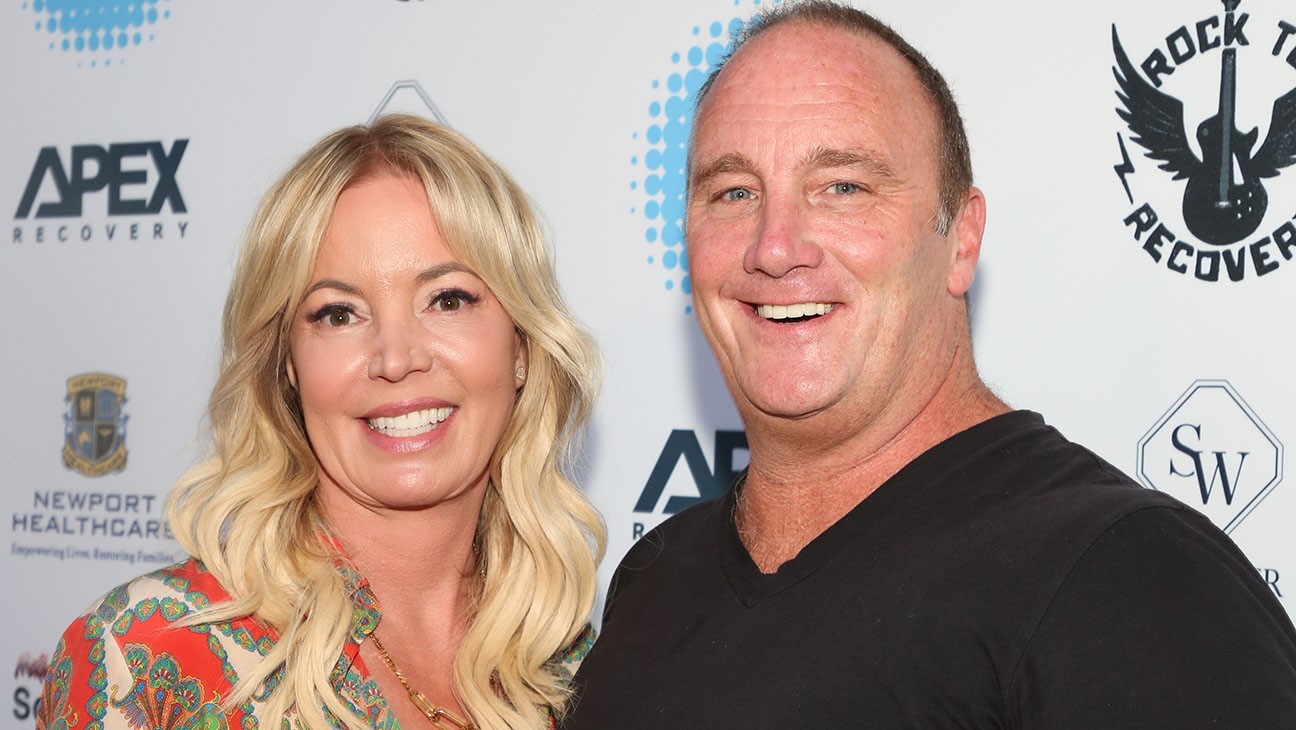 Jeanie Buss Jay Mohr relationship is so unique that a lot of people can't understand it
The pair started dating in 2017
They wedded in September 2023 at a beachside wedding in Malibu
Jeanie Buss Jay Mohr relationship is so unique that a lot of people can't understand why the couple who own NBA club Los Angeles Lakers sleep separately.
Buss owns Lakers while her husband Mohr is into comedy. However, they sleep in different beds in different units but their marriage still works. It is unbelievable how this works for them because this has broken many other families in the past.
ARE JEANIE BUSS JAY MOHR A COUPLE?
The couple wedded in September 2023 in a small private ceremony held in Malibu. The Sunday wedding had only 20 people attend. In a recent interview with Graham Bensinger Buss shared that everyone desires a similar lifestyle. Currently, she and Mohr reside in a building with three units—Buss on the top floor, mohr on the first floor, and a couple in between them.
ARE JEANIE BUSS AND JAY MOHR STILL TOGETHER?
The Lakers owners couple Jeanie Buss Jay Mohr—are happily married although they sleep in different rooms. Buss is 61 while Mohr with an established career in comedy is 53. She interestingly narrates that she lives on the top floor while her husband Mohr lives on the first floor and this is the best thing in their marriage.
She says that this arrangement works for them because it gives each one of them the privacy they so much desire.
"Right now we live in a building that has three units. So I live on the top floor and Jay lives on the first floor. And so there's a couple that live in between us. So where we live together, we're at the same address except I'm unit three and he's unit one.
"We don't really want to change anything, because I like my space and I have my schedule and he likes his space and he has his schedule but I can take the elevator down in my slippers and hang out a little bit and go back up. I would recommend it to any couple that feels the same way."
Jeanie Buss Jay Mohr spend a lot of time together despite their unique arrangement. They make time to see each other in their different abodes in the morning, afternoon and evening.
Buss also opened up on signing her Playboy photos from 1995 and the temporary impact of Mohr's past drug addiction on their relationship. She also clarified rumors surrounding her alleged relationship with Dennis Rodman.
HOW LONG HAS JEANIE BUSS BEEN WITH JAY MOHR?
Before the 2023 beachside wedding in Malibu Jeanie Buss Jay Mohr dated for six years. TMZ reported that Mohr and Buss started dating in 2017. Despite Mohr frequently being spotted alongside Buss at Lakers games, the couple chose to keep their relationship private. It was only in the last few years that they shared photos together on Instagram.
Buss started sharing photos with Mohr in 2018, without explicitly stating they were more than friends. In 2019, she disclosed her involvement in producing his special but didn't mention their relationship. On September 26, 2021, she publicly expressed her love for Mohr by posting a photo on Instagram, capturing a kiss between them.
The caption read, "Happiness. Love. Joy. That's what you have given me on my birthday and every day in between. This picture taken at our friend's wedding in June tells the story, our story. I guess a girl can have it all. I love you @jaymohr37."
DID THE LAKERS OWNER MARRY JAY MOHR?
The Los Angeles Lakers owner Jeanie Buss walked down the aisle and exchanged marriage vows with Jay Mohr in September 2023. They had dated for six years before then.  Nonetheless, Buss and Mohr both have prior marriages. Buss was previously married to two-time Olympic volleyball champion Steve Timmons from 1990 to 1993.
Their divorce resulted from divergent desires. Buss aimed for children, while Timmons did not, as shared by Buss with Sports Illustrated. Following her split from Timmons, Buss had a 16-year relationship with then-Lakers coach Phil Jackson, with several years of engagement. They separated in 2016 due to the challenges of a long-distance relationship but maintained a close friendship.
Mohr, on the other hand, was two marriages before meeting Buss. His first marriage lasted six years with Nicole Chamberlain, resulting in a son named Jackson. He met his second wife, Nikki Cox, in 2004 during a guest appearance on her NBC show "Las Vegas." They wedded in December 2006 at the Hotel Bel-Air in Los Angeles and later, welcomed a son, Meredith Daniel Mohr, in May 2011.
Despite a brief divorce filing in 2016, later rescinded, Mohr eventually filed for and finalized divorce from Cox in August 2018, as reported by People.