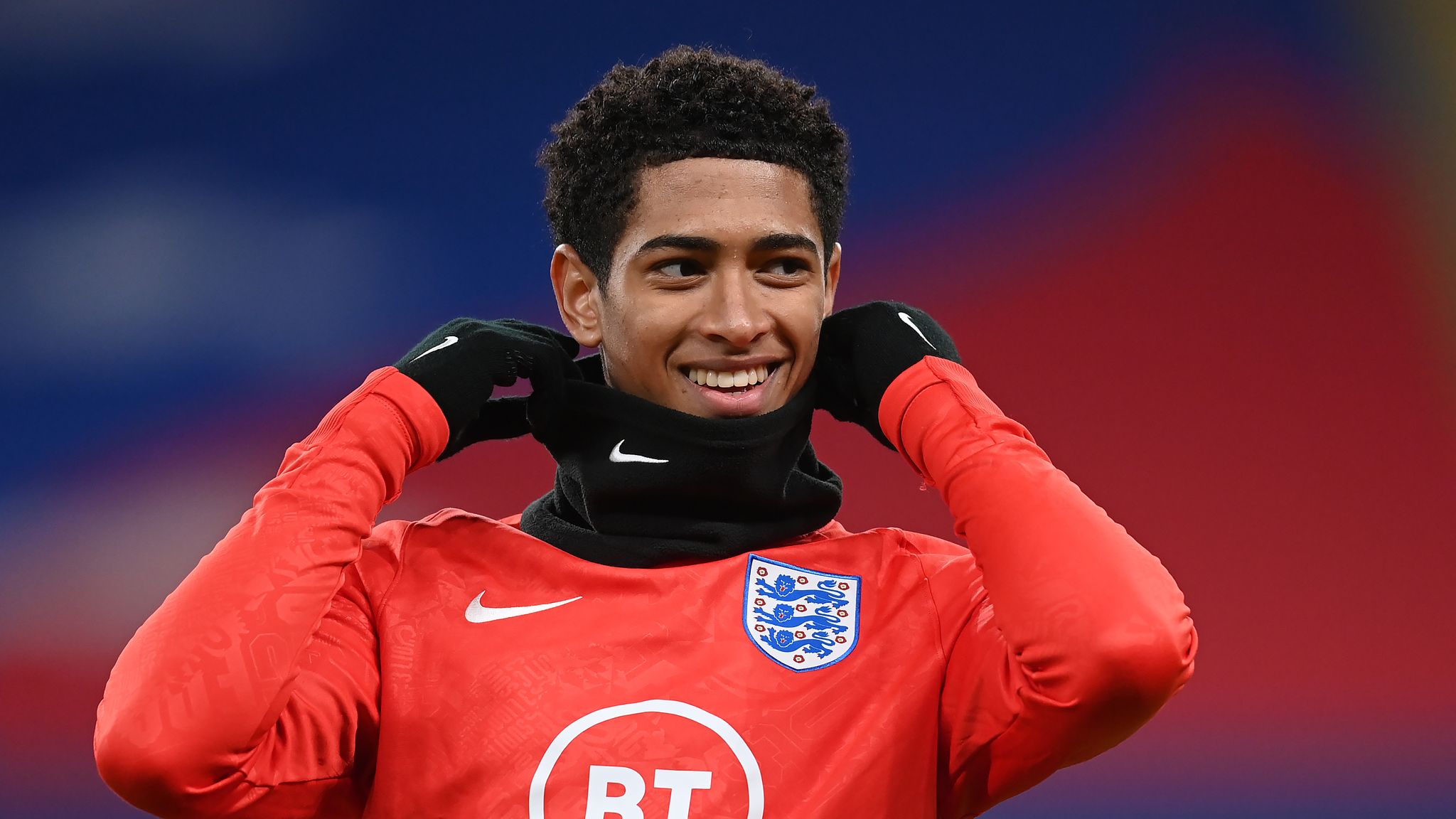 England international Jude Bellingham has scored five goals in four matches at Real Madrid
Bellingham was deployed in a deeper role during England's 1-1 draw with Ukraine
The midfielder was even substituted early whilst England were looking for a winner
England manager Gareth Southgate made a tactical adjustment in Saturday's Euro 2024 qualifying match against Ukraine, opting to deploy Jude Bellingham in a more traditional midfield role rather than the advanced 'number 10' position he has excelled in at Real Madrid.
Since joining Real Madrid in June, 20-year-old Bellingham has made an impressive impact, finding the net five times in just four La Liga games. His goal-scoring exploits have even earned him the top spot in the Pichichi Trophy race for the league's leading scorer, an achievement that draws parallels with Cristiano Ronaldo's spectacular start at the club in 2009.
Southgate has closely monitored Bellingham's performances in Spain, where he has typically played just behind a front two in Carlo Ancelotti's system. Despite wearing the coveted number 10 jersey, Bellingham was assigned a different role in England's match against Ukraine, which ultimately proved to be a challenging outing for the Three Lions. England was chasing victory after Kyle Walker's first-half equalizer, but Bellingham was substituted with 25 minutes of regular play and stoppage time remaining.
Before the game, Southgate had already hinted at using Bellingham differently than Real Madrid does. He acknowledged the young midfielder's versatility, noting, "He has had to show a slightly different side because he has played a little higher with [Madrid] losing [Karim] Benzema, and his game is suited to forward runs and arriving in the box. The nice thing from our point of view is that he is scoring more goals, which is great."
During the match, Bellingham's attacking impact was limited, and fans expressed frustration when he was substituted for Marcus Rashford instead of Jordan Henderson.
Despite the tactical adjustment for this particular match, Southgate remains optimistic about Bellingham's long-term role with the England national team. Southgate praised Bellingham's maturity and emotional intelligence, highlighting the unique challenge of competing with world-class players while also aiming to secure a starting position in the squad.
"He has had to go into a dressing room with some world-class players he is ultimately there to replace. He will have approached them off the pitch with huge respect and gone into training sessions and games ready to compete and demonstrate his quality," Southgate explained. Bellingham successfully struck a balance when he first joined the England team, and Southgate believes he has continued to do so during his time at Real Madrid.
This tactical adjustment in Bellingham's role for the England national team showcases Southgate's adaptability and his willingness to tailor his tactics to suit the strengths and attributes of his players. Bellingham's transition from a more advanced position at Real Madrid to a traditional midfield role with England reflects his versatility and adaptability as a young talent.
The decision to play Bellingham in a different role also emphasizes Southgate's commitment to developing a well-rounded and flexible squad. By giving Bellingham experience in various midfield positions, Southgate is preparing the young talent to excel in different scenarios and formations, which will be crucial for England's success in international competitions.
As Bellingham continues to gain valuable experience at both club and international levels, his role within the England squad is likely to evolve. His ability to adapt to different tactical setups and positions will make him a valuable asset for Southgate and England's future campaigns.
In conclusion, Gareth Southgate's decision to use Jude Bellingham in a conventional midfield role during England's Euro 2024 qualifying match against Ukraine showcases the manager's adaptability and willingness to tailor tactics to suit his players' strengths. Bellingham's versatility and ability to transition between different roles highlight his potential as a dynamic young talent. Southgate's focus on developing a well-rounded squad bodes well for England's future international campaigns, with Bellingham poised to play a pivotal role in the team's success.