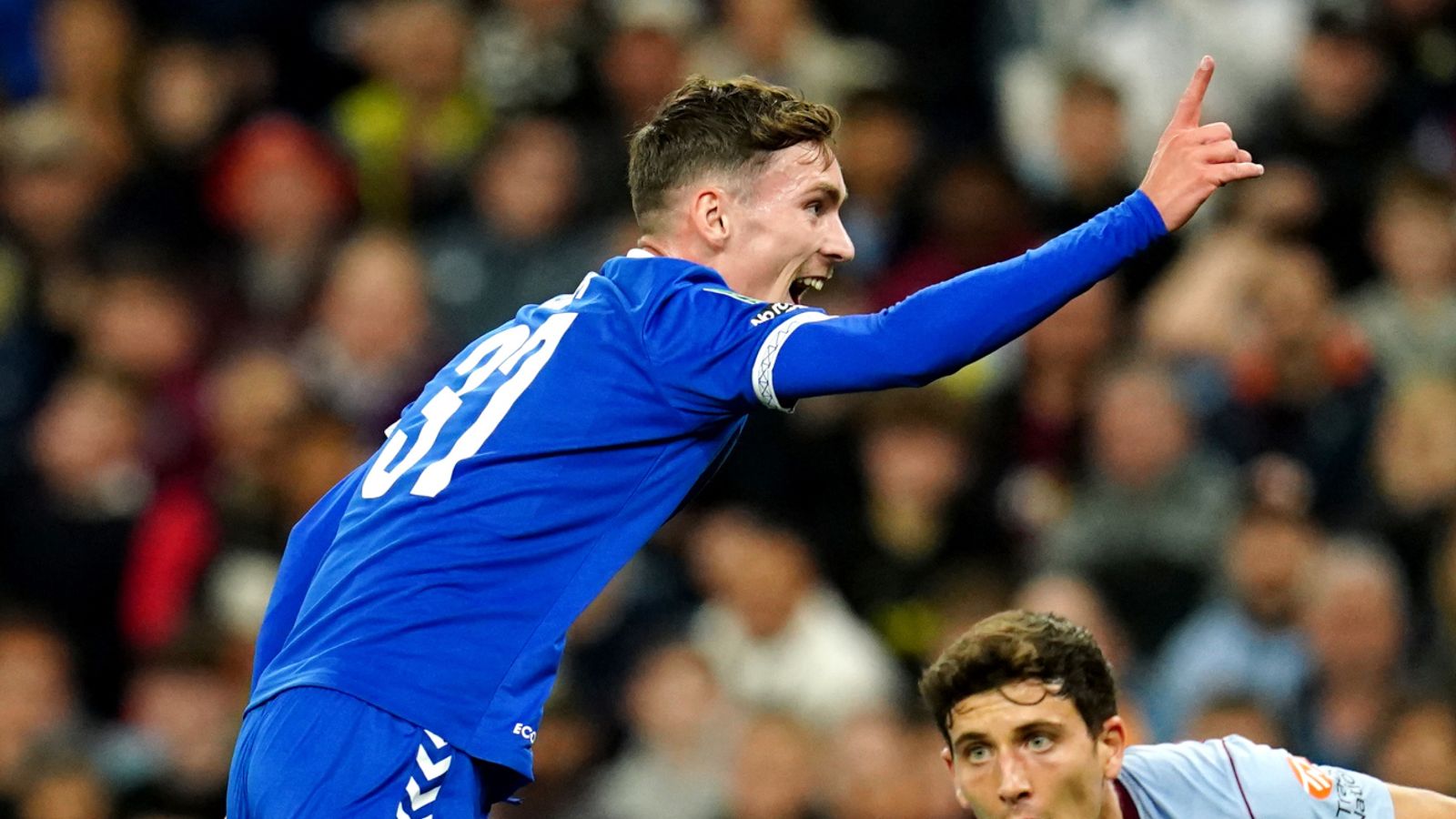 Aston Villa hosted Everton in the third round of the Carabao Cup at Villa Park
Everton have had a poor start to the season and badly needed a lift-off 
Goals from James Garner and Dominic Calvert Lewin were enough to earn the visitors a 2-1 victory 
Everton continued their recent resurgence with a well-deserved 2-1 victory over Aston Villa in the Carabao Cup. The win was powered by James Garner's first goal for the Toffees and Dominic Calvert-Lewin's strike, and it sent Everton into the fourth round of the competition.
Boubacar Kamara scored a late consolation goal for Villa, but it didn't change the fact that Everton largely dominated the game against a lackluster Villa side.
Just a month ago, Villa had thrashed Everton 4-0 in the Premier League. However, under the leadership of manager Sean Dyche, Everton has shown signs of improvement in recent matches.
This victory marked Everton's second consecutive win under Dyche, a significant achievement considering they hadn't won a game for a year before this. These back-to-back wins could provide the Toffees with the momentum they need, especially with upcoming fixtures against Luton and Bournemouth at Goodison Park.
For Villa, this was another disappointing night for a club that aspires to challenge the Premier League's elite teams. Despite their recent 1-0 victory over Chelsea, Villa has struggled to find consistency.
In the early stages of the game, Youri Tielemans had a half-volley attempt that landed on the roof of the net, but it was Everton who set the tempo and took control.
The opening goal came in the 15th minute when a poor clearance by Villa's goalkeeper, Robin Olsen, fell kindly to Amadou Onana. Onana's clever pass found James Garner, who slotted the ball into the net from 10 yards.
Throughout the first half, Villa's defense looked shaky and was unable to deal with Everton's pressing and the direct running of Arnaut Danjuma. An outstanding reflex save by Olsen prevented John McGinn from scoring an own goal, and moments later, Olsen denied Calvert-Lewin, who had tried to round the goalkeeper.
Villa had a chance to equalize, but Jhon Duran fired over the bar in stoppage time, summing up Villa's wayward performance in the first half.
Unai Emery, Villa's manager, made three changes at halftime, but it did little to improve his team's performance. Five minutes into the second half, a poor pass from Tielemans led to Calvert-Lewin racing clear and slotting the ball past Olsen to make it 2-0.
While Villa had a chance to pull a goal back, with Jordan Pickford making a smart save from Moussa Diaby, there was no sign of a comeback. Despite Everton's comfortable lead, Kamara scored a deflected strike from 20 yards with eight minutes left, creating some tension in the closing moments of the match.
Pickford made another crucial save from Diaby in stoppage time, and Douglas Luiz fired over the bar in the frantic final minutes, but it was too little, too late for Villa.
The victory for Everton in this Carabao Cup tie not only extends their recent run of improved performances but also provides them with a platform to build momentum in the coming weeks. Meanwhile, Villa will need to address their inconsistency issues to fulfill their ambitions of challenging the Premier League's top clubs.