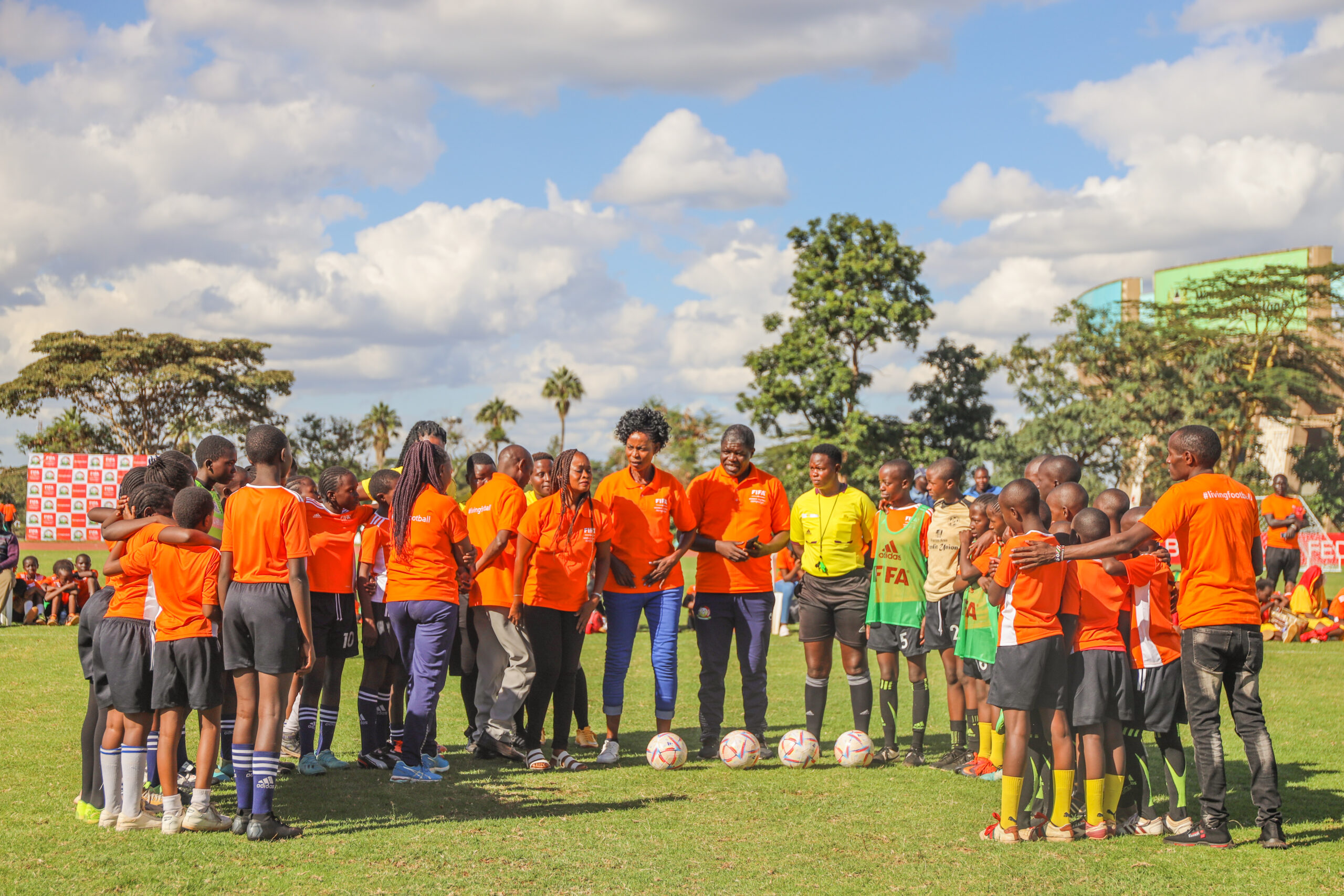 The campaign was launched at the Kasarani Annex
It is geared towards having more women play football
Kenya's women football has stalled for the last two years
FKF President Nick Mwendwa has launched the FIFA FKF Women Football Campaign at Kasarani Annex.
The Women's Football Campaign is a global program, that aims at increasing female participation in football and fostering the development of women and girls in the sport.
It focuses on creating a structured pathway that nurtures young players, providing them with the necessary support and guidance to excel in football and pursue national team and professional opportunities in the future.
"This campaign is a significant step towards empowering young girls and promoting women's football in Kenya," said Mwendwa.
He continued to say, "We understand that young girls face many challenges in their quest to pursue their dreams, and that is why we have partnered with FIFA to create this campaign. We believe that by creating awareness, we can inspire more young girls to take up football and empower them to become future champions."
The campaign kicked off with a vibrant two-day tournament at Kasarani Annex, bringing together primary schools across Nairobi. The event featured various 5-a-side games designed to create a fun and engaging environment for the children.
Interacting with football ambassadors 
Furthermore, the participants had the invaluable opportunity to interact with football ambassadors and legends who served as mentors, igniting their passion and encouraging them to pursue their football dreams.
"Through this campaign, we will be conducting football clinics and tournaments in schools across the country, giving young girls an opportunity to showcase their skills and talent. We will also be providing equipment, training materials, and in-kind support to schools," added Mwendwa.
The campaign will help create a platform to commence girls' grassroots football leagues.
The program will primarily focus on players and school team coaches from primary schools. Recognizing that students spend a significant amount of their time in school, special attention will be given to capacity building among school team coaches. This ensures that players receive proper football education from an early stage, enabling their growth into potential future professionals.
The women's football landscape in Kenya has stalled over the last few years, much owing to the country's suspension from football by world governing body FIFA.
Failure to play in WAFCON qualifiers
The national women's team, Harambee Starlets, failed to play the final round of qualification matches for last year's Africa Women's Cup Of Nations against Uganda, the latter going on to qualify for the final tournament, while Vihiga Queens did not play in the qualifiers for the Women's Champions League.
Starlets will also not play in the qualifiers for the Women's Olympics Football tournament after they Federation failed to register them due to the suspension.
But, Mwendwa believes that the future of women's football is bright and has affirmed the Federation's willingness to invest more in women's football.
This year, Vihiga Queens who just recently won the Women's Premier League, will play in the qualifiers for the Women's Champions League, with the CECAFA regional tournament set to be staged in Uganda.