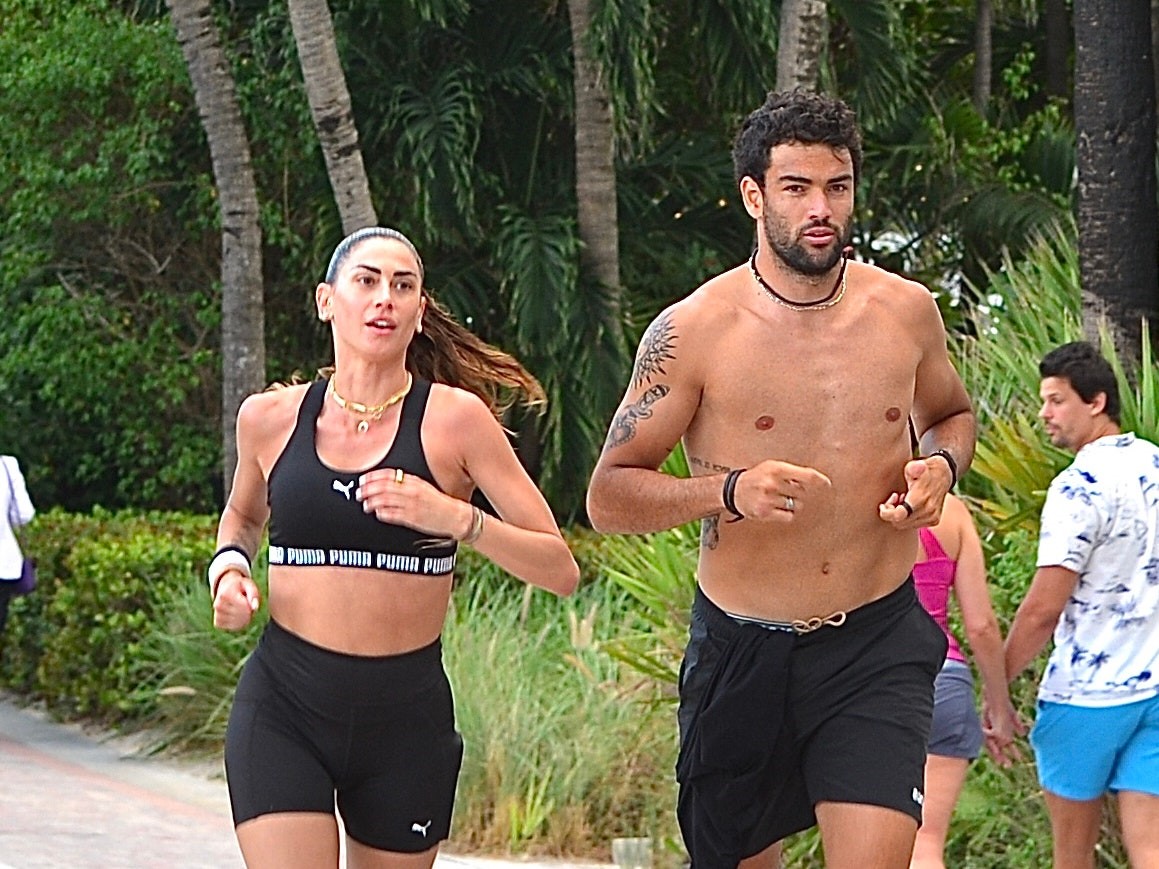 Melissa Satta is not new to the controversies of the sporting world
She was married to German footballer Kevin Prince Boateng
They divorced after 10 years and she vowed never to date an athlete but  fell for tennis star Matteo Berrettini
Melissa Satta Berrretini is not new to the controversies of the sporting world, first as an ex-wife to footballer Kevin Prince Boateng. Now, she is with Italian tennis star Matteo Berrettini.
Just recently, Satta, hit back at critics propagating the idea that Berrettini's recent abdominal pain was a result of too much bedroom activities. The 37-year-old Italian TV presenter and model told Vanity Fair that she is always a soft target of bullying based on bedroom activities in her love life.
Yet, Berrettini, an Italian tennis player had this abdominal problem since 2021 after an oblique injury. Then, the two were not dating. With the injury back, Berrettini will not play at the Tennis Internationals in Rome.
HOW OLD IS MATTEO BERRETTINI?
Matteo Berrettini is 27 years old and is currently dating Melissa Satta. The Italian tennis player, born on April 12, 1996, has an ATP ranking of world No. 20 in 2023. Berrettini reached the singles final of the 2021 Wimbledon Championships, which was his best major achievement.
He has won two doubles wins and seven singles titles on the ATP Tour making him the first male Italian male player to achieve this feat since the 1990s. He has a record of playing in the four major grand slams in quarter-finals.
MELISSA SATTA BERRETTINI DATING
Coming back to Melissa Satta Berrettini dating – even with a chequered history of being involved with several athletes – they first met in Miami in 2022. They exchanged contacts and one thing led to the other because the tennis star kept communication intact.
Here is what the model told Sky Talks with Vanity Fair of their meeting.
"In Miami, at a dinner with mutual friends. We talked to each other, we exchanged phone numbers, and we started talking from there. The next day, we were both leaving. My life is in Milan, he lives in Monte Carlo. A thousand chats on WhatsApp. Which never ended. I've met people at dinner and exchanged numbers, but often it ends as it began. Not with Matteo: if we are still here it is because then we managed to meet… In various cities."
The two lovebirds enjoy spending quality time with each other, eating out, going to karaoke or spending evenings indoors. She loves it that whenever they are together and he is training at his home gym, she still carries on with her work. And when he is done, they both enjoy watching a movie at night.
She is aware that dating Berrettini comes with its baggage of criticism from critics who are always on her neck. Satta admits that she is always aware that she will get bullied when the man she is dating suffers an injury. In all this, her feminine wants between the sheets always come up.
This narrative started way back when she was still married to Boateng – a marriage that lasted 10 years. The then-celebrity couple battled negatively when they spoke of their steamy sessions in their bedroom a dozen times a day. As usual, this gave her detractors the perfect ammunition to blame her for her ex-husband's injuries or poor performance during matches.
It is the same script with her current tennis boyfriend who she stands accused of bringing him 'bad luck'. While it pains her, she understands online bullying is a package that comes with her public status.  Nevertheless, she wants to be happy.
"I have chosen to be a public figure, and I accept being exposed and exposing myself on social media, but I'm just trying to have a romantic relationship with another person, I simply want to try to be happy too," she states.
WHAT HAPPENED WITH BERRETTINI?
Melissa Satta Berrettini relationship surprised many people because the TV personality had vowed never to date an athlete. Her decision followed her divorce from Boateng in what the German footballer said was solely his decision and not Satta's.
However, love knows no bounds. Satta found herself once more with an athlete, this time around, a tennis player who had also had a rocky relationship. Berettini broke up with Croatian Australian Ajla Tomljanović in 2022 after three years of dating. Reasons as to why they ended their relationship remain unknown.
Shortly after this breakup, Berrettini started dating Satta and it came out recently in 2023 that the pair had mutual feelings.