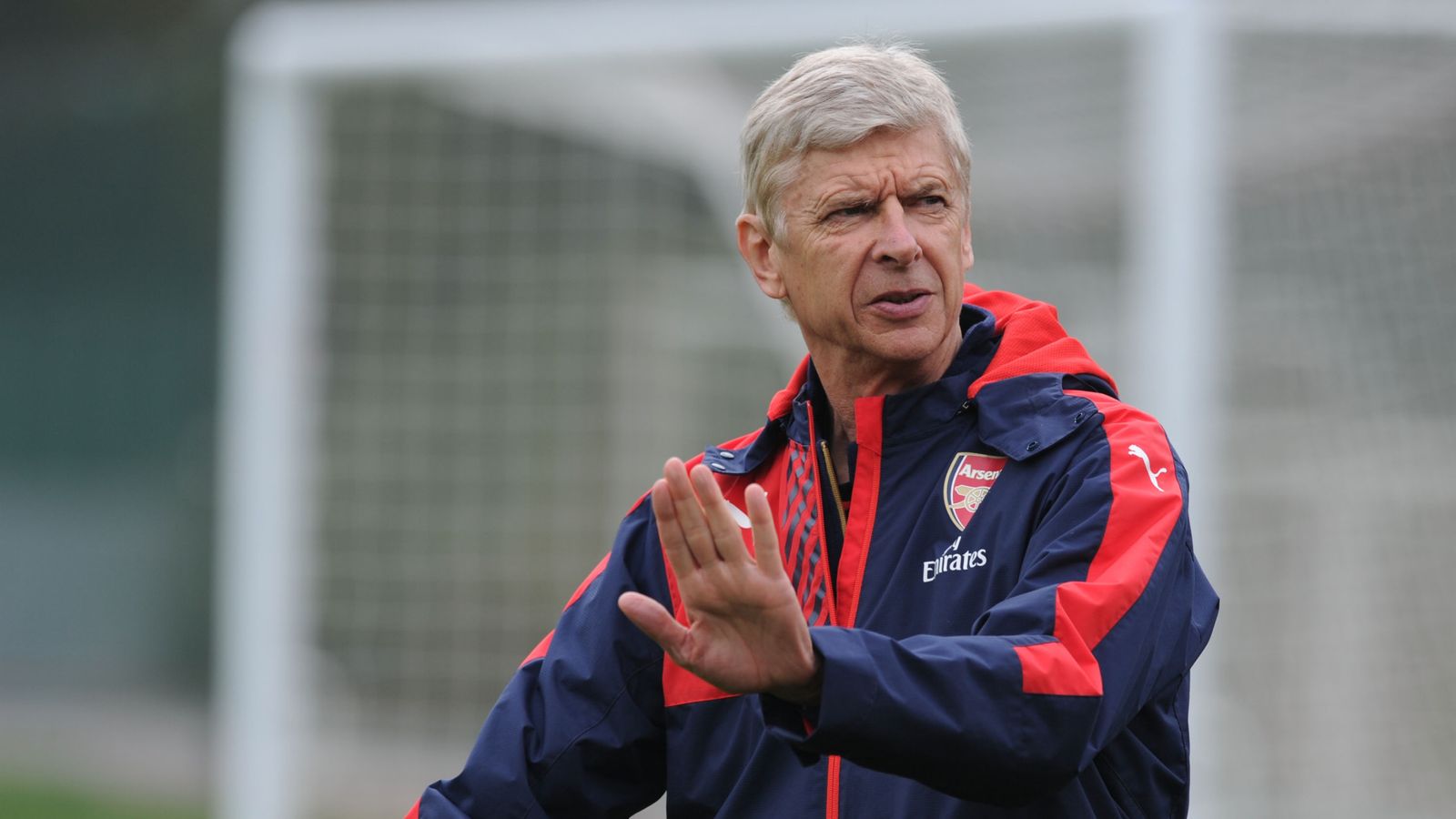 Arsenal are at the top of the Premier League table for close to five months right now
The gunners however are facing stiff competition for Pep Guardiola's Manchester City
Arsenal former manager Arsene Wenger has cautioned the Gunners against wasting the opportunity
Former Arsenal manager Arsene Wenger has cautioned the Gunners that this season may be their best opportunity to break their Premier League title drought.
The two teams considered to be in actual contention for the trophy are Arsenal and Manchester City, with Manchester United being the next-closest contender. The rest of the league's powerhouse teams are now out of form.
Arsenal is having its greatest season in years and is currently in first place in the table after 21 games, while City, the defending champions, have also struggled.
Arsenal has enjoyed a faultless season, but worries have crept in recently due to losses to Everton and Brentford. If they lose to City on Wednesday, the Gunners may potentially slip to second place, even though they still have a game in hand on Pep Guardiola's team.
Wenger urged Arsenal to maintain their eyes on the prize and seize the chance presented to them this season when speaking to beIN Sports.
He remarked, "You win it when you can and you don't care too much about the rest. You take the title and let the rest speak about it."
"I agree the conditions next season won't be as favourable as they are now so let's not miss this opportunity. Arsenal has 51 points after 21 games which is remarkable.
"I feel the usual threats are all out of the race. The only threat is City and even City is not as dominant as they were last year or two years before and I feel since the start of the season City was more vulnerable defensively than before."
The Premier League trophy hasn't been in Arsenal's possession since Wenger's Invincibles won it in 2003–04. The Frenchman, who recently visited the Emirates to observe Mikel Arteta's team in action, acknowledged he is feeling optimistic about their chances of winning this season.
"I like what I saw and I like what I felt in the dressing room," he continued. "I feel the team spirit is great the humility and hunger of the young players are absolutely amazing. They are humble and hungry.
"They are good enough, there is always a period when you have not won that the tension comes in like now where you have to deal with it and get over. Maybe it's not bad to play a team like City now where you have nothing to lose. You are not super favourites against Brentford you are that's where the tension creeps in."
Arsenal will be in action next on Wednesday, February 15 when they host Manchester City at the Emirates in a much-anticipated league match.
Sport News Today
Football News Today
Football News Today
Football News Today
Football News Today
Football News Today
Football News Today
Football News Today
Football News Today
Football News Today
Football News Today
Football News Today
Football News Today
Football News Today
Football News Today
Football News Today
Football News Today
Football News Today
Football News Today
Football News Today
Football News Today
Football News Today
Football News Today
Football News Today
Football News Today
Football News Today
Football News Today
Football News Today
Football News Today
Football News Today
Football News Today
Football News Today
Football News Today
Football News Today
Football News Today
Football News Today
Football News Today
Football News Today
Football News Today
Football News Today
Football News Today
Football News Today
Football News Today
Football News Today
Football News Today
Football News Today
Football News Today
Football News Today
Football News Today
Football News Today
Football News Today
Football News Today
Football News Today
Football News Today
Football News Today
Football News Today
Football News Today
Football News Today
Football News Today
Football News Today
Football News Today
Football News Today
Football News Today
Football News Today
Football News Today
Football News Today
Football News Today
Football News Today
Football News Today
Football News Today
Football News Today
Football News Today
Football News Today
Football News Today
Football News Today
Football News Today
Football News Today
Football News Today
Football News Today
Football News Today
Football News Today
Football News Today
Football News Today
Football News Today
Football News Today
Football News Today
Football News Today
Football News Today
Football News Today
Football News Today
Football News Today
Football News Today
Football News Today
Football News Today
Football News Today
Football News Today
Football News Today
Football News Today
Football News Today
Football News Today
Football News Today
Football News Today
Football News Today
Football News Today
Football News Today
Football News Today
Football News Today
Football News Today
Football News Today
Football News Today
Football News Today
Football News Today
Football News Today
Football News Today
Football News Today
Football News Today
Football News Today
Football News Today
Football News Today
Football News Today
Football News Today
Football News Today
Football News Today
Football News Today
Football News Today
Football News Today
Football News Today
Football News Today
Football News Today
Football News Today
Football News Today
Football News Today
Football News Today
Football News Today
Football News Today
Football News Today
Football News Today
Football News Today
Football News Today
Football News Today
Football News Today
Football News Today
Football News Today
Football News Today
Football News Today
Football News Today
Football News Today
Football News Today
Football News Today
Football News Today
Football News Today
Football News Today
Football News Today
Football News Today
Football News Today
Football News Today
Football News Today
Football News Today
Football News Today
Football News Today
Football News Today
Football News Today
Football News Today
Football News Today
Football News Today
Football News Today
Football News Today
Football News Today
Football News Today
Football News Today
Football News Today
Football News Today
Football News Today
Football News Today
Football News Today
Football News Today
Football News Today
Football News Today
Football News Today
Football News Today
Football News Today
Football News Today
Football News Today
Football News Today
Football News Today
Football News Today
Football News Today
Football News Today
Football News Today
Football News Today
Football News Today
Football News Today
Football News Today
Football News Today
Football News Today
Football News Today
Football News Today
Football News Today
Football News Today
Football News Today
Football News Today
Football News Today
Football News Today
Football News Today
Football News Today
Football News Today
Football News Today
Football News Today
Football News Today
Football News Today
Football News Today
Football News Today
Football News Today
Football News Today
Football News Today
Football News Today
Football News Today
Football News Today
Football News Today
Football News Today
Football News Today
Football News Today
Football News Today
Football News Today
Football News Today
Football News Today
Football News Today
Football News Today
Football News Today
Football News Today
Football News Today
Football News Today
Football News Today
Football News Today
Football News Today
Football News Today
Football News Today
Football News Today
Football News Today
Football News Today
Football News Today
Football News Today
Football News Today
Football News Today
Football News Today
Football News Today
Football News Today
Football News Today
Football News Today
Football News Today
Football News Today
Football News Today
Football News Today
Football News Today
Football News Today
Football News Today
Football News Today
Football News Today
Football News Today
Football News Today
Football News Today
Football News Today
Football News Today
Football News Today
Football News Today
Football News Today
Football News Today
Football News Today
Football News Today
Football News Today
Football News Today
Football News Today
Football News Today
Football News Today
Football News Today
Football News Today
Football News Today
Football News Today
Football News Today
Football News Today
Football News Today
Football News Today
Football News Today
Football News Today
Football News Today
Football News Today
Football News Today
Football News Today
Football News Today
Football News Today
Football News Today
Football News Today
Football News Today
Football News Today
Football News Today
Football News Today
Football News Today
Football News Today
Football News Today
Football News Today
Football News Today
Football News Today
Football News Today
Football News Today
Football News Today
Football News Today
Football News Today
Football News Today
Football News Today
Football News Today
Football News Today
Football News Today
Football News Today
Football News Today
Football News Today
Football News Today
Football News Today
Football News Today
Football News Today
Football News Today
Football News Today
Football News Today
Football News Today
Football News Today
Football News Today
Football News Today
Football News Today
Football News Today
Football News Today
Football News Today
Football News Today
Football News Today
Football News Today
Football News Today
Football News Today
Football News Today
Football News Today
Football News Today
Football News Today
Football News Today
Football News Today
Football News Today
Football News Today
Football News Today
Football News Today
Football News Today
Football News Today
Football News Today
Football News Today
Football News Today
Football News Today
Football News Today
Football News Today
Football News Today
Football News Today
Football News Today
Football News Today
Football News Today
Football News Today
Football News Today
Football News Today
Football News Today
Football News Today
Football News Today
Football News Today
Football News Today
Football News Today
Football News Today
Football News Today
Football News Today
Football News Today
Football News Today
Football News Today
Football News Today
Football News Today
Football News Today
Football News Today
Football News Today
Football News Today
Football News Today
Football News Today
Football News Today
Football News Today
Football News Today
Football News Today
Football News Today
Football News Today
Football News Today
Football News Today
Football News Today
Football News Today
Football News Today
Football News Today
Football News Today
Football News Today
Football News Today
Football News Today
Football News Today
Football News Today
Football News Today
Football News Today
Football News Today
Football News Today
Football News Today
Football News Today
Football News Today
Football News Today
Football News Today
Football News Today
Football News Today
Football News Today
Football News Today
Football News Today
Football News Today
Football News Today
Football News Today
Football News Today
Football News Today
Football News Today
Football News Today
Football News Today
Football News Today
Football News Today
Football News Today
Football News Today
Football News Today
Football News Today
Football News Today
Football News Today
Football News Today
Football News Today
Football News Today
Football News Today
Football News Today
Football News Today
Football News Today
Football News Today
Football News Today
Football News Today
Football News Today
Football News Today
Football News Today
Football News Today
Football News Today
Football News Today
Football News Today
Football News Today
Football News Today
Football News Today
Football News Today
Football News Today
Football News Today
Football News Today
Football News Today
Football News Today
Football News Today
Football News Today
Football News Today
Football News Today
Football News Today
Football News Today
Football News Today
Football News Today
Football News Today
Football News Today
Football News Today
Football News Today
Football News Today
Football News Today
Football News Today
Football News Today
Football News Today
Football News Today
Football News Today
Football News Today
Football News Today
Football News Today
Football News Today
Football News Today
Football News Today
Football News Today
Football News Today
Football News Today
Football News Today
Football News Today
Football News Today
Football News Today
Football News Today
Football News Today
Football News Today
Football News Today
Football News Today
Football News Today
Football News Today
Football News Today
Football News Today
Football News Today
Football News Today
Football News Today
Football News Today
Football News Today
Football News Today
Football News Today
Football News Today
Football News Today
Football News Today
Football News Today
Football News Today
Football News Today
Football News Today
Football News Today
Football News Today
Football News Today
Football News Today
Football News Today
Football News Today
Football News Today
Football News Today
Football News Today
Football News Today
Football News Today
Football News Today
Football News Today
Football News Today
Football News Today
Football News Today
Football News Today
Football News Today
Football News Today
Football News Today
Football News Today
Football News Today
Football News Today
Football News Today
Football News Today
Football News Today
Football News Today
Football News Today
Football News Today
Football News Today
Football News Today
Football News Today
Football News Today
Football News Today
Football News Today
Football News Today
Football News Today
Football News Today
Football News Today
Football News Today
Football News Today
Football News Today
Football News Today
Football News Today
Football News Today
Football News Today
Football News Today
Football News Today
Football News Today
Football News Today
Football News Today
Football News Today
Football News Today
Football News Today
Football News Today
Football News Today
Football News Today
Football News Today
Football News Today
Football News Today
Football News Today
Football News Today
Football News Today
Football News Today
Football News Today
Football News Today
Football News Today
Football News Today
Football News Today
Football News Today
Football News Today
Football News Today
Football News Today
Football News Today
Football News Today
Football News Today
Football News Today
Football News Today
Football News Today
Football News Today
Football News Today
Football News Today
Football News Today
Football News Today
Football News Today
Football News Today
Football News Today
Football News Today
Football News Today
Football News Today
Football News Today
Football News Today
Football News Today
Football News Today
Football News Today
Football News Today
Football News Today
Football News Today
Football News Today
Football News Today
Football News Today
Football News Today
Football News Today
Football News Today
Football News Today
Football News Today
Football News Today
Football News Today
Football News Today
Football News Today
Football News Today
Football News Today
Football News Today
Football News Today
Football News Today
Football News Today
Football News Today
Football News Today
Football News Today
Football News Today
Football News Today
Football News Today
Football News Today
Football News Today
Football News Today
Football News Today
Football News Today
Football News Today
Football News Today
Football News Today
Football News Today
Football News Today
Football News Today
Football News Today
Football News Today
Football News Today
Football News Today
Football News Today
Football News Today
Football News Today
Football News Today
Football News Today
Football News Today
Football News Today
Football News Today
Football News Today
Football News Today
Football News Today
Football News Today
Football News Today
Football News Today
Football News Today
Football News Today
Football News Today
Football News Today
Football News Today
Football News Today
Football News Today
Football News Today
Football News Today
Football News Today
Football News Today
Football News Today
Football News Today
Football News Today
Football News Today
Football News Today
Football News Today
Football News Today
Football News Today
Football News Today
Football News Today
Football News Today
Football News Today
Football News Today
Football News Today
Football News Today
Football News Today
Football News Today
Football News Today
Football News Today
Football News Today
Football News Today
Football News Today
Football News Today
Football News Today
Football News Today
Football News Today
Football News Today
Football News Today
Football News Today
Football News Today
Football News Today
Football News Today
Football News Today
Football News Today
Football News Today
Football News Today
Football News Today
Football News Today
Football News Today
Football News Today
Football News Today
Football News Today
Football News Today
Football News Today
Football News Today
Football News Today
Football News Today
Football News Today
Football News Today
Football News Today
Football News Today
Football News Today
Football News Today
Football News Today
Football News Today
Football News Today
Football News Today
Football News Today
Football News Today
Football News Today
Football News Today
Football News Today
Football News Today
Football News Today
Football News Today
Football News Today
Football News Today
Football News Today
Football News Today
Football News Today
Football News Today
Football News Today
Football News Today
Football News Today
Football News Today
Football News Today
Football News Today
Football News Today
Football News Today
Football News Today
Football News Today
Football News Today
Football News Today
Football News Today
Football News Today
Football News Today
Football News Today
Football News Today
Football News Today
Football News Today
Football News Today
Football News Today
Football News Today
Football News Today
Football News Today
Football News Today
Football News Today
Football News Today
Football News Today
Football News Today
Football News Today
Football News Today
Football News Today
Football News Today
Football News Today
Football News Today
Football News Today
Football News Today
Football News Today
Football News Today
Football News Today
Football News Today
Football News Today
Football News Today
Football News Today
Football News Today
Football News Today
Football News Today
Football News Today
Football News Today
Football News Today
Football News Today
Football News Today
Football News Today
Football News Today
Football News Today
Football News Today
Football News Today
Football News Today
Football News Today
Football News Today
Football News Today
Football News Today
Football News Today
Football News Today
Football News Today
Football News Today
Football News Today
Football News Today
Football News Today
Football News Today
Football News Today
Football News Today
Football News Today
Football News Today
Football News Today
Football News Today
Football News Today
Football News Today
Football News Today
Football News Today
Football News Today
Football News Today
Football News Today
Football News Today
Football News Today
Football News Today
Football News Today
Football News Today
Football News Today
Football News Today
Football News Today
Football News Today
Football News Today
Football News Today
Football News Today
Football News Today
Football News Today
Football News Today
Football News Today
Football News Today
Football News Today
Football News Today
Football News Today
Football News Today
Football News Today
Football News Today
Football News Today
Football News Today
Football News Today
Football News Today
Football News Today
Football News Today
Football News Today
Football News Today
Football News Today
Football News Today
Football News Today
Football News Today
Football News Today
Football News Today
Football News Today
Football News Today
Football News Today
Football News Today
Football News Today
Football News Today
Football News Today
Football News Today
Football News Today
Football News Today
Football News Today
Football News Today
Football News Today
Football News Today
Football News Today
Football News Today
Football News Today
Football News Today
Football News Today
Football News Today
Football News Today
Football News Today
Football News Today
Football News Today
Football News Today
Football News Today
Football News Today
Football News Today
Football News Today
Football News Today
Football News Today
Football News Today
Football News Today
Football News Today
Football News Today
Football News Today
Football News Today
Football News Today
Football News Today
Football News Today
Football News Today
Football News Today
Football News Today
Football News Today
Football News Today
Football News Today
Football News Today
Football News Today
Football News Today
Football News Today
Football News Today
Football News Today
Football News Today
Football News Today
Football News Today
Football News Today
Football News Today
Football News Today
Football News Today
Football News Today
Football News Today
Football News Today
Football News Today
Football News Today
Football News Today
Football News Today
Football News Today
Football News Today
Football News Today
Football News Today
Football News Today
Football News Today
Football News Today
Football News Today
Football News Today
Football News Today
Football News Today
Football News Today
Football News Today
Football News Today
Football News Today
Football News Today
Football News Today
Football News Today
Football News Today
Football News Today
Football News Today
Football News Today
Football News Today
Football News Today
Football News Today
Football News Today
Football News Today
Football News Today
Football News Today
Football News Today
Football News Today
Football News Today
Football News Today
Football News Today
Football News Today
Football News Today
Football News Today
Football News Today
Football News Today
Football News Today
Football News Today
Football News Today
Football News Today
Football News Today
Football News Today
Football News Today
Football News Today
Football News Today
Football News Today
Football News Today
Football News Today
Football News Today
Football News Today
Football News Today
Football News Today
Football News Today
Football News Today
Football News Today
Football News Today
Football News Today
Football News Today
Football News Today
Football News Today
Football News Today
Football News Today
Football News Today
Football News Today
Football News Today
Football News Today
Football News Today
Football News Today
Football News Today
Football News Today
Football News Today
Football News Today
Football News Today
Football News Today
Football News Today
Football News Today
Football News Today
Football News Today
Football News Today
Football News Today
Football News Today
Football News Today
Football News Today
Football News Today
Football News Today
Football News Today
Football News Today
Football News Today
Football News Today
Football News Today
Football News Today
Football News Today
Football News Today
Football News Today
Football News Today
Football News Today
Football News Today
Football News Today
Football News Today
Football News Today
Football News Today
Football News Today
Football News Today
Football News Today
Football News Today
Football News Today
Football News Today
Football News Today
Football News Today
Football News Today
Football News Today
Football News Today
Football News Today
Football News Today
Football News Today
Football News Today
Football News Today
Football News Today
Football News Today
Football News Today
Football News Today
Football News Today
Football News Today
Football News Today
Football News Today
Football News Today
Football News Today
Football News Today
Football News Today
Football News Today
Football News Today
Football News Today
Football News Today
Football News Today
Football News Today
Football News Today
Football News Today
Football News Today
Football News Today
Football News Today
Football News Today
Football News Today
Football News Today
Football News Today
Football News Today
Football News Today
Football News Today
Football News Today
Football News Today
Football News Today
Football News Today
Football News Today
Football News Today
Football News Today
Football News Today
Football News Today
Football News Today
Football News Today
Football News Today
Football News Today
Football News Today
Football News Today
Football News Today
Football News Today
Football News Today
Football News Today
Football News Today
Football News Today
Football News Today
Football News Today
Football News Today
Football News Today
Football News Today
Football News Today
Football News Today
Football News Today
Football News Today
Football News Today
Football News Today
Football News Today
Football News Today
Football News Today
Football News Today
Football News Today
Football News Today
Football News Today
Football News Today
Football News Today
Football News Today
Football News Today
Football News Today
Football News Today
Football News Today
Football News Today
Football News Today
Football News Today
Football News Today
Football News Today
Football News Today
Football News Today
Football News Today
Football News Today
Football News Today
Football News Today
Football News Today
Football News Today
Football News Today
Football News Today
Football News Today
Football News Today
Football News Today
Football News Today
Football News Today
Football News Today
Football News Today
Football News Today
Football News Today
Football News Today
Football News Today
Football News Today
Football News Today
Football News Today
Football News Today
Football News Today
Football News Today
Football News Today
Football News Today
Football News Today
Football News Today
Football News Today
Football News Today
Football News Today
Football News Today
Football News Today
Football News Today
Football News Today
Football News Today
Football News Today
Football News Today
Football News Today
Football News Today
Football News Today
Football News Today
Football News Today
Football News Today
Football News Today
Football News Today
Football News Today
Football News Today
Football News Today
Football News Today
Football News Today
Football News Today
Football News Today
Football News Today
Football News Today
Football News Today
Football News Today
Football News Today
Football News Today
Football News Today
Football News Today
Football News Today
Football News Today
Football News Today
Football News Today
Football News Today
Football News Today
Football News Today
Football News Today
Football News Today
Football News Today
Football News Today
Football News Today
Football News Today
Football News Today
Football News Today
Football News Today
Football News Today
Football News Today
Football News Today
Football News Today
Football News Today
Football News Today
Football News Today
Football News Today
Football News Today
Football News Today
Football News Today
Football News Today
Football News Today
Football News Today
Football News Today
Football News Today
Football News Today
Football News Today
Football News Today
Football News Today
Football News Today
Football News Today
Football News Today
Football News Today
Football News Today
Football News Today
Football News Today
Football News Today
Football News Today
Football News Today
Football News Today
Football News Today
Football News Today
Football News Today
Football News Today
Football News Today
Football News Today
Football News Today
Football News Today
Football News Today
Football News Today
Football News Today
Football News Today
Football News Today
Football News Today
Football News Today
Football News Today
Football News Today
Football News Today
Football News Today
Football News Today
Football News Today
Football News Today
Football News Today
Football News Today
Football News Today
Football News Today
Football News Today
Football News Today
Football News Today
Football News Today
Football News Today
Football News Today
Football News Today
Football News Today
Football News Today
Football News Today
Football News Today
Football News Today
Football News Today
Football News Today
Football News Today
Football News Today
Football News Today
Football News Today
Football News Today
Football News Today
Football News Today
Football News Today
Football News Today
Football News Today
Football News Today
Football News Today
Football News Today
Football News Today
Football News Today
Football News Today
Football News Today
Football News Today
Football News Today
Football News Today
Football News Today
Football News Today
Football News Today
Football News Today
Football News Today
Football News Today
Football News Today
Football News Today
Football News Today
Football News Today
Football News Today
Football News Today
Football News Today
Football News Today
Football News Today
Football News Today
Football News Today
Football News Today
Football News Today
Football News Today
Football News Today
Football News Today
Football News Today
Football News Today
Football News Today
Football News Today
Football News Today
Football News Today
Football News Today
Football News Today
Football News Today
Football News Today
Football News Today
Football News Today
Football News Today
Football News Today
Football News Today
Football News Today
Football News Today
Football News Today
Football News Today
Football News Today
Football News Today
Football News Today
Football News Today
Football News Today
Football News Today
Football News Today
Football News Today
Football News Today
Football News Today
Football News Today
Football News Today
Football News Today
Football News Today
Football News Today
Football News Today
Football News Today
Football News Today
Football News Today
Football News Today
Football News Today
Football News Today
Football News Today
Football News Today
Football News Today
Football News Today
Football News Today
Football News Today
Football News Today
Football News Today
Football News Today
Football News Today
Football News Today
Football News Today
Football News Today
Football News Today
Football News Today
Football News Today
Football News Today
Football News Today
Football News Today
Football News Today
Football News Today
Football News Today
Football News Today
Football News Today
Football News Today
Football News Today
Football News Today
Football News Today
Football News Today
Football News Today
Football News Today
Football News Today
Football News Today
Football News Today
Football News Today
Football News Today
Football News Today
Football News Today
Football News Today
Football News Today
Football News Today
Football News Today
Football News Today
Football News Today
Football News Today
Football News Today
Football News Today
Football News Today
Football News Today
Football News Today
Football News Today
Football News Today
Football News Today
Football News Today
Football News Today
Football News Today
Football News Today
Football News Today
Football News Today
Football News Today
Football News Today
Football News Today
Football News Today
Football News Today
Football News Today
Football News Today
Football News Today
Football News Today
Football News Today
Football News Today
Football News Today
Football News Today
Football News Today
Football News Today
Football News Today
Football News Today
Football News Today
Football News Today
Football News Today
Football News Today
Football News Today
Football News Today
Football News Today
Football News Today
Football News Today
Football News Today
Football News Today
Football News Today
Football News Today
Football News Today
Football News Today
Football News Today
Football News Today
Football News Today
Football News Today
Football News Today
Football News Today
Football News Today
Football News Today
Football News Today
Football News Today
Football News Today
Football News Today
Football News Today
Football News Today
Football News Today
Football News Today
Football News Today
Football News Today
Football News Today
Football News Today
Football News Today
Football News Today
Football News Today
Football News Today
Football News Today
Football News Today
Football News Today
Football News Today
Football News Today
Football News Today
Football News Today
Football News Today
Football News Today
Football News Today
Football News Today
Football News Today
Football News Today
Football News Today
Football News Today
Football News Today
Football News Today
Football News Today
Football News Today
Football News Today
Football News Today
Football News Today
Football News Today
Football News Today
Football News Today
Football News Today
Football News Today
Football News Today
Football News Today
Football News Today
Football News Today
Football News Today
Football News Today
Football News Today
Football News Today
Football News Today
Football News Today
Football News Today
Football News Today
Football News Today
Football News Today
Football News Today
Football News Today
Football News Today
Football News Today
Football News Today
Football News Today
Football News Today
Football News Today
Football News Today
Football News Today
Football News Today
Football News Today
Football News Today
Football News Today
Football News Today
Football News Today
Football News Today
Football News Today
Football News Today
Football News Today
Football News Today
Football News Today
Football News Today
Football News Today
Football News Today
Football News Today
Football News Today
Football News Today
Football News Today
Football News Today
Football News Today
Football News Today
Football News Today
Football News Today
Football News Today
Football News Today
Football News Today
Football News Today
Football News Today
Football News Today
Football News Today
Football News Today
Football News Today
Football News Today
Football News Today
Football News Today
Football News Today
Football News Today
Football News Today
Football News Today
Football News Today
Football News Today
Football News Today
Football News Today
Football News Today
Football News Today
Football News Today
Football News Today
Football News Today
Football News Today
Football News Today
Football News Today
Football News Today
Football News Today
Football News Today
Football News Today
Football News Today
Football News Today
Football News Today
Football News Today
Football News Today
Football News Today
Football News Today
Football News Today
Football News Today
Football News Today
Football News Today
Football News Today
Football News Today
Football News Today
Football News Today
Football News Today
Football News Today
Football News Today
Football News Today
Football News Today
Football News Today
Football News Today
Football News Today
Football News Today
Football News Today
Football News Today
Football News Today
Football News Today
Football News Today
Football News Today
Football News Today
Football News Today
Football News Today
Football News Today
Football News Today
Football News Today
Football News Today
Football News Today
Football News Today
Football News Today
Football News Today
Football News Today
Football News Today
Football News Today
Football News Today
Football News Today
Football News Today
Football News Today
Football News Today
Football News Today
Football News Today
Football News Today
Football News Today
Football News Today
Football News Today
Football News Today
Football News Today
Football News Today
Football News Today
Football News Today
Football News Today
Football News Today
Football News Today
Football News Today
Football News Today
Football News Today
Football News Today
Football News Today
Football News Today
Football News Today
Football News Today
Football News Today
Football News Today
Football News Today
Football News Today
Football News Today
Football News Today
Football News Today
Football News Today
Football News Today
Football News Today
Football News Today
Football News Today
Football News Today
Football News Today
Football News Today
Football News Today
Football News Today
Football News Today
Football News Today
Football News Today
Football News Today
Football News Today
Football News Today
Football News Today
Football News Today
Football News Today
Football News Today
Football News Today
Football News Today
Football News Today
Football News Today
Football News Today
Football News Today
Football News Today
Football News Today
Football News Today
Football News Today
Football News Today
Football News Today
Football News Today
Football News Today
Football News Today
Football News Today
Football News Today
Football News Today
Football News Today
Football News Today
Football News Today
Football News Today
Football News Today
Football News Today
Football News Today
Football News Today
Football News Today
Football News Today
Football News Today
Football News Today
Football News Today
Football News Today
Football News Today
Football News Today
Football News Today
Football News Today
Football News Today
Football News Today
Football News Today
Football News Today
Football News Today
Football News Today
Football News Today
Football News Today
Football News Today
Football News Today
Football News Today
Football News Today
Football News Today
Football News Today
Football News Today
Football News Today
Football News Today
Football News Today
Football News Today
Football News Today
Football News Today
Football News Today
Football News Today
Football News Today
Football News Today
Football News Today
Football News Today
Football News Today
Football News Today
Football News Today
Football News Today
Football News Today
Football News Today
Football News Today
Football News Today
Football News Today
Football News Today
Football News Today
Football News Today
Football News Today
Football News Today
Football News Today
Football News Today
Football News Today
Football News Today
Football News Today
Football News Today
Football News Today
Football News Today
Football News Today
Football News Today
Football News Today
Football News Today
Football News Today
Football News Today
Football News Today
Football News Today
Football News Today
Football News Today
Football News Today
Football News Today
Football News Today
Football News Today
Football News Today
Football News Today
Football News Today
Football News Today
Football News Today
Football News Today
Football News Today
Football News Today
Football News Today
Football News Today
Football News Today
Football News Today
Football News Today
Football News Today
Football News Today
Football News Today
Football News Today
Football News Today
Football News Today
Football News Today
Football News Today
Football News Today
Football News Today
Football News Today
Football News Today
Football News Today
Football News Today
Football News Today
Football News Today
Football News Today
Football News Today
Football News Today
Football News Today
Football News Today
Football News Today
Football News Today
Football News Today
Football News Today
Football News Today
Football News Today
Football News Today
Football News Today
Football News Today
Football News Today
Football News Today
Football News Today
Football News Today
Football News Today
Football News Today
Football News Today
Football News Today
Football News Today
Football News Today
Football News Today
Football News Today
Football News Today
Football News Today
Football News Today
Football News Today
Football News Today
Football News Today
Football News Today
Football News Today
Football News Today
Football News Today
Football News Today
Football News Today
Football News Today
Football News Today
Football News Today
Football News Today
Football News Today
Football News Today
Football News Today
Football News Today
Football News Today
Football News Today
Football News Today
Football News Today
Football News Today
Football News Today
Football News Today
Football News Today
Football News Today
Football News Today
Football News Today
Football News Today
Football News Today
Football News Today
Football News Today
Football News Today
Football News Today
Football News Today
Football News Today
Football News Today
Football News Today
Football News Today
Football News Today
Football News Today
Football News Today
Football News Today
Football News Today
Football News Today
Football News Today
Football News Today
Football News Today
Football News Today
Football News Today
Football News Today
Football News Today
Football News Today
Football News Today
Football News Today
Football News Today
Football News Today
Football News Today
Football News Today
Football News Today
Football News Today
Football News Today
Football News Today
Football News Today
Football News Today
Football News Today
Football News Today
Football News Today
Football News Today
Football News Today
Football News Today
Football News Today
Football News Today
Football News Today
Football News Today
Football News Today
Football News Today
Football News Today
Football News Today
Football News Today
Football News Today
Football News Today
Football News Today
Football News Today
Football News Today
Football News Today
Football News Today
Football News Today
Football News Today
Football News Today
Football News Today
Football News Today
Football News Today
Football News Today
Football News Today
Football News Today
Football News Today
Football News Today
Football News Today
Football News Today
Football News Today
Football News Today
Football News Today
Football News Today
Football News Today
Football News Today
Football News Today
Football News Today
Football News Today
Football News Today
Football News Today
Football News Today
Football News Today
Football News Today
Football News Today
Football News Today
Football News Today
Football News Today
Football News Today
Football News Today
Football News Today
Football News Today
Football News Today
Football News Today
Football News Today
Football News Today
Football News Today
Football News Today
Football News Today
Football News Today
Football News Today
Football News Today
Football News Today
Football News Today
Football News Today
Football News Today
Football News Today
Football News Today
Football News Today
Football News Today
Football News Today
Football News Today
Football News Today
Football News Today
Football News Today
Football News Today
Football News Today
Football News Today
Football News Today
Football News Today
Football News Today
Football News Today
Football News Today
Football News Today
Football News Today
Football News Today
Football News Today
Football News Today
Football News Today
Football News Today
Football News Today
Football News Today
Football News Today
Football News Today
Football News Today
Football News Today
Football News Today
Football News Today
Football News Today
Football News Today
Football News Today
Football News Today
Football News Today
Football News Today
Football News Today
Football News Today
Football News Today
Football News Today
Football News Today
Football News Today
Football News Today
Football News Today
Football News Today
Football News Today
Football News Today
Football News Today
Football News Today
Football News Today
Football News Today
Football News Today
Football News Today
Football News Today
Football News Today
Football News Today
Football News Today
Football News Today
Football News Today
Football News Today
Football News Today
Football News Today
Football News Today
Football News Today
Football News Today
Football News Today
Football News Today
Football News Today
Football News Today
Football News Today
Football News Today
Football News Today
Football News Today
Football News Today
Football News Today
Football News Today
Football News Today
Football News Today
Football News Today
Football News Today
Football News Today
Football News Today
Football News Today
Football News Today
Football News Today
Football News Today
Football News Today
Football News Today
Football News Today
Football News Today
Football News Today
Football News Today
Football News Today
Football News Today
Football News Today
Football News Today
Football News Today
Football News Today
Football News Today
Football News Today
Football News Today
Football News Today
Football News Today
Football News Today
Football News Today
Football News Today
Football News Today
Football News Today
Football News Today
Football News Today
Football News Today
Football News Today
Football News Today
Football News Today
Football News Today
Football News Today
Football News Today
Football News Today
Football News Today
Football News Today
Football News Today
Football News Today
Football News Today
Football News Today
Football News Today
Football News Today
Football News Today
Football News Today
Football News Today
Football News Today
Football News Today
Football News Today
Football News Today
Football News Today
Football News Today
Football News Today
Football News Today
Football News Today
Football News Today
Football News Today
Football News Today
Football News Today
Football News Today
Football News Today
Football News Today
Football News Today
Football News Today
Football News Today
Football News Today
Football News Today
Football News Today
Football News Today
Football News Today
Football News Today
Football News Today
Football News Today
Football News Today
Football News Today
Football News Today
Football News Today
Football News Today
Football News Today
Football News Today
Football News Today
Football News Today
Football News Today
Football News Today
Football News Today
Football News Today
Football News Today
Football News Today
Football News Today
Football News Today
Football News Today
Football News Today
Football News Today
Football News Today
Football News Today
Football News Today
Football News Today
Football News Today
Football News Today
Football News Today
Football News Today
Football News Today
Football News Today
Football News Today
Football News Today
Football News Today
Football News Today
Football News Today
Football News Today
Football News Today
Football News Today
Football News Today
Football News Today
Football News Today
Football News Today
Football News Today
Football News Today
Football News Today
Football News Today
Football News Today
Football News Today
Football News Today
Football News Today
Football News Today
Football News Today
Football News Today
Football News Today
Football News Today
Football News Today
Football News Today
Football News Today
Football News Today
Football News Today
Football News Today
Football News Today
Football News Today
Football News Today
Football News Today
Football News Today
Football News Today
Football News Today
Football News Today
Football News Today
Football News Today
Football News Today
Football News Today
Football News Today
Football News Today
Football News Today
Football News Today
Football News Today
Football News Today
Football News Today
Football News Today
Football News Today
Football News Today
Football News Today
Football News Today
Football News Today
Football News Today
Football News Today
Football News Today
Football News Today
Football News Today
Football News Today
Football News Today
Football News Today
Football News Today
Football News Today
Football News Today
Football News Today
Football News Today
Football News Today
Football News Today
Football News Today
Football News Today
Football News Today
Football News Today
Football News Today
Football News Today
Football News Today
Football News Today
Football News Today
Football News Today
Football News Today
Football News Today
Football News Today
Football News Today
Football News Today
Football News Today
Football News Today
Football News Today
Football News Today
Football News Today
Football News Today
Football News Today
Football News Today
Football News Today
Football News Today
Football News Today
Football News Today
Football News Today
Football News Today
Football News Today
Football News Today
Football News Today
Football News Today
Football News Today
Football News Today
Football News Today
Football News Today
Football News Today
Football News Today
Football News Today
Football News Today
Football News Today
Football News Today
Football News Today
Football News Today
Football News Today
Football News Today
Football News Today
Football News Today
Football News Today
Football News Today
Football News Today
Football News Today
Football News Today
Football News Today
Football News Today
Football News Today
Football News Today
Football News Today
Football News Today
Football News Today
Football News Today
Football News Today
Football News Today
Football News Today
Football News Today
Football News Today
Football News Today
Football News Today
Football News Today
Football News Today
Football News Today
Football News Today
Football News Today
Football News Today
Football News Today
Football News Today
Football News Today
Football News Today
Football News Today
Football News Today
Football News Today
Football News Today
Football News Today
Football News Today
Football News Today
Football News Today
Football News Today
Football News Today
Football News Today
Football News Today
Football News Today
Football News Today
Football News Today
Football News Today
Football News Today
Football News Today
Football News Today
Football News Today
Football News Today
Football News Today
Football News Today
Football News Today
Football News Today
Football News Today
Football News Today
Football News Today
Football News Today
Football News Today
Football News Today
Football News Today
Football News Today
Football News Today
Football News Today
Football News Today
Football News Today
Football News Today
Football News Today
Football News Today
Football News Today
Football News Today
Football News Today
Football News Today
Football News Today
Football News Today
Football News Today
Football News Today
Football News Today
Football News Today
Football News Today
Football News Today
Football News Today
Football News Today
Football News Today
Football News Today
Football News Today
Football News Today
Football News Today
Football News Today
Football News Today
Football News Today
Football News Today
Football News Today
Football News Today
Football News Today
Football News Today
Football News Today
Football News Today
Football News Today
Football News Today
Football News Today
Football News Today
Football News Today
Football News Today
Football News Today
Football News Today
Football News Today
Football News Today
Football News Today
Football News Today
Football News Today
Football News Today
Football News Today
Football News Today
Football News Today
Football News Today
Football News Today
Football News Today
Football News Today
Football News Today
Football News Today
Football News Today
Football News Today
Football News Today
Football News Today
Football News Today
Football News Today
Football News Today
Football News Today
Football News Today
Football News Today
Football News Today
Football News Today
Football News Today
Football News Today
Football News Today
Football News Today
Football News Today
Football News Today
Football News Today
Football News Today
Football News Today
Football News Today
Football News Today
Football News Today
Football News Today
Football News Today
Football News Today
Football News Today
Football News Today
Football News Today
Football News Today
Football News Today
Football News Today
Football News Today
Football News Today
Football News Today
Football News Today
Football News Today
Football News Today
Football News Today
Football News Today
Football News Today
Football News Today
Football News Today
Football News Today
Football News Today
Football News Today
Football News Today
Football News Today
Football News Today
Football News Today
Football News Today
Football News Today
Football News Today
Football News Today
Football News Today
Football News Today
Football News Today
Football News Today
Football News Today
Football News Today
Football News Today
Football News Today
Football News Today
Football News Today
Football News Today
Football News Today
Football News Today
Football News Today
Football News Today
Football News Today
Football News Today
Football News Today
Football News Today
Football News Today
Football News Today
Football News Today
Football News Today
Football News Today
Football News Today
Football News Today
Football News Today
Football News Today
Football News Today
Football News Today
Football News Today
Football News Today
Football News Today
Football News Today
Football News Today
Football News Today
Football News Today
Football News Today
Football News Today
Football News Today
Football News Today
Football News Today
Football News Today
Football News Today
Football News Today
Football News Today
Football News Today
Football News Today
Football News Today
Football News Today
Football News Today
Football News Today
Football News Today
Football News Today
Football News Today
Football News Today
Football News Today
Football News Today
Football News Today
Football News Today
Football News Today
Football News Today
Football News Today
Football News Today
Football News Today
Football News Today
Football News Today
Football News Today
Football News Today
Football News Today
Football News Today
Football News Today
Football News Today
Football News Today
Football News Today
Football News Today
Football News Today
Football News Today
Football News Today
Football News Today
Football News Today
Football News Today
Football News Today
Football News Today
Football News Today
Football News Today
Football News Today
Football News Today
Football News Today
Football News Today
Football News Today
Football News Today
Football News Today
Football News Today
Football News Today
Football News Today
Football News Today
Football News Today
Football News Today
Football News Today
Football News Today
Football News Today
Football News Today
Football News Today
Football News Today
Football News Today
Football News Today
Football News Today
Football News Today
Football News Today
Football News Today
Football News Today
Football News Today
Football News Today
Football News Today
Football News Today
Football News Today
Football News Today
Football News Today
Football News Today
Football News Today
Football News Today
Football News Today
Football News Today
Football News Today
Football News Today
Football News Today
Football News Today
Football News Today
Football News Today
Football News Today
Football News Today
Football News Today
Football News Today
Football News Today
Football News Today
Football News Today
Football News Today
Football News Today
Football News Today
Football News Today
Football News Today
Football News Today
Football News Today
Football News Today
Football News Today
Football News Today
Football News Today
Football News Today
Football News Today
Football News Today
Football News Today
Football News Today
Football News Today
Football News Today
Football News Today
Football News Today
Football News Today
Football News Today
Football News Today
Football News Today
Football News Today
Football News Today
Football News Today
Football News Today
Football News Today
Football News Today
Football News Today
Football News Today
Football News Today
Football News Today
Football News Today
Football News Today
Football News Today
Football News Today
Football News Today
Football News Today
Football News Today
Football News Today
Football News Today
Football News Today
Football News Today
Football News Today
Football News Today
Football News Today
Football News Today
Football News Today
Football News Today
Football News Today
Football News Today
Football News Today
Football News Today
Football News Today
Football News Today
Football News Today
Football News Today
Football News Today
Football News Today
Football News Today
Football News Today
Football News Today
Football News Today
Football News Today
Football News Today
Football News Today
Football News Today
Football News Today
Football News Today
Football News Today
Football News Today
Football News Today
Football News Today
Football News Today
Football News Today
Football News Today
Football News Today
Football News Today
Football News Today
Football News Today
Football News Today
Football News Today
Football News Today
Football News Today
Football News Today
Football News Today
Football News Today
Football News Today
Football News Today
Football News Today
Football News Today
Football News Today
Football News Today
Football News Today
Football News Today
Football News Today
Football News Today
Football News Today
Football News Today
Football News Today
Football News Today
Football News Today
Football News Today
Football News Today
Football News Today
Football News Today
Football News Today
Football News Today
Football News Today
Football News Today
Football News Today
Football News Today
Football News Today
Football News Today
Football News Today
Football News Today
Football News Today
Football News Today
Football News Today
Football News Today
Football News Today
Football News Today
Football News Today
Football News Today
Football News Today
Football News Today
Football News Today
Football News Today
Football News Today
Football News Today
Football News Today
Football News Today
Football News Today
Football News Today
Football News Today
Football News Today
Football News Today
Football News Today
Football News Today
Football News Today
Football News Today
Football News Today
Football News Today
Football News Today
Football News Today
Football News Today
Football News Today
Football News Today
Football News Today
Football News Today
Football News Today
Football News Today
Football News Today
Football News Today
Football News Today
Football News Today
Football News Today
Football News Today
Football News Today
Football News Today
Football News Today
Football News Today
Football News Today
Football News Today
Football News Today
Football News Today
Football News Today
Football News Today
Football News Today
Football News Today
Football News Today
Football News Today
Football News Today
Football News Today
Football News Today
Football News Today
Football News Today
Football News Today
Football News Today
Football News Today
Football News Today
Football News Today
Football News Today
Football News Today
Football News Today
Football News Today
Football News Today
Football News Today
Football News Today
Football News Today
Football News Today
Football News Today
Football News Today
Football News Today
Football News Today
Football News Today
Football News Today
Football News Today
Football News Today
Football News Today
Football News Today
Football News Today
Football News Today
Football News Today
Football News Today
Football News Today
Football News Today
Football News Today
Football News Today
Football News Today
Football News Today
Football News Today
Football News Today
Football News Today
Football News Today
Football News Today
Football News Today
Football News Today
Football News Today
Football News Today
Football News Today
Football News Today
Football News Today
Football News Today
Football News Today
Football News Today
Football News Today
Football News Today
Football News Today
Football News Today
Football News Today
Football News Today
Football News Today
Football News Today
Football News Today
Football News Today
Football News Today
Football News Today
Football News Today
Football News Today
Football News Today
Football News Today
Football News Today
Football News Today
Football News Today
Football News Today
Football News Today
Football News Today
Football News Today
Football News Today
Football News Today
Football News Today
Football News Today
Football News Today
Football News Today
Football News Today
Football News Today
Football News Today
Football News Today
Football News Today
Football News Today
Football News Today
Football News Today
Football News Today
Football News Today
Football News Today
Football News Today
Football News Today
Football News Today
Football News Today
Football News Today
Football News Today
Football News Today
Football News Today
Football News Today
Football News Today
Football News Today
Football News Today
Football News Today
Football News Today
Football News Today
Football News Today
Football News Today
Football News Today
Football News Today
Football News Today
Football News Today
Football News Today
Football News Today
Football News Today
Football News Today
Football News Today
Football News Today
Football News Today
Football News Today
Football News Today
Football News Today
Football News Today
Football News Today
Football News Today
Football News Today
Football News Today
Football News Today
Football News Today
Football News Today
Football News Today
Football News Today
Football News Today
Football News Today
Football News Today
Football News Today
Football News Today
Football News Today
Football News Today
Football News Today
Football News Today
Football News Today
Football News Today
Football News Today
Football News Today
Football News Today
Football News Today
Football News Today
Football News Today
Football News Today
Football News Today
Football News Today
Football News Today
Football News Today
Football News Today
Football News Today
Football News Today
Football News Today
Football News Today
Football News Today
Football News Today
Football News Today
Football News Today
Football News Today
Football News Today
Football News Today
Football News Today
Football News Today
Football News Today
Football News Today
Football News Today
Football News Today
Football News Today
Football News Today
Football News Today
Football News Today
Football News Today
Football News Today
Football News Today
Football News Today
Football News Today
Football News Today
Football News Today
Football News Today
Football News Today
Football News Today
Football News Today
Football News Today
Football News Today
Football News Today
Football News Today
Football News Today
Football News Today
Football News Today
Football News Today
Football News Today
Football News Today
Football News Today
Football News Today
Football News Today
Football News Today
Football News Today
Football News Today
Football News Today
Football News Today
Football News Today
Football News Today
Football News Today
Football News Today
Football News Today
Football News Today
Football News Today
Football News Today
Football News Today
Football News Today
Football News Today
Football News Today
Football News Today
Football News Today
Football News Today
Football News Today
Football News Today
Football News Today
Football News Today
Football News Today
Football News Today
Football News Today
Football News Today
Football News Today
Football News Today
Football News Today
Football News Today
Football News Today
Football News Today
Football News Today
Football News Today
Football News Today
Football News Today
Football News Today
Football News Today
Football News Today
Football News Today
Football News Today
Football News Today
Football News Today
Football News Today
Football News Today
Football News Today
Football News Today
Football News Today
Football News Today
Football News Today
Football News Today
Football News Today
Football News Today
Football News Today
Football News Today
Football News Today
Football News Today
Football News Today
Football News Today
Football News Today
Football News Today
Football News Today
Football News Today
Football News Today
Football News Today
Football News Today
Football News Today
Football News Today
Football News Today
Football News Today
Football News Today
Football News Today
Football News Today
Football News Today
Football News Today
Football News Today
Football News Today
Football News Today
Football News Today
Football News Today
Football News Today
Football News Today
Football News Today
Football News Today
Football News Today
Football News Today
Football News Today
Football News Today
Football News Today
Football News Today
Football News Today
Football News Today
Football News Today
Football News Today
Football News Today
Football News Today
Football News Today
Football News Today
Football News Today
Football News Today
Football News Today
Football News Today
Football News Today
Football News Today
Football News Today
Football News Today
Football News Today
Football News Today
Football News Today
Football News Today
Football News Today
Football News Today
Football News Today
Football News Today
Football News Today
Football News Today
Football News Today
Football News Today
Football News Today
Football News Today
Football News Today
Football News Today
Football News Today
Football News Today
Football News Today
Football News Today
Football News Today
Football News Today
Football News Today
Football News Today
Football News Today
Football News Today
Football News Today
Football News Today
Football News Today
Football News Today
Football News Today
Football News Today
Football News Today
Football News Today
Football News Today
Football News Today
Football News Today
Football News Today
Football News Today
Football News Today
Football News Today
Football News Today
Football News Today
Football News Today
Football News Today
Football News Today
Football News Today
Football News Today
Football News Today
Football News Today
Football News Today
Football News Today
Football News Today
Football News Today
Football News Today
Football News Today
Football News Today
Football News Today
Football News Today
Football News Today
Football News Today
Football News Today
Football News Today
Football News Today
Football News Today
Football News Today
Football News Today
Football News Today
Football News Today
Football News Today
Football News Today
Football News Today
Football News Today
Football News Today
Football News Today
Football News Today
Football News Today
Football News Today
Football News Today
Football News Today
Football News Today
Football News Today
Football News Today
Football News Today
Football News Today
Football News Today
Football News Today
Football News Today
Football News Today
Football News Today
Football News Today
Football News Today
Football News Today
Football News Today
Football News Today
Football News Today
Football News Today
Football News Today
Football News Today
Football News Today
Football News Today
Football News Today
Football News Today
Football News Today
Football News Today
Football News Today
Football News Today
Football News Today
Football News Today
Football News Today
Football News Today
Football News Today
Football News Today
Football News Today
Football News Today
Football News Today
Football News Today
Football News Today
Football News Today
Football News Today
Football News Today
Football News Today
Football News Today
Football News Today
Football News Today
Football News Today
Football News Today
Football News Today
Football News Today
Football News Today
Football News Today
Football News Today
Football News Today
Football News Today
Football News Today
Football News Today
Football News Today
Football News Today
Football News Today
Football News Today
Football News Today
Football News Today
Football News Today
Football News Today
Football News Today
Football News Today
Football News Today
Football News Today
Football News Today
Football News Today
Football News Today
Football News Today
Football News Today
Football News Today
Football News Today
Football News Today
Football News Today
Football News Today
Football News Today
Football News Today
Football News Today
Football News Today
Football News Today
Football News Today
Football News Today
Football News Today
Football News Today
Football News Today
Football News Today
Football News Today
Football News Today
Football News Today
Football News Today
Football News Today
Football News Today
Football News Today
Football News Today
Football News Today
Football News Today
Football News Today
Football News Today
Football News Today
Football News Today
Football News Today
Football News Today
Football News Today
Football News Today
Football News Today
Football News Today
Football News Today
Football News Today
Football News Today
Football News Today
Football News Today
Football News Today
Football News Today
Football News Today
Football News Today
Football News Today
Football News Today
Football News Today
Football News Today
Football News Today
Football News Today
Football News Today
Football News Today
Football News Today
Football News Today
Football News Today
Football News Today
Football News Today
Football News Today
Football News Today
Football News Today
Football News Today
Football News Today
Football News Today
Football News Today
Football News Today
Football News Today
Football News Today
Football News Today
Football News Today
Football News Today
Football News Today
Football News Today
Football News Today
Football News Today
Football News Today
Football News Today
Football News Today
Football News Today
Football News Today
Football News Today
Football News Today
Football News Today
Football News Today
Football News Today
Football News Today
Football News Today
Football News Today
Football News Today
Football News Today
Football News Today
Football News Today
Football News Today
Football News Today
Football News Today
Football News Today
Football News Today
Football News Today
Football News Today
Football News Today
Football News Today
Football News Today
Football News Today
Football News Today
Football News Today
Football News Today
Football News Today
Football News Today
Football News Today
Football News Today
Football News Today
Football News Today
Football News Today
Football News Today
Football News Today
Football News Today
Football News Today
Football News Today
Football News Today
Football News Today
Football News Today
Football News Today
Football News Today
Football News Today
Football News Today
Football News Today
Football News Today
Football News Today
Football News Today
Football News Today
Football News Today
Football News Today
Football News Today
Football News Today
Football News Today
Football News Today
Football News Today
Football News Today
Football News Today
Football News Today
Football News Today
Football News Today
Football News Today
Football News Today
Football News Today
Football News Today
Football News Today
Football News Today
Football News Today
Football News Today
Football News Today
Football News Today
Football News Today
Football News Today
Football News Today
Football News Today
Football News Today
Football News Today
Football News Today
Football News Today
Football News Today
Football News Today
Football News Today
Football News Today
Football News Today
Football News Today
Football News Today
Football News Today
Football News Today
Football News Today
Football News Today
Football News Today
Football News Today
Football News Today
Football News Today
Football News Today
Football News Today
Football News Today
Football News Today
Football News Today
Football News Today
Football News Today
Football News Today
Football News Today
Football News Today
Football News Today
Football News Today
Football News Today
Football News Today
Football News Today
Football News Today
Football News Today
Football News Today
Football News Today
Football News Today
Football News Today
Football News Today
Football News Today
Football News Today
Football News Today
Football News Today
Football News Today
Football News Today
Football News Today
Football News Today
Football News Today
Football News Today
Football News Today
Football News Today
Football News Today
Football News Today
Football News Today
Football News Today
Football News Today
Football News Today
Football News Today
Football News Today
Football News Today
Football News Today
Football News Today
Football News Today
Football News Today
Football News Today
Football News Today
Football News Today
Football News Today
Football News Today
Football News Today
Football News Today
Football News Today
Football News Today
Football News Today
Football News Today
Football News Today
Football News Today
Football News Today
Football News Today
Football News Today
Football News Today
Football News Today
Football News Today
Football News Today
Football News Today
Football News Today
Football News Today
Football News Today
Football News Today
Football News Today
Football News Today
Football News Today
Football News Today
Football News Today
Football News Today
Football News Today
Football News Today
Football News Today
Football News Today
Football News Today
Football News Today
Football News Today
Football News Today
Football News Today
Football News Today
Football News Today
Football News Today
Football News Today
Football News Today
Football News Today
Football News Today
Football News Today
Football News Today
Football News Today
Football News Today
Football News Today
Football News Today
Football News Today
Football News Today
Football News Today
Football News Today
Football News Today
Football News Today
Football News Today
Football News Today
Football News Today
Football News Today
Football News Today
Football News Today
Football News Today
Football News Today
Football News Today
Football News Today
Football News Today
Football News Today
Football News Today
Football News Today
Football News Today
Football News Today
Football News Today
Football News Today
Football News Today
Football News Today
Football News Today
Football News Today
Football News Today
Football News Today
Football News Today
Football News Today
Football News Today
Football News Today
Football News Today
Football News Today
Football News Today
Football News Today
Football News Today
Football News Today
Football News Today
Football News Today
Football News Today
Football News Today
Football News Today
Football News Today
Football News Today
Football News Today
Football News Today
Football News Today
Football News Today
Football News Today
Football News Today
Football News Today
Football News Today
Football News Today
Football News Today
Football News Today
Football News Today
Football News Today
Football News Today
Football News Today
Football News Today
Football News Today
Football News Today
Football News Today
Football News Today
Football News Today
Football News Today
Football News Today
Football News Today
Football News Today
Football News Today
Football News Today
Football News Today
Football News Today
Football News Today
Football News Today
Football News Today
Football News Today
Football News Today
Football News Today
Football News Today
Football News Today
Football News Today
Football News Today
Football News Today
Football News Today
Football News Today
Football News Today
Football News Today
Football News Today
Football News Today
Football News Today
Football News Today
Football News Today
Football News Today
Football News Today
Football News Today
Football News Today
Football News Today
Football News Today
Football News Today
Football News Today
Football News Today
Football News Today
Football News Today
Football News Today
Football News Today
Football News Today
Football News Today
Football News Today
Football News Today
Football News Today
Football News Today
Football News Today
Football News Today
Football News Today
Football News Today
Football News Today
Football News Today
Football News Today
Football News Today
Football News Today
Football News Today
Football News Today
Football News Today
Football News Today
Football News Today
Football News Today
Football News Today
Football News Today
Football News Today
Football News Today
Football News Today
Football News Today
Football News Today
Football News Today
Football News Today
Football News Today
Football News Today
Football News Today
Football News Today
Football News Today
Football News Today
Football News Today
Football News Today
Football News Today
Football News Today
Football News Today
Football News Today
Football News Today
Football News Today
Football News Today
Football News Today
Football News Today
Football News Today
Football News Today
Football News Today
Football News Today
Football News Today
Football News Today
Football News Today
Football News Today
Football News Today
Football News Today
Football News Today
Football News Today
Football News Today
Football News Today
Football News Today
Football News Today
Football News Today
Football News Today
Football News Today
Football News Today
Football News Today
Football News Today
Football News Today
Football News Today
Football News Today
Football News Today
Football News Today
Football News Today
Football News Today
Football News Today
Football News Today
Football News Today
Football News Today
Football News Today
Football News Today
Football News Today
Football News Today
Football News Today
Football News Today
Football News Today
Football News Today
Football News Today
Football News Today
Football News Today
Football News Today
Football News Today
Football News Today
Football News Today
Football News Today
Football News Today
Football News Today
Football News Today
Football News Today
Football News Today
Football News Today
Football News Today
Football News Today
Football News Today
Football News Today
Football News Today
Football News Today
Football News Today
Football News Today
Football News Today
Football News Today
Football News Today
Football News Today
Football News Today
Football News Today
Football News Today
Football News Today
Football News Today
Football News Today
Football News Today
Football News Today
Football News Today
Football News Today
Football News Today
Football News Today
Football News Today
Football News Today
Football News Today
Football News Today
Football News Today
Football News Today
Football News Today
Football News Today
Football News Today
Football News Today
Football News Today
Football News Today
Football News Today
Football News Today
Football News Today
Football News Today
Football News Today
Football News Today
Football News Today
Football News Today
Football News Today
Football News Today
Football News Today
Football News Today
Football News Today
Football News Today
Football News Today
Football News Today
Football News Today
Football News Today
Football News Today
Football News Today
Football News Today
Football News Today
Football News Today
Football News Today
Football News Today
Football News Today
Football News Today
Football News Today
Football News Today
Football News Today
Football News Today
Football News Today
Football News Today
Football News Today
Football News Today
Football News Today
Football News Today
Football News Today
Football News Today
Football News Today
Football News Today
Football News Today
Football News Today
Football News Today
Football News Today
Football News Today
Football News Today
Football News Today
Football News Today
Football News Today
Football News Today
Football News Today
Football News Today
Football News Today
Football News Today
Football News Today
Football News Today
Football News Today
Football News Today
Football News Today
Football News Today
Football News Today
Football News Today
Football News Today
Football News Today
Football News Today
Football News Today
Football News Today
Football News Today
Football News Today
Football News Today
Football News Today
Football News Today
Football News Today
Football News Today
Football News Today
Football News Today
Football News Today
Football News Today
Football News Today
Football News Today
Football News Today
Football News Today
Football News Today
Football News Today
Football News Today
Football News Today
Football News Today
Football News Today
Football News Today
Football News Today
Football News Today
Football News Today
Football News Today
Football News Today
Football News Today
Football News Today
Football News Today
Football News Today
Football News Today
Football News Today
Football News Today
Football News Today
Football News Today
Football News Today
Football News Today
Football News Today
Football News Today
Football News Today
Football News Today
Football News Today
Football News Today
Football News Today
Football News Today
Football News Today
Football News Today
Football News Today
Football News Today
Football News Today
Football News Today
Football News Today
Football News Today
Football News Today
Football News Today
Football News Today
Football News Today
Football News Today
Football News Today
Football News Today
Football News Today
Football News Today
Football News Today
Football News Today
Football News Today
Football News Today
Football News Today
Football News Today
Football News Today
Football News Today
Football News Today
Football News Today
Football News Today
Football News Today
Football News Today
Football News Today
Football News Today
Football News Today
Football News Today
Football News Today
Football News Today
Football News Today
Football News Today
Football News Today
Football News Today
Football News Today
Football News Today
Football News Today
Football News Today
Football News Today
Football News Today
Football News Today
Football News Today
Football News Today
Football News Today
Football News Today
Football News Today
Football News Today
Football News Today
Football News Today
Football News Today
Football News Today
Football News Today
Football News Today
Football News Today
Football News Today
Football News Today
Football News Today
Football News Today
Football News Today
Football News Today
Football News Today
Football News Today
Football News Today
Football News Today
Football News Today
Football News Today
Football News Today
Football News Today
Football News Today
Football News Today
Football News Today
Football News Today
Football News Today
Football News Today
Football News Today
Football News Today
Football News Today
Football News Today
Football News Today
Football News Today
Football News Today
Football News Today
Football News Today
Football News Today
Football News Today
Football News Today
Football News Today
Football News Today
Football News Today
Football News Today
Football News Today
Football News Today
Football News Today
Football News Today
Football News Today
Football News Today
Football News Today
Football News Today
Football News Today
Football News Today
Football News Today
Football News Today
Football News Today
Football News Today
Football News Today
Football News Today
Football News Today
Football News Today
Football News Today
Football News Today
Football News Today
Football News Today
Football News Today
Football News Today
Football News Today
Football News Today
Football News Today
Football News Today
Football News Today
Football News Today
Football News Today
Football News Today
Football News Today
Football News Today
Football News Today
Football News Today
Football News Today
Football News Today
Football News Today
Football News Today
Football News Today
Football News Today
Football News Today
Football News Today
Football News Today
Football News Today
Football News Today
Football News Today
Football News Today
Football News Today
Football News Today
Football News Today
Football News Today
Football News Today
Football News Today
Football News Today
Football News Today
Football News Today
Football News Today
Football News Today
Football News Today
Football News Today
Football News Today
Football News Today
Football News Today
Football News Today
Football News Today
Football News Today
Football News Today
Football News Today
Football News Today
Football News Today
Football News Today
Football News Today
Football News Today
Football News Today
Football News Today
Football News Today
Football News Today
Football News Today
Football News Today
Football News Today
Football News Today
Football News Today
Football News Today
Football News Today
Football News Today
Football News Today
Football News Today
Football News Today
Football News Today
Football News Today
Football News Today
Football News Today
Football News Today
Football News Today
Football News Today
Football News Today
Football News Today
Football News Today
Football News Today
Football News Today
Football News Today
Football News Today
Football News Today
Football News Today
Football News Today
Football News Today
Football News Today
Football News Today
Football News Today
Football News Today
Football News Today
Football News Today
Football News Today
Football News Today
Football News Today
Football News Today
Football News Today
Football News Today
Football News Today
Football News Today
Football News Today
Football News Today
Football News Today
Football News Today
Football News Today
Football News Today
Football News Today
Football News Today
Football News Today
Football News Today
Football News Today
Football News Today
Football News Today
Football News Today
Football News Today
Football News Today
Football News Today
Football News Today
Football News Today
Football News Today
Football News Today
Football News Today
Football News Today
Football News Today
Football News Today
Football News Today
Football News Today
Football News Today
Football News Today
Football News Today
Football News Today
Football News Today
Football News Today
Football News Today
Football News Today
Football News Today
Football News Today
Football News Today
Football News Today
Football News Today
Football News Today
Football News Today
Football News Today
Football News Today
Football News Today
Football News Today
Football News Today
Football News Today
Football News Today
Football News Today
Football News Today
Football News Today
Football News Today
Football News Today
Football News Today
Football News Today
Football News Today
Football News Today
Football News Today
Football News Today
Football News Today
Football News Today
Football News Today
Football News Today
Football News Today
Football News Today
Football News Today
Football News Today
Football News Today
Football News Today
Football News Today
Football News Today
Football News Today
Football News Today
Football News Today
Football News Today
Football News Today
Football News Today
Football News Today
Football News Today
Football News Today
Football News Today
Football News Today
Football News Today
Football News Today
Football News Today
Football News Today
Football News Today
Football News Today
Football News Today
Football News Today
Football News Today
Football News Today
Football News Today
Football News Today
Football News Today
Football News Today
Football News Today
Football News Today
Football News Today
Football News Today
Football News Today
Football News Today
Football News Today
Football News Today
Football News Today
Football News Today
Football News Today
Football News Today
Football News Today
Football News Today
Football News Today
Football News Today
Football News Today
Football News Today
Football News Today
Football News Today
Football News Today
Football News Today
Football News Today
Football News Today
Football News Today
Football News Today
Football News Today
Football News Today
Football News Today
Football News Today
Football News Today
Football News Today
Football News Today
Football News Today
Football News Today
Football News Today
Football News Today
Football News Today
Football News Today
Football News Today
Football News Today
Football News Today
Football News Today
Football News Today
Football News Today
Football News Today
Football News Today
Football News Today
Football News Today
Football News Today
Football News Today
Football News Today
Football News Today
Football News Today
Football News Today
Football News Today
Football News Today
Football News Today
Football News Today
Football News Today
Football News Today
Football News Today
Football News Today
Football News Today
Football News Today
Football News Today
Football News Today
Football News Today
Football News Today
Football News Today
Football News Today
Football News Today
Football News Today
Football News Today
Football News Today
Football News Today
Football News Today
Football News Today
Football News Today
Football News Today
Football News Today
Football News Today
Football News Today
Football News Today
Football News Today
Football News Today
Football News Today
Football News Today
Football News Today
Football News Today
Football News Today
Football News Today
Football News Today
Football News Today
Football News Today
Football News Today
Football News Today
Football News Today
Football News Today
Football News Today
Football News Today
Football News Today
Football News Today
Football News Today
Football News Today
Football News Today
Football News Today
Football News Today
Football News Today
Football News Today
Football News Today
Football News Today
Football News Today
Football News Today
Football News Today
Football News Today
Football News Today
Football News Today
Football News Today
Football News Today
Football News Today
Football News Today
Football News Today
Football News Today
Football News Today
Football News Today
Football News Today
Football News Today
Football News Today
Football News Today
Football News Today
Football News Today
Football News Today
Football News Today
Football News Today
Football News Today
Football News Today
Football News Today
Football News Today
Football News Today
Football News Today
Football News Today
Football News Today
Football News Today
Football News Today
Football News Today
Football News Today
Football News Today
Football News Today
Football News Today
Football News Today
Football News Today
Football News Today
Football News Today
Football News Today
Football News Today
Football News Today
Football News Today
Football News Today
Football News Today
Football News Today
Football News Today
Football News Today
Football News Today
Football News Today
Football News Today
Football News Today
Football News Today
Football News Today
Football News Today
Football News Today
Football News Today
Football News Today
Football News Today
Football News Today
Football News Today
Football News Today
Football News Today
Football News Today
Football News Today
Football News Today
Football News Today
Football News Today
Football News Today
Football News Today
Football News Today
Football News Today
Football News Today
Football News Today
Football News Today
Football News Today
Football News Today
Football News Today
Football News Today
Football News Today
Football News Today
Football News Today
Football News Today
Football News Today
Football News Today
Football News Today
Football News Today
Football News Today
Football News Today
Football News Today
Football News Today
Football News Today
Football News Today
Football News Today
Football News Today
Football News Today
Football News Today
Football News Today
Football News Today
Football News Today
Football News Today
Football News Today
Football News Today
Football News Today
Football News Today
Football News Today
Football News Today
Football News Today
Football News Today
Football News Today
Football News Today
Football News Today
Football News Today
Football News Today
Football News Today
Football News Today
Football News Today
Football News Today
Football News Today
Football News Today
Football News Today
Football News Today
Football News Today
Football News Today
Football News Today
Football News Today
Football News Today
Football News Today
Football News Today
Football News Today
Football News Today
Football News Today
Football News Today
Football News Today
Football News Today
Football News Today
Football News Today
Football News Today
Football News Today
Football News Today
Football News Today
Football News Today
Football News Today
Football News Today
Football News Today
Football News Today
Football News Today
Football News Today
Football News Today
Football News Today
Football News Today
Football News Today
Football News Today
Football News Today
Football News Today
Football News Today
Football News Today
Football News Today
Football News Today
Football News Today
Football News Today
Football News Today
Football News Today
Football News Today
Football News Today
Football News Today
Football News Today
Football News Today
Football News Today
Football News Today
Football News Today
Football News Today
Football News Today
Football News Today
Football News Today
Football News Today
Football News Today
Football News Today
Football News Today
Football News Today
Football News Today
Football News Today
Football News Today
Football News Today
Football News Today
Football News Today
Football News Today
Football News Today
Football News Today
Football News Today
Football News Today
Football News Today
Football News Today
Football News Today
Football News Today
Football News Today
Football News Today
Football News Today
Football News Today
Football News Today
Football News Today
Football News Today
Football News Today
Football News Today
Football News Today
Football News Today
Football News Today
Football News Today
Football News Today
Football News Today
Football News Today
Football News Today
Football News Today
Football News Today
Football News Today
Football News Today
Football News Today
Football News Today
Football News Today
Football News Today
Football News Today
Football News Today
Football News Today
Football News Today
Football News Today
Football News Today
Football News Today
Football News Today
Football News Today
Football News Today
Football News Today
Football News Today
Football News Today
Football News Today
Football News Today
Football News Today
Football News Today
Football News Today
Football News Today
Football News Today
Football News Today
Football News Today
Football News Today
Football News Today
Football News Today
Football News Today
Football News Today
Football News Today
Football News Today
Football News Today
Football News Today
Football News Today
Football News Today
Football News Today
Football News Today
Football News Today
Football News Today
Football News Today
Football News Today
Football News Today
Football News Today
Football News Today
Football News Today
Football News Today
Football News Today
Football News Today
Football News Today
Football News Today
Football News Today
Football News Today
Football News Today
Football News Today
Football News Today
Football News Today
Football News Today
Football News Today
Football News Today
Football News Today
Football News Today
Football News Today
Football News Today
Football News Today
Football News Today
Football News Today
Football News Today
Football News Today
Football News Today
Football News Today
Football News Today
Football News Today
Football News Today
Football News Today
Football News Today
Football News Today
Football News Today
Football News Today
Football News Today
Football News Today
Football News Today
Football News Today
Football News Today
Football News Today
Football News Today
Football News Today
Football News Today
Football News Today
Football News Today
Football News Today
Football News Today
Football News Today
Football News Today
Football News Today
Football News Today
Football News Today
Football News Today
Football News Today
Football News Today
Football News Today
Football News Today
Football News Today
Football News Today
Football News Today
Football News Today
Football News Today
Football News Today
Football News Today
Football News Today
Football News Today
Football News Today
Football News Today
Football News Today
Football News Today
Football News Today
Football News Today
Football News Today
Football News Today
Football News Today
Football News Today
Football News Today
Football News Today
Football News Today
Football News Today
Football News Today
Football News Today
Football News Today
Football News Today
Football News Today
Football News Today
Football News Today
Football News Today
Football News Today
Football News Today
Football News Today
Football News Today
Football News Today
Football News Today
Football News Today
Football News Today
Football News Today
Football News Today
Football News Today
Football News Today
Football News Today
Football News Today
Football News Today
Football News Today
Football News Today
Football News Today
Football News Today
Football News Today
Football News Today
Football News Today
Football News Today
Football News Today
Football News Today
Football News Today
Football News Today
Football News Today
Football News Today
Football News Today
Football News Today
Football News Today
Football News Today
Football News Today
Football News Today
Football News Today
Football News Today
Football News Today
Football News Today
Football News Today
Football News Today
Football News Today
Football News Today
Football News Today
Football News Today
Football News Today
Football News Today
Football News Today
Football News Today
Football News Today
Football News Today
Football News Today
Football News Today
Football News Today
Football News Today
Football News Today
Football News Today
Football News Today
Football News Today
Football News Today
Football News Today
Football News Today
Football News Today
Football News Today
Football News Today
Football News Today
Football News Today
Football News Today
Football News Today
Football News Today
Football News Today
Football News Today
Football News Today
Football News Today
Football News Today
Football News Today
Football News Today
Football News Today
Football News Today
Football News Today
Football News Today
Football News Today
Football News Today
Football News Today
Football News Today
Football News Today
Football News Today
Football News Today
Football News Today
Football News Today
Football News Today
Football News Today
Football News Today
Football News Today
Football News Today
Football News Today
Football News Today
Football News Today
Football News Today
Football News Today
Football News Today
Football News Today
Football News Today
Football News Today
Football News Today
Football News Today
Football News Today
Football News Today
Football News Today
Football News Today
Football News Today
Football News Today
Football News Today
Football News Today
Football News Today
Football News Today
Football News Today
Football News Today
Football News Today
Football News Today
Football News Today
Football News Today
Football News Today
Football News Today
Football News Today
Football News Today
Football News Today
Football News Today
Football News Today
Football News Today
Football News Today
Football News Today
Football News Today
Football News Today
Football News Today
Football News Today
Football News Today
Football News Today
Football News Today
Football News Today
Football News Today
Football News Today
Football News Today
Football News Today
Football News Today
Football News Today
Football News Today
Football News Today
Football News Today
Football News Today
Football News Today
Football News Today
Football News Today
Football News Today
Football News Today
Football News Today
Football News Today
Football News Today
Football News Today
Football News Today
Football News Today
Football News Today
Football News Today
Football News Today
Football News Today
Football News Today
Football News Today
Football News Today
Football News Today
Football News Today
Football News Today
Football News Today
Football News Today
Football News Today
Football News Today
Football News Today
Football News Today
Football News Today
Football News Today
Football News Today
Football News Today
Football News Today
Football News Today
Football News Today
Football News Today
Football News Today
Football News Today
Football News Today
Football News Today
Football News Today
Football News Today
Football News Today
Football News Today
Football News Today
Football News Today
Football News Today
Football News Today
Football News Today
Football News Today
Football News Today
Football News Today
Football News Today
Football News Today
Football News Today
Football News Today
Football News Today
Football News Today
Football News Today
Football News Today
Football News Today
Football News Today
Football News Today
Football News Today
Football News Today
Football News Today
Football News Today
Football News Today
Football News Today
Football News Today
Football News Today
Football News Today
Football News Today
Football News Today
Football News Today
Football News Today
Football News Today
Football News Today
Football News Today
Football News Today
Football News Today
Football News Today
Football News Today
Football News Today
Football News Today
Football News Today
Football News Today
Football News Today
Football News Today
Football News Today
Football News Today
Football News Today
Football News Today
Football News Today
Football News Today
Football News Today
Football News Today
Football News Today
Football News Today
Football News Today
Football News Today
Football News Today
Football News Today
Football News Today
Football News Today
Football News Today
Football News Today
Football News Today
Football News Today
Football News Today
Football News Today
Football News Today
Football News Today
Football News Today
Football News Today
Football News Today
Football News Today
Football News Today
Football News Today
Football News Today
Football News Today
Football News Today
Football News Today
Football News Today
Football News Today
Football News Today
Football News Today
Football News Today
Football News Today
Football News Today
Football News Today
Football News Today
Football News Today
Football News Today
Football News Today
Football News Today
Football News Today
Football News Today
Football News Today
Football News Today
Football News Today
Football News Today
Football News Today
Football News Today
Football News Today
Football News Today
Football News Today
Football News Today
Football News Today
Football News Today
Football News Today
Football News Today
Football News Today
Football News Today
Football News Today
Football News Today
Football News Today
Football News Today
Football News Today
Football News Today
Football News Today
Football News Today
Football News Today
Football News Today
Football News Today
Football News Today
Football News Today
Football News Today
Football News Today
Football News Today
Football News Today
Football News Today
Football News Today
Football News Today
Football News Today
Football News Today
Football News Today
Football News Today
Football News Today
Football News Today
Football News Today
Football News Today
Football News Today
Football News Today
Football News Today
Football News Today
Football News Today
Football News Today
Football News Today
Football News Today
Football News Today
Football News Today
Football News Today
Football News Today
Football News Today
Football News Today
Football News Today
Football News Today
Football News Today
Football News Today
Football News Today
Football News Today
Football News Today
Football News Today
Football News Today
Football News Today
Football News Today
Football News Today
Football News Today
Football News Today
Football News Today
Football News Today
Football News Today
Football News Today
Football News Today
Football News Today
Football News Today
Football News Today
Football News Today
Football News Today
Football News Today
Football News Today
Football News Today
Football News Today
Football News Today
Football News Today
Football News Today
Football News Today
Football News Today
Football News Today
Football News Today
Football News Today
Football News Today
Football News Today
Football News Today
Football News Today
Football News Today
Football News Today
Football News Today
Football News Today
Football News Today
Football News Today
Football News Today
Football News Today
Football News Today
Football News Today
Football News Today
Football News Today
Football News Today
Football News Today
Football News Today
Football News Today
Football News Today
Football News Today
Football News Today
Football News Today
Football News Today
Football News Today
Football News Today
Football News Today
Football News Today
Football News Today
Football News Today
Football News Today
Football News Today
Football News Today
Football News Today
Football News Today
Football News Today
Football News Today
Football News Today
Football News Today
Football News Today
Football News Today
Football News Today
Football News Today
Football News Today
Football News Today
Football News Today
Football News Today
Football News Today
Football News Today
Football News Today
Football News Today
Football News Today
Football News Today
Football News Today
Football News Today
Football News Today
Football News Today
Football News Today
Football News Today
Football News Today
Football News Today
Football News Today
Football News Today
Football News Today
Football News Today
Football News Today
Football News Today
Football News Today
Football News Today
Football News Today
Football News Today
Football News Today
Football News Today
Football News Today
Football News Today
Football News Today
Football News Today
Football News Today
Football News Today
Football News Today
Football News Today
Football News Today
Football News Today
Football News Today
Football News Today
Football News Today
Football News Today
Football News Today
Football News Today
Football News Today
Football News Today
Football News Today
Football News Today
Football News Today
Football News Today
Football News Today
Football News Today
Football News Today
Football News Today
Football News Today
Football News Today
Football News Today
Football News Today
Football News Today
Football News Today
Football News Today
Football News Today
Football News Today
Football News Today
Football News Today
Football News Today
Football News Today
Football News Today
Football News Today
Football News Today
Football News Today
Football News Today
Football News Today
Football News Today
Football News Today
Football News Today
Football News Today
Football News Today
Football News Today
Football News Today
Football News Today
Football News Today
Football News Today
Football News Today
Football News Today
Football News Today
Football News Today
Football News Today
Football News Today
Football News Today
Football News Today
Football News Today
Football News Today
Football News Today
Football News Today
Football News Today
Football News Today
Football News Today
Football News Today
Football News Today
Football News Today
Football News Today
Football News Today
Football News Today
Football News Today
Football News Today
Football News Today
Football News Today
Football News Today
Football News Today
Football News Today
Football News Today
Football News Today
Football News Today
Football News Today
Football News Today
Football News Today
Football News Today
Football News Today
Football News Today
Football News Today
Football News Today
Football News Today
Football News Today
Football News Today
Football News Today
Football News Today
Football News Today
Football News Today
Football News Today
Football News Today
Football News Today
Football News Today
Football News Today
Football News Today
Football News Today
Football News Today
Football News Today
Football News Today
Football News Today
Football News Today
Football News Today
Football News Today
Football News Today
Football News Today
Football News Today
Football News Today
Football News Today
Football News Today
Football News Today
Football News Today
Football News Today
Football News Today
Football News Today
Football News Today
Football News Today
Football News Today
Football News Today
Football News Today
Football News Today
Football News Today
Football News Today
Football News Today
Football News Today
Football News Today
Football News Today
Football News Today
Football News Today
Football News Today
Football News Today
Football News Today
Football News Today
Football News Today
Football News Today
Football News Today
Football News Today
Football