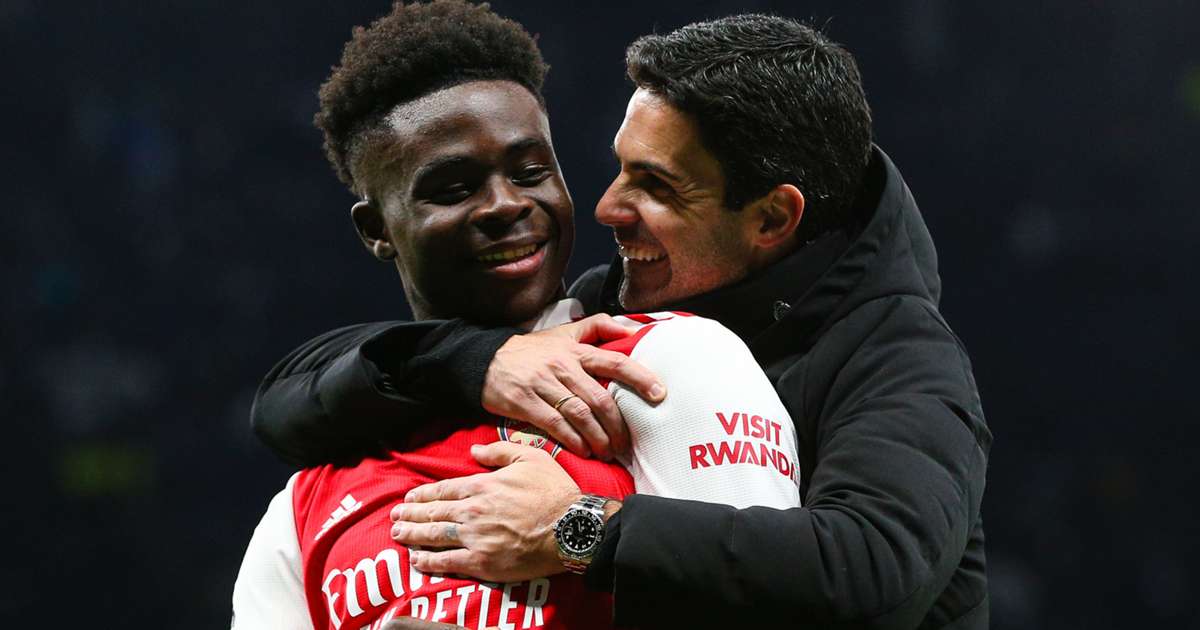 Arsenal manager Mikel Arteta has insisted on Bukayo Saka's new contract at the club
Saka has reportedly come to an agreement with the club over a contract extension
Meanwhile, the Gunners will be happy to have Thomas Partey back at the weekend when they take on Leicester
Arsenal manager Mikel Arteta has insisted retaining prized assets like Bukayo Saka is essential for Arsenal's bid for trophies.
Saka reportedly accepted a new, bumper deal that would keep him with the Premier League's top team until 2028.
Due to the England winger's contract, which runs through June 2024, the Gunners have been keen to keep him around for a while.
For Arsenal, who are attempting to capture the Premier League title for the first time since 2014, Saka has scored nine goals and provided eight assists.
In addition to allegedly negotiating new contracts for William Saliba and Aaron Ramsdale, Gabriel Martinelli recently signed a new one.
Arsenal must demonstrate their ambition by keeping hold of important players, manager Arteta emphasized.
"That's what we have to do, that's our duty," he said in advance of Saturday's trip to Leicester City. to retain our finest team members and staff.
"Those that have the same aims and same purposes as the club."
Saka, who performed admirably for England at the World Cup the previous year, has endured some rough treatment, but Arteta is confident that he will develop the ability to withstand rushing collisions.
When asked if he thought Saka might sustain a severe injury, the Spaniard responded, "Hopefully not. We've trained for that. When to sprint, jump, and take particular balls.
I'm confident referees want to protect players in every game, he continued. Bukayo is getting a lot of attention, but we should concentrate on what we can accomplish together. Of course, referees have a task to do as well.
"We cannot control what the opponents are going to do, or the referee in a split second. We need to help him become a better player."
Meanwhile, Thomas Partey's potential availability for Arsenal's journey to Leicester on Saturday, along with Gabriel Jesus's impending return, is encouraging.
The Gunners want to put five points between themselves and Manchester City, who are currently in second place, before Pep Guardiola's team plays Bournemouth later in the day.
At his news conference prior to the game, Mikel Arteta provided an update on Thomas Partey and Gabriel Jesus. "He hasn't trained much, but it appears like he could be available," Arteta said of the midfielder.
Leicester, on the other hand, are concerned about the health of one of their own midfielders.
James Maddison is a doubt heading into the game, according to Leicester City boss Brendan Rodgers.
Maddison will be evaluated before the game because of a knee issue, according to Rodgers.