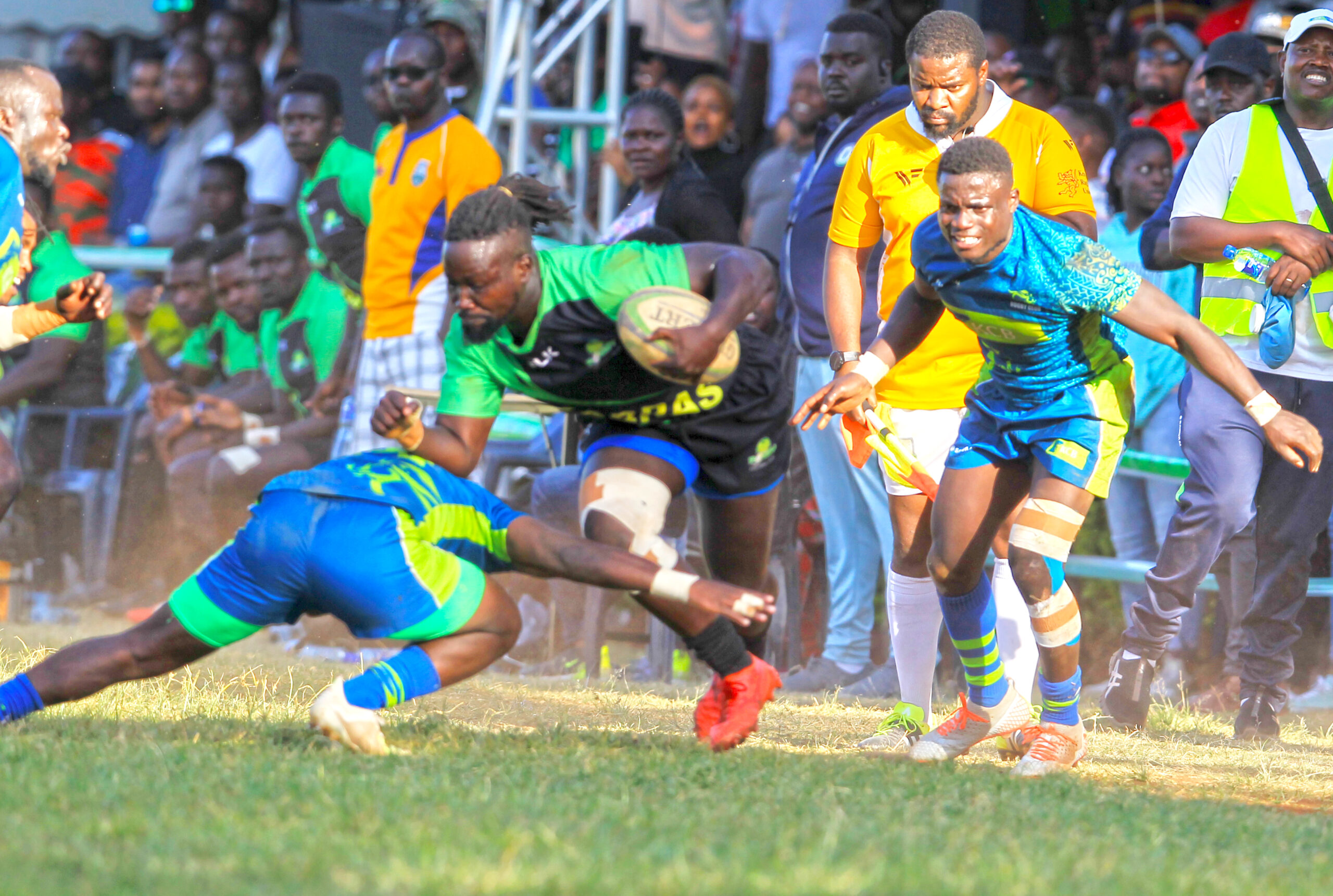 Kabras beat KCB at their backyard in Nairobi
The victory sees them go top of the standings
KCB had not lost before the Kabras game
Kenya Cup defending champions Kabras Sugar have stormed to the apex of the Kenya Cup standings after edging out title rivals and hitherto league leaders KCB 29-23 in a top of the table clash this weekend.
The clash had been highly billed with both sides coming into the match with an unbeaten run, KCB having earned bonus point victories in all their matches this season.
But, at the Lions Den in Ruaraka, it was the visitors had the best possible start to the match, taking the lead through Ntabeni Dukisa's penalty before Jone Kubu took advantage of a Darwin Mukidza error to touch down with Dukisa converting for a 10-0 lead after ten minutes of play.
The hosts were soon down to 14 men after prop forward Oscar Simiyu's yellow card for the high tackle, and were subsequently punished as two Dukisa penalties took Kabras 16-0 up within 17 minutes of play.
The bankers would compose themselves after Simiyu's return, first scoring a penalty throough Mukidza's boot before Samuel Asati touched down with Mukidz converting to make it 16-10 at the break.
Lilako dot down try 
Curtis Lilako scored a captain's try after the restart, Mukidza converting as KCB went ahead for the first time in this game, 17-16 the score. Mukidza and Dukisa would trade scores as KCB led 20-19.
Another Mukidza penalty put KCB 23-19 ahead before a try from Kubu and Jean Musoga with Kubu converting to seal the win for the champions.
Meanwhile, holders Kabras will begin the defense of their Enterprise Cup title against Kenya Harlequin when the tournament kicks off with round of 16 action on Saturday 18 March.
Last season's losing finalists KCB have been drawn against Western Bulls.
Other round of 16 matches see Strathmore Leos take on the Kenya U20s, Chipu, who are using this tournament as a build up for the Barthes U20 trophy and the World Rugby Junior Trophy.
Blak Bad will take on Catholic Monks as Impala Saracens battle with Mean Machine, Mwamba take on Kisumu with other round of 16 matches pitting Homeboyz against Menengai Oilers and record winners Nondescripts against South Coast Pirates.
Mwamba Cup kicks off on March 18
The second tier Mwamba Cup also kicks off on 18 March with both finals slated for Saturday 15 April.
The Enterprise Cup is the oldest and longest running competition in Kenya rugby. First played in 1930, it  is also one of the oldest competitions in Kenyan sport.
The Enterprise Cup was originally an annual fifteens rugby competition played between sides  from Kenya, Tanzania and Uganda. It is now a fifteens rugby knock out competition for top Kenyan club sides. The original cup was donated by sailors from the HMS Enterprise who had toured East Africa in 1928.
The only years in which the competition has not been played is between 1940–1946 due to World War II, 1987 because an international rugby competition was held on RFUEA Ground as part of the 4th All Africa Games , the 2011/2012 season and 2020/21 because of the COVID19 pandemic.