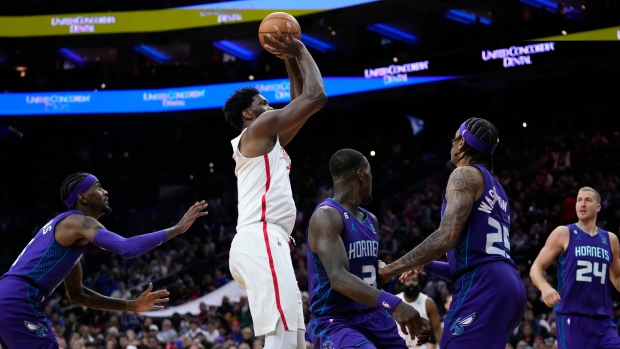 Philadelphia 76ers made easy work on Charlotte Hornets when the two teams clashed on Sunday in the NBA
Philadelphia 76ers defeated the Hornets as Joel Embiid hit a match-high 53 points
Embiid became just the third player in the 76ers NBA history to have multiple games with 50 points
On Sunday night, Joel Embiid led the Philadelphia 76ers to a 131-113 victory over the Charlotte Hornets with 53 points and 11 rebounds.
Embiid joined Wilt Chamberlain and Allen Iverson (2000-01 and 2004-05) as the third player in Sixers history to have multiple games with 50 points (1965-66 and 1967-68). Additionally, it marks Embiid's 30th game overall with at least 40 points and 10 rebounds. Chamberlain was the only other player in team history to accomplish that accomplishment.
"We won," Embiid said. "It's good to do that when you win. … I'm just happy that I'm contributing when we are winning."
Embiid's effort was aided by James Harden, who contributed 19 points, 16 assists, and 9 rebounds.
He played the entire game in attack mode, according to Harden. "He made scoring tonight look simple. In spite of his aggressive approach to the basket, his jump shot was falling.
For Philadelphia, which shot 55.4%, Tobias Harris scored 17 points, and De'Anthony Melton added 12.
Doc Rivers, the coach of the Sixers, stated, "We didn't run, but we played with pace and got open looks.
Terry Rozier and Kelly Oubre Jr. both scored 29 points to lead Charlotte. Five straight losses for the Hornets.
By taking advantage of a mismatch against Hornets forward Mason Plumlee in the final three minutes of the second quarter, Embiid took control of the game and scored 15 of his 28 first-half points during that span.
"We have to feed the hot hand, as the expression goes," Embiid added. "In that circumstance, you must continue feeding them until the defence successfully thwarts it once, twice, or three times. They just kept handing me the ball, and I just kept scoring.
Embiid once drove down the left side of the court, reached high over Plumlee, and slammed down a thunderous dunk that energized the Wells Fargo Center crowd. It was a part of a run of three straight possessions that Embiid finished by scoring and converting a free throw for a classic three-point play.
Through the early stages of the fourth quarter, the Hornets (7-20) were able to stay in the game courtesy of Oubre and Rozier, who were able to drive the lane and get open looks while being assisted by 15 offensive rebounds.
However, Embiid put the contest beyond doubt by scoring 14 points in the final round before being replaced with two minutes remaining. He made 20 of his final 32 field goals and made all 11 of his free throws.