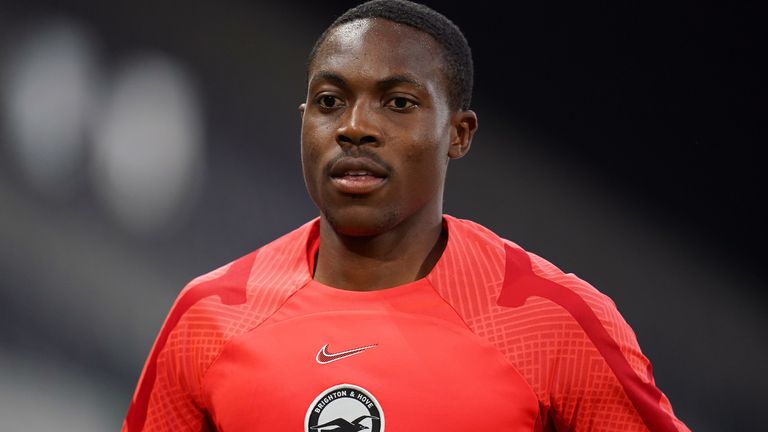 Enock Mwepu played for Premier League side Brighton Hove Albion up until October this year
The midfielder was forced to retire from professional football after being diagnosed with a heart problem
Mwepu has been recalled by Brighton and has been absorbed into the academy team as a coach
Two months after being forced to retire at the age of 24 due to the discovery of a hereditary heart problem, Enock Mwepu has returned to Brighton and Hove Albion as an academy coach.
Mwepu, who served as Zambia's captain, became unwell while travelling to join his team for a match during an international break earlier this season. He later spent time in a Mali hospital.
Further examinations revealed that Mwepu's disease was associated with a heart problem, which can deteriorate over time and be made worse by engaging in physical activity.
When Mwepu announced the end of his playing career in October, he stated a desire to stay involved in sports in some manner. Brighton coach Roberto De Zerbi promised the team would "do everything we can to help him."
As a result, Brighton announced on Friday that Mwepu will begin coaching the team's under-9s in 2023.
"We were very keen to help Enock with the next stage of his career, and we're delighted he's taken us up on the offer to join our academy coaching staff after an incredibly difficult time for him and his family following his diagnosis," club CEO Paul Barber said.
"Whenever we recruit a new member of staff, on or off the pitch, we want them to fit with our club values and Enock absolutely encapsulates those perfectly.
"We're thrilled Enock will continue to be part of our club, and believe Enock has a huge amount of potential as a coach. We want to give him the opportunity to flourish in this role."
Mwepu joined Brighton from Red Bull Salzburg at the start of last season from red Bull Salzburg, and had already established himself a s a key figure in the side, under former coach Graham Potter. But now, his football dream was cut short, just as it was starting.
When he announced his retirement from football, Brighton Football club supported him with the club chairman Tony Bloom saying, "We are all absolutely devastated for Enock. He and his family have had a traumatic few weeks and while we are just thankful he has come through that period, he has seen such a promising career cut short at such a young age."As a club we will give him all the love, help and support we possibly can to make a full recovery, and then as he decides on the next steps in his life."