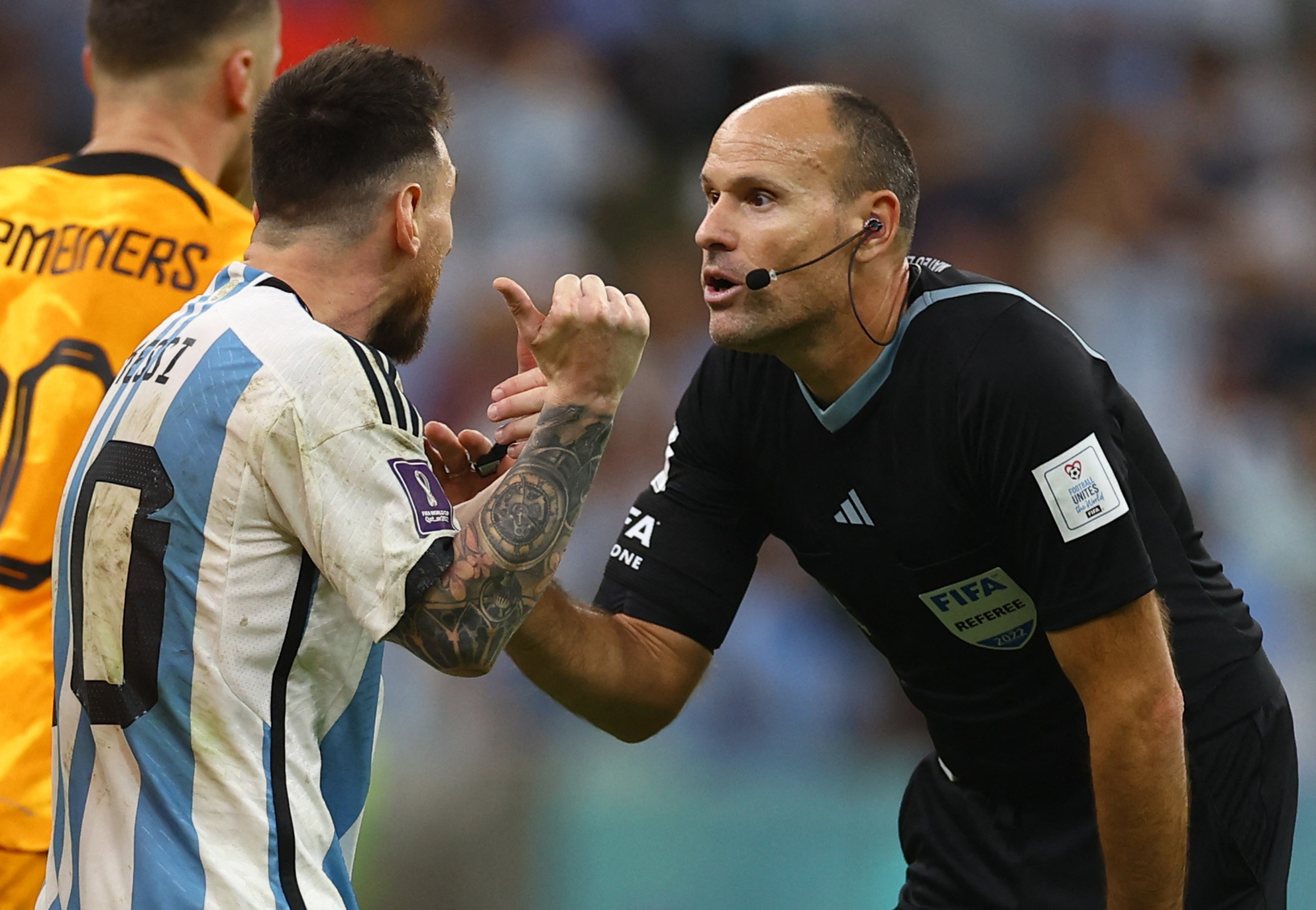 Antonio Mateu Lahoz World Cup 2022 happens to be a victim of football dynamics
FIFA dropped him following Netherlands vs Argentina match
The sack shed special focus on him as people seek to understand who he is
Antonio Mateu Lahoz World Cup 2022 happens to be a victim of football dynamics following Netherlands vs Argentina quarterfinal match in Qatar.
The sack shed special focus on him as people seek to understand who he is. Well, Lahoz is a Spanish football referee who has been officiating in La Liga. This is the top professional league in Spain, since 2009.
He is known for his strict and consistent application of the rules, and has been praised for his excellent handling of some high-profile matches. Lahoz has officiated several UEFA Champions League and Europa League matches, as well as international matches involving the Spanish national team.
He is considered one of the best referees in Spain and is highly respected by players and coaches alike.
WHY WAS MATEU LAHOZ SENT HOME FROM WORLD CUP?
Antonio Mateu Lahoz World Cup 2022 departure is courtesy of mass criticism as a referee during Argentina Vs Netherlands match. During this game, the referee issued 18 cards to each team, which greatly angered both teams' players and supporters.
Even Lionel Messi of Argentina expressed his displeasure with the Spanish referee in an interview. He claimed that the match's referee was not up to the role. As tempers began to rise, the Argentina vs. Netherlands game was intense.
Despite being down 2-0, Netherlands under Luis Van Gaal rallied to force a penalty shootout. Following the final whistle, Lahoz ejected Dutch defender Denzel Dumfries and handed 18 yellow cards.
Wout Weghorst, the two-goal hero, had already received a booking before he was substituted in the second half. The game's second goal for Argentina was scored by Messi.
Despite scoring for Argentina, Messi appeared to be unhappy with the referee as his team struggled to hold onto a two-goal lead. The Argentine star player and PSG strike said the match shouldn't have concluded as it did.
WHICH REFEREE WAS SENT HOME FROM WORLD CUP?
After officiating the quarterfinal encounter between Argentina and the Netherlands at the Lusail stadium – Antonio Mateu Lahoz World Cup 2022 – was dropped from the FIFA World Cup 2022.
Messi expressed his anger at the referee in talks to the media after the game. The Spanish referee set a FIFA World Cup record by issuing 18 yellow cards in one game.
The all-time Argentine scorer said that he was enraged after drawing with Netherlands. He added that his speaking out did not in any way focus on having FIFA punish Lahoz.
But, football fans were generally unhappy with how he officiated this match. Messi urged FIFA to look into that citing it was not okey to allow a referee of that calibre to officiate a game of this significance if they couldn't.
He further remarked that didn't have a proper game yet the referee decided to extend the game. He was never in Argentina's favour and it was another case of foul referring for them
IS MATEU LAHOZ SENT HOME?
Antonio Mateu Lahoz World Cup 2022 controversy saw him leave the FIFA event in Qatar. Besides Messi, Argentine goalkeeper Emiliano Martinez also spoke his heart out.
Martinez called Lahoz out saying he failed terribly in his job.  The goalkeeper said that the referee only gave 10 minutes of stoppage time without justification. He then gave Netherlands free kicks outside the box two or three times.
His [Lahoz] action essentially showed he only cared that Netherlands scored. The disgraced Spanish referee served as the referee for three matches—two group stage matches and one quarterfinal at the Qatar 2022 World Cup.
He issues a total of 23 yellow cards. Moreover, Antonio Mateu Lahoz World Cup 2022 refereed matches against Qatar, Senegal, the U.S and Iran.
In total, he issued eight yellow cards over the first two games he officiated. He later broke this record by handing 16 more during the Argentina Vs Netherlands match for the quarterfinal.
WHO WILL BE THE REFEREE FOR WORLD CUP FINAL 2022?
Forget Antonio Mateu Lahoz World Cup 2022 fiasco. Cesar Ramos, a Mexican referee, is the referee who will officiate over the World Cup Final between Argentina and France.
Referee Ramos is 38 years old. He has experience refereeing games at the Olympics, the FIFA World Cup, and the CONCACAF Gold Cup.