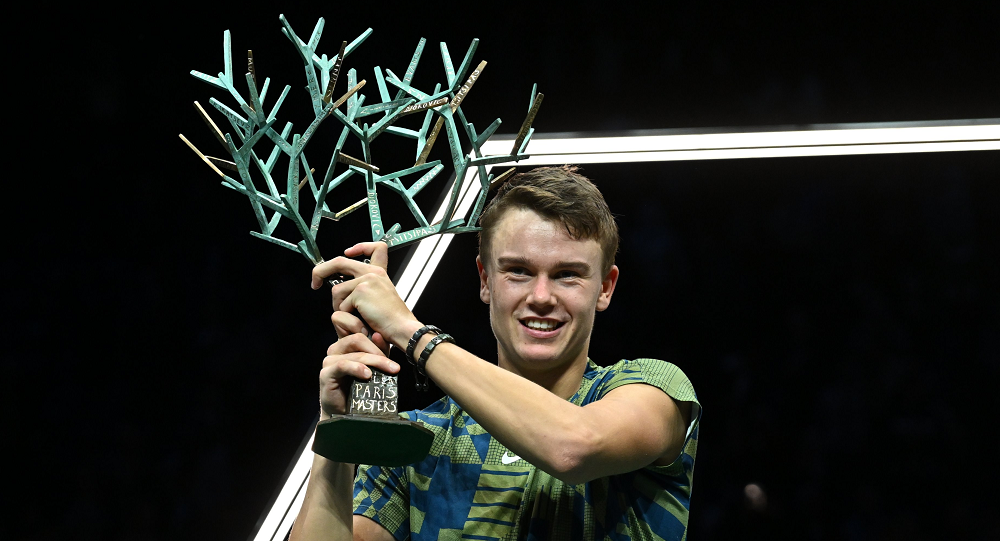 Holger Rune stunned Novak Djokovic in a thrilling match to win the Paris Masters final. 

Rune defeated World No. 10 Hubert Hurakcz, No. 9 Andrey Rublev, No. 1 Carlos Alcarez and No. 8 Felix Auger-Aliassime on his way to the finals. 
Holger Rune produced an impressive performance at the Accor Arena on Sunday to claim his first ATP Masters title.
The 19-year-old staged a comeback to defeat Novak Djokovic 3-6, 6-3, 7-5 and become the youngest winner of the Paris tournament since Boris Becker in 1986.
Holger Rune's victory means he will make it to the top ten of men's ATP rankings for the first time since becoming a professional. According to ATP Tour, the youngster will be world No. 10 in the Pepperstone ATP Rankings that will come out on Monday. 
On the other hand, Novak Djokovic will drop 800 points for failing to defend his Paris title. And as a result, he will slip to position eight in the world rankings. 
On his way to facing Novak Djokovic in the finals, Holger Rune defeated World No. 10 Hubert Hurakcz, No. 9 Andrey Rublev, No. 1 Carlos Alcarez and No. 8 Felix Auger-Aliassime. 
Holger Rune is the first player to defeat five players in the top ten ATP rankings at a regular event. 
Rune, who has won 19 of his past 21 games, was playing in his fourth consecutive ATP tour. During the 2 hours 33 minutes match, the Danish international struck 17 winners of that wing while Novak struck six. 
Holger Rune looked second best for most of the first set, which he eventually lost 3-6. 
Novak Djokovic, who was hoping for a record-extending seventh title in Paris, appeared to be in command when he opened a 0/40 lead in the first game of the second set. 
He appeared to be on his way to victory when Holger turned the game and immediately broke into a 2-0 lead. The Dane eventually won the set 6-3, forcing a deciding set to be played. 
Novak Djokovic made a couple of unforced errors in the third set, which eventually cost him the Paris title.  
Speaking after the loss, Novak Djokovic praised the Dane's personality and hard work, which he believes is paying off. Djokovic also said that Rune's future is bright. 
"I'm not happy that you beat me, but on the other hand, I'm happy for you because I like your personality, you're a very dedicated guy who loves tennis. You've put in a lot of hours of hard work, it's paying off for you, and your future is bright. Djokovic said, as per BBC Sports. 
Despite failing to defend his Paris title, Novak Djokovic is still among the top players who could win the ATP Finals, which starts on November 20. 
Holger Rune said it was a pleasure sharing the court with Novak Djokovic at the big event in Paris. The Dane enjoyed the tournament and can't wait to be back next year to defend his title. 
"You're one of my favourite players, I've watched you since you were a kid. It's a pleasure to share the court with you. I really enjoyed my time at the tournament here, and I can't wait to be back here next year." Holger Rune told Djokovic after the match, as per BBC Sports.