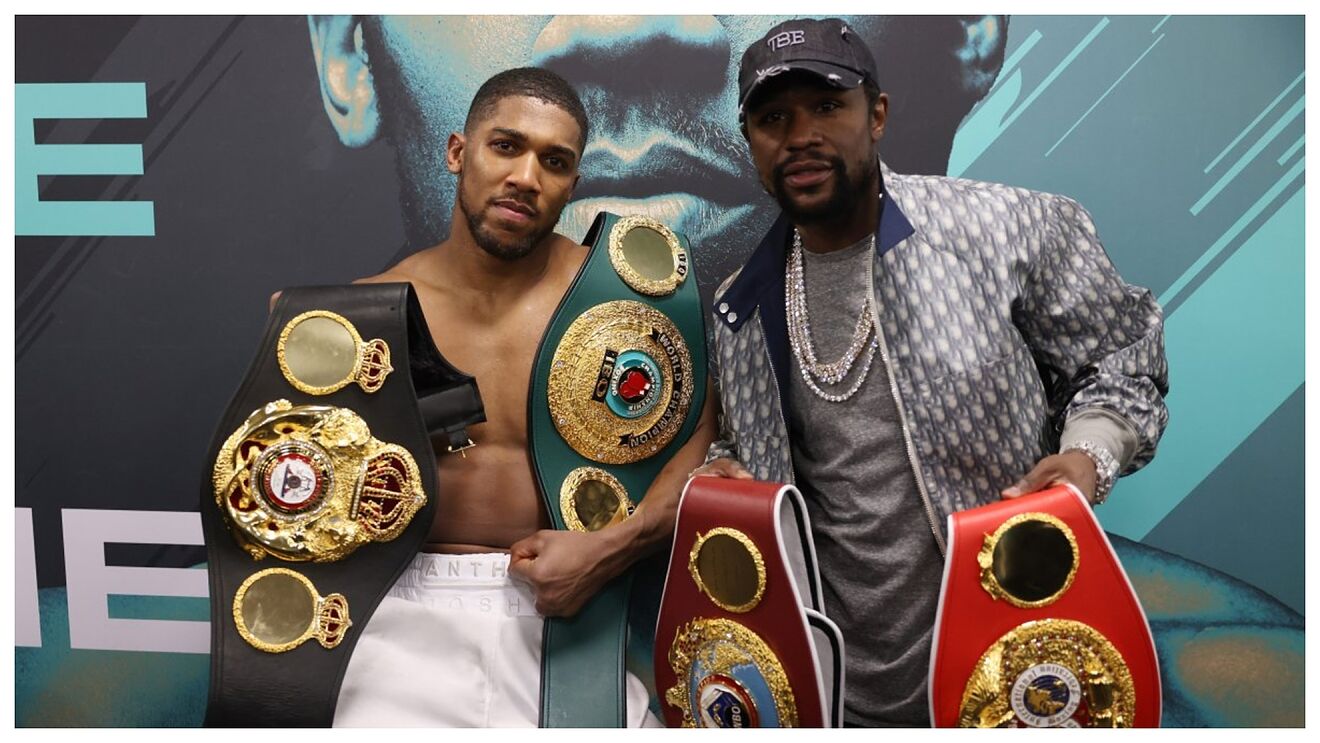 A fight between Anthony Joshua vs Mayweather would be stunning
Pundits argue that there is not even the slightest likelihood that they will ever square off
Joshua has an advantage and would definitely crush Mayweather
A fight between Anthony Joshua vs Mayweather stunningly brings the question of their different class in boxing.
Pundits argue that there is not even the slightest likelihood that they will ever square off in an official boxing battle. Why? Because they differ by six weight classes and about 80 pounds.
These pundits add that no legitimate boxing authority would ever approve that match. At least not unless Mayweather bulks up and graduates to a heavyweight like Joshua.
As at his retirement in 2017, the American boxer moved from super featherweight to light middleweight. This quantifies why Anthony Joshua vs Mayweather battle is highly unlikely.
Nevertheless, there are laws prohibiting obvious mismatches and dangerous advantages. But there is absolutely no rule that states a fighter under 200 pounds cannot compete as a heavyweight.
It's hard to tell what Mayweather thinks about holding his own against Joshua given their weight class disparity. There is a lot of gravitational science in imagining so because Joshua's heaviness would affect Mayweather's equilibrium hypothetically speaking.
Eventually, it would send him to the ground.  But, in the world of boxing and knowing Mayweather well, he could pull a surprise.  So, don't wish him off too soon though he is now retired.
IS ANTHONY JOSHUA BETTER THAN FLOYD MAYWEATHER?
A perfect answer in who is better between Anthony Joshua vs Mayweather boils down to their physical differences. By this, Joshua has an advantage and would definitely crush Mayweather.
Joshua is 6ft 6 (1.98m) tall weighing around 244 pounds (111kgs). His gigantic physique gives him an 82-inch reach. In contrast, Mayweather is 5ft 6 (1.73 m) tall and weighs 149 pounds (68 kgs).
Therefore, who would prevail if Joshua and Mayweather squared off in the UFC? It's an intriguing idea to have a fight between a heavyweight boxer and a light middleweight boxer.
Both fighters are champion boxers but Joshua has all stakes on him to crush Mayweather without much thought.
WHO HAS THE BEST FIGHT AGAINST MAYWEATHER?
Mayweather has over 50 career wins. The 45-year-old has impressive stats that include dominating the ring while remaining unbeaten for more than ten years.
But soon before the year 2000, the five-division world champion lost twice before his stratospheric rise and bulking up. Back then, he was an amateur boxer who no one thought would trigger Anthony Joshua and Mayweather debate.
These two losses are the only two obscure setbacks he suffered before dominating boxing with 50 victories and 0 losses. His best fights are with the following boxers:
Oscar de la Hoya in 2007
Manny Pacquiao in 2015
Ricky Hatton in 2007
Saul 'Canelo' Alvarez in 2013
Miguel Cotto in 2012
IS MAYWEATHER TRAINING ANTHONY JOSHUA?
Mayweather's path crossed with Joshua's during an 11-month trip to get ready for the rematch against Oleksandr Usyk.
Joshua trained with Floyd Mayweather and Canelo Alvarez back in the US following his September 25, 2021 defeat to the Ukrainian.
Usyk knocked out AJ and deposed him, taking his WBA, IBF, and WBO heavyweight world belts. The British boxer took a break with his longtime trainer Rob McCracken at the end of 2021 and flew to the US.
He was in the quest to rejuvenate and get fresh training. His assistant coach Angel Fernandez tagged along to the United States. The duo travelled to Hayward, California to see Virgil Hunter known for helping Andre Ward launch his illustrious career.
They then spent time in Texas with Jermall Charlo's trainer, Ronnie Shields.
However, it was Joshua's visit to 2021 Trainer of the Year Eddy Reynoso at the Canelo Team gym that garnered the most media attention.
He flew to Dubai for New Year and shared a photo of Mayweather looking at how hard he was punching. He captioned the photo with a somewhat suggestive message saying: "The best to do it and always helping the next generation. Big respect champ."
Sadly, after a thrilling 12-round battle the 32-year-old British boxer, Usyk, 35, still won the 2022 rematch. This cemented his status as the heavyweight world champion and the current defending champion.
This was the third time Joshua lost in his entire career.