A look at the Hungarian Grand Prix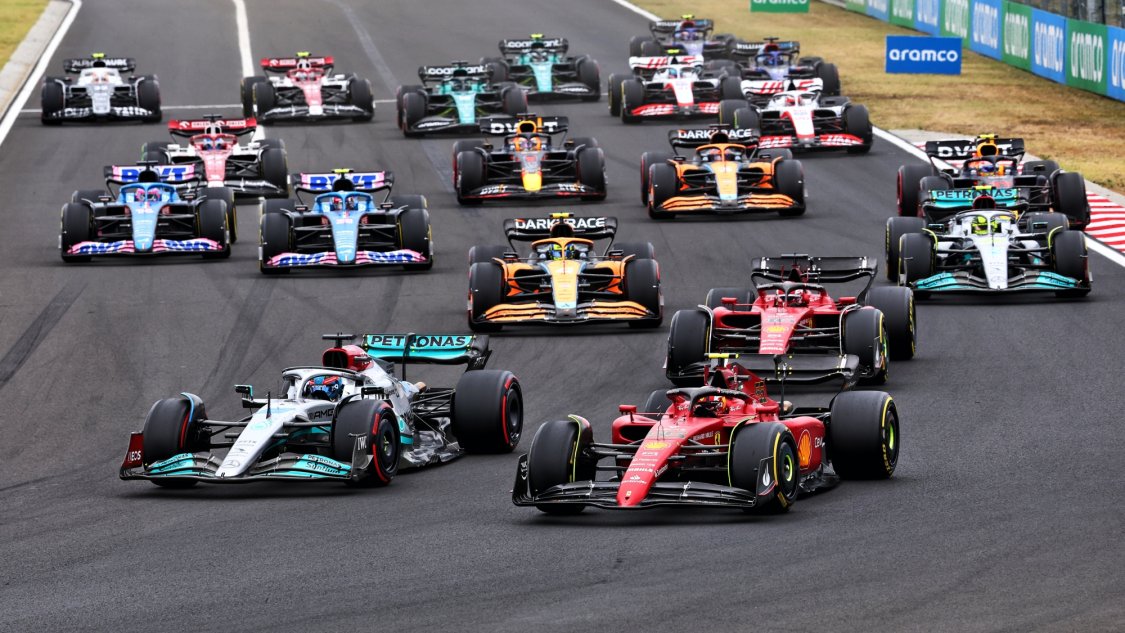 Max Verstappen extended his race wins to eight following the Hungarian Gp victory on Sunday

Lewis Hamilton yet again finished position two and his teammate Russell took the third position

Mercedes appear to be consistent as the team achieved a double podium yet again
The Hungarian Grand Prix marked Max Verstappen's eighth win of the 2022 season, advancing him closer to a second straight Formula 1 championship as Ferrari had another terrible day.
The Hungaroring had appeared to be the ideal track for the strengths of the incredibly fast, slightly elevated Ferrari F1-75, as the circuit lacked the vast straights needed to exploit Red Bull's edge in straight-line speed effectively.
Ferrari's odds only improved when the Red Bulls experienced issues in qualifying, with Verstappen losing power in practice three and Sergio Perez tumbling in practice two while still appearing to be half asleep after signing his contract renewal
Here are the conclusions from the Hungarian Grand Prix
Doble podium again for Mercedes in Hungarian GP
On a high note, Mercedes had finished the first half of their most challenging season in history, with two cars finishing on the podium on successive weekends and securing their first pole position since the season started. 
That didn't seem likely on Friday or during Hungary's wet FP3 on Saturday morning, with Lewis Hamilton and teammate George Russell frantically searching for traction and spending the majority of the session near the bottom of the time sheets.
But hours, Russell's incredible last lap in the final seconds of Q3 gave him his first pole position, and Mercedes returned on top.
It would be foolish to view Russell's pole for Mercedes as a defining moment for the company given the strange things that occurred on Saturday, not the least of which was Latifi establishing the speed in final practice.
Frequently, you get the impression that not even they fully comprehend how their luck fluctuates greatly from weekend to weekend and occasionally from session to session.
However, it has become apparent that their progress over a long tenure is significantly better than that over one lap.
While Russell began to fade in the race after making an aggressive start and adapting to the cars around him, Hamilton steadily rose to the front from 7th on the grid.
McLaren's Lando Norris continues to shine
After placing third in qualifying and the race, Norris grinned to himself in the post-session interviews. He wasn't exactly sure how he managed it..and wasn't entirely aware of how excellent he indeed was, but it was a performance and a from his stellar season of 2021.
With a painfully uneven McLaren, Lando Norris hasn't been able to reach the same levels as last season in the previous several months, but the possibility is still there.
Only Russell's pole kept Norris from claiming the majority of the credit for his remarkable qualifying efforts in Hungary. 
He completed a lap for Positin4 slightly slower than Leclerc's Ferrari. McLaren was one of the teams whose typical flaws might have been covered up by the track's conditions and structure.
On Sunday, the big teams were unbeatable, but Norris finished in seventh place for the third time in a row, 
Ferrari's problems extended in Hungary
 Reliability strategy or driver mistake may be one of Ferraris's significant problems, the team will undoubtedly find a method to forfeit a grand Prix in 2022.
After Ferrari's loss in the Hungarian GP, the World Championship title slips further from LeClerc. 
The way they lost in Hungary was arguably the worst, particularly in light of Red Bull's struggles in qualifying (on a track where passing is traditionally tough) and Leclerc's alarmingly fast speed in the early going.
Recently, he has honed his skills at pointing out Ferrari's shortcomings, but after confessing that he had considered keeping his stint on media forms as long as it takes, was this another instance of Leclerc failing to lead the team to the right decision?
 Like in Monaco and Silverstone, he lacked Carlos Sainz's resilience and vision.
Team owner Mattia Binotto, who was once well-respected, has developed a more dumbstruck attitude in recent months due to repeatedly explaining the reasoning—or lack of the same Ferrari's most recent strategic move in the paddock following a race.
Binotto did at least eventually admit they failed in keeping Leclerc out in front of the Safety Car on this instance after vehemently defending their choice at Silverstone.
 Fernando Alonso and Estaban Ocon tension in the Hungarian GP
One real shock is that it has taken a while for conflicts to arise involving two of the grid's most explosive characters.
Since the beginning of the previous season, Fernando Alonso and Esteban Ocon have developed a strong working relationship that has advanced Alpine, celebrated each other's victories, and taken turns defending like lions.
To stick with the big cat motif, leopards don't often alter their spots, and one day shy of a year after Alonso assisted Ocon in winning in Hungary, the teammates began to turn against one another.