Raphinha Biography and Net Worth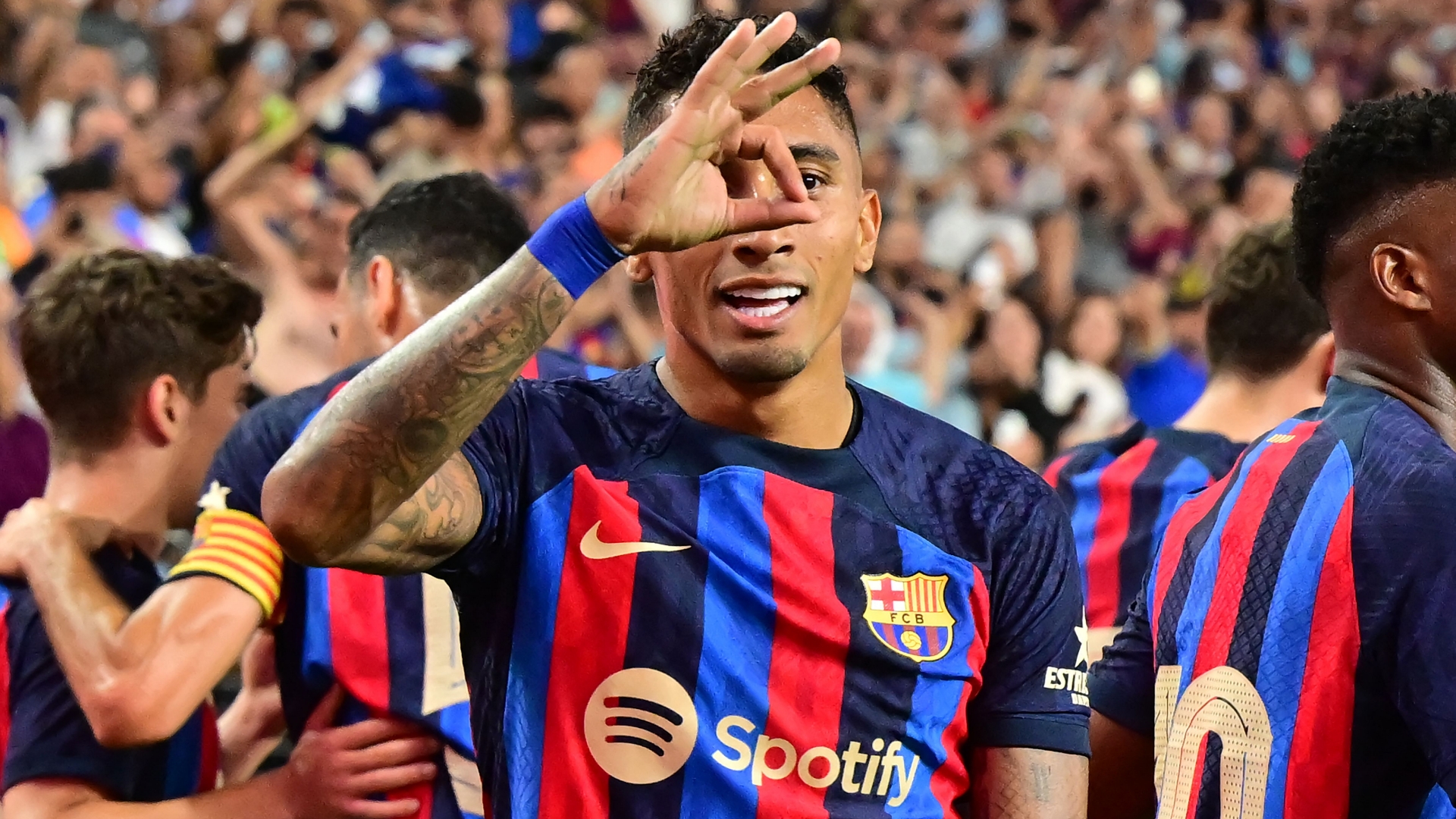 Raphinha is one of the best wingers in the world. The 25 years old comes from a household famous for producing soccer talents in Brasil.

Raphinha is skilful and has amazing ability on the ball. The Brazilian joined FC Barcelona this summer from Leeds United.

The talented winger has a net worth of 35 million euros. Raphinha earns 5.2 million euros annually at FC Barcelona. 
Raphinha has been making headlines in the past few weeks after he rejected Chelsea. The Brazilian star decided to join FC Barcelona despite Chelsea agreeing transfer fee with Leeds United. 
Raphinha made his debut for FC Barcelona a few days ago in a pre-season-friendly match. The talented winger scored his first goal for FC Barcelona in the debut match as the La Liga giants thrashed Inter Miami 6-0. 
Raphinha was FC Barcelona's goalscorer as the Catalans defeated Real Madrid 1-0 on July 24. The former Leeds United winger has already proved to be a perfect signing for FC Barcelona this summer.
Raphinha is a difference-maker on the right wing. The hugely talented Brazilian is one of the best dribblers in the world. Raphinha can do amazing things with the ball on his feet. He has a natural tendency to always try to get closer to the goal. 
Raphinha, a dead ball specialist, is dangerous at free kicks. 
Raphinha biography
Name: Raphael Dias Belloli
Age 25
Date of Birth December 14, 1996
Place of Birth Porto Alegre, Brazil
Height 1.76 m (5 ft 9 in)
Nationality Brazilian
Occupation Footballer
Marital Status Single
Early Life
Raphael Dias Belloli was born in Porto Alegre, Brazil on December 14, 1996. Raphinha's parents gave birth to him while they were still young. 
Maninho, Raphinha's father, is an Italian, whereas his mother is a Brazilian. Raphinha's father was a musician. 
Raphinha grew up in Restinga, a humble neighbourhood in Porto Alegre. Restinga is one of the Brazilian neighbourhoods which has produced football stars. 
Raphinha comes from the Belloli household, famous for producing soccer talents. Raphinha is the most successful footballer of his generation bearing the name Belloli. 
The Brazilian didn't go through the normal schooling system. He received a soccer education from Monte Castelo, the main floodplain team of the Restinga fields. 
Raphinha showed potential during his early days at Monte Castelo. He started attracting attention from European teams while he was still a teenager. 
Raphinha joined Avai FC academy in Brazil, where he spent one year before being promoted to the seniors team in 2015. 
Career
Raphinha began his professional career at Avai FC. However, things didn't work out for the Brazilian at Avai due to an injury that stopped him from playing the whole season. 
The Brazilian international joined Portuguese side Vitoria Guimaraes on February 2, 2016. He first played for the team's reserve team, where he scored five goals in 16 games. Raphinha joined the seniors team at the end of the 2015-16 season. 
The talented winger showed his ability when given a chance by Vitoria Guimaraes. He played so well, attracting interest from Sporting CP. Raphinha left Vitoria in the summer of 2018 after making 65 appearances and scoring 19 goals. 
Raphinha joined Sporting CP and made his debut for the club in August. He scored his first goal for Sporting in September 2018. 
The Brazilian helped Sporting CP win the Taca de Portugal and the Taca da Liga in his first season for the club. He scored a penalty in the penalty shootout as Sporting CP defeated Porto to win the Taca de Portugal. 
Raphinha joined Rennes in 2019 for around 21 million euros. He spent one season at the French club, helping them qualify for the 2020-21 UEFA Champions League. The Brazilian left Rennes in 2020 after scoring six goals in 28 appearances. 
Raphinha joined Leeds United in October 2020 and made his full debut for the club in November against Arsenal. He was a crucial player for Leeds United during the 2020-21 season, scoring six league goals.
The talented winger continued his impressive performance for Leeds United during the 2021-22 season. He ended the season as Leeds' top goal scorer with 11 goals.
Raphinha is one of the players linked to top European clubs this summer. Chelsea and FC Barcelona were leading in the race to sign Raphinha. The Brazilian international turned Chelsea's offer and joined FC Barcelona a few days ago. 
Personal life
Raphinha is engaged to Natalia Rodrigues. Raphinha's girlfriend is a sumptuous, sexy beautiful lady. The two have been together for several years now. 
Raphinha has several tattoos on his body. The carefully crafted tattoos are displayed on his arms and back. His legs also have scripted writings that tell a story. 
The Brazilian is currently living in Barcelona after securing a move to the Catalans this summer. 
FAQs
What is Raphinha's net worth
35 million euros
What is Raphinha's salary at FC Barcelona?
Raphinha earns a whopping salary of 5.2 million euros annually.
 What is Raphinha's market value?
35 million euros.