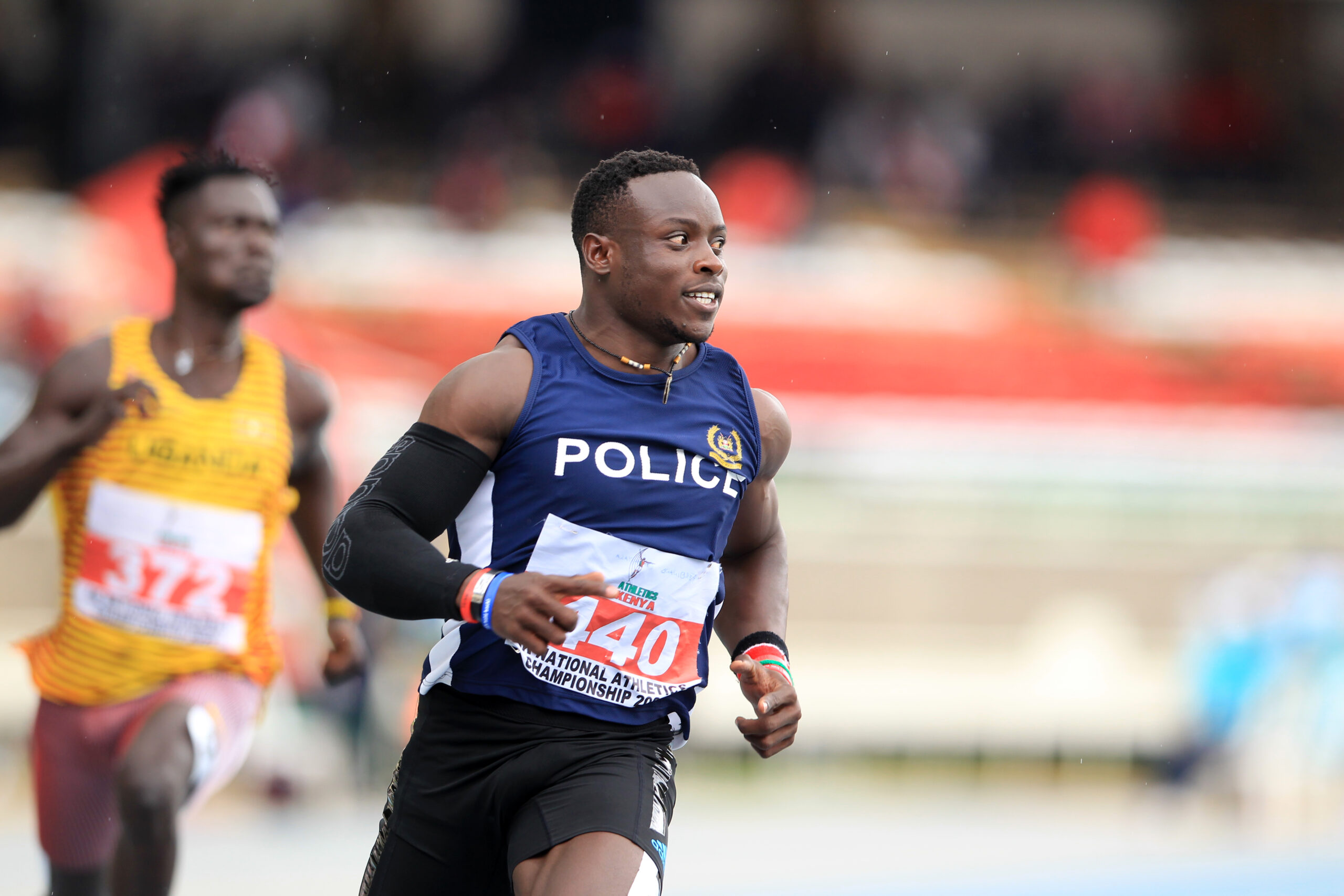 Omanyala is heading for his debut at the World Championships
Most of the athletes have already left
He is hoping to get his visa before his first race on Friday
African record holder Ferdinand Omanyala is staring at another race for his life as he is yet to get his US visa, just over 48 hours before the World Athletics Championships gun off in Oregon.
As at Wednesday evening, Omanyala was yet to get his visa with most other athletes having already travelled. His first race is on Friday at noon, the heats of the 100m.
"I am still waiting up to now. I have not received a word yet on what the delay could be about or if there is a problem. I am just now relying on hope because my first race is very close by. Hopefully everything can be sorted in time," Omanyala told SportsLeo.
Athletes travelling to Oregon are doing so via Qatar Airways and the total flight time is about 22 hours. Meaning, for Omanyala to arrive in time for his race, he needs to leave latest Thursday morning.
"It will be very tough for me because I will not have had time to rest from the jet lag and also train a bit. So as it stands, it is going to be an uphill task. But I remain hopeful and if I get the chance, I will do my best," he adds.
Possible errors in document filling
A source has however told SportsLeo that the government has intervened and he might get his Visa late Wednesday night. The reason for the delay, has been cited as a possible error during the filling of details at the embassy during the time of application.
If indeed he gets his Visa and is allowed to travel, Omanyala has vowed to do his best.
"It will be really tough because athletes have run very good times especially the Americans and they will be on home soil. But I will do my best and try get to the final. When you are there, it is anybody's game. So I will strive to get to the final," he said in a past interview.
Omanyala has only lost one race this year and has been looking to complete the success with a medal at the Worlds. He won the African title last month and is also looking to clinch the Commonwealth title.
Meanwhile, athletes heading to the World Championships and the Commonwealth Games were flagged off by President Uhuru Kenyatta.
Don't embarrass the nation, President tells athletes
The head of state cheered on the joint team, acknowledging that Kenya has had great glory because of the athletes.
President Kenyatta mentioned that the timing of the two games is very significant considering the country is gearing up for elections.
This links closely to the mission of the games by the National Olympic Committee of Kenya this year being to use the games to inspire the nation, to have the athletes remind the country of our unity, united in celebration of the men and women who raise our flag in front of billions of audiences.
The President reminded the athletes to play clean and avoid 'embarrassing the country'.instagram
instagram
instagram
instagram
instagram
instagram
instagram
instagram
instagram
instagram
instagram
instagram
instagram
instagram
instagram
instagram
instagram
instagram
instagram
instagram
instagram
instagram
instagram
instagram
instagram
instagram
instagram
instagram
instagram
instagram
instagram
instagram
instagram
instagram
instagram
instagram
instagram
instagram
instagram
instagram
instagram
instagram
instagram
instagram
instagram
instagram
instagram
instagram
instagram
instagram
instagram
instagram
instagram
instagram
instagram
instagram
instagram
instagram
instagram
instagram
instagram
instagram
instagram
instagram
instagram
instagram
instagram
instagram
instagram
instagram
instagram
instagram
instagram
instagram
instagram
instagram
instagram
instagram
instagram
instagram
instagram
instagram
instagram
instagram
instagram
instagram
instagram
instagram
instagram
instagram
instagram
instagram
instagram
instagram
instagram
instagram
instagram
instagram
instagram
instagram
instagram
instagram
instagram
instagram
instagram
instagram
instagram
instagram
instagram
instagram
instagram
instagram
instagram
instagram
instagram
instagram
instagram
instagram
instagram
instagram
instagram
instagram
instagram
instagram
instagram
instagram
instagram
instagram
instagram
instagram
instagram
instagram
instagram
instagram
instagram
instagram
instagram
instagram
instagram
instagram
instagram
instagram
instagram
instagram
instagram
instagram
instagram
instagram
instagram
instagram
instagram
instagram
instagram
instagram
instagram
instagram
instagram
instagram
instagram
instagram
instagram
instagram
instagram
instagram
instagram
instagram
instagram
instagram
instagram
instagram
instagram
instagram
instagram
instagram
instagram
instagram
instagram
instagram
instagram
instagram
instagram
instagram
instagram
instagram
instagram
instagram
instagram
instagram
instagram
instagram
instagram
instagram
instagram
instagram
instagram
instagram
instagram
instagram
instagram
instagram
instagram
instagram
instagram
instagram
instagram
instagram
instagram
instagram
instagram
instagram
instagram
instagram
instagram
instagram
instagram
instagram
instagram
instagram
instagram
instagram
instagram
instagram
instagram
instagram
instagram
instagram
instagram
instagram
instagram
instagram
instagram
instagram
instagram
instagram
instagram
instagram
instagram
instagram
instagram
instagram
instagram
instagram
instagram
instagram
instagram
instagram
instagram
instagram
instagram
instagram
instagram
instagram
instagram
instagram
instagram
instagram
instagram
instagram
instagram
instagram
instagram
instagram
instagram
instagram
instagram
instagram
instagram
instagram
instagram
instagram
instagram
instagram
instagram
instagram
instagram
instagram
instagram
instagram
instagram
instagram
instagram
instagram
instagram
instagram
instagram
instagram
instagram
instagram
instagram
instagram
instagram
instagram
instagram
instagram
instagram
instagram
instagram
instagram
instagram
instagram
instagram
instagram
instagram
instagram
instagram
instagram
instagram
instagram
instagram
instagram
instagram
instagram
instagram
instagram
instagram
instagram
instagram
instagram
instagram
instagram
instagram
instagram
instagram
instagram
instagram
instagram
instagram
instagram
instagram
instagram
instagram
instagram
instagram
instagram
instagram
instagram
instagram
instagram
instagram
instagram
instagram
instagram
instagram
instagram
instagram
instagram
instagram
instagram
instagram
instagram
instagram
instagram
instagram
instagram
instagram
instagram
instagram
instagram
instagram
instagram
instagram
instagram
instagram
instagram
instagram
instagram
instagram
instagram
instagram
instagram
instagram
instagram
instagram
instagram
instagram
instagram
instagram
instagram
instagram
instagram
instagram
instagram
instagram
instagram
instagram
instagram
instagram
instagram
instagram
instagram
instagram
instagram
instagram
instagram
instagram
instagram
instagram
instagram
instagram
instagram
instagram
instagram
instagram
instagram
instagram
instagram
instagram
instagram
instagram
instagram
instagram
instagram
instagram
instagram
instagram
instagram
instagram
instagram
instagram
instagram
instagram
instagram
instagram
instagram
instagram
instagram
instagram
instagram
instagram
instagram
instagram
instagram
instagram
instagram
instagram
instagram
instagram
instagram
instagram
instagram
instagram
instagram
instagram
instagram
instagram
instagram
instagram
instagram
instagram
instagram
instagram
instagram
instagram
instagram
instagram
instagram
instagram
instagram
instagram
instagram
instagram
instagram
instagram
instagram
instagram
instagram
instagram
instagram
instagram
instagram
instagram
instagram
instagram
instagram
instagram
instagram
instagram
instagram
instagram
instagram
instagram
instagram
instagram
instagram
instagram
instagram
instagram
instagram
instagram
instagram
instagram
instagram
instagram
instagram
instagram
instagram
instagram
instagram
instagram
instagram
instagram
instagram
instagram
instagram
instagram
instagram
instagram
instagram
instagram
instagram
instagram
instagram
instagram
instagram
instagram
instagram
instagram
instagram
instagram
instagram
instagram
instagram
instagram
instagram
instagram
instagram
instagram
instagram
instagram
instagram
instagram
instagram
instagram
instagram
instagram
instagram
instagram
instagram
instagram
instagram
instagram
instagram
instagram
instagram
instagram
instagram
instagram
instagram
instagram
instagram
instagram
instagram
instagram
instagram
instagram
instagram
instagram
instagram
instagram
instagram
instagram
instagram
instagram
instagram
instagram
instagram
instagram
instagram
instagram
instagram
instagram
instagram
instagram
instagram
instagram
instagram
instagram
instagram
instagram
instagram
instagram
instagram
instagram
instagram
instagram
instagram
instagram
instagram
instagram
instagram
instagram
instagram
instagram
instagram
instagram
instagram
instagram
instagram
instagram
instagram
instagram
instagram
instagram
instagram
instagram
instagram
instagram
instagram
instagram
instagram
instagram
instagram
instagram
instagram
instagram
instagram
instagram
instagram
instagram
instagram
instagram
instagram
instagram
instagram
instagram
instagram
instagram
instagram
instagram
instagram
instagram
instagram
instagram
instagram
instagram
instagram
instagram
instagram
instagram
instagram
instagram
instagram
instagram
instagram
instagram
instagram
instagram
instagram
instagram
instagram
instagram
instagram
instagram
instagram
instagram
instagram
instagram
instagram
instagram
instagram
instagram
instagram
instagram
instagram
instagram
instagram
instagram
instagram
instagram
instagram
instagram
instagram
instagram
instagram
instagram
instagram
instagram
instagram
instagram
instagram
instagram
instagram
instagram
instagram
instagram
instagram
instagram
instagram
instagram
instagram
instagram
instagram
instagram
instagram
instagram
instagram
instagram
instagram
instagram
instagram
instagram
instagram
instagram
instagram
instagram
instagram
instagram
instagram
instagram
instagram
instagram
instagram
instagram
instagram
instagram
instagram
instagram
instagram
instagram
instagram
instagram
instagram
instagram
instagram
instagram
instagram
instagram
instagram
instagram
instagram
instagram
instagram
instagram
instagram
instagram
instagram
instagram
instagram
instagram
instagram
instagram
instagram
instagram
instagram
instagram
instagram
instagram
instagram
instagram
instagram
instagram
instagram
instagram
instagram
instagram
instagram
instagram
instagram
instagram
instagram
instagram
instagram
instagram
instagram
instagram
instagram
instagram
instagram
instagram
instagram
instagram
instagram
instagram
instagram
instagram
instagram
instagram
instagram
instagram
instagram
instagram
instagram
instagram
instagram
instagram
instagram
instagram
instagram
instagram
instagram
instagram
instagram
instagram
instagram
instagram
instagram
instagram
instagram
instagram
instagram
instagram
instagram
instagram
instagram
instagram
instagram
instagram
instagram
instagram
instagram
instagram
instagram
instagram
instagram
instagram
instagram
instagram
instagram
instagram
instagram
instagram
instagram
instagram
instagram
instagram
instagram
instagram
instagram
instagram
instagram
instagram
instagram
instagram
instagram
instagram
instagram
instagram
instagram
instagram
instagram
instagram
instagram
instagram
instagram
instagram
instagram
instagram
instagram
instagram
instagram
instagram
instagram
instagram
instagram
instagram
instagram
instagram
instagram
instagram
instagram
instagram
instagram
instagram
instagram
instagram
instagram
instagram
instagram
instagram
instagram
instagram
instagram
instagram
instagram
instagram
instagram
instagram
instagram
instagram
instagram
instagram
instagram
instagram
instagram
instagram
instagram
instagram
instagram
instagram
instagram
instagram
instagram
instagram
instagram
instagram
instagram
instagram
instagram
instagram
instagram
instagram
instagram
instagram
instagram
instagram
instagram
instagram
instagram
instagram
instagram
instagram
instagram
instagram
instagram
instagram
instagram
instagram
instagram
instagram
instagram
instagram
instagram
instagram
instagram
instagram
instagram
instagram
instagram
instagram
instagram
instagram
instagram
instagram
instagram
instagram
instagram
instagram
instagram
instagram
instagram
instagram
instagram
instagram
instagram
instagram
instagram
instagram
instagram
instagram
instagram
instagram
instagram
instagram
instagram
instagram
instagram
instagram
instagram
instagram
instagram
instagram
instagram
instagram
instagram
instagram
instagram
instagram
instagram
instagram
instagram
instagram
instagram
instagram
instagram
instagram
instagram
instagram
instagram
instagram
instagram
instagram
instagram
instagram
instagram
instagram
instagram
instagram
instagram
instagram
instagram
instagram
instagram
instagram
instagram
instagram
instagram
instagram
instagram
instagram
instagram
instagram
instagram
instagram
instagram
instagram
instagram
instagram
instagram
instagram
instagram
instagram
instagram
instagram
instagram
instagram
instagram
instagram
instagram
instagram
instagram
instagram
instagram
instagram
instagram
instagram
instagram
instagram
instagram
instagram
instagram
instagram
instagram
instagram
instagram
instagram
instagram
instagram
instagram
instagram
instagram
instagram
instagram
instagram
instagram
instagram
instagram
instagram
instagram
instagram
instagram
instagram
instagram
instagram
instagram
instagram
instagram
instagram
instagram
instagram
instagram
instagram
instagram
instagram
instagram
instagram
instagram
instagram
instagram
instagram
instagram
instagram
instagram
instagram
instagram
instagram
instagram
instagram
instagram
instagram
instagram
instagram
instagram
instagram
instagram
instagram
instagram
instagram
instagram
instagram
instagram
instagram
instagram
instagram
instagram
instagram
instagram
instagram
instagram
instagram
instagram
instagram
instagram
instagram
instagram
instagram
instagram
instagram
instagram
instagram
instagram
instagram
instagram
instagram
instagram
instagram
instagram
instagram
instagram
instagram
instagram
instagram
instagram
instagram
instagram
instagram
instagram
instagram
instagram
instagram
instagram
instagram
instagram
instagram
instagram
instagram
instagram
instagram
instagram
instagram
instagram
instagram
instagram
instagram
instagram
instagram
instagram
instagram
instagram
instagram
instagram
instagram
instagram
instagram
instagram
instagram
instagram
instagram
instagram
instagram
instagram
instagram
instagram
instagram
instagram
instagram
instagram
instagram
instagram
instagram
instagram
instagram
instagram
instagram
instagram
instagram
instagram
instagram
instagram
instagram
instagram
instagram
instagram
instagram
instagram
instagram
instagram
instagram
instagram
instagram
instagram
instagram
instagram
instagram
instagram
instagram
instagram
instagram
instagram
instagram
instagram
instagram
instagram
instagram
instagram
instagram
instagram
instagram
instagram
instagram
instagram
instagram
instagram
instagram
instagram
instagram
instagram
instagram
instagram
instagram
instagram
instagram
instagram
instagram
instagram
instagram
instagram
instagram
instagram
instagram
instagram
instagram
instagram
instagram
instagram
instagram
instagram
instagram
instagram
instagram
instagram
instagram
instagram
instagram
instagram
instagram
instagram
instagram
instagram
instagram
instagram
instagram
instagram
instagram
instagram
instagram
instagram
instagram
instagram
instagram
instagram
instagram
instagram
instagram
instagram
instagram
instagram
instagram
instagram
instagram
instagram
instagram
instagram
instagram
instagram
instagram
instagram
instagram
instagram
instagram
instagram
instagram
instagram
instagram
instagram
instagram
instagram
instagram
instagram
instagram
instagram
instagram
instagram
instagram
instagram
instagram
instagram
instagram
instagram
instagram
instagram
instagram
instagram
instagram
instagram
instagram
instagram
instagram
instagram
instagram
instagram
instagram
instagram
instagram
instagram
instagram
instagram
instagram
instagram
instagram
instagram
instagram
instagram
instagram
instagram
instagram
instagram
instagram
instagram
instagram
instagram
instagram
instagram
instagram
instagram
instagram
instagram
instagram
instagram
instagram
instagram
instagram
instagram
instagram
instagram
instagram
instagram
instagram
instagram
instagram
instagram
instagram
instagram
instagram
instagram
instagram
instagram
instagram
instagram
instagram
instagram
instagram
instagram
instagram
instagram
instagram
instagram
instagram
instagram
instagram
instagram
instagram
instagram
instagram
instagram
instagram
instagram
instagram
instagram
instagram
instagram
instagram
instagram
instagram
instagram
instagram
instagram
instagram
instagram
instagram
instagram
instagram
instagram
instagram
instagram
instagram
instagram
instagram
instagram
instagram
instagram
instagram
instagram
instagram
instagram
instagram
instagram
instagram
instagram
instagram
instagram
instagram
instagram
instagram
instagram
instagram
instagram
instagram
instagram
instagram
instagram
instagram
instagram
instagram
instagram
instagram
instagram
instagram
instagram
instagram
instagram
instagram
instagram
instagram
instagram
instagram
instagram
instagram
instagram
instagram
instagram
instagram
instagram
instagram
instagram
instagram
instagram
instagram
instagram
instagram
instagram
instagram
instagram
instagram
instagram
instagram
instagram
instagram
instagram
instagram
instagram
instagram
instagram
instagram
instagram
instagram
instagram
instagram
instagram
instagram
instagram
instagram
instagram
instagram
instagram
instagram
instagram
instagram
instagram
instagram
instagram
instagram
instagram
instagram
instagram
instagram
instagram
instagram
instagram
instagram
instagram
instagram
instagram
instagram
instagram
instagram
instagram
instagram
instagram
instagram
instagram
instagram
instagram
instagram
instagram
instagram
instagram
instagram
instagram
instagram
instagram
instagram
instagram
instagram
instagram
instagram
instagram
instagram
instagram
instagram
instagram
instagram
instagram
instagram
instagram
instagram
instagram
instagram
instagram
instagram
instagram
instagram
instagram
instagram
instagram
instagram
instagram
instagram
instagram
instagram
instagram
instagram
instagram
instagram
instagram
instagram
instagram
instagram
instagram
instagram
instagram
instagram
instagram
instagram
instagram
instagram
instagram
instagram
instagram
instagram
instagram
instagram
instagram
instagram
instagram
instagram
instagram
instagram
instagram
instagram
instagram
instagram
instagram
instagram
instagram
instagram
instagram
instagram
instagram
instagram
instagram
instagram
instagram
instagram
instagram
instagram
instagram
instagram
instagram
instagram
instagram
instagram
instagram
instagram
instagram
instagram
instagram
instagram
instagram
instagram
instagram
instagram
instagram
instagram
instagram
instagram
instagram
instagram
instagram
instagram
instagram
instagram
instagram
instagram
instagram
instagram
instagram
instagram
instagram
instagram
instagram
instagram
instagram
instagram
instagram
instagram
instagram
instagram
instagram
instagram
instagram
instagram
instagram
instagram
instagram
instagram
instagram
instagram
instagram
instagram
instagram
instagram
instagram
instagram
instagram
instagram
instagram
instagram
instagram
instagram
instagram
instagram
instagram
instagram
instagram
instagram
instagram
instagram
instagram
instagram
instagram
instagram
instagram
instagram
instagram
instagram
instagram
instagram
instagram
instagram
instagram
instagram
instagram
instagram
instagram
instagram
instagram
instagram
instagram
instagram
instagram
instagram
instagram
instagram
instagram
instagram
instagram
instagram
instagram
instagram
instagram
instagram
instagram
instagram
instagram
instagram
instagram
instagram
instagram
instagram
instagram
instagram
instagram
instagram
instagram
instagram
instagram
instagram
instagram
instagram
instagram
instagram
instagram
instagram
instagram
instagram
instagram
instagram
instagram
instagram
instagram
instagram
instagram
instagram
instagram
instagram
instagram
instagram
instagram
instagram
instagram
instagram
instagram
instagram
instagram
instagram
instagram
instagram
instagram
instagram
instagram
instagram
instagram
instagram
instagram
instagram
instagram
instagram
instagram
instagram
instagram
instagram
instagram
instagram
instagram
instagram
instagram
instagram
instagram
instagram
instagram
instagram
instagram
instagram
instagram
instagram
instagram
instagram
instagram
instagram
instagram
instagram
instagram
instagram
instagram
instagram
instagram
instagram
instagram
instagram
instagram
instagram
instagram
instagram
instagram
instagram
instagram
instagram
instagram
instagram
instagram
instagram
instagram
instagram
instagram
instagram
instagram
instagram
instagram
instagram
instagram
instagram
instagram
instagram
instagram
instagram
instagram
instagram
instagram
instagram
instagram
instagram
instagram
instagram
instagram
instagram
instagram
instagram
instagram
instagram
instagram
instagram
instagram
instagram
instagram
instagram
instagram
instagram
instagram
instagram
instagram
instagram
instagram
instagram
instagram
instagram
instagram
instagram
instagram
instagram
instagram
instagram
instagram
instagram
instagram
instagram
instagram
instagram
instagram
instagram
instagram
instagram
instagram
instagram
instagram
instagram
instagram
instagram
instagram
instagram
instagram
instagram
instagram
instagram
instagram
instagram
instagram
instagram
instagram
instagram
instagram
instagram
instagram
instagram
instagram
instagram
instagram
instagram
instagram
instagram
instagram
instagram
instagram
instagram
instagram
instagram
instagram
instagram
instagram
instagram
instagram
instagram
instagram
instagram
instagram
instagram
instagram
instagram
instagram
instagram
instagram
instagram
instagram
instagram
instagram
instagram
instagram
instagram
instagram
instagram
instagram
instagram
instagram
instagram
instagram
instagram
instagram
instagram
instagram
instagram
instagram
instagram
instagram
instagram
instagram
instagram
instagram
instagram
instagram
instagram
instagram
instagram
instagram
instagram
instagram
instagram
instagram
instagram
instagram
instagram
instagram
instagram
instagram
instagram
instagram
instagram
instagram
instagram
instagram
instagram
instagram
instagram
instagram
instagram
instagram
instagram
instagram
instagram
instagram
instagram
instagram
instagram
instagram
instagram
instagram
instagram
instagram
instagram
instagram
instagram
instagram
instagram
instagram
instagram
instagram
instagram
instagram
instagram
instagram
instagram
instagram
instagram
instagram
instagram
instagram
instagram
instagram
instagram
instagram
instagram
instagram
instagram
instagram
instagram
instagram
instagram
instagram
instagram
instagram
instagram
instagram
instagram
instagram
instagram
instagram
instagram
instagram
instagram
instagram
instagram
instagram
instagram
instagram
instagram
instagram
instagram
instagram
instagram
instagram
instagram
instagram
instagram
instagram
instagram
instagram
instagram
instagram
instagram
instagram
instagram
instagram
instagram
instagram
instagram
instagram
instagram
instagram
instagram
instagram
instagram
instagram
instagram
instagram
instagram
instagram
instagram
instagram
instagram
instagram
instagram
instagram
instagram
instagram
instagram
instagram
instagram
instagram
instagram
instagram
instagram
instagram
instagram
instagram
instagram
instagram
instagram
instagram
instagram
instagram
instagram
instagram
instagram
instagram
instagram
instagram
instagram
instagram
instagram
instagram
instagram
instagram
instagram
instagram
instagram
instagram
instagram
instagram
instagram
instagram
instagram
instagram
instagram
instagram
instagram
instagram
instagram
instagram
instagram
instagram
instagram
instagram
instagram
instagram
instagram
instagram
instagram
instagram
instagram
instagram
instagram
instagram
instagram
instagram
instagram
instagram
instagram
instagram
instagram
instagram
instagram
instagram
instagram
instagram
instagram
instagram
instagram
instagram
instagram
instagram
instagram
instagram
instagram
instagram
instagram
instagram
instagram
instagram
instagram
instagram
instagram
instagram
instagram
instagram
instagram
instagram
instagram
instagram
instagram
instagram
instagram
instagram
instagram
instagram
instagram
instagram
instagram
instagram
instagram
instagram
instagram
instagram
instagram
instagram
instagram
instagram
instagram
instagram
instagram
instagram
instagram
instagram
instagram
instagram
instagram
instagram
instagram
instagram
instagram
instagram
instagram
instagram
instagram
instagram
instagram
instagram
instagram
instagram
instagram
instagram
instagram
instagram
instagram
instagram
instagram
instagram
instagram
instagram
instagram
instagram
instagram
instagram
instagram
instagram
instagram
instagram
instagram
instagram
instagram
instagram
instagram
instagram
instagram
instagram
instagram
instagram
instagram
instagram
instagram
instagram
instagram
instagram
instagram
instagram
instagram
instagram
instagram
instagram
instagram
instagram
instagram
instagram
instagram
instagram
instagram
instagram
instagram
instagram
instagram
instagram
instagram
instagram
instagram
instagram
instagram
instagram
instagram
instagram
instagram
instagram
instagram
instagram
instagram
instagram
instagram
instagram
instagram
instagram
instagram
instagram
instagram
instagram
instagram
instagram
instagram
instagram
instagram
instagram
instagram
instagram
instagram
instagram
instagram
instagram
instagram
instagram
instagram
instagram
instagram
instagram
instagram
instagram
instagram
instagram
instagram
instagram
instagram
instagram
instagram
instagram
instagram
instagram
instagram
instagram
instagram
instagram
instagram
instagram
instagram
instagram
instagram
instagram
instagram
instagram
instagram
instagram
instagram
instagram
instagram
instagram
instagram
instagram
instagram
instagram
instagram
instagram
instagram
instagram
instagram
instagram
instagram
instagram
instagram
instagram
instagram
instagram
instagram
instagram
instagram
instagram
instagram
instagram
instagram
instagram
instagram
instagram
instagram
instagram
instagram
instagram
instagram
instagram
instagram
instagram
instagram
instagram
instagram
instagram
instagram
instagram
instagram
instagram
instagram
instagram
instagram
instagram
instagram
instagram
instagram
instagram
instagram
instagram
instagram
instagram
instagram
instagram
instagram
instagram
instagram
instagram
instagram
instagram
instagram
instagram
instagram
instagram
instagram
instagram
instagram
instagram
instagram
instagram
instagram
instagram
instagram
instagram
instagram
instagram
instagram
instagram
instagram
instagram
instagram
instagram
instagram
instagram
instagram
instagram
instagram
instagram
instagram
instagram
instagram
instagram
instagram
instagram
instagram
instagram
instagram
instagram
instagram
instagram
instagram
instagram
instagram
instagram
instagram
instagram
instagram
instagram
instagram
instagram
instagram
instagram
instagram
instagram
instagram
instagram
instagram
instagram
instagram
instagram
instagram
instagram
instagram
instagram
instagram
instagram
instagram
instagram
instagram
instagram
instagram
instagram
instagram
instagram
instagram
instagram
instagram
instagram
instagram
instagram
instagram
instagram
instagram
instagram
instagram
instagram
instagram
instagram
instagram
instagram
instagram
instagram
instagram
instagram
instagram
instagram
instagram
instagram
instagram
instagram
instagram
instagram
instagram
instagram
instagram
instagram
instagram
instagram
instagram
instagram
instagram
instagram
instagram
instagram
instagram
instagram
instagram
instagram
instagram
instagram
instagram
instagram
instagram
instagram
instagram
instagram
instagram
instagram
instagram
instagram
instagram
instagram
instagram
instagram
instagram
instagram
instagram
instagram
instagram
instagram
instagram
instagram
instagram
instagram
instagram
instagram
instagram
instagram
instagram
instagram
instagram
instagram
instagram
instagram
instagram
instagram
instagram
instagram
instagram
instagram
instagram
instagram
instagram
instagram
instagram
instagram
instagram
instagram
instagram
instagram
instagram
instagram
instagram
instagram
instagram
instagram
instagram
instagram
instagram
instagram
instagram
instagram
instagram
instagram
instagram
instagram
instagram
instagram
instagram
instagram
instagram
instagram
instagram
instagram
instagram
instagram
instagram
instagram
instagram
instagram
instagram
instagram
instagram
instagram
instagram
instagram
instagram
instagram
instagram
instagram
instagram
instagram
instagram
instagram
instagram
instagram
instagram
instagram
instagram
instagram
instagram
instagram
instagram
instagram
instagram
instagram
instagram
instagram
instagram
instagram
instagram
instagram
instagram
instagram
instagram
instagram
instagram
instagram
instagram
instagram
instagram
instagram
instagram
instagram
instagram
instagram
instagram
instagram
instagram
instagram
instagram
instagram
instagram
instagram
instagram
instagram
instagram
instagram
instagram
instagram
instagram
instagram
instagram
instagram
instagram
instagram
instagram
instagram
instagram
instagram
instagram
instagram
instagram
instagram
instagram
instagram
instagram
instagram
instagram
instagram
instagram
instagram
instagram
instagram
instagram
instagram
instagram
instagram
instagram
instagram
instagram
instagram
instagram
instagram
instagram
instagram
instagram
instagram
instagram
instagram
instagram
instagram
instagram
instagram
instagram
instagram
instagram
instagram
instagram
instagram
instagram
instagram
instagram
instagram
instagram
instagram
instagram
instagram
instagram
instagram
instagram
instagram
instagram
instagram
instagram
instagram
instagram
instagram
instagram
instagram
instagram
instagram
instagram
instagram
instagram
instagram
instagram
instagram
instagram
instagram
instagram
instagram
instagram
instagram
instagram
instagram
instagram
instagram
instagram
instagram
instagram
instagram
instagram
instagram
instagram
instagram
instagram
instagram
instagram
instagram
instagram
instagram
instagram
instagram
instagram
instagram
instagram
instagram
instagram
instagram
instagram
instagram
instagram
instagram
instagram
instagram
instagram
instagram
instagram
instagram
instagram
instagram
instagram
instagram
instagram
instagram
instagram
instagram
instagram
instagram
instagram
instagram
instagram
instagram
instagram
instagram
instagram
instagram
instagram
instagram
instagram
instagram
instagram
instagram
instagram
instagram
instagram
instagram
instagram
instagram
instagram
instagram
instagram
instagram
instagram
instagram
instagram
instagram
instagram
instagram
instagram
instagram
instagram
instagram
instagram
instagram
instagram
instagram
instagram
instagram
instagram
instagram
instagram
instagram
instagram
instagram
instagram
instagram
instagram
instagram
instagram
instagram
instagram
instagram
instagram
instagram
instagram
instagram
instagram
instagram
instagram
instagram
instagram
instagram
instagram
instagram
instagram
instagram
instagram
instagram
instagram
instagram
instagram
instagram
instagram
instagram
instagram
instagram
instagram
instagram
instagram
instagram
instagram
instagram
instagram
instagram
instagram
instagram
instagram
instagram
instagram
instagram
instagram
instagram
instagram
instagram
instagram
instagram
instagram
instagram
instagram
instagram
instagram
instagram
instagram
instagram
instagram
instagram
instagram
instagram
instagram
instagram
instagram
instagram
instagram
instagram
instagram
instagram
instagram
instagram
instagram
instagram
instagram
instagram
instagram
instagram
instagram
instagram
instagram
instagram
instagram
instagram
instagram
instagram
instagram
instagram
instagram
instagram
instagram
instagram
instagram
instagram
instagram
instagram
instagram
instagram
instagram
instagram
instagram
instagram
instagram
instagram
instagram
instagram
instagram
instagram
instagram
instagram
instagram
instagram
instagram
instagram
instagram
instagram
instagram
instagram
instagram
instagram
instagram
instagram
instagram
instagram
instagram
instagram
instagram
instagram
instagram
instagram
instagram
instagram
instagram
instagram
instagram
instagram
instagram
instagram
instagram
instagram
instagram
instagram
instagram
instagram
instagram
instagram
instagram
instagram
instagram
instagram
instagram
instagram
instagram
instagram
instagram
instagram
instagram
instagram
instagram
instagram
instagram
instagram
instagram
instagram
instagram
instagram
instagram
instagram
instagram
instagram
instagram
instagram
instagram
instagram
instagram
instagram
instagram
instagram
instagram
instagram
instagram
instagram
instagram
instagram
instagram
instagram
instagram
instagram
instagram
instagram
instagram
instagram
instagram
instagram
instagram
instagram
instagram
instagram
instagram
instagram
instagram
instagram
instagram
instagram
instagram
instagram
instagram
instagram
instagram
instagram
instagram
instagram
instagram
instagram
instagram
instagram
instagram
instagram
instagram
instagram
instagram
instagram
instagram
instagram
instagram
instagram
instagram
instagram
instagram
instagram
instagram
instagram
instagram
instagram
instagram
instagram
instagram
instagram
instagram
instagram
instagram
instagram
instagram
instagram
instagram
instagram
instagram
instagram
instagram
instagram
instagram
instagram
instagram
instagram
instagram
instagram
instagram
instagram
instagram
instagram
instagram
instagram
instagram
instagram
instagram
instagram
instagram
instagram
instagram
instagram
instagram
instagram
instagram
instagram
instagram
instagram
instagram
instagram
instagram
instagram
instagram
instagram
instagram
instagram
instagram
instagram
instagram
instagram
instagram
instagram
instagram
instagram
instagram
instagram
instagram
instagram
instagram
instagram
instagram
instagram
instagram
instagram
instagram
instagram
instagram
instagram
instagram
instagram
instagram
instagram
instagram
instagram
instagram
instagram
instagram
instagram
instagram
instagram
instagram
instagram
instagram
instagram
instagram
instagram
instagram
instagram
instagram
instagram
instagram
instagram
instagram
instagram
instagram
instagram
instagram
instagram
instagram
instagram
instagram
instagram
instagram
instagram
instagram
instagram
instagram
instagram
instagram
instagram
instagram
instagram
instagram
instagram
instagram
instagram
instagram
instagram
instagram
instagram
instagram
instagram
instagram
instagram
instagram
instagram
instagram
instagram
instagram
instagram
instagram
instagram
instagram
instagram
instagram
instagram
instagram
instagram
instagram
instagram
instagram
instagram
instagram
instagram
instagram
instagram
instagram
instagram
instagram
instagram
instagram
instagram
instagram
instagram
instagram
instagram
instagram
instagram
instagram
instagram
instagram
instagram
instagram
instagram
instagram
instagram
instagram
instagram
instagram
instagram
instagram
instagram
instagram
instagram
instagram
instagram
instagram
instagram
instagram
instagram
instagram
instagram
instagram
instagram
instagram
instagram
instagram
instagram
instagram
instagram
instagram
instagram
instagram
instagram
instagram
instagram
instagram
instagram
instagram
instagram
instagram
instagram
instagram
instagram
instagram
instagram
instagram
instagram
instagram
instagram
instagram
instagram
instagram
instagram
instagram
instagram
instagram
instagram
instagram
instagram
instagram
instagram
instagram
instagram
instagram
instagram
instagram
instagram
instagram
instagram
instagram
instagram
instagram
instagram
instagram
instagram
instagram
instagram
instagram
instagram
instagram
instagram
instagram
instagram
instagram
instagram
instagram
instagram
instagram
instagram
instagram
instagram
instagram
instagram
instagram
instagram
instagram
instagram
instagram
instagram
instagram
instagram
instagram
instagram
instagram
instagram
instagram
instagram
instagram
instagram
instagram
instagram
instagram
instagram
instagram
instagram
instagram
instagram
instagram
instagram
instagram
instagram
instagram
instagram
instagram
instagram
instagram
instagram
instagram
instagram
instagram
instagram
instagram
instagram
instagram
instagram
instagram
instagram
instagram
instagram
instagram
instagram
instagram
instagram
instagram
instagram
instagram
instagram
instagram
instagram
instagram
instagram
instagram
instagram
instagram
instagram
instagram
instagram
instagram
instagram
instagram
instagram
instagram
instagram
instagram
instagram
instagram
instagram
instagram
instagram
instagram
instagram
instagram
instagram
instagram
instagram
instagram
instagram
instagram
instagram
instagram
instagram
instagram
instagram
instagram
instagram
instagram
instagram
instagram
instagram
instagram
instagram
instagram
instagram
instagram
instagram
instagram
instagram
instagram
instagram
instagram
instagram
instagram
instagram
instagram
instagram
instagram
instagram
instagram
instagram
instagram
instagram
instagram
instagram
instagram
instagram
instagram
instagram
instagram
instagram
instagram
instagram
instagram
instagram
instagram
instagram
instagram
instagram
instagram
instagram
instagram
instagram
instagram
instagram
instagram
instagram
instagram
instagram
instagram
instagram
instagram
instagram
instagram
instagram
instagram
instagram
instagram
instagram
instagram
instagram
instagram
instagram
instagram
instagram
instagram
instagram
instagram
instagram
instagram
instagram
instagram
instagram
instagram
instagram
instagram
instagram
instagram
instagram
instagram
instagram
instagram
instagram
instagram
instagram
instagram
instagram
instagram
instagram
instagram
instagram
instagram
instagram
instagram
instagram
instagram
instagram
instagram
instagram
instagram
instagram
instagram
instagram
instagram
instagram
instagram
instagram
instagram
instagram
instagram
instagram
instagram
instagram
instagram
instagram
instagram
instagram
instagram
instagram
instagram
instagram
instagram
instagram
instagram
instagram
instagram
instagram
instagram
instagram
instagram
instagram
instagram
instagram
instagram
instagram
instagram
instagram
instagram
instagram
instagram
instagram
instagram
instagram
instagram
instagram
instagram
instagram
instagram
instagram
instagram
instagram
instagram
instagram
instagram
instagram
instagram
instagram
instagram
instagram
instagram
instagram
instagram
instagram
instagram
instagram
instagram
instagram
instagram
instagram
instagram
instagram
instagram
instagram
instagram
instagram
instagram
instagram
instagram
instagram
instagram
instagram
instagram
instagram
instagram
instagram
instagram
instagram
instagram
instagram
instagram
instagram
instagram
instagram
instagram
instagram
instagram
instagram
instagram
instagram
instagram
instagram
instagram
instagram
instagram
instagram
instagram
instagram
instagram
instagram
instagram
instagram
instagram
instagram
instagram
instagram
instagram
instagram
instagram
instagram
instagram
instagram
instagram
instagram
instagram
instagram
instagram
instagram
instagram
instagram
instagram
instagram
instagram
instagram
instagram
instagram
instagram
instagram
instagram
instagram
instagram
instagram
instagram
instagram
instagram
instagram
instagram
instagram
instagram
instagram
instagram
instagram
instagram
instagram
instagram
instagram
instagram
instagram
instagram
instagram
instagram
instagram
instagram
instagram
instagram
instagram
instagram
instagram
instagram
instagram
instagram
instagram
instagram
instagram
instagram
instagram
instagram
instagram
instagram
instagram
instagram
instagram
instagram
instagram
instagram
instagram
instagram
instagram
instagram
instagram
instagram
instagram
instagram
instagram
instagram
instagram
instagram
instagram
instagram
instagram
instagram
instagram
instagram
instagram
instagram
instagram
instagram
instagram
instagram
instagram
instagram
instagram
instagram
instagram
instagram
instagram
instagram
instagram
instagram
instagram
instagram
instagram
instagram
instagram
instagram
instagram
instagram
instagram
instagram
instagram
instagram
instagram
instagram
instagram
instagram
instagram
instagram
instagram
instagram
instagram
instagram
instagram
instagram
instagram
instagram
instagram
instagram
instagram
instagram
instagram
instagram
instagram
instagram
instagram
instagram
instagram
instagram
instagram
instagram
instagram
instagram
instagram
instagram
instagram
instagram
instagram
instagram
instagram
instagram
instagram
instagram
instagram
instagram
instagram
instagram
instagram
instagram
instagram
instagram
instagram
instagram
instagram
instagram
instagram
instagram
instagram
instagram
instagram
instagram
instagram
instagram
instagram
instagram
instagram
instagram
instagram
instagram
instagram
instagram
instagram
instagram
instagram
instagram
instagram
instagram
instagram
instagram
instagram
instagram
instagram
instagram
instagram
instagram
instagram
instagram
instagram
instagram
instagram
instagram
instagram
instagram
instagram
instagram
instagram
instagram
instagram
instagram
instagram
instagram
instagram
instagram
instagram
instagram
instagram
instagram
instagram
instagram
instagram
instagram
instagram
instagram
instagram
instagram
instagram
instagram
instagram
instagram
instagram
instagram
instagram
instagram
instagram
instagram
instagram
instagram
instagram
instagram
instagram
instagram
instagram
instagram
instagram
instagram
instagram
instagram
instagram
instagram
instagram
instagram
instagram
instagram
instagram
instagram
instagram
instagram
instagram
instagram
instagram
instagram
instagram
instagram
instagram
instagram
instagram
instagram
instagram
instagram
instagram
instagram
instagram
instagram
instagram
instagram
instagram
instagram
instagram
instagram
instagram
instagram
instagram
instagram
instagram
instagram
instagram
instagram
instagram
instagram
instagram
instagram
instagram
instagram
instagram
instagram
instagram
instagram
instagram
instagram
instagram
instagram
instagram
instagram
instagram
instagram
instagram
instagram
instagram
instagram
instagram
instagram
instagram
instagram
instagram
instagram
instagram
instagram
instagram
instagram
instagram
instagram
instagram
instagram
instagram
instagram
instagram
instagram
instagram
instagram
instagram
instagram
instagram
instagram
instagram
instagram
instagram
instagram
instagram
instagram
instagram
instagram
instagram
instagram
instagram
instagram
instagram
instagram
instagram
instagram
instagram
instagram
instagram
instagram
instagram
instagram
instagram
instagram
instagram
instagram
instagram
instagram
instagram
instagram
instagram
instagram
instagram
instagram
instagram
instagram
instagram
instagram
instagram
instagram
instagram
instagram
instagram
instagram
instagram
instagram
instagram
instagram
instagram
instagram
instagram
instagram
instagram
instagram
instagram
instagram
instagram
instagram
instagram
instagram
instagram
instagram
instagram
instagram
instagram
instagram
instagram
instagram
instagram
instagram
instagram
instagram
instagram
instagram
instagram
instagram
instagram
instagram
instagram
instagram
instagram
instagram
instagram
instagram
instagram
instagram
instagram
instagram
instagram
instagram
instagram
instagram
instagram
instagram
instagram
instagram
instagram
instagram
instagram
instagram
instagram
instagram
instagram
instagram
instagram
instagram
instagram
instagram
instagram
instagram
instagram
instagram
instagram
instagram
instagram
instagram
instagram
instagram
instagram
instagram
instagram
instagram
instagram
instagram
instagram
instagram
instagram
instagram
instagram
instagram
instagram
instagram
instagram
instagram
instagram
instagram
instagram
instagram
instagram
instagram
instagram
instagram
instagram
instagram
instagram
instagram
instagram
instagram
instagram
instagram
instagram
instagram
instagram
instagram
instagram
instagram
instagram
instagram
instagram
instagram
instagram
instagram
instagram
instagram
instagram
instagram
instagram
instagram
instagram
instagram
instagram
instagram
instagram
instagram
instagram
instagram
instagram
instagram
instagram
instagram
instagram
instagram
instagram
instagram
instagram
instagram
instagram
instagram
instagram
instagram
instagram
instagram
instagram
instagram
instagram
instagram
instagram
instagram
instagram
instagram
instagram
instagram
instagram
instagram
instagram
instagram
instagram
instagram
instagram
instagram
instagram
instagram
instagram
instagram
instagram
instagram
instagram
instagram
instagram
instagram
instagram
instagram
instagram
instagram
instagram
instagram
instagram
instagram
instagram
instagram
instagram
instagram
instagram
instagram
instagram
instagram
instagram
instagram
instagram
instagram
instagram
instagram
instagram
instagram
instagram
instagram
instagram
instagram
instagram
instagram
instagram
instagram
instagram
instagram
instagram
instagram
instagram
instagram
instagram
instagram
instagram
instagram
instagram
instagram
instagram
instagram
instagram
instagram
instagram
instagram
instagram
instagram
instagram
instagram
instagram
instagram
instagram
instagram
instagram
instagram
instagram
instagram
instagram
instagram
instagram
instagram
instagram
instagram
instagram
instagram
instagram
instagram
instagram
instagram
instagram
instagram
instagram
instagram
instagram
instagram
instagram
instagram
instagram
instagram
instagram
instagram
instagram
instagram
instagram
instagram
instagram
instagram
instagram
instagram
instagram
instagram
instagram
instagram
instagram
instagram
instagram
instagram
instagram
instagram
instagram
instagram
instagram
instagram
instagram
instagram
instagram
instagram
instagram
instagram
instagram
instagram
instagram
instagram
instagram
instagram
instagram
instagram
instagram
instagram
instagram
instagram
instagram
instagram
instagram
instagram
instagram
instagram
instagram
instagram
instagram
instagram
instagram
instagram
instagram
instagram
instagram
instagram
instagram
instagram
instagram
instagram
instagram
instagram
instagram
instagram
instagram
instagram
instagram
instagram
instagram
instagram
instagram
instagram
instagram
instagram
instagram
instagram
instagram
instagram
instagram
instagram
instagram
instagram
instagram
instagram
instagram
instagram
instagram
instagram
instagram
instagram
instagram
instagram
instagram
instagram
instagram
instagram
instagram
instagram
instagram
instagram
instagram
instagram
instagram
instagram
instagram
instagram
instagram
instagram
instagram
instagram
instagram
instagram
instagram
instagram
instagram
instagram
instagram
instagram
instagram
instagram
instagram
instagram
instagram
instagram
instagram
instagram
instagram
instagram
instagram
instagram
instagram
instagram
instagram
instagram
instagram
instagram
instagram
instagram
instagram
instagram
instagram
instagram
instagram
instagram
instagram
instagram
instagram
instagram
instagram
instagram
instagram
instagram
instagram
instagram
instagram
instagram
instagram
instagram
instagram
instagram
instagram
instagram
instagram
instagram
instagram
instagram
instagram
instagram
instagram
instagram
instagram
instagram
instagram
instagram
instagram
instagram
instagram
instagram
instagram
instagram
instagram
instagram
instagram
instagram
instagram
instagram
instagram
instagram
instagram
instagram
instagram
instagram
instagram
instagram
instagram
instagram
instagram
instagram
instagram
instagram
instagram
instagram
instagram
instagram
instagram
instagram
instagram
instagram
instagram
instagram
instagram
instagram
instagram
instagram
instagram
instagram
instagram
instagram
instagram
instagram
instagram
instagram
instagram
instagram
instagram
instagram
instagram
instagram
instagram
instagram
instagram
instagram
instagram
instagram
instagram
instagram
instagram
instagram
instagram
instagram
instagram
instagram
instagram
instagram
instagram
instagram
instagram
instagram
instagram
instagram
instagram
instagram
instagram
instagram
instagram
instagram
instagram
instagram
instagram
instagram
instagram
instagram
instagram
instagram
instagram
instagram
instagram
instagram
instagram
instagram
instagram
instagram
instagram
instagram
instagram
instagram
instagram
instagram
instagram
instagram
instagram
instagram
instagram
instagram
instagram
instagram
instagram
instagram
instagram
instagram
instagram
instagram
instagram
instagram
instagram
instagram
instagram
instagram
instagram
instagram
instagram
instagram
instagram
instagram
instagram
instagram
instagram
instagram
instagram
instagram
instagram
instagram
instagram
instagram
instagram
instagram
instagram
instagram
instagram
instagram
instagram
instagram
instagram
instagram
instagram
instagram
instagram
instagram
instagram
instagram
instagram
instagram
instagram
instagram
instagram
instagram
instagram
instagram
instagram
instagram
instagram
instagram
instagram
instagram
instagram
instagram
instagram
instagram
instagram
instagram
instagram
instagram
instagram
instagram
instagram
instagram
instagram
instagram
instagram
instagram
instagram
instagram
instagram
instagram
instagram
instagram
instagram
instagram
instagram
instagram
instagram
instagram
instagram
instagram
instagram
instagram
instagram
instagram
instagram
instagram
instagram
instagram
instagram
instagram
instagram
instagram
instagram
instagram
instagram
instagram
instagram
instagram
instagram
instagram
instagram
instagram
instagram
instagram
instagram
instagram
instagram
instagram
instagram
instagram
instagram
instagram
instagram
instagram
instagram
instagram
instagram
instagram
instagram
instagram
instagram
instagram
instagram
instagram
instagram
instagram
instagram
instagram
instagram
instagram
instagram
instagram
instagram
instagram
instagram
instagram
instagram
instagram
instagram
instagram
instagram
instagram
instagram
instagram
instagram
instagram
instagram
instagram
instagram
instagram
instagram
instagram
instagram
instagram
instagram
instagram
instagram
instagram
instagram
instagram
instagram
instagram
instagram
instagram
instagram
instagram
instagram
instagram
instagram
instagram
instagram
instagram
instagram
instagram
instagram
instagram
instagram
instagram
instagram
instagram
instagram
instagram
instagram
instagram
instagram
instagram
instagram
instagram
instagram
instagram
instagram
instagram
instagram
instagram
instagram
instagram
instagram
instagram
instagram
instagram
instagram
instagram
instagram
instagram
instagram
instagram
instagram
instagram
instagram
instagram
instagram
instagram
instagram
instagram
instagram
instagram
instagram
instagram
instagram
instagram
instagram
instagram
instagram
instagram
instagram
instagram
instagram
instagram
instagram
instagram
instagram
instagram
instagram
instagram
instagram
instagram
instagram
instagram
instagram
instagram
instagram
instagram
instagram
instagram
instagram
instagram
instagram
instagram
instagram
instagram
instagram
instagram
instagram
instagram
instagram
instagram
instagram
instagram
instagram
instagram
instagram
instagram
instagram
instagram
instagram
instagram
instagram
instagram
instagram
instagram
instagram
instagram
instagram
instagram
instagram
instagram
instagram
instagram
instagram
instagram
instagram
instagram
instagram
instagram
instagram
instagram
instagram
instagram
instagram
instagram
instagram
instagram
instagram
instagram
instagram
instagram
instagram
instagram
instagram
instagram
instagram
instagram
instagram
instagram
instagram
instagram
instagram
instagram
instagram
instagram
instagram
instagram
instagram
instagram
instagram
instagram
instagram
instagram
instagram
instagram
instagram
instagram
instagram
instagram
instagram
instagram
instagram
instagram
instagram
instagram
instagram
instagram
instagram
instagram
instagram
instagram
instagram
instagram
instagram
instagram
instagram
instagram
instagram
instagram
instagram
instagram
instagram
instagram
instagram
instagram
instagram
instagram
instagram
instagram
instagram
instagram
instagram
instagram
instagram
instagram
instagram
instagram
instagram
instagram
instagram
instagram
instagram
instagram
instagram
instagram
instagram
instagram
instagram
instagram
instagram
instagram
instagram
instagram
instagram
instagram
instagram
instagram
instagram
instagram
instagram
instagram
instagram
instagram
instagram
instagram
instagram
instagram
instagram
instagram
instagram
instagram
instagram
instagram
instagram
instagram
instagram
instagram
instagram
instagram
instagram
instagram
instagram
instagram
instagram
instagram
instagram
instagram
instagram
instagram
instagram
instagram
instagram
instagram
instagram
instagram
instagram
instagram
instagram
instagram
instagram
instagram
instagram
instagram
instagram
instagram
instagram
instagram
instagram
instagram
instagram
instagram
instagram
instagram
instagram
instagram
instagram
instagram
instagram
instagram
instagram
instagram
instagram
instagram
instagram
instagram
instagram
instagram
instagram
instagram
instagram
instagram
instagram
instagram
instagram
instagram
instagram
instagram
instagram
instagram
instagram
instagram
instagram
instagram
instagram
instagram
instagram
instagram
instagram
instagram
instagram
instagram
instagram
instagram
instagram
instagram
instagram
instagram
instagram
instagram
instagram
instagram
instagram
instagram
instagram
instagram
instagram
instagram
instagram
instagram
instagram
instagram
instagram
instagram
instagram
instagram
instagram
instagram
instagram
instagram
instagram
instagram
instagram
instagram
instagram
instagram
instagram
instagram
instagram
instagram
instagram
instagram
instagram
instagram
instagram
instagram
instagram
instagram
instagram
instagram
instagram
instagram
instagram
instagram
instagram
instagram
instagram
instagram
instagram
instagram
instagram
instagram
instagram
instagram
instagram
instagram
instagram
instagram
instagram
instagram
instagram
instagram
instagram
instagram
instagram
instagram
instagram
instagram
instagram
instagram
instagram
instagram
instagram
instagram
instagram
instagram
instagram
instagram
instagram
instagram
instagram
instagram
instagram
instagram
instagram
instagram
instagram
instagram
instagram
instagram
instagram
instagram
instagram
instagram
instagram
instagram
instagram
instagram
instagram
instagram
instagram
instagram
instagram
instagram
instagram
instagram
instagram
instagram
instagram
instagram
instagram
instagram
instagram
instagram
instagram
instagram
instagram
instagram
instagram
instagram
instagram
instagram
instagram
instagram
instagram
instagram
instagram
instagram
instagram
instagram
instagram
instagram
instagram
instagram
instagram
instagram
instagram
instagram
instagram
instagram
instagram
instagram
instagram
instagram
instagram
instagram
instagram
instagram
instagram
instagram
instagram
instagram
instagram
instagram
instagram
instagram
instagram
instagram
instagram
instagram
instagram
instagram
instagram
instagram
instagram
instagram
instagram
instagram
instagram
instagram
instagram
instagram
instagram
instagram
instagram
instagram
instagram
instagram
instagram
instagram
instagram
instagram
instagram
instagram
instagram
instagram
instagram
instagram
instagram
instagram
instagram
instagram
instagram
instagram
instagram
instagram
instagram
instagram
instagram
instagram
instagram
instagram
instagram
instagram
instagram
instagram
instagram
instagram
instagram
instagram
instagram
instagram
instagram
instagram
instagram
instagram
instagram
instagram
instagram
instagram
instagram
instagram
instagram
instagram
instagram
instagram
instagram
instagram
instagram
instagram
instagram
instagram
instagram
instagram
instagram
instagram
instagram
instagram
instagram
instagram
instagram
instagram
instagram
instagram
instagram
instagram
instagram
instagram
instagram
instagram
instagram
instagram
instagram
instagram
instagram
instagram
instagram
instagram
instagram
instagram
instagram
instagram
instagram
instagram
instagram
instagram
instagram
instagram
instagram
instagram
instagram
instagram
instagram
instagram
instagram
instagram
instagram
instagram
instagram
instagram
instagram
instagram
instagram
instagram
instagram
instagram
instagram
instagram
instagram
instagram
instagram
instagram
instagram
instagram
instagram
instagram
instagram
instagram
instagram
instagram
instagram
instagram
instagram
instagram
instagram
instagram
instagram
instagram
instagram
instagram
instagram
instagram
instagram
instagram
instagram
instagram
instagram
instagram
instagram
instagram
instagram
instagram
instagram
instagram
instagram
instagram
instagram
instagram
instagram
instagram
instagram
instagram
instagram
instagram
instagram
instagram
instagram
instagram
instagram
instagram
instagram
instagram
instagram
instagram
instagram
instagram
instagram
instagram
instagram
instagram
instagram
instagram
instagram
instagram
instagram
instagram
instagram
instagram
instagram
instagram
instagram
instagram
instagram
instagram
instagram
instagram
instagram
instagram
instagram
instagram
instagram
instagram
instagram
instagram
instagram
instagram
instagram
instagram
instagram
instagram
instagram
instagram
instagram
instagram
instagram
instagram
instagram
instagram
instagram
instagram
instagram
instagram
instagram
instagram
instagram
instagram
instagram
instagram
instagram
instagram
instagram
instagram
instagram
instagram
instagram
instagram
instagram
instagram
instagram
instagram
instagram
instagram
instagram
instagram
instagram
instagram
instagram
instagram
instagram
instagram
instagram
instagram
instagram
instagram
instagram
instagram
instagram
instagram
instagram
instagram
instagram
instagram
instagram
instagram
instagram
instagram
instagram
instagram
instagram
instagram
instagram
instagram
instagram
instagram
instagram
instagram
instagram
instagram
instagram
instagram
instagram
instagram
instagram
instagram
instagram
instagram
instagram
instagram
instagram
instagram
instagram
instagram
instagram
instagram
instagram
instagram
instagram
instagram
instagram
instagram
instagram
instagram
instagram
instagram
instagram
instagram
instagram
instagram
instagram
instagram
instagram
instagram
instagram
instagram
instagram
instagram
instagram
instagram
instagram
instagram
instagram
instagram
instagram
instagram
instagram
instagram
instagram
instagram
instagram
instagram
instagram
instagram
instagram
instagram
instagram
instagram
instagram
instagram
instagram
instagram
instagram
instagram
instagram
instagram
instagram
instagram
instagram
instagram
instagram
instagram
instagram
instagram
instagram
instagram
instagram
instagram
instagram
instagram
instagram
instagram
instagram
instagram
instagram
instagram
instagram
instagram
instagram
instagram
instagram
instagram
instagram
instagram
instagram
instagram
instagram
instagram
instagram
instagram
instagram
instagram
instagram
instagram
instagram
instagram
instagram
instagram
instagram
instagram
instagram
instagram
instagram
instagram
instagram
instagram
instagram
instagram
instagram
instagram
instagram
instagram
instagram
instagram
instagram
instagram
instagram
instagram
instagram
instagram
instagram
instagram
instagram
instagram
instagram
instagram
instagram
instagram
instagram
instagram
instagram
instagram
instagram
instagram
instagram
instagram
instagram
instagram
instagram
instagram
instagram
instagram
instagram
instagram
instagram
instagram
instagram
instagram
instagram
instagram
instagram
instagram
instagram
instagram
instagram
instagram
instagram
instagram
instagram
instagram
instagram
instagram
instagram
instagram
instagram
instagram
instagram
instagram
instagram
instagram
instagram
instagram
instagram
instagram
instagram
instagram
instagram
instagram
instagram
instagram
instagram
instagram
instagram
instagram
instagram
instagram
instagram
instagram
instagram
instagram
instagram
instagram
instagram
instagram
instagram
instagram
instagram
instagram
instagram
instagram
instagram
instagram
instagram
instagram
instagram
instagram
instagram
instagram
instagram
instagram
instagram
instagram
instagram
instagram
instagram
instagram
instagram
instagram
instagram
instagram
instagram
instagram
instagram
instagram
instagram
instagram
instagram
instagram
instagram
instagram
instagram
instagram
instagram
instagram
instagram
instagram
instagram
instagram
instagram
instagram
instagram
instagram
instagram
instagram
instagram
instagram
instagram
instagram
instagram
instagram
instagram
instagram
instagram
instagram
instagram
instagram
instagram
instagram
instagram
instagram
instagram
instagram
instagram
instagram
instagram
instagram
instagram
instagram
instagram
instagram
instagram
instagram
instagram
instagram
instagram
instagram
instagram
instagram
instagram
instagram
instagram
instagram
instagram
instagram
instagram
instagram
instagram
instagram
instagram
instagram
instagram
instagram
instagram
instagram
instagram
instagram
instagram
instagram
instagram
instagram
instagram
instagram
instagram
instagram
instagram
instagram
instagram
instagram
instagram
instagram
instagram
instagram
instagram
instagram
instagram
instagram
instagram
instagram
instagram
instagram
instagram
instagram
instagram
instagram
instagram
instagram
instagram
instagram
instagram
instagram
instagram
instagram
instagram
instagram
instagram
instagram
instagram
instagram
instagram
instagram
instagram
instagram
instagram
instagram
instagram
instagram
instagram
instagram
instagram
instagram
instagram
instagram
instagram
instagram
instagram
instagram
instagram
instagram
instagram
instagram
instagram
instagram
instagram
instagram
instagram
instagram
instagram
instagram
instagram
instagram
instagram
instagram
instagram
instagram
instagram
instagram
instagram
instagram
instagram
instagram
instagram
instagram
instagram
instagram
instagram
instagram
instagram
instagram
instagram
instagram
instagram
instagram
instagram
instagram
instagram
instagram
instagram
instagram
instagram
instagram
instagram
instagram
instagram
instagram
instagram
instagram
instagram
instagram
instagram
instagram
instagram
instagram
instagram
instagram
instagram
instagram
instagram
instagram
instagram
instagram
instagram
instagram
instagram
instagram
instagram
instagram
instagram
instagram
instagram
instagram
instagram
instagram
instagram
instagram
instagram
instagram
instagram
instagram
instagram
instagram
instagram
instagram
instagram
instagram
instagram
instagram
instagram
instagram
instagram
instagram
instagram
instagram
instagram
instagram
instagram
instagram
instagram
instagram
instagram
instagram
instagram
instagram
instagram
instagram
instagram
instagram
instagram
instagram
instagram
instagram
instagram
instagram
instagram
instagram
instagram
instagram
instagram
instagram
instagram
instagram
instagram
instagram
instagram
instagram
instagram
instagram
instagram
instagram
instagram
instagram
instagram
instagram
instagram
instagram
instagram
instagram
instagram
instagram
instagram
instagram
instagram
instagram
instagram
instagram
instagram
instagram
instagram
instagram
instagram
instagram
instagram
instagram
instagram
instagram
instagram
instagram
instagram
instagram
instagram
instagram
instagram
instagram
instagram
instagram
instagram
instagram
instagram
instagram
instagram
instagram
instagram
instagram
instagram
instagram
instagram
instagram
instagram
instagram
instagram
instagram
instagram
instagram
instagram
instagram
instagram
instagram
instagram
instagram
instagram
instagram
instagram
instagram
instagram
instagram
instagram
instagram
instagram
instagram
instagram
instagram
instagram
instagram
instagram
instagram
instagram
instagram
instagram
instagram
instagram
instagram
instagram
instagram
instagram
instagram
instagram
instagram
instagram
instagram
instagram
instagram
instagram
instagram
instagram
instagram
instagram
instagram
instagram
instagram
instagram
instagram
instagram
instagram
instagram
instagram
instagram
instagram
instagram
instagram
instagram
instagram
instagram
instagram
instagram
instagram
instagram
instagram
instagram
instagram
instagram
instagram
instagram
instagram
instagram
instagram
instagram
instagram
instagram
instagram
instagram
instagram
instagram
instagram
instagram
instagram
instagram
instagram
instagram
instagram
instagram
instagram
instagram
instagram
instagram
instagram
instagram
instagram
instagram
instagram
instagram
instagram
instagram
instagram
instagram
instagram
instagram
instagram
instagram
instagram
instagram
instagram
instagram
instagram
instagram
instagram
instagram
instagram
instagram
instagram
instagram
instagram
instagram
instagram
instagram
instagram
instagram
instagram
instagram
instagram
instagram
instagram
instagram
instagram
instagram
instagram
instagram
instagram
instagram
instagram
instagram
instagram
instagram
instagram
instagram
instagram
instagram
instagram
instagram
instagram
instagram
instagram
instagram
instagram
instagram
instagram
instagram
instagram
instagram
instagram
instagram
instagram
instagram
instagram
instagram
instagram
instagram
instagram
instagram
instagram
instagram
instagram
instagram
instagram
instagram
instagram
instagram
instagram
instagram
instagram
instagram
instagram
instagram
instagram
instagram
instagram
instagram
instagram
instagram
instagram
instagram
instagram
instagram
instagram
instagram
instagram
instagram
instagram
instagram
instagram
instagram
instagram
instagram
instagram
instagram
instagram
instagram
instagram
instagram
instagram
instagram
instagram
instagram
instagram
instagram
instagram
instagram
instagram
instagram
instagram
instagram
instagram
instagram
instagram
instagram
instagram
instagram
instagram
instagram
instagram
instagram
instagram
instagram
instagram
instagram
instagram
instagram
instagram
instagram
instagram
instagram
instagram
instagram
instagram
instagram
instagram
instagram
instagram
instagram
instagram
instagram
instagram
instagram
instagram
instagram
instagram
instagram
instagram
instagram
instagram
instagram
instagram
instagram
instagram
instagram
instagram
instagram
instagram
instagram
instagram
instagram
instagram
instagram
instagram
instagram
instagram
instagram
instagram
instagram
instagram
instagram
instagram
instagram
instagram
instagram
instagram
instagram
instagram
instagram
instagram
instagram
instagram
instagram
instagram
instagram
instagram
instagram
instagram
instagram
instagram
instagram
instagram
instagram
instagram
instagram
instagram
instagram
instagram
instagram
instagram
instagram
instagram
instagram
instagram
instagram
instagram
instagram
instagram
instagram
instagram
instagram
instagram
instagram
instagram
instagram
instagram
instagram
instagram
instagram
instagram
instagram
instagram
instagram
instagram
instagram
instagram
instagram
instagram
instagram
instagram
instagram
instagram
instagram
instagram
instagram
instagram
instagram
instagram
instagram
instagram
instagram
instagram
instagram
instagram
instagram
instagram
instagram
instagram
instagram
instagram
instagram
instagram
instagram
instagram
instagram
instagram
instagram
instagram
instagram
instagram
instagram
instagram
instagram
instagram
instagram
instagram
instagram
instagram
instagram
instagram
instagram
instagram
instagram
instagram
instagram
instagram
instagram
instagram
instagram
instagram
instagram
instagram
instagram
instagram
instagram
instagram
instagram
instagram
instagram
instagram
instagram
instagram
instagram
instagram
instagram
instagram
instagram
instagram
instagram
instagram
instagram
instagram
instagram
instagram
instagram
instagram
instagram
instagram
instagram
instagram
instagram
instagram
instagram
instagram
instagram
instagram
instagram
instagram
instagram
instagram
instagram
instagram
instagram
instagram
instagram
instagram
instagram
instagram
instagram
instagram
instagram
instagram
instagram
instagram
instagram
instagram
instagram
instagram
instagram
instagram
instagram
instagram
instagram
instagram
instagram
instagram
instagram
instagram
instagram
instagram
instagram
instagram
instagram
instagram
instagram
instagram
instagram
instagram
instagram
instagram
instagram
instagram
instagram
instagram
instagram
instagram
instagram
instagram
instagram
instagram
instagram
instagram
instagram
instagram
instagram
instagram
instagram
instagram
instagram
instagram
instagram
instagram
instagram
instagram
instagram
instagram
instagram
instagram
instagram
instagram
instagram
instagram
instagram
instagram
instagram
instagram
instagram
instagram
instagram
instagram
instagram
instagram
instagram
instagram
instagram
instagram
instagram
instagram
instagram
instagram
instagram
instagram
instagram
instagram
instagram
instagram
instagram
instagram
instagram
instagram
instagram
instagram
instagram
instagram
instagram
instagram
instagram
instagram
instagram
instagram
instagram
instagram
instagram
instagram
instagram
instagram
instagram
instagram
instagram
instagram
instagram
instagram
instagram
instagram
instagram
instagram
instagram
instagram
instagram
instagram
instagram
instagram
instagram
instagram
instagram
instagram
instagram
instagram
instagram
instagram
instagram
instagram
instagram
instagram
instagram
instagram
instagram
instagram
instagram
instagram
instagram
instagram
instagram
instagram
instagram
instagram
instagram
instagram
instagram
instagram
instagram
instagram
instagram
instagram
instagram
instagram
instagram
instagram
instagram
instagram
instagram
instagram
instagram
instagram
instagram
instagram
instagram
instagram
instagram
instagram
instagram
instagram
instagram
instagram
instagram
instagram
instagram
instagram
instagram
instagram
instagram
instagram
instagram
instagram
instagram
instagram
instagram
instagram
instagram
instagram
instagram
instagram
instagram
instagram
instagram
instagram
instagram
instagram
instagram
instagram
instagram
instagram
instagram
instagram
instagram
instagram
instagram
instagram
instagram
instagram
instagram
instagram
instagram
instagram
instagram
instagram
instagram
instagram
instagram
instagram
instagram
instagram
instagram
instagram
instagram
instagram
instagram
instagram
instagram
instagram
instagram
instagram
instagram
instagram
instagram
instagram
instagram
instagram
instagram
instagram
instagram
instagram
instagram
instagram
instagram
instagram
instagram
instagram
instagram
instagram
instagram
instagram
instagram
instagram
instagram
instagram
instagram
instagram
instagram
instagram
instagram
instagram
instagram
instagram
instagram
instagram
instagram
instagram
instagram
instagram
instagram
instagram
instagram
instagram
instagram
instagram
instagram
instagram
instagram
instagram
instagram
instagram
instagram
instagram
instagram
instagram
instagram
instagram
instagram
instagram
instagram
instagram
instagram
instagram
instagram
instagram
instagram
instagram
instagram
instagram
instagram
instagram
instagram
instagram
instagram
instagram
instagram
instagram
instagram
instagram
instagram
instagram
instagram
instagram
instagram
instagram
instagram
instagram
instagram
instagram
instagram
instagram
instagram
instagram
instagram
instagram
instagram
instagram
instagram
instagram
instagram
instagram
instagram
instagram
instagram
instagram
instagram
instagram
instagram
instagram
instagram
instagram
instagram
instagram
instagram
instagram
instagram
instagram
instagram
instagram
instagram
instagram
instagram
instagram
instagram
instagram
instagram
instagram
instagram
instagram
instagram
instagram
instagram
instagram
instagram
instagram
instagram
instagram
instagram
instagram
instagram
instagram
instagram
instagram
instagram
instagram
instagram
instagram
instagram
instagram
instagram
instagram
instagram
instagram
instagram
instagram
instagram
instagram
instagram
instagram
instagram
instagram
instagram
instagram
instagram
instagram
instagram
instagram
instagram
instagram
instagram
instagram
instagram
instagram
instagram
instagram
instagram
instagram
instagram
instagram
instagram
instagram
instagram
instagram
instagram
instagram
instagram
instagram
instagram
instagram
instagram
instagram
instagram
instagram
instagram
instagram
instagram
instagram
instagram
instagram
instagram
instagram
instagram
instagram
instagram
instagram
instagram
instagram
instagram
instagram
instagram
instagram
instagram
instagram
instagram
instagram
instagram
instagram
instagram
instagram
instagram
instagram
instagram
instagram
instagram
instagram
instagram
instagram
instagram
instagram
instagram
instagram
instagram
instagram
instagram
instagram
instagram
instagram
instagram
instagram
instagram
instagram
instagram
instagram
instagram
instagram
instagram
instagram
instagram
instagram
instagram
instagram
instagram
instagram
instagram
instagram
instagram
instagram
instagram
instagram
instagram
instagram
instagram
instagram
instagram
instagram
instagram
instagram
instagram
instagram
instagram
instagram
instagram
instagram
instagram
instagram
instagram
instagram
instagram
instagram
instagram
instagram
instagram
instagram
instagram
instagram
instagram
instagram
instagram
instagram
instagram
instagram
instagram
instagram
instagram
instagram
instagram
instagram
instagram
instagram
instagram
instagram
instagram
instagram
instagram
instagram
instagram
instagram
instagram
instagram
instagram
instagram
instagram
instagram
instagram
instagram
instagram
instagram
instagram
instagram
instagram
instagram
instagram
instagram
instagram
instagram
instagram
instagram
instagram
instagram
instagram
instagram
instagram
instagram
instagram
instagram
instagram
instagram
instagram
instagram
instagram
instagram
instagram
instagram
instagram
instagram
instagram
instagram
instagram
instagram
instagram
instagram
instagram
instagram
instagram
instagram
instagram
instagram
instagram
instagram
instagram
instagram
instagram
instagram
instagram
instagram
instagram
instagram
instagram
instagram
instagram
instagram
instagram
instagram
instagram
instagram
instagram
instagram
instagram
instagram
instagram
instagram
instagram
instagram
instagram
instagram
instagram
instagram
instagram
instagram
instagram
instagram
instagram
instagram
instagram
instagram
instagram
instagram
instagram
instagram
instagram
instagram
instagram
instagram
instagram
instagram
instagram
instagram
instagram
instagram
instagram
instagram
instagram
instagram
instagram
instagram
instagram
instagram
instagram
instagram
instagram
instagram
instagram
instagram
instagram
instagram
instagram
instagram
instagram
instagram
instagram
instagram
instagram
instagram
instagram
instagram
instagram
instagram
instagram
instagram
instagram
instagram
instagram
instagram
instagram
instagram
instagram
instagram
instagram
instagram
instagram
instagram
instagram
instagram
instagram
instagram
instagram
instagram
instagram
instagram
instagram
instagram
instagram
instagram
instagram
instagram
instagram
instagram
instagram
instagram
instagram
instagram
instagram
instagram
instagram
instagram
instagram
instagram
instagram
instagram
instagram
instagram
instagram
instagram
instagram
instagram
instagram
instagram
instagram
instagram
instagram
instagram
instagram
instagram
instagram
instagram
instagram
instagram
instagram
instagram
instagram
instagram
instagram
instagram
instagram
instagram
instagram
instagram
instagram
instagram
instagram
instagram
instagram
instagram
instagram
instagram
instagram
instagram
instagram
instagram
instagram
instagram
instagram
instagram
instagram
instagram
instagram
instagram
instagram
instagram
instagram
instagram
instagram
instagram
instagram
instagram
instagram
instagram
instagram
instagram
instagram
instagram
instagram
instagram
instagram
instagram
instagram
instagram
instagram
instagram
instagram
instagram
instagram
instagram
instagram
instagram
instagram
instagram
instagram
instagram
instagram
instagram
instagram
instagram
instagram
instagram
instagram
instagram
instagram
instagram
instagram
instagram
instagram
instagram
instagram
instagram
instagram
instagram
instagram
instagram
instagram
instagram
instagram
instagram
instagram
instagram
instagram
instagram
instagram
instagram
instagram
instagram
instagram
instagram
instagram
instagram
instagram
instagram
instagram
instagram
instagram
instagram
instagram
instagram
instagram
instagram
instagram
instagram
instagram
instagram
instagram
instagram
instagram
instagram
instagram
instagram
instagram
instagram
instagram
instagram
instagram
instagram
instagram
instagram
instagram
instagram
instagram
instagram
instagram
instagram
instagram
instagram
instagram
instagram
instagram
instagram
instagram
instagram
instagram
instagram
instagram
instagram
instagram
instagram
instagram
instagram
instagram
instagram
instagram
instagram
instagram
instagram
instagram
instagram
instagram
instagram
instagram
instagram
instagram
instagram
instagram
instagram
instagram
instagram
instagram
instagram
instagram
instagram
instagram
instagram
instagram
instagram
instagram
instagram
instagram
instagram
instagram
instagram
instagram
instagram
instagram
instagram
instagram
instagram
instagram
instagram
instagram
instagram
instagram
instagram
instagram
instagram
instagram
instagram
instagram
instagram
instagram
instagram
instagram
instagram
instagram
instagram
instagram
instagram
instagram
instagram
instagram
instagram
instagram
instagram
instagram
instagram
instagram
instagram
instagram
instagram
instagram
instagram
instagram
instagram
instagram
instagram
instagram
instagram
instagram
instagram
instagram
instagram
instagram
instagram
instagram
instagram
instagram
instagram
instagram
instagram
instagram
instagram
instagram
instagram
instagram
instagram
instagram
instagram
instagram
instagram
instagram
instagram
instagram
instagram
instagram
instagram
instagram
instagram
instagram
instagram
instagram
instagram
instagram
instagram
instagram
instagram
instagram
instagram
instagram
instagram
instagram
instagram
instagram
instagram
instagram
instagram
instagram
instagram
instagram
instagram
instagram
instagram
instagram
instagram
instagram
instagram
instagram
instagram
instagram
instagram
instagram
instagram
instagram
instagram
instagram
instagram
instagram
instagram
instagram
instagram
instagram
instagram
instagram
instagram
instagram
instagram
instagram
instagram
instagram
instagram
instagram
instagram
instagram
instagram
instagram
instagram
instagram
instagram
instagram
instagram
instagram
instagram
instagram
instagram
instagram
instagram
instagram
instagram
instagram
instagram
instagram
instagram
instagram
instagram
instagram
instagram
instagram
instagram
instagram
instagram
instagram
instagram
instagram
instagram
instagram
instagram
instagram
instagram
instagram
instagram
instagram
instagram
instagram
instagram
instagram
instagram
instagram
instagram
instagram
instagram
instagram
instagram
instagram
instagram
instagram
instagram
instagram
instagram
instagram
instagram
instagram
instagram
instagram
instagram
instagram
instagram
instagram
instagram
instagram
instagram
instagram
instagram
instagram
instagram
instagram
instagram
instagram
instagram
instagram
instagram
instagram
instagram
instagram
instagram
instagram
instagram
instagram
instagram
instagram
instagram
instagram
instagram
instagram
instagram
instagram
instagram
instagram
instagram
instagram
instagram
instagram
instagram
instagram
instagram
instagram
instagram
instagram
instagram
instagram
instagram
instagram
instagram
instagram
instagram
instagram
instagram
instagram
instagram
instagram
instagram
instagram
instagram
instagram
instagram
instagram
instagram
instagram
instagram
instagram
instagram
instagram
instagram
instagram
instagram
instagram
instagram
instagram
instagram
instagram
instagram
instagram
instagram
instagram
instagram
instagram
instagram
instagram
instagram
instagram
instagram
instagram
instagram
instagram
instagram
instagram
instagram
instagram
instagram
instagram
instagram
instagram
instagram
instagram
instagram
instagram
instagram
instagram
instagram
instagram
instagram
instagram
instagram
instagram
instagram
instagram
instagram
instagram
instagram
instagram
instagram
instagram
instagram
instagram
instagram
instagram
instagram
instagram
instagram
instagram
instagram
instagram
instagram
instagram
instagram
instagram
instagram
instagram
instagram
instagram
instagram
instagram
instagram
instagram
instagram
instagram
instagram
instagram
instagram
instagram
instagram
instagram
instagram
instagram
instagram
instagram
instagram
instagram
instagram
instagram
instagram
instagram
instagram
instagram
instagram
instagram
instagram
instagram
instagram
instagram
instagram
instagram
instagram
instagram
instagram
instagram
instagram
instagram
instagram
instagram
instagram
instagram
instagram
instagram
instagram
instagram
instagram
instagram
instagram
instagram
instagram
instagram
instagram
instagram
instagram
instagram
instagram
instagram
instagram
instagram
instagram
instagram
instagram
instagram
instagram
instagram
instagram
instagram
instagram
instagram
instagram
instagram
instagram
instagram
instagram
instagram
instagram
instagram
instagram
instagram
instagram
instagram
instagram
instagram
instagram
instagram
instagram
instagram
instagram
instagram
instagram
instagram
instagram
instagram
instagram
instagram
instagram
instagram
instagram
instagram
instagram
instagram
instagram
instagram
instagram
instagram
instagram
instagram
instagram
instagram
instagram
instagram
instagram
instagram
instagram
instagram
instagram
instagram
instagram
instagram
instagram
instagram
instagram
instagram
instagram
instagram
instagram
instagram
instagram
instagram
instagram
instagram
instagram
instagram
instagram
instagram
instagram
instagram
instagram
instagram
instagram
instagram
instagram
instagram
instagram
instagram
instagram
instagram
instagram
instagram
instagram
instagram
instagram
instagram
instagram
instagram
instagram
instagram
instagram
instagram
instagram
instagram
instagram
instagram
instagram
instagram
instagram
instagram
instagram
instagram
instagram
instagram
instagram
instagram
instagram
instagram
instagram
instagram
instagram
instagram
instagram
instagram
instagram
instagram
instagram
instagram
instagram
instagram
instagram
instagram
instagram
instagram
instagram
instagram
instagram
instagram
instagram
instagram
instagram
instagram
instagram
instagram
instagram
instagram
instagram
instagram
instagram
instagram
instagram
instagram
instagram
instagram
instagram
instagram
instagram
instagram
instagram
instagram
instagram
instagram
instagram
instagram
instagram
instagram
instagram
instagram
instagram
instagram
instagram
instagram
instagram
instagram
instagram
instagram
instagram
instagram
instagram
instagram
instagram
instagram
instagram
instagram
instagram
instagram
instagram
instagram
instagram
instagram
instagram
instagram
instagram
instagram
instagram
instagram
instagram
instagram
instagram
instagram
instagram
instagram
instagram
instagram
instagram
instagram
instagram
instagram
instagram
instagram
instagram
instagram
instagram
instagram
instagram
instagram
instagram
instagram
instagram
instagram
instagram
instagram
instagram
instagram
instagram
instagram
instagram
instagram
instagram
instagram
instagram
instagram
instagram
instagram
instagram
instagram
instagram
instagram
instagram
instagram
instagram
instagram
instagram
instagram
instagram
instagram
instagram
instagram
instagram
instagram
instagram
instagram
instagram
instagram
instagram
instagram
instagram
instagram
instagram
instagram
instagram
instagram
instagram
instagram
instagram
instagram
instagram
instagram
instagram
instagram
instagram
instagram
instagram
instagram
instagram
instagram
instagram
instagram
instagram
instagram
instagram
instagram
instagram
instagram
instagram
instagram
instagram
instagram
instagram
instagram
instagram
instagram
instagram
instagram
instagram
instagram
instagram
instagram
instagram
instagram
instagram
instagram
instagram
instagram
instagram
instagram
instagram
instagram
instagram
instagram
instagram
instagram
instagram
instagram
instagram
instagram
instagram
instagram
instagram
instagram
instagram
instagram
instagram
instagram
instagram
instagram
instagram
instagram
instagram
instagram
instagram
instagram
instagram
instagram
instagram
instagram
instagram
instagram
instagram
instagram
instagram
instagram
instagram
instagram
instagram
instagram
instagram
instagram
instagram
instagram
instagram
instagram
instagram
instagram
instagram
instagram
instagram
instagram
instagram
instagram
instagram
instagram
instagram
instagram
instagram
instagram
instagram
instagram
instagram
instagram
instagram
instagram
instagram
instagram
instagram
instagram
instagram
instagram
instagram
instagram
instagram
instagram
instagram
instagram
instagram
instagram
instagram
instagram
instagram
instagram
instagram
instagram
instagram
instagram
instagram
instagram
instagram
instagram
instagram
instagram
instagram
instagram
instagram
instagram
instagram
instagram
instagram
instagram
instagram
instagram
instagram
instagram
instagram
instagram
instagram
instagram
instagram
instagram
instagram
instagram
instagram
instagram
instagram
instagram
instagram
instagram
instagram
instagram
instagram
instagram
instagram
instagram
instagram
instagram
instagram
instagram
instagram
instagram
instagram
instagram
instagram
instagram
instagram
instagram
instagram
instagram
instagram
instagram
instagram
instagram
instagram
instagram
instagram
instagram
instagram
instagram
instagram
instagram
instagram
instagram
instagram
instagram
instagram
instagram
instagram
instagram
instagram
instagram
instagram
instagram
instagram
instagram
instagram
instagram
instagram
instagram
instagram
instagram
instagram
instagram
instagram
instagram
instagram
instagram
instagram
instagram
instagram
instagram
instagram
instagram
instagram
instagram
instagram
instagram
instagram
instagram
instagram
instagram
instagram
instagram
instagram
instagram
instagram
instagram
instagram
instagram
instagram
instagram
instagram
instagram
instagram
instagram
instagram
instagram
instagram
instagram
instagram
instagram
instagram
instagram
instagram
instagram
instagram
instagram
instagram
instagram
instagram
instagram
instagram
instagram
instagram
instagram
instagram
instagram
instagram
instagram
instagram
instagram
instagram
instagram
instagram
instagram
instagram
instagram
instagram
instagram
instagram
instagram
instagram
instagram
instagram
instagram
instagram
instagram
instagram
instagram
instagram
instagram
instagram
instagram
instagram
instagram
instagram
instagram
instagram
instagram
instagram
instagram
instagram
instagram
instagram
instagram
instagram
instagram
instagram
instagram
instagram
instagram
instagram
instagram
instagram
instagram
instagram
instagram
instagram
instagram
instagram
instagram
instagram
instagram
instagram
instagram
instagram
instagram
instagram
instagram
instagram
instagram
instagram
instagram
instagram
instagram
instagram
instagram
instagram
instagram
instagram
instagram
instagram
instagram
instagram
instagram
instagram
instagram
instagram
instagram
instagram
instagram
instagram
instagram
instagram
instagram
instagram
instagram
instagram
instagram
instagram
instagram
instagram
instagram
instagram
instagram
instagram
instagram
instagram
instagram
instagram
instagram
instagram
instagram
instagram
instagram
instagram
instagram
instagram
instagram
instagram
instagram
instagram
instagram
instagram
instagram
instagram
instagram
instagram
instagram
instagram
instagram
instagram
instagram
instagram
instagram
instagram
instagram
instagram
instagram
instagram
instagram
instagram
instagram
instagram
instagram
instagram
instagram
instagram
instagram
instagram
instagram
instagram
instagram
instagram
instagram
instagram
instagram
instagram
instagram
instagram
instagram
instagram
instagram
instagram
instagram
instagram
instagram
instagram
instagram
instagram
instagram
instagram
instagram
instagram
instagram
instagram
instagram
instagram
instagram
instagram
instagram
instagram
instagram
instagram
instagram
instagram
instagram
instagram
instagram
instagram
instagram
instagram
instagram
instagram
instagram
instagram
instagram
instagram
instagram
instagram
instagram
instagram
instagram
instagram
instagram
instagram
instagram
instagram
instagram
instagram
instagram
instagram
instagram
instagram
instagram
instagram
instagram
instagram
instagram
instagram
instagram
instagram
instagram
instagram
instagram
instagram
instagram
instagram
instagram
instagram
instagram
instagram
instagram
instagram
instagram
instagram
instagram
instagram
instagram
instagram
instagram
instagram
instagram
instagram
instagram
instagram
instagram
instagram
instagram
instagram
instagram
instagram
instagram
instagram
instagram
instagram
instagram
instagram
instagram
instagram
instagram
instagram
instagram
instagram
instagram
instagram
instagram
instagram
instagram
instagram
instagram
instagram
instagram
instagram
instagram
instagram
instagram
instagram
instagram
instagram
instagram
instagram
instagram
instagram
instagram
instagram
instagram
instagram
instagram
instagram
instagram
instagram
instagram
instagram
instagram
instagram
instagram
instagram
instagram
instagram
instagram
instagram
instagram
instagram
instagram
instagram
instagram
instagram
instagram
instagram
instagram
instagram
instagram
instagram
instagram
instagram
instagram
instagram
instagram
instagram
instagram
instagram
instagram
instagram
instagram
instagram
instagram
instagram
instagram
instagram
instagram
instagram
instagram
instagram
instagram
instagram
instagram
instagram
instagram
instagram
instagram
instagram
instagram
instagram
instagram
instagram
instagram
instagram
instagram
instagram
instagram
instagram
instagram
instagram
instagram
instagram
instagram
instagram
instagram
instagram
instagram
instagram
instagram
instagram
instagram
instagram
instagram
instagram
instagram
instagram
instagram
instagram
instagram
instagram
instagram
instagram
instagram
instagram
instagram
instagram
instagram
instagram
instagram
instagram
instagram
instagram
instagram
instagram
instagram
instagram
instagram
instagram
instagram
instagram
instagram
instagram
instagram
instagram
instagram
instagram
instagram
instagram
instagram
instagram
instagram
instagram
instagram
instagram
instagram
instagram
instagram
instagram
instagram
instagram
instagram
instagram
instagram
instagram
instagram
instagram
instagram
instagram
instagram
instagram
instagram
instagram
instagram
instagram
instagram
instagram
instagram
instagram
instagram
instagram
instagram
instagram
instagram
instagram
instagram
instagram
instagram
instagram
instagram
instagram
instagram
instagram
instagram
instagram
instagram
instagram
instagram
instagram
instagram
instagram
instagram
instagram
instagram
instagram
instagram
instagram
instagram
instagram
instagram
instagram
instagram
instagram
instagram
instagram
instagram
instagram
instagram
instagram
instagram
instagram
instagram
instagram
instagram
instagram
instagram
instagram
instagram
instagram
instagram
instagram
instagram
instagram
instagram
instagram
instagram
instagram
instagram
instagram
instagram
instagram
instagram
instagram
instagram
instagram
instagram
instagram
instagram
instagram
instagram
instagram
instagram
instagram
instagram
instagram
instagram
instagram
instagram
instagram
instagram
instagram
instagram
instagram
instagram
instagram
instagram
instagram
instagram
instagram
instagram
instagram
instagram
instagram
instagram
instagram
instagram
instagram
instagram
instagram
instagram
instagram
instagram
instagram
instagram
instagram
instagram
instagram
instagram
instagram
instagram
instagram
instagram
instagram
instagram
instagram
instagram
instagram
instagram
instagram
instagram
instagram
instagram
instagram
instagram
instagram
instagram
instagram
instagram
instagram
instagram
instagram
instagram
instagram
instagram
instagram
instagram
instagram
instagram
instagram
instagram
instagram
instagram
instagram
instagram
instagram
instagram
instagram
instagram
instagram
instagram
instagram
instagram
instagram
instagram
instagram
instagram
instagram
instagram
instagram
instagram
instagram
instagram
instagram
instagram
instagram
instagram
instagram
instagram
instagram
instagram
instagram
instagram
instagram
instagram
instagram
instagram
instagram
instagram
instagram
instagram
instagram
instagram
instagram
instagram
instagram
instagram
instagram
instagram
instagram
instagram
instagram
instagram
instagram
instagram
instagram
instagram
instagram
instagram
instagram
instagram
instagram
instagram
instagram
instagram
instagram
instagram
instagram
instagram
instagram
instagram
instagram
instagram
instagram
instagram
instagram
instagram
instagram
instagram
instagram
instagram
instagram
instagram
instagram
instagram
instagram
instagram
instagram
instagram
instagram
instagram
instagram
instagram
instagram
instagram
instagram
instagram
instagram
instagram
instagram
instagram
instagram
instagram
instagram
instagram
instagram
instagram
instagram
instagram
instagram
instagram
instagram
instagram
instagram
instagram
instagram
instagram
instagram
instagram
instagram
instagram
instagram
instagram
instagram
instagram
instagram
instagram
instagram
instagram
instagram
instagram
instagram
instagram
instagram
instagram
instagram
instagram
instagram
instagram
instagram
instagram
instagram
instagram
instagram
instagram
instagram
instagram
instagram
instagram
instagram
instagram
instagram
instagram
instagram
instagram
instagram
instagram
instagram
instagram
instagram
instagram
instagram
instagram
instagram
instagram
instagram
instagram
instagram
instagram
instagram
instagram
instagram
instagram
instagram
instagram
instagram
instagram
instagram
instagram
instagram
instagram
instagram
instagram
instagram
instagram
instagram
instagram
instagram
instagram
instagram
instagram
instagram
instagram
instagram
instagram
instagram
instagram
instagram
instagram
instagram
instagram
instagram
instagram
instagram
instagram
instagram
instagram
instagram
instagram
instagram
instagram
instagram
instagram
instagram
instagram
instagram
instagram
instagram
instagram
instagram
instagram
instagram
instagram
instagram
instagram
instagram
instagram
instagram
instagram
instagram
instagram
instagram
instagram
instagram
instagram
instagram
instagram
instagram
instagram
instagram
instagram
instagram
instagram
instagram
instagram
instagram
instagram
instagram
instagram
instagram
instagram
instagram
instagram
instagram
instagram
instagram
instagram
instagram
instagram
instagram
instagram
instagram
instagram
instagram
instagram
instagram
instagram
instagram
instagram
instagram
instagram
instagram
instagram
instagram
instagram
instagram
instagram
instagram
instagram
instagram
instagram
instagram
instagram
instagram
instagram
instagram
instagram
instagram
instagram
instagram
instagram
instagram
instagram
instagram
instagram
instagram
instagram
instagram
instagram
instagram
instagram
instagram
instagram
instagram
instagram
instagram
instagram
instagram
instagram
instagram
instagram
instagram
instagram
instagram
instagram
instagram
instagram
instagram
instagram
instagram
instagram
instagram
instagram
instagram
instagram
instagram
instagram
instagram
instagram
instagram
instagram
instagram
instagram
instagram
instagram
instagram
instagram
instagram
instagram
instagram
instagram
instagram
instagram
instagram
instagram
instagram
instagram
instagram
instagram
instagram
instagram
instagram
instagram
instagram
instagram
instagram
instagram
instagram
instagram
instagram
instagram
instagram
instagram
instagram
instagram
instagram
instagram
instagram
instagram
instagram
instagram
instagram
instagram
instagram
instagram
instagram
instagram
instagram
instagram
instagram
instagram
instagram
instagram
instagram
instagram
instagram
instagram
instagram
instagram
instagram
instagram
instagram
instagram
instagram
instagram
instagram
instagram
instagram
instagram
instagram
instagram
instagram
instagram
instagram
instagram