Kenya Airways welcomes Angela Okutoyi like a queen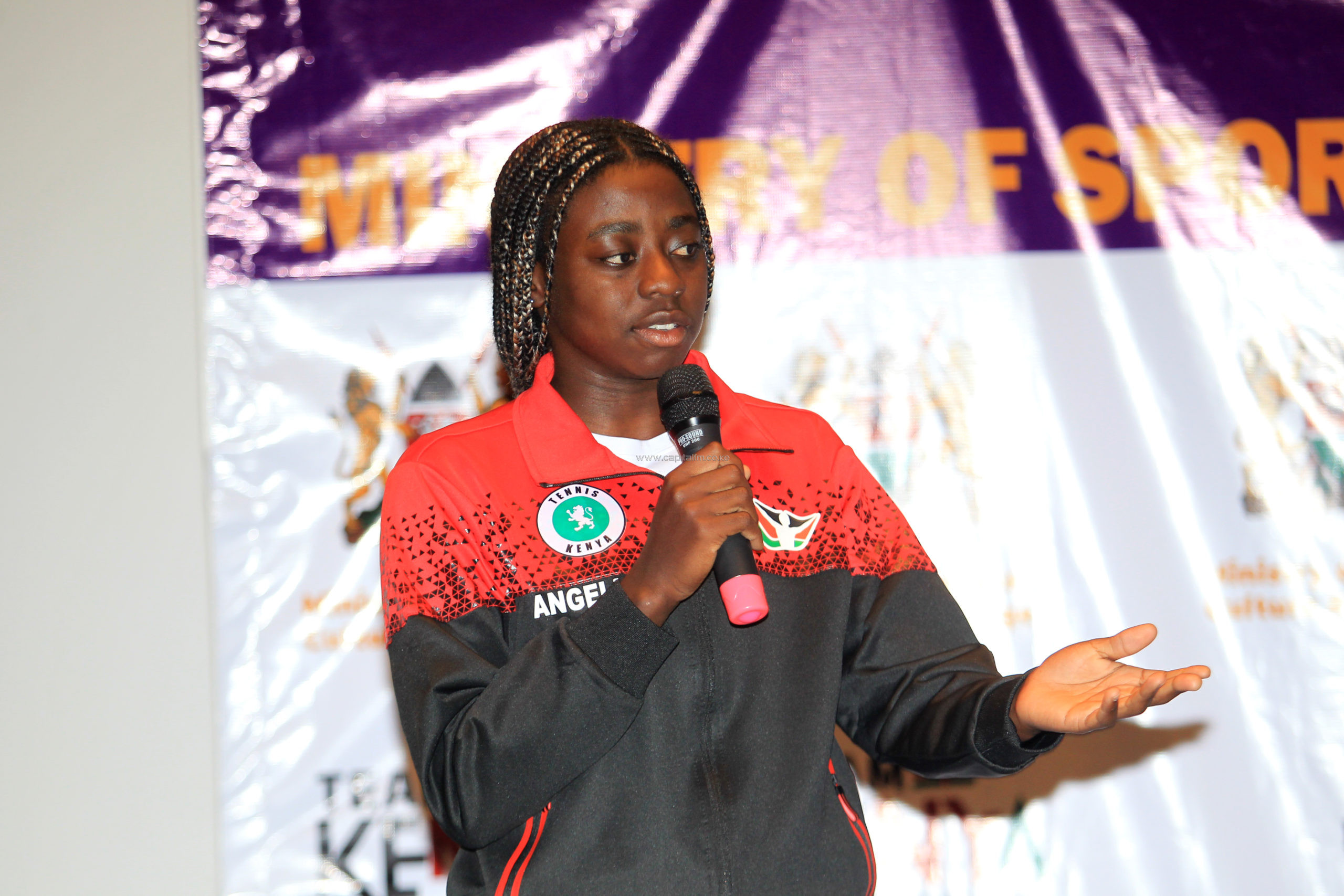 Angela Okutoyi posted victory at Wimbledon 2022
Okutoyi,18, created history by being the first Kenyan girl to win an Australian Open juniors match
Okutoyi has been playing tennis competitively since age 10
After Angela Okutoyi posted victory at Wimbledon 2022, Kenya Airways (KQ) presented her with a special gift as a way to show their appreciation.
Okutoyi,18, created history by being the first Kenyan girl to win an Australian Open juniors match. She flew back to her home country of Kenya on Monday in the business class cabin of KQ's aircraft.
This came about as a result of Tennis Kenya submitting a request to the airline requesting that she be upgraded to business class. During the journey, the flight attendant got the attention of the other passengers to share their congratulations with Okutoyi for bringing honor to Kenya.
After touching down, the plane was transformed into a flying celebration for the winner of Wimbledon, complete with cupcakes and champagne bottles.
KENYA AIRWAYS CELEBRATES ANGELA OKUTOYI
"Karibu nyumbani @Okutoyiangella2. Ladies and gentlemen, allow me to introduce to you Kenya's very own tennis queen!" KQ explained it in a tweet.
Cabinet Secretary Amina Mohamed was among the senior authorities from the Ministry of Sports who extended a cordial greeting and greetings of congratulations to the tennis queen.
The comeback of Okutoyi comes on the heels of an outstanding performance at Wimbledon, which she shared with her Dutch partner Rose Marie Nijkamp.
The victory at the Australian open was secured by the duo when they defeated Canadian Kayla Cross and Victoria Mboko by a score of two sets to one.
In London, Okutoyi and Nijkamp prevailed against the Canadian pair of Kayla Cross and Victoria Mboko. Okutoyi beat the duo by a score of two sets to one to claim the triumph that went down in the annals of tennis history.
The two players had a rough start to the match, as the Canadian girls won the first set 6-3 after a total of 27 minutes of play. However, Okutoyi and Nijkamp came back, and they won the second set with a score of 6-4 to force a tie-breaker. This triumph took 32 minutes to complete.
They were not easily knocked off the lead and won the tie-breaker 11-9. This not only allowed them to win the match and the title, but also allowed them to walk gloriously down the path of history.
"I am really excited. This is more than a dream come true. It has been a tough competition but coming all the way to win is something massive for me and Marie. We are really excited and words can't even explain," she remarked post match.
She dedicated the award to all Kenyans who showered her with a lot of support throughout her tennis career.
"I want to dedicate this victory to all Kenyans and to everyone who has supported me. It is a victory to show that you can achieve anything if you believe. We have also shown that we have so much talent in Africa."
WHEN DID ANGELA OKUTOYI START PLAYING TENNIS?
Okutoyi has been playing tennis competitively since age 10 when she played at the East Africa Zonal Championships. She is a rising star in tennis, having won titles in the International Tennis Federation (ITF) competitions in Kenya and Africa at a young age.
In 2018, she became the youngest winner of the Kenya Open when she beat Shufaa Changawa 6-1, 7-6 at the Nairobi Club to do so.
Her first major title came in the same year when she won the Africa Junior Championship on Clay Court (AJCCC) under 14 singles in Algeria.
She then went on to win singles and doubles titles at the ITF East African Under 18 Junior Circuit, ITF Nairobi Junior Open, and Eastern Africa Zonal Championships under 16 the following year.
ANGELA OKUTOYI STELLAR 2021 SEASON
Okutoyi's best year came last year when she was awarded the Africa Junior Champion title for the first time in his career.
Okutoyi, seeded second in Africa after defeating top seed Aya El Aouni (126) of Morocco 6-3, 6-3 in the finals held in Sousse, Tunisia, in November of last year to claim the title and become the continent's first female winner.
Also in April, Okutoyi competed in the J5 Sfax and J3 Megrine tournaments in Tunisia. Two J3 Cairo tournaments and one J2 Cairo tournament in Egypt in August.
The J2 Cairo tournament was held in September. Later on, she played at the J3 in Stellenbosch and the JA Cape Town tournaments in South Africa in October.
All these tournaments held in 2021 sharpened her on-court skill. She played in the Australian Open 2022 after her victory in the African junior championship.