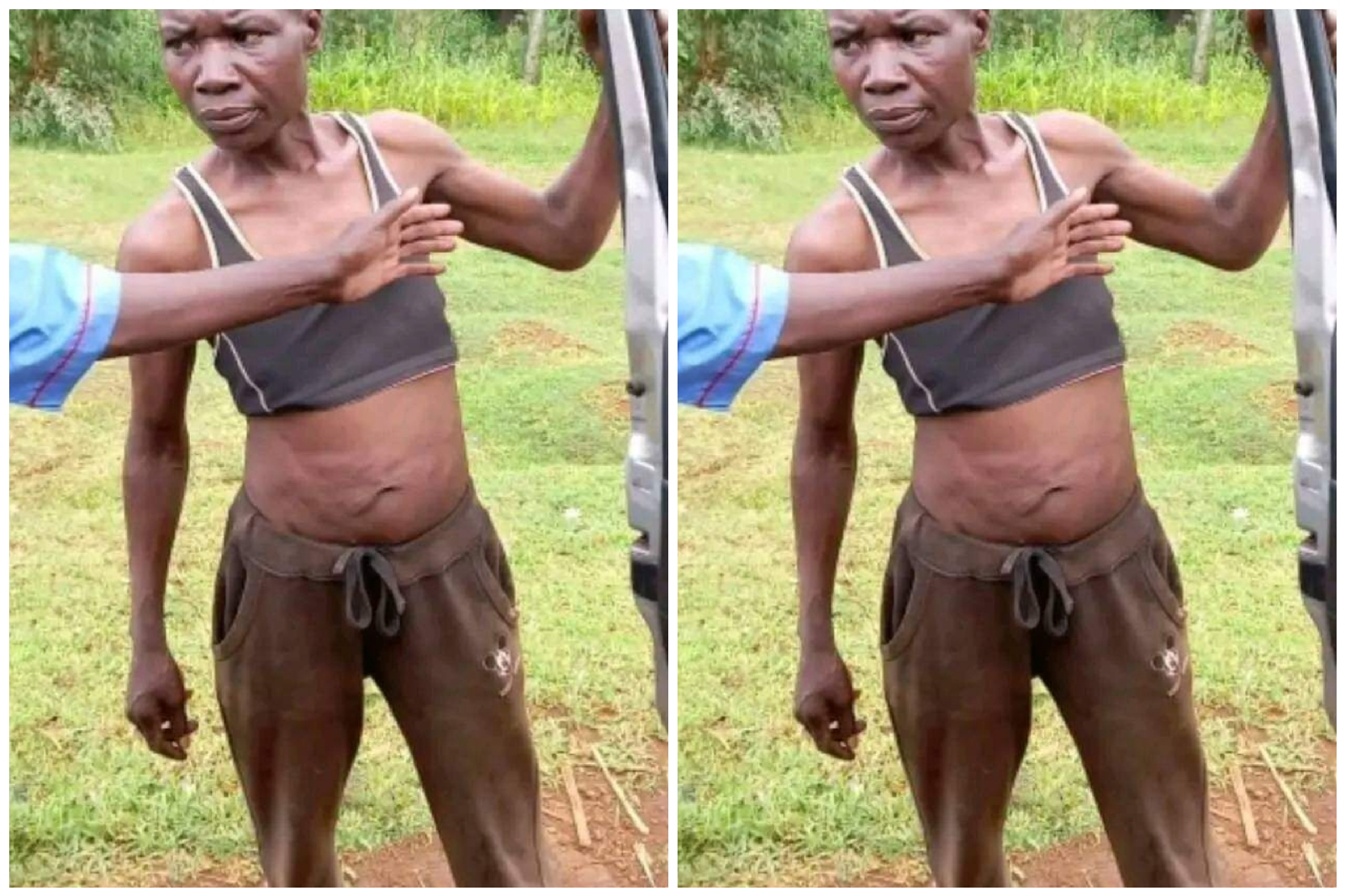 Conjestina was once a towering figure in Kenya's boxing industry but she is a pale shadow of her former self
She looks frail and sickly according to viral photos trending online
She is worse than before when the media first reported about her plight
She was once a towering figure in Kenya's boxing industry but today, the legendary Conjestina Achieng is a pale shadow of her former self.
It was shell-shocking seeing her frail images trend online many wondered what happened to the boxing champion. Nothing speaks of her former glory and athletic nature.
She is weak, unkempt and mentally disturbed. She is worse than before when the media first reported about her plight. Luckily, then ex-Nairobi Governor Mike Sonko came to her rescue and had her admitted to the hospital and treated.
Her frail look and hopeless demeanour in the photos sparked a debate online that she could be 'bewitched'. That's far-fetched though, but what is ailing Conjestina?
WHAT IS CONJESTINA SUFFERING FROM?
Conjestina, the woman who was once the undisputed champion of the world in female boxing suffers from schizophrenia. It's a brain condition that distorts a person's thinking, acting, and emotional expression, as well as their relationships with others and perceptions of reality.
The disorder pushed her into leading a life of a simple villager life for the last decade striving to make ends meet. Her paranoia about people and life made her lose contact with reality.
Following a departure from the ordinary in her behaviour in January 2011, her father appealed to Kenyans to help her get medical help. Then, he said that Conjestina forced her son out of school. She then set fire to all of her boxing equipment and all of her gym equipment.
Before her illness, the 17-time boxing champion opened a gym but shut it down when her health crisis soared. In September 2012, a report on Citizen TV ran her story showing her appalling life so much that she had $23 rent arrears for four months.
Yet, an upbeat conjestina never forgot to display all her championship belts even at this time when a paltry $23 monthly rent was an issue. Her younger sister took care of her then.
The story touched Ida Odinga – wife to former Prime Minister Raila Odinga – who drove her to hospital.  She was admitted to Mathari Hospital, Kenya's referral hospital for psychiatric care and spent a few weeks receiving treatment.
Because of a successful campaign on social media, comedian Churchill offered to pay her rent for $180 covering several months.
WHERE IS CONJESTINA ACHIENG?
The former boxer is living a life of squalor in her home village of Yala in Siaya County. Her life is a sharp contrast to the famous Conjestina who bagged $250 for each bout she took.
A decade ago, this was a tidy sum, though not enough to give her a celebrity lifestyle as much as she was a female boxing legend in Kenya. The 44-year-old rented a modest one-room apartment in Nairobi's destitute Lucky Summer estate.
She paid for it with the money she earned from boxing. Her greatest issue was maintaining a healthy diet while also finding the money to pay for her training. Conjestina had a hard time putting food on the table and meeting her fundamental requirements, especially in a growing economy that pushed many people into poverty.
Many Kenyans back in the day survived on a dollar or less. It wasn't easy to win prize money in boxing since the government provides inadequate funding for training facilities and equipment, and reputable boxing promoters are difficult to find.
In an interview with Women Boxing Archive Network, she stated that she earns a living the hard way. She remarked that she was unable to purchase the appropriate nutrition, and there were times when bus fare to get to her workouts was a problem.
She decried the sad state of Kenya's boxing industry saying her heart broke every time she saw other boxers abroad compete. They are wealthy, and the lifestyle that they lead is enviable compared to how she lived.
Conjestina opened up that she would only get $250 for a match if she won yet she had a young son to look after. She had her immediate family to take care of too.
Her son Charlton Otieno, a budding boxer is now taking care of his ailing mother. Otieno told Plug TV that he got a promising offer to box abroad but couldn't leave Kenya due to his mother's condition.