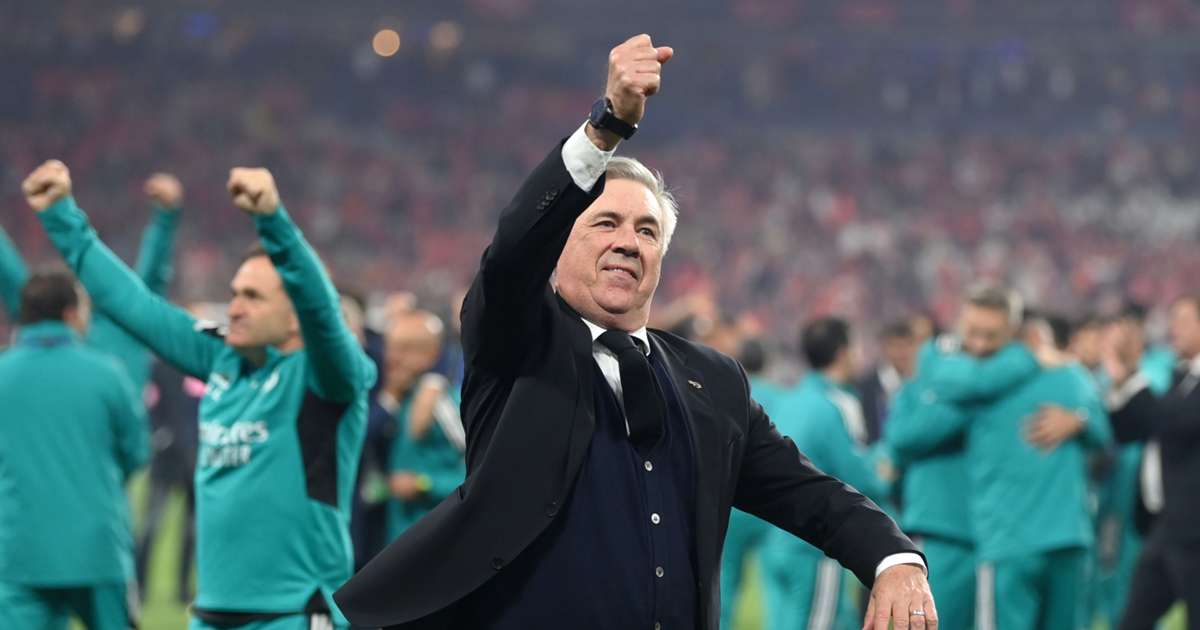 Real Madrid made more history winning the UEFA Champions League for a record 14th time defeating Liverpool 1-0 in the final
The European title was a record Real Madrid's fifth title in the last decade and two of those have come at the expense of Liverpool in the final
Vinicius Jr scored the winning goal in Paris with Thibaut Courtois making remarkable saves to deny Liverpool any chance
And finally, at the end of a thrilling 63-game season, mentality beasts Liverpool met their match against the miracle men of Real Madrid.
For the best part of an hour in Paris, Carlo Ancelotti's side looked off the pace and was seemingly in need of some inspiration. Yet Madrid did what Madrid do.
Just ask Paris Saint-Germain, Chelsea and Manchester City exactly how that feels.
Unlike in the previous three rounds, no comeback was required on Saturday thanks to Vinicius Junior's 59th-minute strike and a string of incredible Thibaut Courtois saves.
The pair, who along with Karim Benzema have been key in Los Blancos' run to the final, will now forever be synonymous with their side's 14th continental triumph.
That is double the number of European Cups or Champions Leagues won by the next most successful side, with Milan on seven and Liverpool just behind, still stuck on six.
Back in the city of the first of their triumphs, you can be sure that this will not be the last for the true kings of Europe.
Not for the first time this season, Ancelotti's men were slow getting out of the blocks, perhaps not helped by a delay to kick-off of more than 30 minutes.
That was down to crowd congestion, as UEFA put it, with one half of the ground swathed in white 45 minutes before the scheduled start time and the Liverpool end a patchy red.
Those Liverpool fans who didn't make it into the ground on time would have missed a dominant first-half display from their side.
The Reds had more shots on target in the first 22 minutes than they did in the entirety of 2019 final, which ended in victory against Tottenham.
Madrid had not even registered a shot or a touch in the Liverpool box by that point, and the Premier League side's dominance only grew as the warmth in the Paris air turned to a slight chill.
By half-time, Jurgen Klopp's side had aimed as many shots on target as in their previous two finals combined, including the defeat to Madrid four years ago in Kyiv.
Crucially, though, Courtois had kept out each of them, including a fine stop from Sadio Mane, helping his shot onto the post.
That was the seventh time Liverpool had hit the woodwork in the Champions League this season – the most of any side – yet the first signs of the tide turning arrived just before the break.
Benzema kept quiet for large parts, and fired the ball in after a mix-up between Alisson and Ibrahima Konate, only for the officials to deem the France striker to be offside.
It was a hugely contentious call, one that took three minutes for VAR to review, although it will now represent a mere footnote when looking back at this game in years to come.
Vinicius – and Courtois – ultimately proved the difference, despite Liverpool throwing all they had at their opponents. The Belgium international made the most Champions League final saves (nine) of any goalkeeper on record (since 2003-04).
And so, for the eighth final running, the side that scored first went on to win, a run stretching back to Madrid's comeback victory against Atletico Madrid in 2014.
Digging deep is nothing new for Madrid, then, and again in Paris – albeit perhaps not quite to the same extent as witnessed in previous rounds – their grit and character was on show.
A side who had trailed for 178 minutes in the semi-final, and 243 minutes in total in this campaign (21 per cent of their minutes played), came through this most difficult of runs.
Let it not be forgotten that the LaLiga winners saw off the champions of France, the champions of England and the erstwhile champions of Europe en-route even before facing Liverpool and toppling them, too.
It will be particularly special for Ancelotti, who becomes an outright record four-time winner of the Champions League, but this success was about a team who refused to be beaten and again had the ability to grind out a victory just when required.
Never has a Champions League triumph been so hard-fought and yet so deserved.