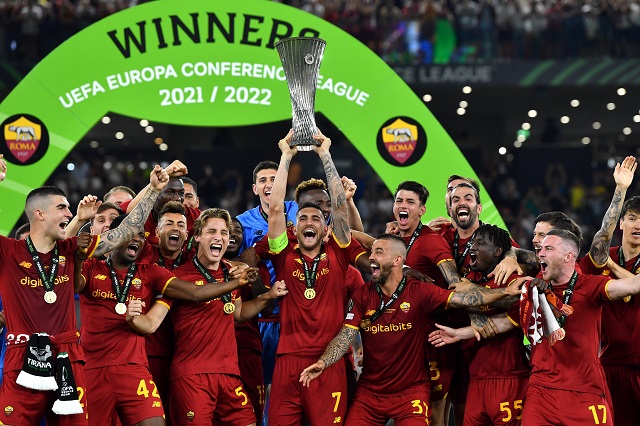 Roma defeated Feyenoord to win the inaugural Europa Conference League, and It is the club's first European title since the 1961 Fairs Cup

Nicolo Zaniolo scored the game's only goal, cleverly clipping over the keeper

Former Manchester United defender Chris Smalling was outstanding in defence for the Italians

Jose Mourinho is the first-ever manager to have won all three UEFA European Cups
LatelyJose Mourinho seems to be sick of hearing about the Special One. But what better way to define a manager who has won the inaugural '?
That's how Roma's players felt about the Europa League one year ago. By Wednesday night, however, none of their supporters in Tirana saw this as a minor, if not minor, competition. Not with European glory eluding them since the Fairs Cup in 1961.
That dry spell has ended thanks to Nicolo Zaniolo's goal against Feyenoord. Mourinho is the first manager in UEFA history to have won all three of the organization's European competitions. His record in major continental finals is also unbroken.
Five games, five wins. Chris Smalling deserves credit for this. The Roma center back was incredible as the team withstood a second-half flurry in Albania.
Tammy Abraham had a calmer evening, but his outstanding debut season concludes with another European medal to add to the prestigious Champions League title he won while at Etihad C last year.
Roma had to do it without Henrikh Mkhitaryan for much of the night.
Since April, the midfielder had been out with a hamstring injury and had to leave after 15 minutes.
This wasn't the night to ease back into things. Feyenoord took control during a frantic, quick opening, and Roma took some time to adjust. What was missing? There's a chance at either end.
 Cyriel Dessers and Abraham were contending for the competition's golden boot, but neither had a chance at the start.
No one could do it until Zaniolo slipped past Gernot Trauner, cushioned Gianluca Mancini's diagonal pass, and flaked the ball over Justin Bijlow.
It was masterfully taken, and it's no surprise that the entire Roma bench emptied onto the field.
For once, Mourinho tried to keep the celebrations in check. And not without reason.
What was the closest they got because Feyenoord had Roma pinned back by halftime? Rui Patricio splashed Orkun Kokcu's swerving shot from a distance.
On the other hand, Feyenoord had hit the woodwork twice within four minutes of the rebooting. Mancini began by turning a low cross into his own post.
Then Rui Patricio deflected Tyrell Malacia's screeching shot onto the goal frame. Roma was precariously balanced.
Nonetheless, Abraham was through on goal in a matter of seconds. Marcos Senesi appeared to pull him back – it appeared to be a clear red to everyone except for the VAR and the referee. 
Fortunately for Roma, it didn't matter much as the final whistle blew in Tirana.