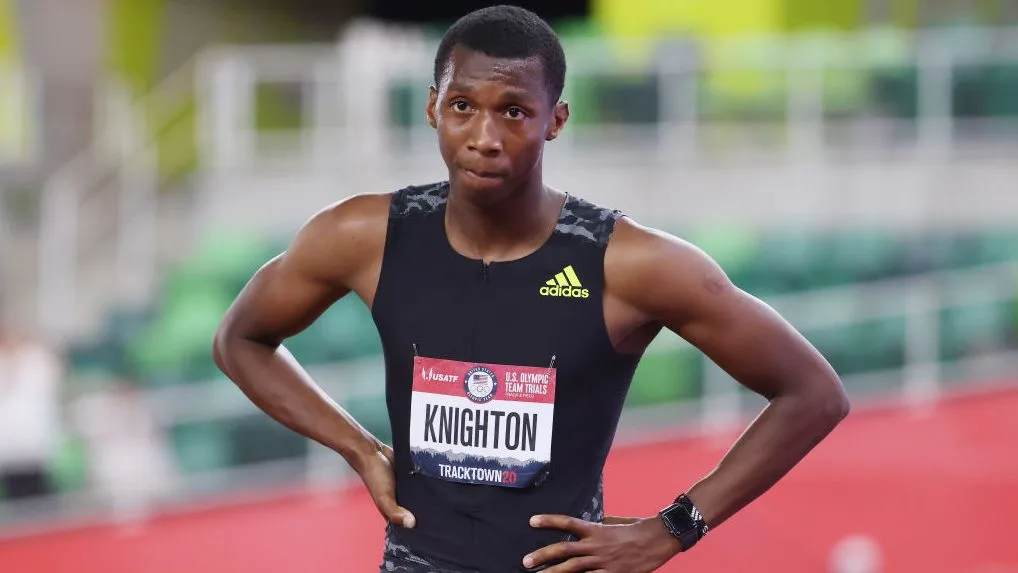 Erriyon Knighton is only 18 years old, but his name is already mentioned in the same sentence as sprint legend Usain Bolt

He broke eight-time gold medalist Usain Bolt's world Under-20 record, which had stood unbroken for 18 years

The 18-year old teenager is still in high school and is expected to graduate soon

Knighton was first interested in football as he wanted to pursue NFL even though he had begun running in ninth grade
Erriyon Knighton (born January 29, 2004) is an American sprinter specialising in 100 and 200 meters. 
He currently holds the world under-18 record of 19.84 seconds, set on June 27, 2021, at the 2020 United States Olympic Trials, and the world under-20 record of 19.49 seconds, set on April 30, 2022.
He is also the fourth-fastest athlete in history, over 200 meters at that time.
Knighton has a sub-10 second time in the men's 100m and was the first American teenager to run the 200m in under 20 seconds, which he has repeated several times.
In the longer sprint, he broke eight-time gold medalist Usain Bolt's world Under-20 record, which had stood unbroken for 18 years, and he also broke the world U18 record.
The rising star is a favourite to make her debut at the World Athletics Championships in Eugene, Oregon, in July 2022.
Here are the key facts about one of America's most promising sprinters, who finished fourth in the 200m at the Tokyo 2020 Olympics in 2021.
Knighton was first interested in football
Only two years ago, the 1.91m (6 foot 3 inches) teen, who gets his height from his father, a former basketball player, intended to outrun the cornerbacks lined up against him on the American football field.
The Tampa Hillsborough High School wide receiver appeared eager to undertake his sporting interests in the NFL. Many of the best American colleges with solid football programs were eager to draft the quick teen.
Knighton told the BBC that he began running track in the ninth grade as a freshman.
He had no idea what a 100m was or what a track was before that, but he realized he was separated from the pack and faster than most people by the end of the year.
He is a world record holder
It was a smooth transition from football cleats to spikes.
At the AAU Junior Olympic Games, the then-16-year-old broke the 15-16 age group record in the 200m with 20.33 seconds.
That August 2020 race was also the fastest in the United States and a significant improvement over his personal best of 20.89.
Tyrese Cooper set the previous 15-16 age group record in 2016 with a time of 20.62.
The Florida native, who decided to go pro in January 2021, was only getting started. He ran 9.99 seconds, but his time was illegal with a strong tailwind (+2.7).
Knighton became the third high school sprinter to break the 10-second barrier, following Trayvon Bromell (9.99, +4.0) in 2013 and Matthew Boling (9.98 +4.2) in 2019.
Five months later, he easily defeated a field that included Bromell and Commonwealth Games champion, Zharnel Hughes, breaking Bolt's World U18 record of 20.13 seconds set in 2003.
Knighton finished in 20.11.
That time qualified him for the USATF Olympic Trials, where "he put on the gas because he had a world champion chasing him."
The 17-year-old advanced to the finals of the Olympic Trials, where he set several records.
He won the 200m semi-finals in 19.91 seconds, beating out world gold medalist Noah Lyles, who had trailed him in the heat.
The time broke Bolt's previous world U20 record of 19.93 seconds and the world U18 record he set three weeks earlier.
A day later, Knighton punched his ticket to Tokyo 2020 by finishing third in the 200m in 19.84 seconds behind Lyles and Kenny Bednarek, lowering the world U20 record yet again.
He became the first high school student since 1972 to represent Team USA in the Olympics.
Knighton has his eye on Usain Bolt's senior world record
On April 30, the young American began his 2022 outdoor season with another quick one.
At the LSU Invitational, he ran the fourth-fastest men's 200m ever in 19.49 seconds, setting a new world U20 record. Only Bolt [19.19 seconds], Yohan Blake (19.26 seconds), and Michael Johnson (19.32 seconds) have run faster.
After breaking several junior world records, he is now aiming for another of Bolt's world records, the 19.19 he ran at the 2009 World Championships in Berlin.
"I want the world record. But if it doesn't come, I won't be bothered about it. I've still got ten years left." – Erriyon Knighton to NBC Sports.
Knighton excelled in his first major competition in Tokyo, where he narrowly missed the Olympic podium and became the youngest teen to represent the United States since Jim Ryun in 1964.
He came in fourth place in 19.93 seconds, trailing Olympic champion Canadian Andre De Grasse, silver medalist Kenny Bednarek, and bronze medalist Noah Lyles.
He is still a high schooler
Knighton is still concentrating on his studies at Hillsborough High School in Tampa.
When he signed with Adidas, the sprinter took a break from school, but he is now expected to graduate later this spring.