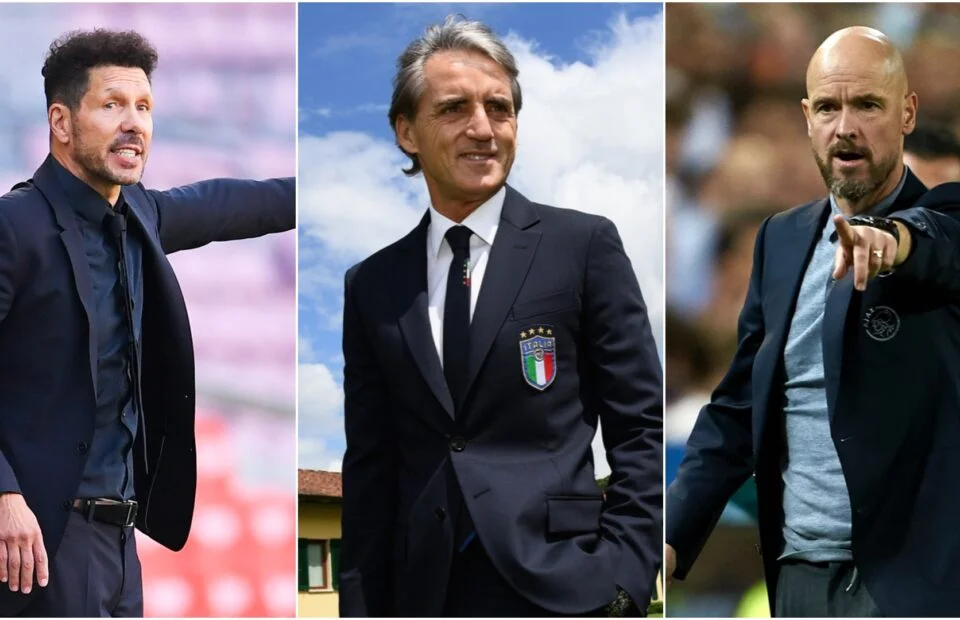 From tracksuit managers to the suited and booted, there's a variety of style and fashion in the dugout and on the touchline these days

Simeone without his black suit and tie just doesn't feel right; in most cases, he never wears anything apart from that

Pep Guardiola has been a stylish figure no matter what club he's been at. From Barcelona to Bayern and now Man City
The days of tracksuit managers barking orders from the sidelines and dismissing any notions of single pivots and underlapping runs are long gone.
It's all about making the game more challenging and eking out the fine margins. That is how you reach the top.
That, and smart dressing. Seriously. A manager who has a good sense of style is more likely to advance in their career. It's just a set of rules. Fashionable football is all over the place, and it all starts on the sidelines.
 Here are ten of football's smartest looking managers.
10. LUIS ENRIQUE
Luis Enrique brings fashion to the international stage, complementing his attractive, patient footballing philosophy with a gentle yet daring fashion sense.
Enrique, who isn't afraid to break away from the monotony of a suit, wears cropped pants with a clean pair of sneakers and an often simple, sometimes expensive t-shirt or sweater.
9. SINISIA MIHAJLOVIC 
Sinisa Mihajlovic not only excels as a manager and a warrior, but he also outperforms almost everyone with whom he shares a touchline.
Mihajlovic, who frequently wears a sophisticated blazer and jumper combo, layers up for the cold with slick scarves, leather gloves, and a flat cap that few would pull off.
On the other hand, his sneaker collection is the icing on the cake. The Bologna manager has an impressive shoe collection, most notably wearing a pair of Off-White Jordan 1 highs against Napoli in 2021.
8. SCOTT PARKER
Scott Parker hasn't quite beaten the 'is he good, or does he dress well?' suggestions in a school similar to the one Arteta appears to have graduated from. He did, however, pass the fashion test with flying colours.
Parker may be the only person on the planet with a better, more unique rotation of coats and jackets.
7. JULIAN NAGELSMANN 
If Tisdale were in Germany, he and Julian Nagelsmann would have a lot of respect for one another.
The Bayern Munich manager has made a name for himself in the game for various reasons, one of which is his nauseatingly intelligent understanding of football tactics for such a young coach. But that's tedious.
The 34-year-old expresses his youth in various ways, refreshing the touchline with everything from cropped pants and t-shirts to three-piece suits fit for a red carpet.
6. PAUL TISDALE
The first British entry, Paul Tisdale, maybe managing in League Two with Stevenage, but his touchline attire is worthy of the Champions League spotlights.
Honestly. Tisdale isn't afraid to express himself in style, and he has almost every accessory available to go with a wide range of formal wear. Flat caps, hats, sunglasses, and leather gloves—bond villain charisma on a grand scale.
5. DIEGO SIMEONE
Have you ever seen Diego Simeone in anything other than an all-black suit and tie? Most likely not. This is his signature style, and it has been for many years.
He's a good-looking man and an even more entertaining manager to watch on big European nights. Simeone without his black suit doesn't feel right.
He manages to make it work. He's got it down, pat, and I believe he has the best signature style of any manager.
4. MIKEL ARTETA
It's all well and good praising Mikel Arteta's Arsenal for being super slick now that they've had time to settle into a style of play, but what exactly bought Arteta that time? A well-thought-out footballing principle instilled by Guardiola, combined with allegiance to the Gunners? No. Fashion is the answer.
Mr Arteta recognizes the formula. He dresses well, appears the part and is now reaping the benefits. The Gunners are on their way back, and they're looking sharp.
3. PEP GUARDIOLA
You can't be the best manager in the world if you don't have a fashion department to back it up. Fortunately for Pep Guardiola, he does precisely that. He is not afraid to deviate from the traditional suit and tie.
 Guardiola wears incredible outfits that include cargo pants, t-shirts, and even high-brow fashion pieces such as Stone Island jumpers when he's feeling fancy. Pep needs to stand out. And he's very good at it. Stylish but strikingly different.
2. ERIK TEN HAG
For as long as we can remember, Manchester United has lacked style and substance in almost every department. Even if Erik ten Hag cannot change that on the field, he will undoubtedly improve their touchline approach.
Smart coats, scarves, suit pants, and shirts – he's a traditionalist, but he's serious about business.
1. ROBERTO MANCINI
For years, the Italian has set the standard. It's a suit and ties with a blazer held effortlessly over the shoulder if it's not well-styled scarves paired with long coats.
Mancini is a true style icon on the field. He keeps his work simple, but he does it well—the ultimate example of fashion.