Uganda will be pitted against any of the top 10 teams in Africa when lots for next year's Africa Cup of Nations finals are drawn today.
African top-ranked nations including champions Senegal, Morocco, Nigeria, Egypt, Tunisia, Cameroon, Ghana and Algeria are in Pot 1. Others are Mali, which hosts Ivory Coast, Burkina Faso and DR Congo.
Sixteen-ranked Uganda is in Pot 2 alongside South Africa, Benin, Kenya, Cape Verde and Gabon among others. Pots 3 and 4 have lower-ranked nations in that order.
Ivory Coasts' Eric Bailey could come up against the Uganda Cranes if the two sides are pitted together in a draw. photo credit/ Goal.com
The 48 countries will be drawn into twelve groups of four teams, from which the best 24 will qualify for the finals in the Ivory Coast.
"Unfortunately we are not in Pot 1, but we are ready to take on anyone drawn against us," Uganda Cranes coach Micho Sredojevic told this publication ahead of the draw.
"We know we can compete against anyone and in draws like this, you really have no choice. You just have to accept what comes your way and then prepare for the specific challenge."
Forty-two teams entered this stage of the draw directly while six others had to win their preliminary round to make it.
Uganda will remember that they failed to make the best 24 teams that qualified to Cameroon this year and will be aware not to take this particular edition of qualification lightly.
Before the last failed Cameroon campaign, the Cranes had successively qualified for Egypt 2019 and Gabon 2017, and before that a four-decade absence.
Ivory Coast case
According to Micho, the Cranes will play a friendly match or two after the draw, the choice dependent on the kind of opponents they will get.
Afcon 2023 hosts, Ivory Coast, will participate in the qualifiers with the team guaranteed a spot in the finals regardless of its ranking in the group.
Their matches and results will count in determining the qualification of the other teams from their group.
However, should the Ivory Coast fail to finish in the top two of their group, the worst-ranked team among the group runners-up will not qualify for the final tournament.
FUFA needs to do more for Women's football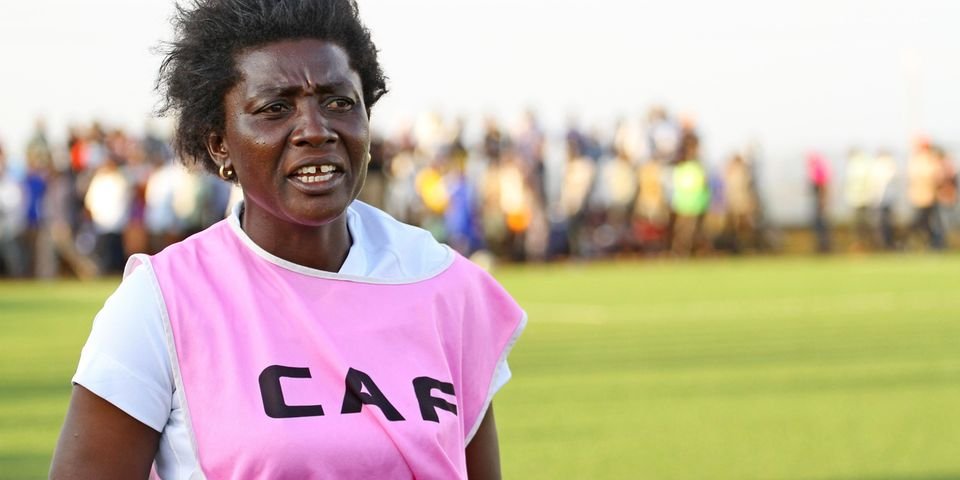 Pioneer Majidah Nantanda hang up her boots after a Fifa youth coaching course in 2007. Photo/John Batanudde
Majidah Nantanda captained Uganda when they made their debut at the Women Africa Cup of Nations in South Africa in 2000. In the year 2007 after her Caf instructor's course, she officially hung up her boots and became a coach-player before she ascended to U20 Women's national team coach in 2009.  She's currently the director of the (Growing the game for the girls) which aims at promoting women's participation in sports in the country as well as a sports teacher. The Caf/Fufa soccer coaches' instructor shares her story.
I started playing at a tender age like any other child with boys and my brothers. At the age of eight, I was already making it to the boys' teams in the neighbourhood. It was my dream to play football because of the environment I lived in. My brothers always pushed me to play with them and I really liked it. We used to make small teams among ourselves and we lived a happy life.
How was it playing with boys? Did you receive any insults from them or even the community?
The boys never insulted me; actually, they were the ones who used to encourage me. I was even better than some of them. At first, I could play with my brothers alone but with time they started taking me to the neighbourhood to play with other kids. Since I was the only lady in the gang of boys, everyone was earning to have me on their teams and I ended up being chosen as a captain, a thing that even helped me to captain the national team in the years that followed.  It's evident that society then never accepted women's football and they could look at me with a lot of negativity but again, I had the backup of my family so I didn't look back.
Though sometimes I would be shy and stop playing.
The fact that I was so good some people would make a stop to take a watch me. Sometimes I would find them arguing about whether I am a girl or a boy, when I learnt that, I started confusing them and could steal my brother's shorts and shirts and put them on.
Later you joined the girls, how did you come to start playing with girls?
Well, my elder brother introduced me to women's football. He took me to the Clock Tower playground where women used to play.
By then there was a women's football team called ' Kampala women' of the late Maama Baker Kazibwe and these women had already played with local teams and travelled several times to Kenya by the time I joined. While taking me he just mentioned; ' I saw women playing football but you are better than them I think you will straight away make it to the team. And he was right because the only person- a player I saw on the team that I admired or felt was better than me was Oliver Mbekeka (ex-international player).
It has been a gradual process to develop women's football. How was the national team formulated with no league in place and how did you join the team?
After joining the Kampala women's team, I found the training to select teams that will go to Kenya for a friendly match. That was not their first time, they used to schedule friendlies and play among themselves. It was their second time going to Kenya though I cannot tell you who used to fund their friendlies.
I joined right in the middle of it all and I did not make it to the team because I needed a lot of polishing by then.
Since it was my first time playing organized football, I had to learn how to use boots and I never knew what kind of position I would play. I remember they asked me about it and I said right midfielder but I didn't even know the role of a midfielder. And on that team, Oliver Mbekeka who was the best used to play that position and I had to fight for it.
When they came back from Kenya, they had a return leg at Nakivubo and a new team had to be selected again.  During that time, Kenya had already formed a national team and it was the team we used to play against.
Some technical people were brought in to select the best players for our return game in Nakivubo and we travelled to Jinja. I travelled with them and we selected a women's team from Jinja and Mbale and I received my first call on the team.
After our encounter in Nakivubo, my first women's game ever, I was selected amongst the best five players to travel and help the other teams from Jinja, Mbale and Nakivubo.
Later, I was featured in Nakivubo, Jinja and Mbale teams against the Kenyans, I automatically made it to the first-ever women's national team in Uganda in 1998 which played World/AWCON qualifiers against Egypt but unfortunately, we didn't make it to the tournament.
Majidah Nantanda, former Crested Cranes captain. photo/ FUFA website
After a near-miss to AWCON in 1998, you finally made the grade two years later. What was the journey like?
2000 AWCON came in a miraculous way though we worked so hard to prepare. Just like the crested cranes have now qualified after Kenya's withdrawal, it happened in the same way in 2000.  During those days we had no club football not and the league was not even in existence as now but we could carry out training sessions every day except on Sundays.
After some time, the most prestigious women's tournament on the continent was knocking and we had to play the qualifiers. We were put in a camp for over three weeks at the National Council of Sports hostel where all national teams used to camp by then. Our team was under the stewardship of coach Sam Timbe who would only be with us when we assemble that's why am very sure federation people would even select players for him
On match day while in Nakivubo with referees who had travelled to officiate I think from Kenya, we were told that the Democratic Republic of Congo (DRC) had withdrawn from the qualifiers.
By then Uganda was at war with DRC. Their President, Laurent Kabila had promised a chartered plane for them but whatever happened until now no one can tell.
We were just told after that their government blocked them from honouring the fixture against Uganda.
Consequently, we just received direct qualification to the Women's Africa Cup of Nations and we became the first Ugandan women's team to ever play at AWCON.
How did the Uganda Crested Cranes perform in AWCON 2000?
We played our first game against Zimbabwe and we shared spoils 3-3, then we took over hosts South Africa unfortunately they thrashed us 3-0. Our last fixture was with Reunion and we won 2-1 but I think we were unlucky and couldn't go beyond the group stages.
South Africa was said to have played syndicate with Zimbabwe or never played as expected against them so we were out on goal difference.
But besides it was a good experience interacting with the best female players on the continent and some of them were already professional players.
You captained the Uganda Crested Cranes for nine years (2000-2009). How did you manage the captaincy role amidst inadequate facilitation?
As players, we had a passion for the game. We were intrinsically motivated hence less-minded about finances but wished we could be entered into competitions. All players respected me though it was a tough life.
I saw some of the players who left their homeland to be close to Kampala, such that they can train every day and receive a national team call upon a struggling team. Players were motivated by just playing games and travelling.  Sometimes we could get allowance issues (say not given allowances as promised) but we took it easy. Only one time some players refused to give back tracksuits and jerseys after the camp.
They approached me and said, "tell the coordinator that once paid we will bring back their items". One player from Mbale told me, "I will use this as bed sheets for my kids at least rather than going back with nothing after months away from home".
All in all, it was indeed a challenging role, captaining a poorly remunerated team but it's something that shaped me to become the person that some young players adore.