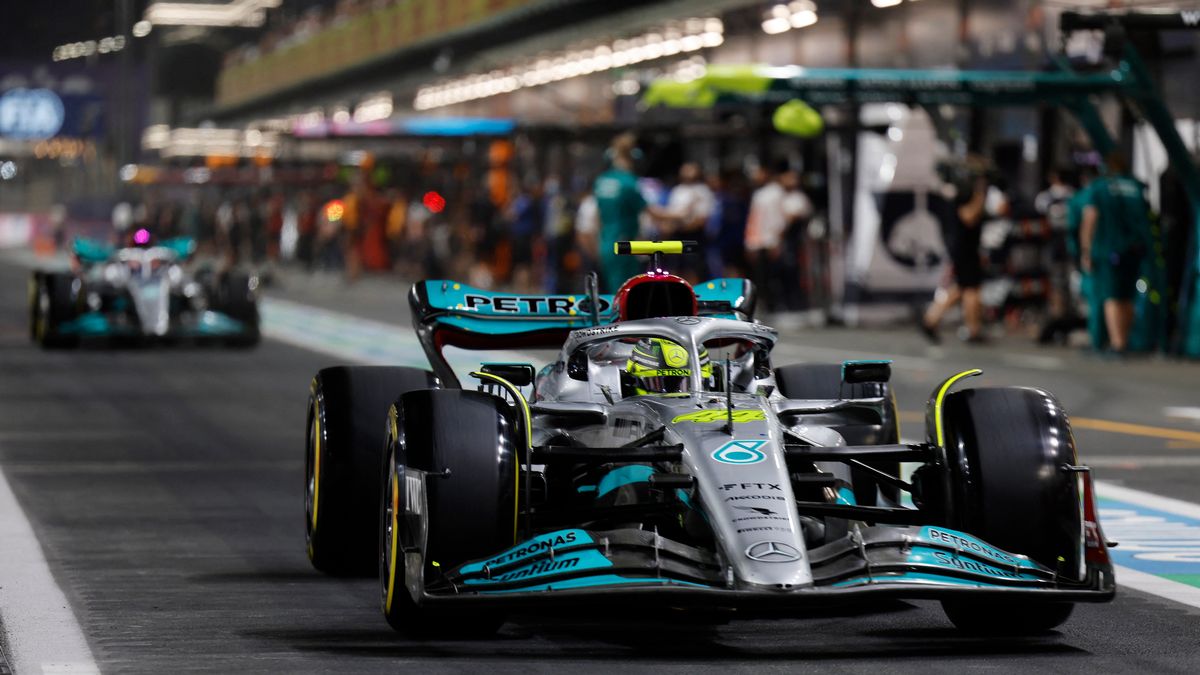 Hamilton produced a shock result during qualifying for the Saudi Arabian GP, as the Mercedes driver failed to progress past Q1
The seven- time F1 world Champion denied that the missile strike at Jeddah had nothing to do with his result
The last time Hamilton was eliminated in Q1 was in 2017 in Brazilian Grand Pix
Lewis Hamilton was eliminated in the first round of qualifying and will start a lowly 16th in Sunday's Saudi Arabia Grand Prix.
Hamilton's session was a disaster, as he could only manage a lap time good enough for 16th position, putting the seven-time world champion out of Q1. 
His teammate George Russell achieved a lap time good enough for fourth place on the grid during the same practice.
The F1 champion has set himself an uphill job to repeat that performance since he qualified in 16th place for Sunday's race, and the 37-year-old was visibly upset when speaking to the press afterwards.
Hamilton stated earlier this week that racing in Saudi Arabia was "uncomfortable" because of the country's civil rights violations.
The Mercedes driver maintained in an interview following his elimination that the week's events did not affect his on-track performance.
Hamilton denied being distracted by the difficult build-up to qualifying, which featured a late-night drivers' meeting on Friday to discuss safety after a missile strike in Jeddah.
"We are professional," he said. "We block out whatever we need to.
"Something went wrong in the set-up."
He revealed after his performance that he had struggled with the car's balance during the entire session.
''I just struggled with the car's balance; it's not where we want to be' he told reporters.
Mercedes has struggled for pace and performance so far this season, with Ferrari and Red Bull the two teams that appear to be the most competitive.
Still, the Silver Arrows did an excellent job of damage limitation last weekend in Bahrain, finishing third and fourth respectively, amidst the Bulls' double retirement.
HAMILTON APOLOGISED TO THE TEAM FOR HIS POOR RESULTS
Hamilton crashed out of the 2017 Brazilian Grand Prix, which was the last occasion he was eliminated in Q1.
He was told over the radio that he had been knocked out because he had struggled to keep up with Russell throughout the weekend.
Taken aback by the news, Hamilton apologised to his engineer and the team for failing to get the car out of Q1.
"So sorry, guys", he apologised
IS HAMILTON IN TROUBLE ON SUNDAY?
The circuit along the Jeddah Corniche is unlike any other. It boasts a fast pace for a street circuit and some overtaking opportunities. Driving there is still quite tricky.
And now, with Hamilton poised to push himself to the edge to score some points, any error could be bad for him. 
Over there, even the tiniest errors have proven to be terrifying
Nicholas Latifi and Mick Schumacher both had dramatic crashes during qualifying. Schumacher had to be carried out on a stretcher.
 So Hamilton isn't going to be able to drive as he did in Brazil last year.
As a result, it's not unreasonable to believe that Hamilton's pitlane start will be ineffective.
Russell's best time is presently strong enough to make it into the Q3 session and ensure a top-10 grid place, with Q2 well underway in Saudi Arabia.
Despite Mercedes' struggles in testing and during the season's first weekend in Bahrain, Hamilton still finished third behind Ferrari's Charles Leclerc and Carlos Sainz.